Hey Simmers, unlock the best-kept secrets in The Sims 4 and discover over 43+ hidden objects in this article we prepared for you! From secret items and rare fish to elusive collectibles and obscure gems, this list reveals plenty of secrets that will spice up your Sims' lives!
Not known to many, there are plenty of hidden objects available in The Sims 4. These special items, such as career unlockables, collectibles, and rare items, add an element of thrill to the game, as it lets us Simmers utilize random stuff that we never even knew existed! Plus, guess what? These hidden objects can conveniently be unlocked through the use of cheats! Yep. So go through our list below to check out some of our really cool finds. Make sure to check out number 44!
First, you need to use cheats to unlock the hidden objects in The Sims 4. Using three simple cheats, you can access a massive treasure trove of hidden items in the game. If you want to know which exact cheats to use in the game, please refer to our article here!
Below, go and check out some of our favorites among all the hidden objects available in The Sims 4. Once you have successfully used the cheats in the article we referred to, the next step is to simply type "debug" in the search bar of Buy/Build Mode to access the entire list of hidden objects. Alternatively, you may also try to type the exact name of the object in the search bar.
1. Soul Scrap
When your house is haunted by spooky things such as specters, they sometimes leave behind a ghastly essence called "soul scraps", which, you guessed it right, contain souls in them. Your Sims can easily access these soul scraps from the hidden objects list. They can then absorb these scraps, which will make them feel weirdly energized!
2. Simstagram Prints
Simstagram Prints are all the rage in the game. You can collect all Simstagram Prints conveniently when you unlock them in Buy Mode. All in all, there are 20 prints available, which all feature Sims 4 delicacies. Here they are:
Volcano Pasta Simstagram Print
Vertical Berry Cake Simstagram Print
Vanilla Sea Shells and Chocolate Caviar Simstagram Print
Tiger Shrimp in Smoked Dewdrop Broth Simstagram Print
Spherized Fruit Gel in Foam Nest Simstagram Print
Space Taco with Pearled Egg Core Simstagram Print
Sizzled Brisket over Sour Clover Salad Simstagram Print
Semi-Firm Beet Noodles Simstagram Print
Savory Bacon Love Petals Simstagram Print
Rustic Pate Drizzled in Aged Jus Simstagram Print
Jungle Moss Egg with Lavender Wisps Simstagram Print
Honeyed World Fruit Charcuterie Simstagram Print
Honeycomb Garden Vegetable Cups Simstagram Print
Cubed Ahi with Veggie Wasabi Matrix Simstagram Print
Cured Meat Crisps on Reclaimed Forest Wood Simstagram Print
Glazed Heirgloom Bamboo Roll Simstagram Print
Glacier Infused Iceberg Lettuce Simstagram Print
Free Range Sixam Pit Beast Simstagram Print
Crystallized Coco Blocks Simstagram Print
Artisan Fish Trio Simstagram Print
3. Alien Capsule
If your Sims are interested in aliens or in the intergalactic adventures available in the planet of Sixam, then they'd also appreciate having these bizarre alien capsules at home. Sims can collect these capsules, observe them, or even accidentally stumble upon a whole new intergalactic family member.
4. Yarny Toys
These yarny creations bring endless amusement to Sim households as children find themselves gleefully playing, cuddling, and even engaging in imaginative conversations with these quirky companions. Yarny toys, which raise their creativity, social, and imagination skills, are available in a myriad of colors such as:
Red Yarny Toy
Blue Yarny Toy
Brown Yarny Toy
Purple Yarny Toy
Orange Yarny Toy
Yellow Yarny Toy
Green Yarny Toy
Blue Yarny Toy
Black Yarny Toy
White Yarny Toy
5. Growfruit Challenge Garden Pot
The Growfruit Challenge Garden Pot is a limited object that became available to The Sims 4 after the Growfruit Challenge was launched back in 2016. By using the said cheat above, this pot becomes available to you effortlessly. This is a great addition to Sims' gardens as planting seeds in this said pot makes them thrive well!
6. Garden Plots
One of the most interesting hidden objects in The Sims 4 are trees, shrubs, flowers, and other garden essentials such as these shaped garden plots, which will help make your Sim's garden so much more sophisticated. These garden plots are essential for Sims who have a passion for landscaping. They are simple yet indispensable designated areas for Sims to cultivate and nurture a variety of plants.
7. The Where Should I Go? Ball
This mysterious ball, which not only looks beautifully grandiose but also increases inspiring mood in an area of your Sim's home, is usually unlocked when a Sim reaches level 8 of the Writer Career (Journalist branch). But now, you can get it as one of the hidden objects available in Buy/Build Mod. Trust us, it will instantly provide that extra oomph to your Sim's home!
8. Scouting manual
Another cool item in the stash of hidden objects is this Scouting Manual. This comprehensive guide equips Sims with valuable knowledge, tips, and techniques for outdoor exploration and survival. Sims need this book to master skills like knot-tying, fire-building, and nature observation, which will all contribute to their scouting career!
More on SNOOTYSIMS: Sims 4 Scouts – All You Need To Know About Scouting
9. Snow Globes
Snow globes are one of the cutest collectibles in the game as these little orbs are sentimental reminders of particular places that are special for your Sims. There are over 15 snow globes available in the hidden objects list, which includes limited ones:
City Skyline Snow Globe
Haunted Mansion Snow Globe
Newcrest Snow Globe
The City Bridge Snow Globe
The Willow Creek Lighthouse Snow Globe
Tudor House Snow Globe
Yuma Heights Snow Globe
Emily Snow Globe
Freezer Bunny Snow Globe
Magnolia Steamboat Snow Globe
Stanley the Jackalope Snow Globe
The City Skyscraper Snow Globe
Age of the Dinosaur Snow Globe
Plumbob (Limited Edition) Snow Globe
The Reaper (Limited Edition) Snow Globe
10. Holiday Cracker Plushies
The launch of The Sims 4: Holiday Celebration DLC gave the game cute little surprises, such as these cute Holiday Cracker Plushies. These adorable plushies come as a collectible in the game, but you can also easily get them as part of the hidden objects list:
Meduso in a Tacky Sweater
Meduso of Terror
Paved Meduso
Meduso
Lucky Jellyfish
Meduso of Love
Medusin
Stuffed Jellyfish Bulging
11. The Sentinel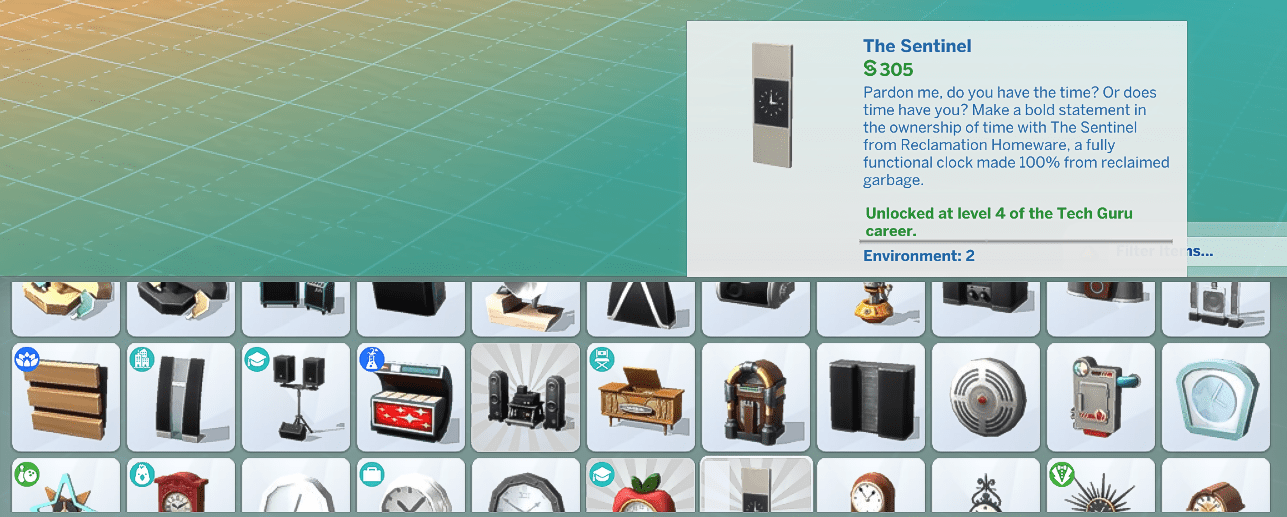 If your Sims need a stylish and modern clock that will help them keep track of time in a creative fashion, let them have this Sentinel Clock! With its smooth and futuristic design, this clock adds oomph and elegance to any room. Sims can always rely on the Sentinel Clock to help them stay punctual and manage their daily schedules efficiently!
12. Icebox of Steel by Krampft Industries
Get this Icebox of Steel, which is a sleek and modern refrigerator that will spice up the kitchen of your Sims! With its stylish design and efficient cooling capabilities, this refrigerator is what your Sims need for keeping all ingredients fresh and ready for cooking. With this fridge, meal quality is improved. Its durability and contemporary aesthetics make it a must-have appliance for any Sim's kitchen.
13. Spore Cluster
These strange spore clusters are one of the most intriguing and unique hidden objects you can unlock in The Sims 4. These clusters emit an otherworldly glow and can be used in various scientific experiments or interactions. When they are used in the Chemical Analyzer of the Secret Lab, Sims can construct valuable items. You can get plenty of these clusters so your Sims can try multiple experiments!
14. Medal of Supreme Bravery
Military medals are prestigious awards for Sims who have served in the military career. But these military medals are something that your Sims can also get from the hidden objects stash! Sims can display these medals to give off that vibe of bravery, dedication, and service in their homes. These medals could also serve as a sentimental reminder of the noble contributions of Sims in service.
Medal of Supreme Bravery
Medal of Discipline
Tactical Genius Medal
Medal of Courage
Medal of Questioning
Bravery Heart (Medal)
15. Don't Go There Caution Barrier
The Don't Go There Caution Barrier is an awesome item for Sims who want to decorate their homes! Sims may want this sign to make it seem like they want to mark off hazardous areas in the roads near their homes, providing a clear warning for other Sims to proceed with caution. It can be unlocked through the Detective Career, but also as a hidden object.
16. Octavian the Octopus
An octopus plushie is an adorable companion for little Sims. It's perfect for providing comfort, playfulness, and the best cuddles! This soft and huggable plushie becomes a source of companionship and imagination for Sims, encouraging plenty of play and fostering kids' emotional well-being. Whether it's for tea parties, secret adventures, or bedtime snuggles, the octopus plushie brings a lot of joy!
Blue Octavian the Octopus
Gray Octavian the Octopus
Yellow Octavian the Octopus
Pink Octavian the Octopus
Purple Octavian the Octopus
White Octavian the Octopus
17. Computer Hard Drive
This computer hard drive is for techy and geeky Sims, and it can be unlocked even if Sims are not in the Tech Guru career. It is an essential component especially if they like to dabble with technology for work and leisure. This one cannot actually store and access digital data, such as documents, photos, and videos, but it is decor that can increase the focus of your Sims.
Speaking of computers, below is a list of the latest computer and laptop CC for the Sims.
18. Skelly Sim
Meet Skelly Sim, a skeleton model which is a total must-have for Sims in medical careers or with a curiosity for anatomy. Perfect for medical labs and educational purposes, this detailed model brings bones, joints, and the human body to life. With Skelly Sim, Sims can unlock a deeper understanding of anatomy and delve into the interesting questions of the medical world.
19. Stolen ATM
A stolen ATM display is an intriguing addition for Sims who enjoy a bit of mischief and want to showcase their fearless side. Usually, this display is unlocked by going through the Criminal career, but you can just get it easily from the debug items. Trust us, this stolen ATM is the perfect way for Sims to embrace their rebellious side and relish in intrigue among their peers!
More on SNOOTYSIMS: 10 Ways to Make Money in The Sims 4 (With & Without Cheats)
20. Mermaid's Love Treasure Chest
A treasure chest is a coveted item for Sims in The Sims 4 who are seeking adventure and riches. Sims need it as a repository for their most prized possessions and valuable findings. Whether it's rare artifacts, precious gems, or hard-earned rewards, the treasure chest keeps them safe and secure. Additionally, the treasure chest adds a touch of mystery and excitement to a Sim's home, serving as a visual reminder of their thrilling quests and prosperous endeavors.
21. Space Prints
Space prints are another must-have collectible in The Sims 4, especially for Sims who are fans of the cosmos. With these really stellar prints, Sims can go and decorate their walls with jaw-dropping images of stars, galaxies, and other celestial wonders. These prints tickle their sense of curiosity, inspiring them to dream big and contemplate the vastness of what is out there.
Animal's Planet Space Print
Big Star Space Print
End of Time Space Print
Out of this World Style Space Print
Rosie the Riveting Space Print
Seeing Red Space Print
Standard Space Space Print
Cloudy Vision Space Print
I Dream of Pleiosaur Space Print
Saturn Return Space Print
Star Crossed Lovers Space Print
Twinkle Space Print
Battle Stars Space Print
Surfacing Space Print
T-Rex Nebula Space Print
22. In Full Bloom Centerpiece
Do you want to add a touch of elegance and nature's beauty to the homes of your Sims? Get this centerpiece which will surely create a stunning focal point that uplifts the ambiance of any Sim's room. With its vibrant reddish color, this In Full Bloom flower centerpiece brings a sense of tranquility that enhances the overall cozy feels of a Sim's home.
23. Postcards
Postcards from different places are a delightful collection for Sims who yearn for adventure in the places that they have or haven't yet visited! With these lovely prints of places in The Sims, Sims can dream of breathtaking sights, cultural encounters, and memorable moments from their past journeys (or their future ones). Access all the following postcards from the stash:
Sunset Valley Postcard
Appaloosa Plains Postcard
Riverview Postcard
Littlehaven Postcard
Bridgeport Postcard
Lucky Palms Postcard
Moonlight Falls Postcard
Twinbrook Postcard
Lunar Lakes Postcard
Midnight Hollow Postcard
Barnacle Bay Postcard
Champs les Sims Postcard
Isla Paradiso Postcard
Dragon Valley Postcard
Al Simhara Postcard
Brindleton Bay Postcard
Sixam Postcard
Sylvan Glade Postcard
Whiskerman's Wharf Postcard
Windenburg Postcard
24. Dead Pink Whale
Did you know that you can also get laboratory specimens like a dead pink whale The Sims 4? These specimens in jars are essential for those who have a fascination with biology. Sims may want to display these specimens to satisfy their thirst for knowledge. These displays also allow Sims to add an element of curiosity to their homes. Just imagine entering a home filled with these odd dead specimens in jars!
25. Elements

Do you also have a chemistry-loving Sim? Then they'd definitely love to fill their homes with these element collectibles! Sims can exhibit these precious elements to showcase the beauty of nature. With these valuable scientific treasures, Sims can provide little reminders of the wonders of the natural world. Start displaying these elements in your Sims' homes:
Alcineat
Crytacoo
Firaxium
Goobleck
Melacoo
Oxypin
Ozinate
Peryllium
Phozone
Plathium
Plumbobus
Selium
Sydrolin
Volenton
Wolfium
Xenopetrium
26. Metal Displays

Metal displays are for Sims who enjoy showcasing these treasured substances. Being mounted on wooden platforms helps preserve the sleek and modern rock-like artifacts, highlighting their cool vibe. These metal displays also allow Sims to proudly share their love for these beautiful metals, especially if they're ~hard-rock~ fans! Access the following in the hidden objects list:
Alcron Display
Baconite Display
Heavy Metal Display
Obtainium Display
Ozinold Display
Phozonite Display
Plathinum Display
Punium Display
Pyrite Display
Utranium Display
Crytunium Display
Death Metal Display
Flamingonium Display
Ironyum Display
Simtanium Display
Socialite Display
Furium Display
Literalite Display
Romantium Display
Sadnum Display
27. Voidcritter Cards
You'll surely save some simoleons by getting these Voidcritter cards from the hidden objects list instead of buying them. Voidcritter game cards are a thrilling addition for little Sims who love the game. With these collectible character cards, kids can engage in make-believe gameplay and foster friendship with other little Sims as they battle and trade Voidcritters with one another.
Kampos
Nymphaea
Wisp
Yorier
Meduso
Avesu
Nimbus
Pleuro
Bubalus
Wickyn
Vulpes
Cyprin
Fissure
Mytheme
Simgaia
Dicoatl
Arcticorn
Veild
Canis
Suintor
28. Insects
Collectible insects in tanks are perfect for Sims who want to curate their own insect collection or who simply love tiny living beings. Whether it's a dazzling butterfly or a curious moth, collectible insects in tanks serve as nature displays which help to provide a refreshing feel to Sims' homes. Get the following insects from the hidden objects available:
Blue Morpho Butterfly
Jezebel Butterfly
Monarch Butterfly
Dragon Dragonfly
Rainbow Firefly
Ladybug
Stink Bug
Walking Stick
Termite
Luna Moth
29. Carved Pumpkins

If you're too tired to carve out some pumpkins for Halloween but still want some pumpkin decorations to complete the spooky vibes in your Sims' homes, get these already-carved ones from the hidden objects! These festive pumpkins provide a delightfully haunting atmosphere that immerses Sims in the spooky holiday spirit.
Cockeyed Pumpkin
Classic Pumpkin
Cat Pumpkin
Ghost Pumpkin
Smiling Pumpkin
Owl Pumpkin
Scared Pumpkin
Puking Pumpkin
Wicked Pumpkin
30. Vertical Garden Herbs
Unpack some garden herbs as well, which are perfect for your Sim's homes. With these herbs, Sims can kickstart their herb garden and cultivate a variety of flavorful plants. As Sims grow their own fresh herbs, they'll add a burst of taste and aroma to their culinary creations. Whether it's basil, thyme, or parsley, having seeds for garden herbs allows Sims to nurture their green thumb.
31. Lofty Achievements Climbing Award
The Lofty Achievements Climbing Award showcases the ability of Sims to conquer the treacherous peaks of Mt. Komorebi, providing a sense of accomplishment and inspiring others to embark on their own daring expeditions. But yep, just like the medals above, your Sims can also get these awards which they can display in their homes, even if they did not join certain climbing competitions!
32. Power-Sip XT-Racer Gaming Chair
Sims don't have to join the E-Sport career to avail of this super cool Power-Sip XT-Racer Gaming Chair, because you can also get this from the hidden objects in Buy/Build Mode! Sims definitely need this one for the ultimate gaming setup that provides comfort and support during their intense gaming sessions. Plus, this gaming chair has an awesome ergonomic design.
33. Tanabata Wishing Tree
If you want to get a plant that offers Sims a place to express their heartfelt desires and dreams, get this Tanabata Wishing Tree from the hidden objects stash! Sims need it as a symbol of hope and a way to connect with the universe. By writing their wishes on colorful strips of paper and hanging them on the tree, Sims can connect with their aspirations!
34. Money Fruit
Who needs a traditional job when you can plant this money fruit and watch your Sim's fortune bloom in the most absurd and amusing way possible? Yep! By planting this money fruit available in the hidden objects section, you're well on your way to gaining those extra simoleons effortlessly and making your Sims' pockets a lot fatter.
35. Gold Bar
Gold poop from pets is an unexpected yet comical phenomenon in The Sims 4, and you can get it as a hidden object! Sims need it as the ultimate quirky joke, because, well picture this: your Sim invites friends over, and they stumble upon a dazzling gold poop on the floor, courtesy of their beloved pet. It's a hilarious icebreaker that guarantees wide-eyed stares from all Sims.
36. Crystal Zoomer
If you want to collect magical artifacts used by Spellcasters such as brooms, then you can also find them in the stack of hidden objects! These magical transportation devices let our Sims soar through the skies with grace and speed, allowing them to swiftly travel between locations and hop in and out of the magical realm. You can get special brooms such as the following:
Magic Mop
Classic Wood Broom
Gnarled Wood Broom
Rocket Broom
Crystal Zoomer
37. Selvadorada Relics
Relics are coveted artifacts in The Sims 4, originating from the lush jungles of Selvadorada. You can harness the power of these relics by using refined crystals (also available as hidden objects) to activate them. Beware because these relics are not something your Sims want to mess with! So far, these relics are unlockable as hidden objects:
Balampalsoh Chaos Relic
Balampalsoh Death Relic
Balampalsoh Watcher Relic
Totecallam Chaos Relic
Totecallam Death Relic
Totecallam Watcher Relic
Zazatotl Chaos Relic
Zazatotl Death Relic
Zazatotl Watcher Relic
38. Farm Animals
You can also obtain farm animals when you unlock the hidden objects in the game! Sims need these farm friends for various reasons, such as getting fresh eggs from roosters or milk from cows. Or, you can simply let them roam around for that farm life aesthetic. You can get the following farm animals:
Beige Llama
White Llama
Brown Cow
Spotted Cow
Black Hen
Black Rooster
Brown Hen
Brown Rooster
Hen Chick
Rooster Chick
White Hen
White Rooster
Read more on SNOOTYSIMS: The Varied Ways of How to Get a Pet in The Sims 4
39. Zero-G Training Bag
You can also have this Zero-G Training Bag without entering into the Astronaut Career! This hidden object will increase your Sims' confidence while helping them build up their athletic skills. With this super cool Training Bag, Sims can reach their #fitnessgoals and lead a healthier, more active lifestyle.
40. The Conservationist Canoe
Get this eco-friendly hidden object, which allows your Sims to actively participate in preserving and exploring the natural world. Sims can use it to embark on eco-adventures and engage in conservation efforts. By utilizing the Conservationist Canoe, Sims can deepen their connection with the seas of Sulani.
41. Leaf Pile
Is it the fall season yet? If not, and you already want to recreate that cozy autumn feel, you can go and lavish your house with leaf piles! These cozy mounds of dried leaves create the perfect ambiance for Sims to unwind, socialize, and appreciate the beauty of the autumn season.
42. Familiar Orbs
You can also unlock these enchanted orbs which serve as a conduit to summon and bond with magical familiars for your Spellcasters. These orbs unveil faithful and loyal companions, providing assistance, and even supernatural abilities to your Spellcasters.
Familiar Orb of the Fairy
Familiar Orb of the Sixam Owl
Familiar Orb of the Raven
Familiar Orb of the Dragon
Familiar Orb of the Bunnerfly
Familiar Orb of the Glowfrog
Familiar Orb of the Hex Doll
Familiar Orb of the Snub-Nosed Leaf Bat
Familiar Orb of the Phoenix
Familiar Orb of the Skull
Familiar Orb of the Velid
43. Mounted Fish
Mounted fish in the wall are prized possessions for Sims! These beautifully preserved fish, displayed as decorative items, serve as a testament to a Sim's angling prowess and add a nice "fishy" touch to their homes. Here are some of the mounted fish your Sims can unlock:
Clownfish
Goldfish
Guppy
Koi
Minnow
Neon
Perch
Salmon
Tambaqui
Trout
Walleye
Angelfish
Butterflyfish
Bluefin Tuna
44. Message in a Bottle
Messages in bottles are another thing that your Sims need to collect! These mysterious messages hold untold stories and secrets, just waiting to be read inside the glass. Sims may want to quench their curiosity and collect all the following bottles:
A Pirate's Joke
The Clumsy Pirate
A Bright Hello
The Little Genius
Unrequited Love
A Bold Reminder
An Inspiring Role-Model
A Threat from Beyond
Till Death…
A Lover's Grudge
A Wish of Adventure
A Cursed Message
A Pledge of Love
A Scandalous Invitation
Moonlit Musings
A Grim Promise
A Love Poem
A Thousand Leaves
Sunlit Wishes
An "Imminent" Warning
And that's a wrap! We've reached the end of our exciting list of hidden objects in The Sims 4. What are your thoughts about them? Well, we hope you had a blast going through the list filled with thrilling and awesome finds. We made sure to include a variety of interesting items like collectibles, rare objects, and career unlockables. Feel free to discover them in your gameplay and incorporate them into your Sims' lives. Happy simming, fellow Simmers!
Related Content