What keeps us invested, and interested in The Sims 4 is the frequent addition of content created by EA. The game has become more vibrant than ever, with the addition of new expansion packs, game packs, stuff packs, and most recently kits! These kits have targeted specific content that we have been missing in the game. In this post, we will be sharing everything you need to know about the 13 kits, which have been released in The Sims 4 so far!
The Sims 4 Kits: Funky Clothes, Cool Accessories, Outdoor Coziness, and more!
The Sims 4 released its first-ever kit back in March of 2021. Since then they have given us 12 additional kits. All of which focus on their own particular area. Versatile vacuums, country kitchens, funky workout clothes, chic fashion, and blooming plants, is just a glimpse of what these 13 kits provide.
After the release of these kits, the game has widened its horizons. With inspiration from other cultures and fashion trends, the game seems to become more inclusive. And, we certainly hope it continues in that direction!
Buying these kits gives us the chance to add that extra little sparkle to our sims and our builds, for just a fraction of the price of an actual pack. For the simmer looking to expand their CAS wardrobe or their build catalog – kits are truly the best way to go!
Since we are such a fan of the Sims 4 kits, we wanted to share everything we know about them with you. Therefore, this post will work as a guide to the 13 kits released by EA. So, whether you are wanting to buy some of these kits, or you are just curious to see what they offer… Then continue reading!
1. Bust The Dust Kit
The Bust the Dust kit, was the first kit released by the Sims 4. And it is the only kit that adds new gameplay. If you have been missing that extra bit of cleaning realism in your game, or you are just in love with vacuums – well then this is the kit for you! But be aware, after you install this kit, dust will be piling up… Creating friendly "dust bunnies", and "dastardly filth fiends" in your Sim´s homes.
So, grab your vacuum, dust it up, and get to tidying! Or, you can of course settle for that messy life, it is up to you. Besides the fun vacuuming gameplay, this kit also comes with chores, which add new buffs and rewards for each dust level. Furthermore, when your sims own a vacuum, they help fight the battle towards the two new cleanliness aspirations. The fun thing about this kit is that you can interact with your "dust bunnies", and sim kids can even help vacuum! To see the vacuums that come with this kit, take a look at the photo below.
2. Country Kitchen Kit
The Country Kitchen kit is the perfect game addition for the frequent Sims 4 builder. Featuring a whole new, country-inspired, stunning kitchen, this kit truly comes in handy in build mode. In fact, we have heard nothing but great reviews of this kit. So, if you have been dreaming of transforming your Sim's kitchen into a charming country kitchen this is your kit! With vintage refrigerators, casserole dishes, and cute grandma-like decor pieces this kit makes any Sims 4 build look like a home.
And, if you have the Sims 4 Cottage Living this kit is the perfect addition. The Sims 4 YouTubers have raved about how the two blend perfectly together, and we could not agree more! Therefore, if you have the Sims 4 expansion pack Cottage Living, and want to buy a kit, you should start with this one! With the new addition of counters, islands, cabinets, and mix-and-match pieces whatever kitchen you create will match whatever vibe you set.
So, whether you like building kitchens, cooking, or that vintage style in the Sims 4 – this kit has got to be your first pick! Want to see its stunning build mode items? Look at the photo below.
3. Throwback Fit Kit
Are you familiar with the vibrant athleisure looks of the 90s? Well if you are, and assuming love it as much as we do – this is the perfect kit for you! With these retro-inspired workout clothes, you can turn your sims into the most vibrant visions on their streets! Whether you are familiar with the iconic 90s look or not, it does not really matter. What matters is that you have been wanting some color in your sims wardrobes! And with this kit, you got a whole rainbow coming! With a trendy take, nostalgic colors, and bold patterns, these sturdy statement pieces will create an awesome look.
Your sims may hit the gym, or simply take it easy at home with these 19 sporty pieces, inspired by the simplicity of the 90s. All of your sims, including toddlers, kids, and teens, can enjoy funky bucket hats, and vibrant joggers – as they make their way throughout their day! Whether you want to play one of the Sims 4 Decades Challenges, where the 90s are included…Or you simply want to buy your Sims some new workout clothes – this pack has got you covered! Now, go check out these nostalgic and vibrant pieces in the photo below.
If you, in fact, are a 90s kid, no questions asked, you need this pack! The nostalgia sure has us tearing up, and it will have you do the same. So, drop whatever it is you are doing and head on over here to buy this kit!
4. Courtyard Oasis Kit – Sims 4
Inspired by the Riads of Morocco, the Sims 4 has brought us the Courtyard Oasis kit. This is the diversity, and inclusivity we are talking about! We truly hope the Sims 4 keeps on creating packs and kits such as this one. We know having different cultures and countries represented in the game means a lot to simmers. Thus, this kit might be one of our favorites for that exact reason.
Now, this kit allows you to transform the center of your sim's home into an oasis. Yes, we are not kidding. If you want a lush, green, Morocco-inspired yard with fountains, decorative tiles, and pure harmony – this kit will have you teary-eyed. You can play with nostalgic colors, intricate tile patterns, hanging lanterns, amazing textiles, and some lush green plants!
With new columns, archways, decorative tiling, wallpapers, doors, sofas, tables, chairs, fountains, and several decor items – your wildest Moroccan dreams can come true! We for one, absolutely adore the archways in this kit. Now, scroll a bit further down to see an overview of what this kit has to offer!
Want this breathtaking Moroccan style in your game? Well then, head on over here and buy it!
5. Industrial Loft Kit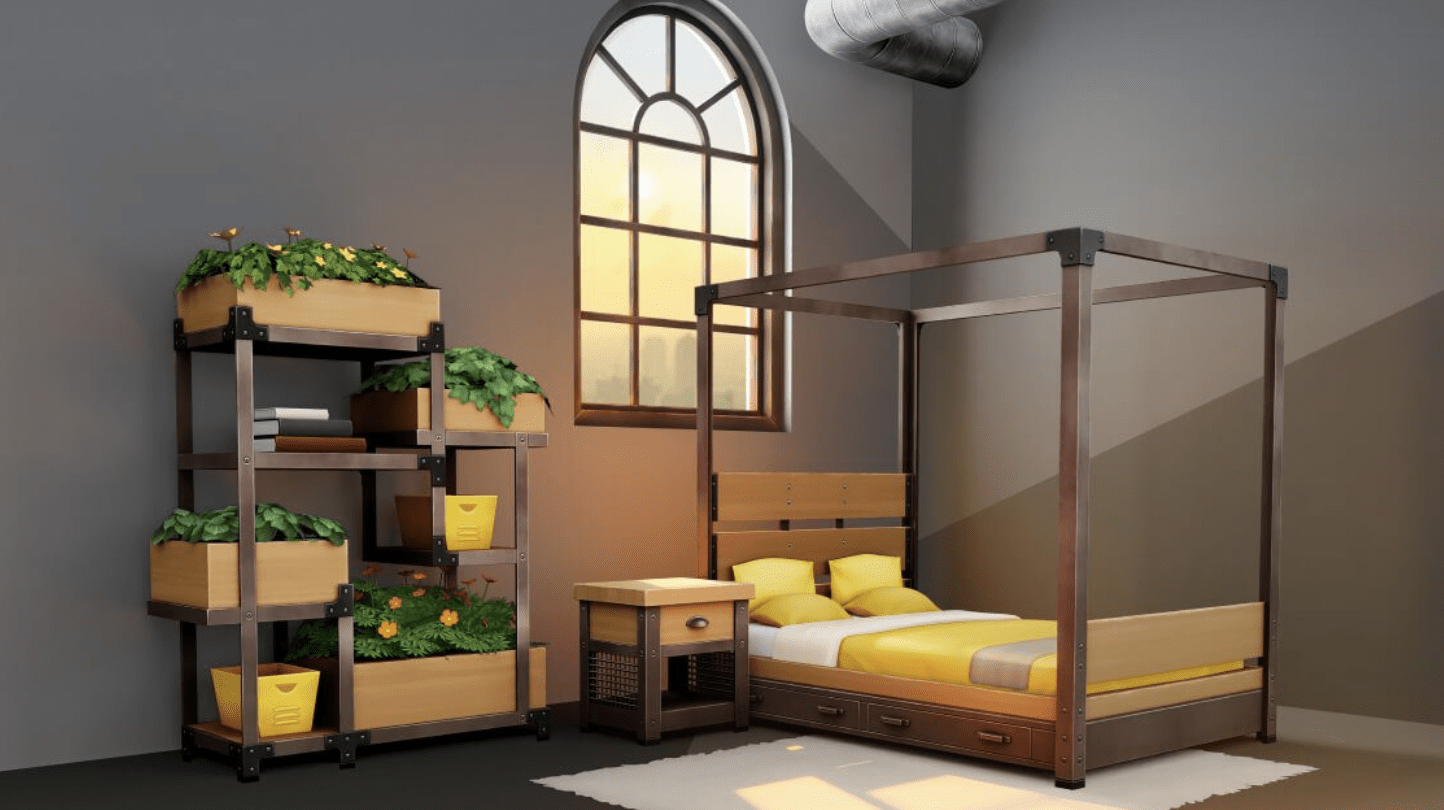 We know a lot of simmers live for the rustic, industrial style in the Sims 4. And, we have to admit so do we. The Sims 4 released this kit a while back, and though there were some issues with items shown in the photo, not being included… Yes, we are talking about the window. Shocker, we know… Anyway, after some complaints from simmers, EA decided to do an update where they included the window. So do not worry, you will receive the famous window!
Now, if you have been dreaming of creating an industrial loft with thick woods, exposed hardware, and oversized windows, all with the beauty of raw materials – this kit will help you get the job done! Though it is a relatively small kit, with 26 items, most of which are purely decorative… The kit does provide some quality industrial furniture such as a bed, sofa, chair, nightstand, two dressers, and a few tables.
We are really just in love with this Brooklyn, New York, converted warehouse-inspired vibe. And, we are certain many of you are as well! Whether you want to create a cozy, warm, studio for your artistic sim or a converted warehouse for your business-savvy sim – this is your kit! The Industrial Loft kit has a history of melting with modernity, and we could not be happier about it. So, if you feel the same way, check out the build mode items down below.
Are you itching to create an industrial, Brooklyn, New York-inspired converted warehouse as much as we are? If the answer is yes, you should take five minutes out of your day to go buy this kit. Go get it here!
6. Fashion Street Kit – Sims 4
Bring your Sims style to new horizons with the Sims 4 Fashion Street kit! Inspired by the trendy designs of Mumbai, this kit features rich colors, forward silhouettes, and fun patterns! Have your sims show off their unique personality by integrating some high fashion pieces with some traditional accessories. You can create a whole new style with this kit! With embroidered details and vibrant hues, these pieces work well to create that effortless and timeless style.
The Sims 4 Fashion Street kit features 26 CAS items, including henna tattoos, sparkling accessories, versatile sandals, and vibrant clothing pieces! We love this kit for bringing henna tattoos to the game! They are so pretty, we might just dress all our sims in them. Now, check out these fashionable kit items down below.
If you want to get some stunning henna tattoos, and some vibrant Mumbai-inspired clothing designs to your game – go buy this kit now!
7. Incheon Arrivals Kit
Inspired by the iconic Seoul airport fashion, the Sims 4 has brought us the Incheon Arrivals kit. This versatile, beautiful kit features 22 new CAS items. All of which showcase a trendy Korean style with a modernized clean twist. These minimalist looks come in muted colorways, which we truly appreciate. Seeing as though the game already has a lot of colorful CAS items.
With this kit, you may dress your sims in casual and semi-formal pieces. We really could not be happier about the blazers, coats, jackets, and cardigans in this kit! Every single piece in this kit is versatile enough to suit any sim! Furthermore, the kit showcases sweatpants, slacks, pants, sneakers, and heeled boots! Now, let us hope one of the next kits coming out is an airport kit. It would be fitting, would it not? Anyway, check out the overview of these trendy pieces below!
If you love a minimalistic look or trendy Korean styles – this is the kit you have been waiting for! You can buy it here.
8. Blooming Rooms Kit
Calling all plant lovers! This is the kit your green-thumb sims have been waiting for. Let us introduce you to the Blooming Rooms kit. It features 24 build-mode items which are all related to greenery, of course. This kit is the perfect addition to your build catalog if you are a frequent builder. As it provides a bunch of new plants and greenery, you will not have to use the same plants over and over and over again in your sims houses. Yes, we have all been there… Just check out Devon Bumpkins "Let's Build the Worlds" on YouTube, and you will soon realize the Sims 4 needs more plants!
Luckily for Devon Bumpkin, and all of us other simmers out there – the Blooming Rooms kit brings us a variety of plants. Which we are eternally grateful for. One of our favorite things to do in the Sims 4 is to spice up our build with greenery. And with this pack, we get the chance to use other plants than the ones we use all the time! From dangling vines to beautiful propagation stations, peaceful days await all of your sims. Just check out these blooming wonders in the photo below!
We finally have the opportunity to get more plants in the Sims 4. Whatever you do, do not let it go to waste. To buy this beautiful and versatile kit, click here!
9. Modern Menswear Kit
Looking for some good knitwear sweaters to add to your game? Well, look no further, the Modern Menswear kit is here for you! This kit features a thought-provoking, accessible collection designed by Stefan Cooke. These reimagined shapes redefine what we have seen as traditional masculine fashion. Fun textiles and patterns will upgrade your sims style in no time! With these trendy, yet versatile wardrobe staples, your sims will look smashing in their everyday outfits!
This kit provides your sims with a bunch of contemporary looks, featuring fluid shapes, interesting zippers, cutouts, and pleats! We have been waiting for some more menswear in the Sims 4, and we are really happy it finally arrived. With these 24 new, basic yet stylish items you can create any type of look! To get an overview of these trendy pieces, see the photo below.
If you like this kit as much as we do… You should definitely treat yourself to some new menswear in the sims by buying it!
10. Carnival Streetwear Kit – Sims 4 kits
Make every day a Carnaval with the Sims 4 Carnaval Streetwear kit! EA designed this in partnership with Pabllo Vittar to pay tribute to the vibrant Brazil Carnaval. With this kit in your game, your sims will embody the confidence, creativity, and vibrancy of the world's most iconic party! Through vibrant fashion and sparkling accessories, your sims get to express their sense of freedom, personality, and fun! We for one, love this vibrant Carnival of a kit, and we are sure you do too!
Whether you are from Brazil, want to embrace that Brazilian Carnival spirit, or search for a little more diversity in your game – this kit is just waiting for you to buy it! Packed with 26 pieces, featuring incredible clothing, makeup, and accessories this kit will not disappoint! Now, get an overview of this sparkling joy of a kit down below!
Get on celebrating that wonderful Brazil Carnaval – buy this kit now!
11. Dècor to the max Kit
Have you grown as tired of the minimalistic look as we have? If the answer is yes, it might be time you check out this maximalist kit. Yes, you read that right – maximalist kit. And we are here for it! You can elevate any basic Sims 4 living room to an inspirational, expressive, maximalist piece of art with this kit. With bold, bright décor, you get a little bit of everything with these pieces!
We are loving to mix-and-match furniture in a variety of styles, patterns, and colors with this kit! Creating maximalist rooms might be one of our favorite things to do in build-mode now. Have your sims express their personalities with contrasting wallpapers, over-the-top furniture, and fun rugs! If you are interested in this fun kit, check out its 23 build mode items below!
Again, if you are tired of minimalism in the Sims 4, you should buy this stunning kit!
12. Moonlight Chic Kit
We recently saw simmer and YouTuber Lilsimsie do a review of this brand new Sims 4 kit, and we have to agree with her that it is "awesome". With the Moonlight Chic kit, inspired by Parisian creator Paola Locatelli, your sims can swoon over their date while dressed in chic clothing that has a modernized twist. If you have been looking for timeless romantic pieces, this is the kit for you! With a beautiful silk dress, flowing shirts, and modern jackets, your sim will have a wardrobe full of staples! Whether you want to send your sim on a date, or just have them dress up for fun, you will absolutely love this kit.
This modern Parisian style kit includes over 30 items, which you can pair together for a casual, or a more dressed-up look. Wherever your sims choose to go on a date, they will look stunning doing so! Our favorite piece from this kit is for sure the silk dress, which comes in a variety of different colors, including the white swatch – our favorite! And like Lilsimesie, we are also very impressed by the sequin pieces in this collection. EA has really become much better at this, just look at the sequin tops – they are sparkling!
We know you love this kit. So stop wasting your time… Just go get some quality Parisian-inspired looks into your game, and buy this now!
13. Little Campers Kit – Sims 4 kits
Do you have a soft spot for the Sims 4 Outdoor Retreat, and Movie Hangout packs? If your answer is yes, you might have to consider getting this kit today. And we mean, today! The Little Campers kit, is one of the two newest kits released by the Sims 4. This means, it also might be one of our favorites. Not only because the Sims have become better at making kits… But because it is so darn cute! Just look at it… Have you seen anything more wholesome than this in the Sims 4? We sure have not.
With this kit, you can have your sim kids stay up after bedtime with cozy backyard camping gear, games, and their very own DIY fort! We are not crying… you are! Plan a family night, a sleepover with friends, or a backyard camping trip with this kit. If you are going for a really fun storyline, you might even have your kid temporarily move out into the backyard… That would be fun!
The best part of this kit, however, is the DIY aspect that comes with the cardboard box. Have your sims embrace their inner artist by transforming it into a car, or rocket ship! This dreamy kit also includes an outdoor projector, which looks fully DIY, and adds that extra bit of realism! We cannot wait to have our sims create some childhood memories by roasting marshmallows in their backyard! To check out these wholesome kit items, look at the photo below.
We know for a fact that your simmer heart just melted. This means that you may not need this kit, but you desperately want it. So, treat yourself and go buy it will you?
If you know all of the PC Cheats, check out these console cheats for the Xbox Series and Playstation 4.
Conclusion
To sum it up, the Sims 4 currently offers 13 wonderful kits, which can all add that little extra spark to your game. Yes, you might not need any of them. But you can not deny that you want a lot of them. The Sims 4 will no doubt continue releasing new kits in the future, and we cannot wait to see what they have in store for us. But, in the meantime we will be here, enjoying these 13 existing Sims 4 kits.
If you buy any of the kits we mentioned here, let us know what you think of them. What kit is your favorite? What kit item is your favorite? But most importantly, what kit do you want to see released next?
Anyway, thanks for stopping by. We appreciate the visit. Happy simming!
Related Content