Does your Sim want to be the ultimate streamer on the internet? Let them broadcast their life through the Switch Streaming Mod! Read our complete guide below!
What is The Switch Streaming Mod?
KawaiiStacie, the creator of well-known mods in The Sims 4 such as the Slice of Life and Education System Bundle mods, was also the brainchild behind the ultra awesome mod for gamer Sims, called the Switch Streaming mod. This said mod gives your Sims the possibility to live stream their activities on the internet, giving them a boost in their reputation and allowing them to become closer with their supporters.
The Coolest Features of The Switch Streaming Mod
1. Your Sim can choose which platform to stream from.
Sims can stream from their PC, console, drone, or tripod.
PC/Console – This is the most common route. Sims can share what's on their screen, and livestream it with their supporters.
Drone – Sims can do any activity while drone streaming. They can cook, clean the house, do gardening, and do anything they want. They can multitask—doing the activity while chatting with their supporters.
Tripod – Sims can use the tripod to stream. Interactions include discussing stories, chatting with supporters, sharing about a clothing haul, and related activities.
2. There is a new Switch Streamer aspiration available.
Engage in the all-new Switch Streamer aspiration, guiding your Sim towards their streaming ambitions. These are the following milestones for the said new aspiration:
Stream Setup – Make sure you have everything you need before considering the livestream life!
Getting Started – Start your channel and begin your live stream. Regular streams fare a lot better than occasional ones!
Building a Community – Connect with your viewers and constantly interact with them to build a solid supporter base.
Professional Live Streamer – Rake in those rewards and keep up the good job in making livestreams!
Looking to learn more about Sims 4 inspirations? Give this post a read!
3. Supporter Sims will attend your Sim's live stream.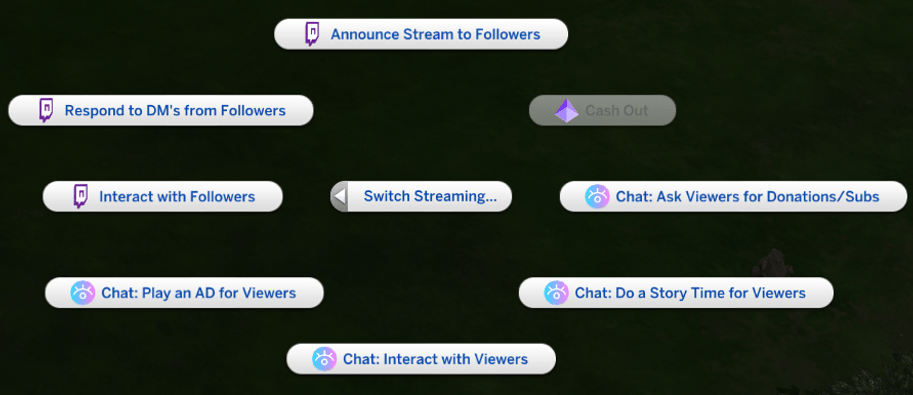 Immerse your Sims in the streaming world with interactive viewer experiences. Don't fret if you don't notice supporters pouring in right away! The audience of Sims will soon attend your Sim's live streams. Then, you can keep doing the following activities:
StoryTime – Sims can do a StoryTime for their viewers to keep them glued and entertained to the stream.
Announce Stream – Make sure your Sim's followers know about all the details of your streams. Announce it to them via the live stream.
Play an Ad – Sponsorship is part of any streamer's life. While your Sims do a live stream, they can play an ad to promote something. Just don't let them overdo it!
4. Your Sim can have lots of interactions with their supporters.
Your Sims can have deeper connections with your audience using an array of many interesting interactions. They can engage in real-time conversations during streams, responding to questions, sharing anecdotes, and discussing various topics.
Smart Comments – There are over 350 comments from viewers, including positive and mean comments.
Donations – Viewers can choose to support your Sims by giving donations.
Subscribers – The more subscribers your Sims have, the more they'll get paid! All in all, they can make 100k simoleons per week maximum.
More on SNOOTYSIMS: A great collection of computer and laptop CC for the Sims 4!
5. Your Sim will get to unlock the "switch streaming" trait.
After they start streaming, your Sims will unlock the distinctive "Switch Streaming" trait, marking your Sim as a dedicated content creator. This trait amplifies their streaming capabilities and emotional dynamics.
6. The Switch Streaming is great for both big streamers and newcomers.
The Switch Streaming mod caters to a diverse spectrum of streamer sizes, embracing both established and emerging content creators.
Newcomers – As an upcoming and new streamer, it will be quite hard to get newer subscribers. Also, newcomers are more likely to get banned but less likely to get hurtful comments from viewers.
Big Streamers – As a big streamer, your Sim will get more viewers faster. Big streamers are less likely to get banned, but more likely to get bad comments from viewers.
More on SNOOTYSIMS: Get fame and fans fast with these cool famous mods for the Sims 4!
7. There are rules in the Switch Streaming world.
Take note that there is proper etiquette in streaming live! Dress appropriately for streams, keeping content professional.
Nudity – No one's a fan of accidental nudity unless you're chilling in a pool or hot tub – then it's all good vibes!
Civility – Spread positivity and keep the vibes professional. Bullying, arguments, and fights? Nah, we're all about fostering a supportive and respectful streaming environment here.
8. Your Sim can collaborate with other streamers.
Whether it's joining forces with NPC streamers or creating custom collabs with your favorite Sim buddies, collaborations will amp up the excitement. Your Sim's stream will get a serious boost of awesomeness! Here are some fellow NPC Streamers you can get in touch with:
@KrystalKiss – A Young Adult boasting Materialistic, Self Absorbed, Self Assured traits. At Fame Level 4, she's a Switch live streamer who found empowerment after an unfortunate boyfriend incident, streaming her shopping sprees and embracing self-confidence.
@Kbunnie – A Young Adult too, who has Neat, Goofball, Geek traits. Reached Fame Level 3. Former drama student turned full-time Switch live streamer after discovering her knack for gaming and humor at an internet cafe. University took a backseat to her streaming passion.
@Pieplay – Also a Young Adult with Creative, Outgoing, and Foodie traits. At Fame Level 3, Pieplay started her streaming journey unconventionally – a makeup and cosplay enthusiast whose accidental "stream" instead of "record" moment turned into a quirky eating-and-streaming experience.
@SashaGaming – AYoung Adult as well, who has the Music Lover, Self Assured, Geek traits. With Fame Level 4, SashaGaming emerged as a Switch streamer and musician. Seeking excitement, she found joy in engaging with people while playing games and sharing her musical talents.
How to Install the Switch Streaming Mod
The Switch Streaming Mod requires you to have The Sims 4: Get Famous, The Sims 4: City Living, and The Sims 4: Moschino Pack installed in your game.
Just head on to the Patreon site of KawaiiStacie, search for "Switch Streaming" click download, and add it to your Mods folder in the game and place it in the Mods folder of your game.
The Switch Streaming mod does not require KawaiiStacie's Slice of Life mod, however, the creator has expressed that it is an extension of the said mod. Read more about the Slice of Life mod here.
Have a look at more fascinating Sims 4 mods on SNOOTYSIMS!
An important notice: Mods for The Sims 4 are constantly being updated with compatibility for any new patches. Most of the time, mods get outdated or the creators decide to put them behind a paywall. Thus, we recommend that you download these mods at your own risk. 🙂
Final Thoughts: Livestream Your Sim's Life Now
So there you have the details of the Switch Streaming mod for The Sims 4 by KawaiiStacie! This mod is like a burst of fresh air in The Sims 4. With cool streaming options, the possibility to interact with viewers, and the addition of NPC streamers, this mod features a super cool streaming experience. Whether your Sims are seasoned pros or just starting out, this Switch Streaming mod adds a whole new level of excitement and community vibes to your Sims' lives. Let them stream, engage, and create content like never before. Happy simming, Simmers!