Looking for ways to make your dishes look more delicious and real? Well, there is no better way to make your meals look tasty than by playing with food texture mods! If this seems like a perfect deal, keep reading to learn more about these mods, what they are, and how to install them.
Food Texture mods For Sims 4
No matter how experienced and creative your Sim gets in the kitchen, they can't do much to change how their quality meals look. Many dishes look bland and lack that real-life element to them. This is why texture mods for dishes can come in handy. These mods are designed to help make your Sims 4 dishes look much more realistic and much yummier.
Here come the top three food texture picks for your gameplay that will make your snakes and meals look so flavorsome. Let's go!
how to install mods for the sims 4?
Once your mod of choice is downloaded, you'll need to install it to see it in your gameplay. To do that, unzip first if the download is packed in a .rar or .zip file. Copy the file (or files) to your Mods folder (Documents> Electronic Arts> The Sims 4>Mods). Start your game, enable custom content and mods in the Game Options, and enjoy your mods!
For a more detailed installation and troubleshooting guide for Mods, go here!
1. Food Texture Overhaul Mod by Asteria & Yakfarm
Food Texture overhaul is here to help you get rid of the pixelized dishes, and replace them with finely detailed meals from the base game. Here, you'll find everything, from roasted chicken to cakes, burgers, pies, pancakes, hot dogs, and salads, featured in the original game, but elevated to look much more realistic.
The mod is compatible with other mods and CC, but be mindful if you have other food texture mods installed, as they could interfere with each other. 
If you'd like to have some fancy dishes, you can find two versions available for all meals, one with a default Versace plate and a regular one. To download it and learn more about installation and mod compatibility, you can find the Food Texture Overhaul Mod here!
2. Upscaled Food Mod by Cowplant's Cake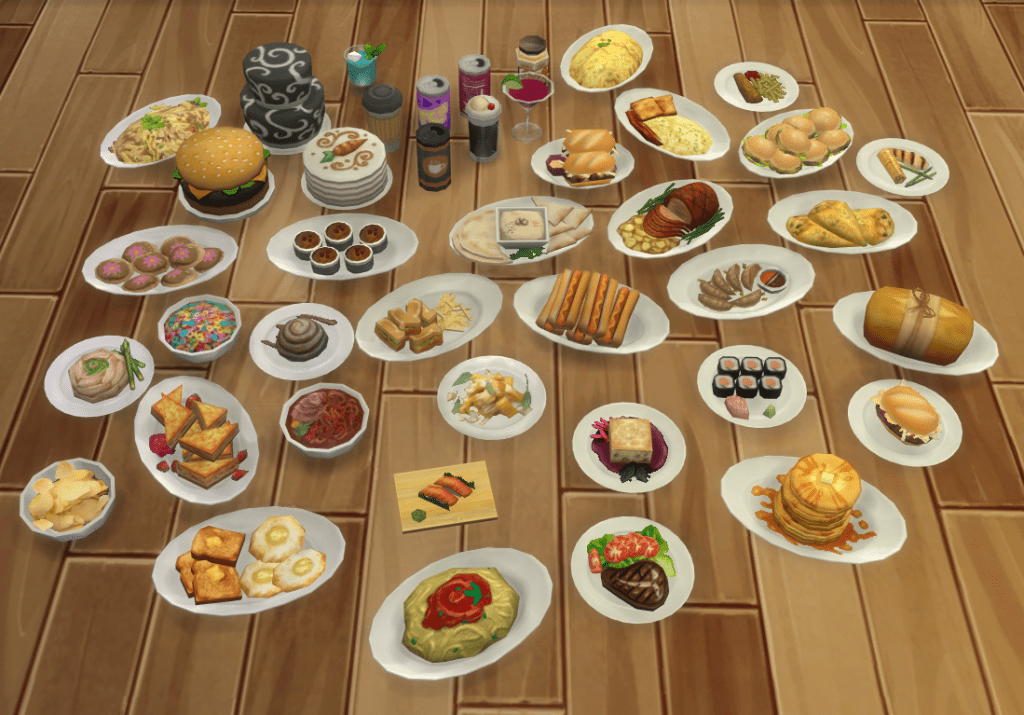 Upscaled food mood is here to make your drinks and food look much yummier and less low-resolution. It is not only the food that will look better, but also pans, cutlery, and everything else that goes with food services in Sims 4. Unlike the typical setting with white plates, the mod also adds black plates to make everything look more elegant and modernized.
The creator of the mod has kept the original food texture from the game. However, every dish is now upscaled significantly (4x) and the overall sharpness of dishes is improved. The upscaling is done on most game packs, so the majority of your regular Sims food and drinks will be covered and look way better.
The mod comes with some optional scaled objects, so you can also get an upscaled baby bottle and cutlery replacer in three colors (black, blue, and red). You will find more info and a download link for the Upscaled Food Mod here.
conclusion
If you love realistic details for the Sims 4, you will love seeing your Sims enjoy delicious food that makes you hungry as you play. Pick the one that draws you to try it, install it, and enjoy your gameplay!
Related Content