We all want better health for our Sims, so we let them exercise, sleep a lot, and give them the most nutritious food (err, maybe sometimes) that we can! Sometimes though, we want to make things a little more realistic—such as letting them get access to actual healthcare services! Now we finally can, with the Healthcare Mod for the Sims 4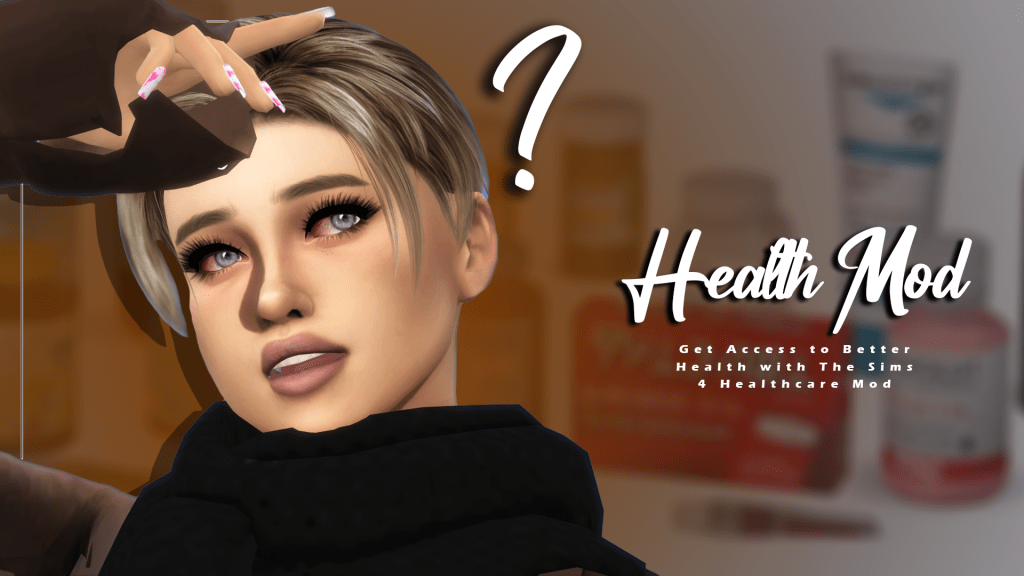 Yep! This mod packs a lot of features like letting Sims visit health specialists, acquire certain diseases, purchase products from the pharmacy, and many more! Read our article to learn all the details about this really cool mod.
What is the Healthcare Mod?
Originally known as the Healthcare Redux Mod, this mod was created by Adeepindigo and Aroundthesims. The former was responsible for developing the mod, while the latter was the designer and creator of the medications that function as a part of the mod. The Healthcare Mod was released in 2021 and it went through a few updates to improve its performance in the game. The most recent version is available here. We listed the most awesome features of the Healthcare Mod below.
Now available: The Adeepindigo App
So, first things first. The Healthcare Mod introduces a new app, called adeepindigo. Your Sims can use this to be able to access healthcare services. By opening this app, plenty of healthcare solutions are at the fingertips of your Sims. Through a simple click, they can go to the doctor and receive treatment for their concerns.
Health Insurance Options for your Sims
Your Sims can choose a variety of insurance options for themselves. The Basic Insurance Plan is for everyone who is already employed. It offers small discounts for your Sims, and it could be upgraded to other plans. Next is the Premium Insurance Plan, which is a bit more expensive than the Basic. It is for white-collar professionals and offers better discount rates for healthcare services. The Government Plan, on the other hand, is for civil servants such as members of the military and employees in the government. It includes heavy discounts for the insured.
Lastly, there is also a Universal Healthcare Insurance option for every Sim, which covers the unemployed, the children, and other members of society. This option offers little discounts. Sims may also opt out of insurance if they don't want to be insured anymore. By choosing this option, all hospital visits, doctor appointments, and medicines will be ultra expensive.
Planned Visits to Health Professionals
The Healthcare Mod allows your Sims to visit different healthcare professionals depending on their concerns. They can visit any regular doctor for routine checkups and well-visits. General Practitioners are available to check for undiagnosed illnesses. Allergists are around for diagnosing certain allergies that your Sims may have. Specialist doctors are also one call away to check for chronic conditions and to prescribe specific medications for your Sims. Your Sims may also visit the Sports Medicine Clinic in case they want to have injuries checked, or if they need rehabilitation and physical therapy.
Acupuncturists and Therapists for Relief
Aside from the healthcare professionals listed above, the Healthcare Mod also provided the opportunity for Sims to visit a therapist from a psychiatric clinic or alternative medicine specialists such as an acupuncturist. The psychiatric therapist can help Sims relieve emotional distress, while the acupuncturists can help with the physical relief of bodily pains. It should be noted though, that you don't actually get to see your Sims visiting these specialists. They would just leave the lot for a while and return with a moodlet or wall notification that describes their experience.
Vaccinations, Allergy Shots, and Blood Donations
Through the Healthcare Mod, you can get your Sims vaccinated for a fee, in order to protect them from deadly diseases such as Tuberculosis and Meningitis. One vaccination would give them immunity to these diseases for 10 days. In case your Sims have acquired allergies, you can also get them an allergy shot to alleviate the allergic symptoms they may be experiencing. If your Sims are feeling generous, you can also let them visit a healthcare facility and sign up to donate their blood.
Medical Emergencies!
There would be times when your Sims would suddenly experience medical emergencies such as a Heart Attack, Aneurysm, Asphyxiation, Hemorrhage, and others. These situations require immediate healthcare assistance or response. One tap in the app would allow them to visit the hospital to get emergency medical treatment.
Purchasing Pharmaceutical Products
One of the most interesting features of the Healthcare Mod is the possibility to purchase pharmaceutical products for your Sims. How cool, right? Your Sims can now order Over-The-Counter medicines from their phones. Prescription-free products such as vitamins, herbal tonics, sleeping pills, and topical creams are available for instant purchase. Basic medicines such as cough syrup, Paracetamol, Ibuprofen, Aspirin, and Bismol are also accessible. Alternatively, Sims can also go directly to the pharmacy to get their supply of these medicines or to obtain their doctor-prescribed items.
The Healthcare Redux Cheat
You can also manage the Healthcare Mod through some cheats! Press CTRL + SHIFT + C on your keypad, and activate testingcheats true on your cheat console. Press shift while right-clicking on your Sim to find the "Healthcare Redux Cheats" on the options. Now, you can add certain conditions for your Sim! You can let them have allergies such as a bee allergy or animal dander allergy. You can give them deadly diseases such as the aforementioned Meningitis and Tuberculosis, or chronic conditions such as Diabetes, sleep disorders, kidney diseases, Hypertension, and Asthma. Pregnancy complications, medical emergencies, and injuries can also be added or removed. Finally, you can also select the immunity system level of your sims through this cheat.
How To Install The Healthcare Mod
First, make sure to enable custom content and mods in your game options in the Sims 4. Then, visit this site and follow the download instructions below. You have to download all the items on the list for the Healthcare Mod to work perfectly. Once you have downloaded these files, extract all the ZIP files until you are left with just the extracted package files. Then, copy all the extracted package files into the Mods folder of The Sims 4. Then, run the game.
Bonus! – Healthcare CC for The Sims 4
If you enjoyed playing The Sims 4 with the Healthcare Mod, you would especially enjoy this bonus custom content we handpicked for you. This excellent CC pack contains functional items and decorations related to healthcare. Download the pack by SyBoulette here.
Verdict: What makes the Healthcare Mod Awesome?
The Healthcare Mod made The Sims 4 so much more interesting by introducing the possibility of acquiring illnesses, chronic conditions, allergies, and other health situations for our Sims in the game. It provided lots of fun by letting our Sims have access to healthcare and obtain actual products that they could use from the pharmacy. If anything, the Healthcare Mod just made the game resemble our real lives a bit more. So for us, this mod totally rocks!