If you have been waiting to send your beloved Sims 4 townies to the Cinema – we got some good news for you! The Sims 4 Cinema Mod is finally in town, and you are going to love it. You can now fill up an entire cinema full of Sims, instead of having just a small home theater. Not that there is anything wrong with that, but you know… Sometimes we just want to go big or go home. Anyway, let us check out this cinematic mod by SIMMYTHESIM!
The Sims 4 Cinema Mod v1.4: Awesome New Venue!
It is our pleasure to introduce you to the Sims 4 Cinema Mod V1.4 by talented mod creator SIMMYTHESIM! With this experience of a mod, you finally get to send all of your Sims 4 townies to the cinema! Whoever you want to bring, whatever you want to watch – this is the perfect cinema mod for it!
Now, there are 2 versions of this mod, one has the max at 30 sims, while the other has a max of 40 sims. When you get to installing this mod, you must only install one of the two. Furthermore, if you have another sim cap increasing mod, you have to remove the "increased sim limit" part of the mod, for this new mod to work.
It is also suggested that you disable "uncompressed sim textures" because the game will crash when there are too many uncompressed Sims. Enough chit-chat, let us check it out!
1. Introducing The Cinema Venue To The Sims 4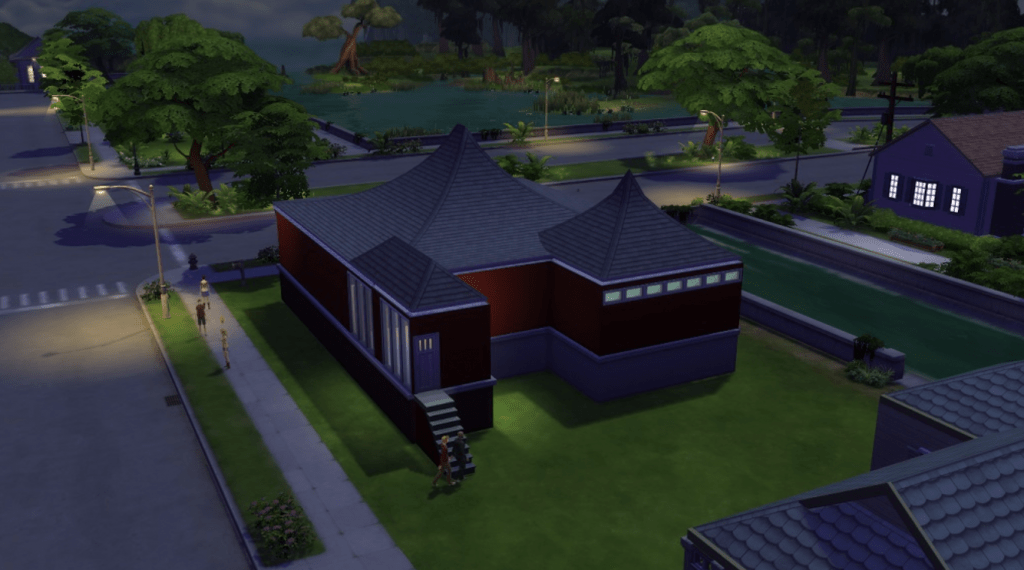 For the first time in forever the Sims 4 has got its very own cinema venue mod! And we could not be any more excited about it. After years of creating our own amazing cinema builds we can finally use this venue type to make them real!
So, whether you have a gallery full of Sims 4 cinemas, a big obsession with movies, or a soft spot for the Sims 4: Movie Hangout pack – we are certain you will fall in love with the cinema venue!
Check out these decor and clutter custom content and download them into your mods folder.
2. Bring Your Friends & Family To The Cinema!
With this new Cinema venue mod, you can finally bring tons of townies to the cinema! Whatever Sim you are playing with, bring their family and friends to join you at the movies! Your movie buff Sims are finally able to watch comedies, romances, and action films on the big screen – so take advantage of it!
And, no need to worry – this community lot will never be empty as townies will pop up whenever they desire some cinema fun! This is also the perfect place to meet someone new, as the cinema will fit up to 40 Sims!
3. How To Install The Cinema Mod V1.4!
If you are loving the idea of having a Cinema community lot in your game – you better get to downloading this fantastic mod by SIMMYTHESIM! Installing the Cinema Mod V1.4 is super easy. All you have to do is the following:
Visit the SIMMYTHESIM download link here!
Click on the button "download" under the photos
Scroll down to find the "Cinema 1.4 Zip file"
Click on the zip file and follow its instructions
Conclusion
To sum it up, the Cinema Mod by SIMMYTHESIM is a solid mod to download if you desire some cinema fun in the Sims 4. The addition of the cinema venue is really essential, in our opinion – as it brings that true realistic aspect to the game. We are kind of baffled that the Sims 4 does not have this venue type already. Maybe they will get it in the future – but until then, SIMMYTHESIM's cinema mod will do! Don't forget to visit the main post to get the ultimate movie mod, the Movie Hangout Stuff Pack, with a lot of entertainment!
Anyway, thank you so much for reading this post! Now, what was the first movie you ever saw at the cinema? Let us know in the comments down below! Happy Simming!
Related Content