Expand your sims' palate with these mouthwatering food mods!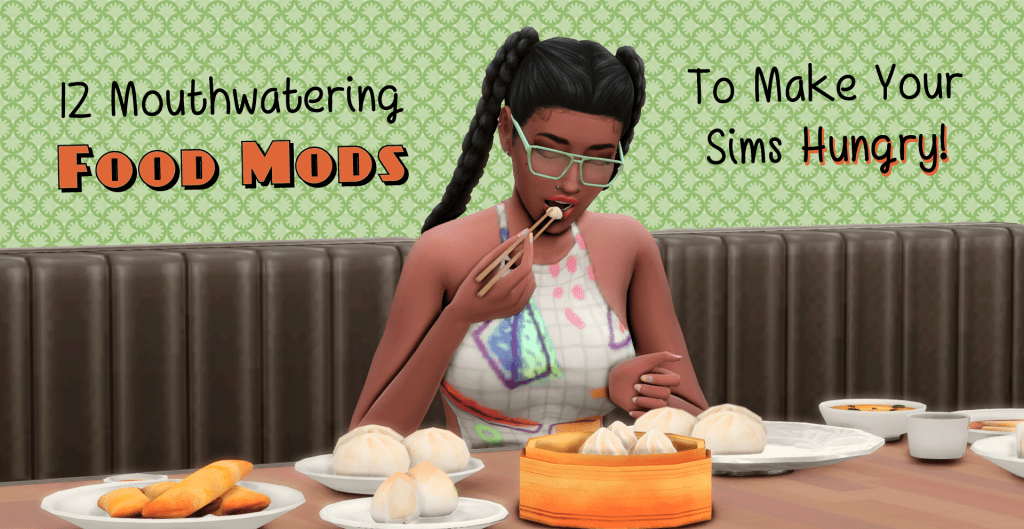 The world is full of different people with different cultures and different access to edible ingredients, which means there is a wealth of foods available. With globalization we now have access to a variety of recipes that our ancestors couldn't even dream of!
The Sims 4 also behaves in this way, with DLC adding new foods to the menu all the time. Between Expansions and SDX the amount of different meals your sim(s) can enjoy has grown exponentially over time, and modders continue to increase the types of foods available. Whether you're looking for more ethnic foods, holiday-themed treats, comfort food, or fancy dishes, these food mods will surely help your cravings!
Yummy Food Mods for Sims' Tummies
We've collected a range of delicious meals for you to try, with many modders having multiple recipes available to download. Before you get started, note that most of these recipes will require some kind of tuning mod to work correctly; each entry will be labeled with any mods needed.
1. Greek Menu by AroundTheSims
Tuning Mod Needed: None
Starting off with something simple, Sandy from ATS has complied a collection of delicious Greek foods. As someone with Greek heritage I was very excited to add some of my favorite Greek dishes into the game for my sims (feta cheese & dolmades—yum)! These are custom food objects so they don't require any outside script mods; you can just add them to your mods folder and start feasting right away. Grab these Greek goodies here and be sure to check out all of the other fantastic food mods available on ATS!
2. Chocolate Bundt Cake & Dino Nuggets by SwapmeetSimming
Tuning Mod Needed: Cookbook Enabler Item by SwapmeetSimming
Who among us (even as adults) would say no to some fresh dino nuggets?! Surely not me! Whether you need an after-school snack or a meal for a rowdy sleepover, you can't go wrong with chocolate cake and food-shaped-like-things. Get these treats for yourself by visiting this page!
3. Functional Lunchables By Insimnia
Tuning Mod Needed: My Grocery Shopping List Mod by Insimnia
On the subject of foods good for kids, Lunchables are a meal pack that can be found in the USA, Ireland, and the UK. They come with a tray of separated ingredients that children can combine or eat piecemeal, allowing them to interact with their foods and customize it to their tastes. This Lunchables food mod makes it easy to give your sims something quick & simple to eat without a lot of fuss, and comes in 7 different varieties.
If you want more brand-name foods in your copy of The Sims 4 be sure to check out Insimnia's other mods which range from recipes to food stands to custom ingredients.
4. Healthy Drinks by LittleMsSam
Tuning Mod Needed: None
Healthy doesn't have to mean boring! LittleMsSam is one of those modders you're heard about a lot, as she makes so many amazing mods for The Sims 4. This Healthy Drinks mod gives sims up to 7 new drink options which will help their responsibility, mood, fitness skill, and overall health. A tasty way to keep your sims feeling good!
5. Grilled Scallops by TianaSims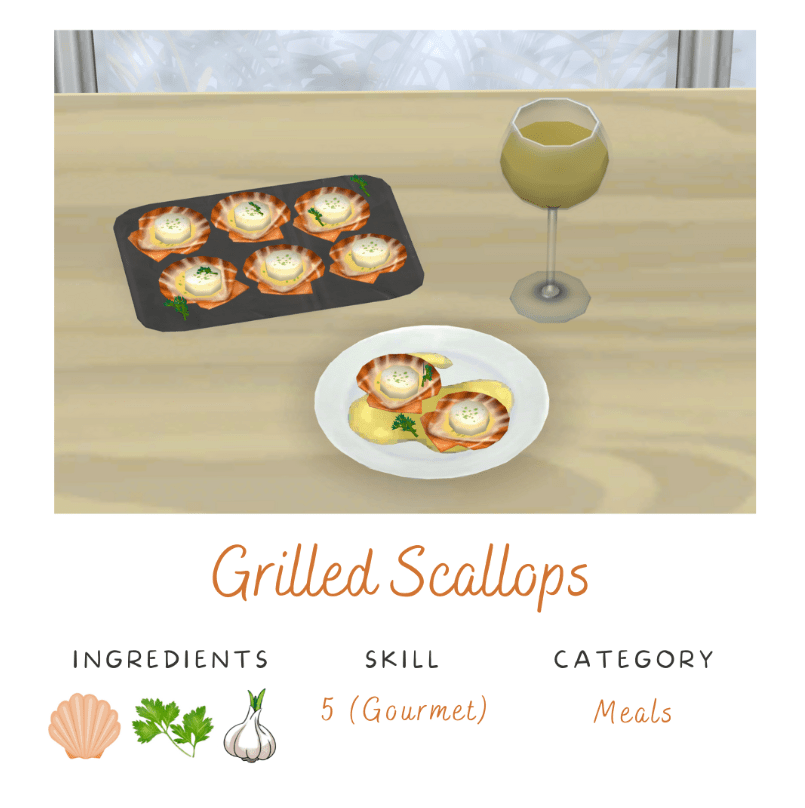 Tuning Mod Needed: TianaSims Cookbook
Mmmm, grilled scallops. It's hard not to have your mouth water when you peruse the incredible food mods by TianaSims! The recipe calls for scallops straight from Brindleton Bay or Sulani for the freshest flavors, combined with butter and herbs. Oh man, I'm making myself hungry…
This is just one of dozens of recipes TianaSims has made for all meal types and times. Definitely check out the rest of them!
6. gajar Ka Halwa by RobinKLocksley
Tuning Mod Needed: Robin's Food Enabler
This vegetarian-safe dish is served as a dessert in Indian culture, combining carrots, nuts, and spices into a lovely pudding that can be enjoyed hot or cold. It's a perfect way to cap off a satisfying meal.
If you want more ethnic dishes for your sims as well as a selection of holiday foods from all sorts of cultures, be sure to explore the rest of Robin's extensive menu!
7. Creamsicle Mango Smoothie by Bulkanika
Tuning Mod Needed: Keto Cookbook by Balkanika
Balkanika specializes in low carb, keto-friendly recipes for sims following the lifestyle. This creamsicle mango smoothie is a refreshing snack, meal replacement, or dessert that satisfies your sims' tastebuds without unnecessary ingredients. It's vegetarian-safe and lactose-free, so it's a perfect treat for sims regardless of what kind of diet they follow. You can download the recipe here.
Be sure to look at their other recipes if you like this one!
8. Functional Mangal BBQ & 10 Recipes on Skewers by Somik and Severinka
Tuning Mod Needed: Cookbook S&S
Enjoy the summer and start grilling! Whether you want fish, meat, or vegetables there are multiple skewer options available to your sims with this custom mangal grill. As an added bonus, the mangal can be placed in your sim's inventory for grilling on the go, so why not whip it out at the beach, campground, or park? If shish kabab is your kind of summer meal, you'll want to download this versatile food mod.
Want more? They have lots of other food & drinks available!
9. Raindrop Cake by Amellce
Tuning Mod Needed: Amellce's Custom Food Enabler
A few years ago, the Raindrop Cake took the internet by storm and everybody wanted to make it and/or try it. Now it can take the Simternet by storm as well! This collection includes 3 different recipe options for Classic, Galaxy, and Sakura raindrop cakes.
For more novel and beautiful desserts, take a look at the rest of Amellce's creations.
10. Caramelized Onion & Goats Cheese Tartlets by Littlbowbub
Tuning Mod Needed: Grannies Cookbook by Littlbowbub
If your sims have a more refined palate or they're interested in trying something new, these tasty onion & goat cheese tartlets are a great place to start. Serve them as an appetizer at a dinner party or enjoy a plate while relaxing in the backyard on a nice evening. Bon appétit!
Littlebowbub has a bunch of other recipes including some adorable animal-themed dishes.
11. Cowplant Cake by BrazenLotus
Tuning Mod Needed: Core Food & Drink by BrazenLotus
HOW CUTE IS THIS CAKE?! Celebrate a birthday, the arrival of springtime, or surviving an encounter with the Cowplant with this absolutely precious confection. The batter even has the cow print pattern on it while it's baking! This food mod is so cute I almost can't handle it. If you're smitten with this cake too you can get the recipe here. BrazenLotus has tons of other recipes too!
12. Custom Food Recipe Files by Oni
Tuning Mod Needed: Oni's Recipe Pack
Oni has created so many recipes we can't list them all, but there at least 100, probably closer to 200 in there! Meats, baked goods, vegan dishes, gourmet meals, and more can be found in this master collection. Oni will continue to update it as they make more recipes so be sure to bookmark the page!
Final Course
Have you made it through this list without getting hungry? If so, you're stronger than me! With a dozen different creations on this list just scratching the surface of what can be found, there's no reason not to treat your sims to a smorgasbord of new food mods. Maybe you'll find your favorite food among them! Throw your sims a dinner party and enjoy your new mods—have fun, and happy simming!