Do your Sims find themselves in dire financial struggles, having a hard time making ends meet, or are they looking for an unconventional pastime in their daily lives? If so, the Begging Mod is the perfect addition to your game!
What Are The Features of This Mod?
The Begging Mod, created by the talented modder NeedCoffee4That, allows your Sims to beg for money from NPCs and townie Sims. It gives them the challenge of asking for simoleons and witnessing the diverse reactions of Sims in the neighborhood.
Whether your Sims are in the asking or receiving end of the begging, this mod adds an exciting and unpredictable concept to the game. So, we covered all the interesting aspects of the said mod, and even included our bonus playthrough below!
More on SNOOTYSIMS: The Sims 4 Banking Mod: A Valuable Financial System!
1. Embracing the Beggar Lifestyle
With the Begging Mod, your Sims can embrace the life of a beggar and seek the charity of other Sims. The mod introduces two new begging interactions:
Beg for Money – This lets your Sims approach a specific Sim and ask them for Simoleons.
Beg for Money (Self-Interaction) – With this one, Sims can choose a certain area where they will just keep asking for alms, without a specific Sim in target.
These two will become available when your Sim purchases the "Beggar" reward trait from the rewards store. This new trait costs 100 reward points and is available for Sims, from child to elder life stages.
2. Mastering The New Begging Skill
Begging is not just about asking for extra simoleons. Your Sims will need to develop their Begging skill, which is a minor skill with five levels. The success of begging interactions depends on various factors, including the Begging skill itself, the Charisma skill, the relationship level between the Sims, their traits, and moods. For instance:
Sims with the "Good" trait are more likely to give generously.
Sims who are in a good mood are more inclined to be charitable.
Sims with traits like "Evil," "Mean," and "Hot-headed" are less likely to part with their Simoleons.
If your Sim or the target Sim is in a bad mood, the chances of their successful begging will decrease.
3. New Begging Moodlets!
With the Begging Mod, all-new moodlets will also be added to the game. Your Sims will react to the activity, depending on their successes and failures in asking for alms. Most of the time, they would feel ashamed or sad by the activity.
4. NPC Sims Can Be Beggars, Too.
The mod also brings some autonomy to NPC Sims who have the "Beggar" reward trait. These Sims may appear in your game and engage in begging interactions, offering your active Sims the opportunity to give money, which will be added to the begging Sim's household funds. You can set Sims to be beggars in two ways:
Via gameplay – Like what we mentioned earlier, you simply need to purchase the Beggar reward trait from the rewards store for 100 simoleons.
Via debug cheats – After using the testingcheatstrue cheat, you can then shift-click on any Sim and choose the option "Make Beggar (DEBUG)", to give the Sim the Beggar reward trait.
BONUS: SnootySims Playtest!
We tried to test the Begging Mod in our game and here are some screenshots of what we experienced in our gameplay!
Begging From One Sim To Another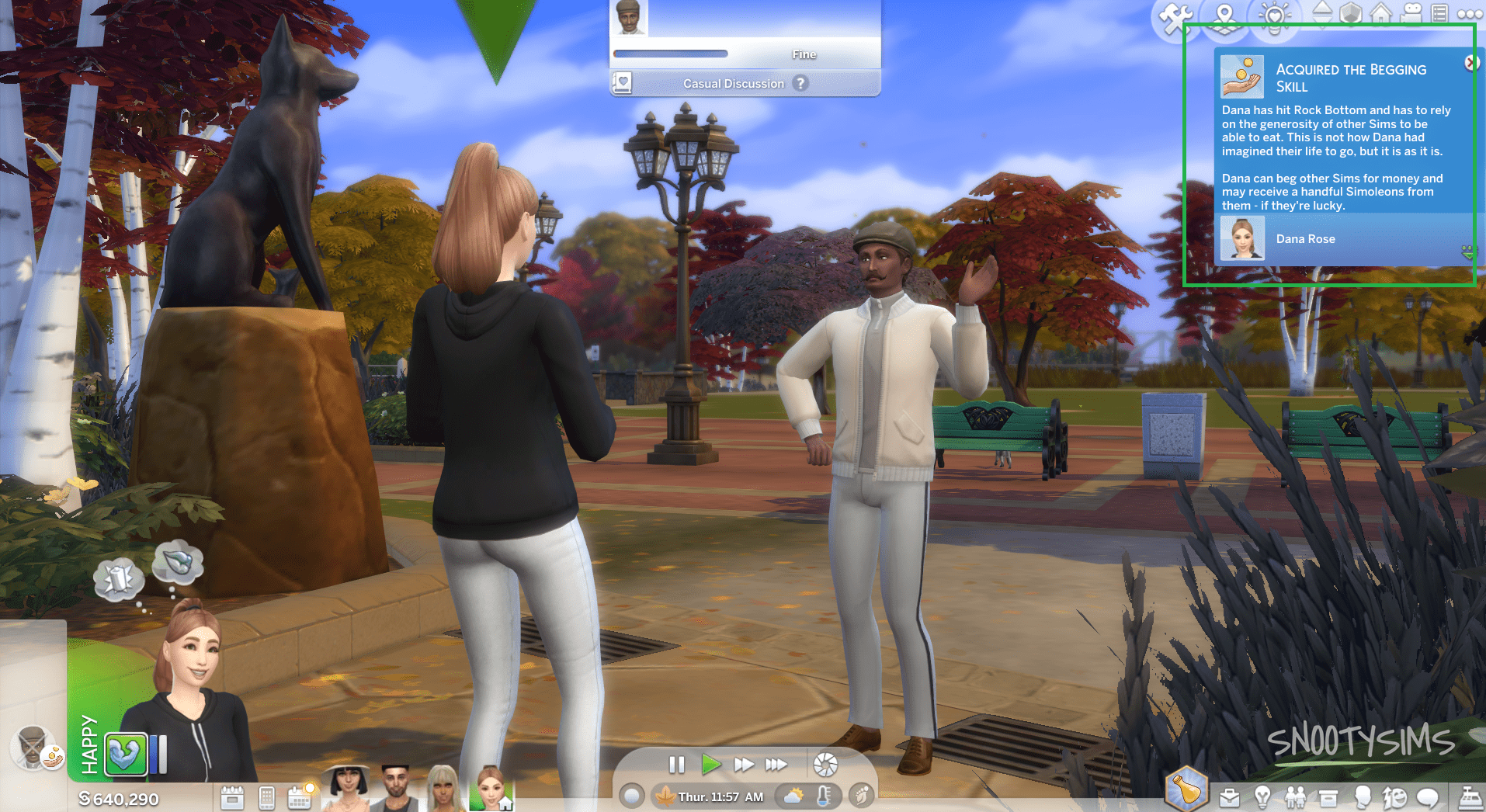 Dana purchased the "Beggar" reward trait from the rewards store. She soon acquired the Begging skill. Right away, she went to the park to test her begging capabilities. She approached this man and begged him to give her money.
Begging Publicly
Dana now went to another area of the park. This time, she selected the self-interaction of begging. Through this way, she just had to keep asking for money in one specific area and let Sims give their donations directly to her. This is much easier than asking specific Sims one by one for extra moolah.
Feelings About Begging
With her very low begging skills, Dana was not feeling well about begging! She thought that it "kinda sucks…" However, her public plea for simoleons was somehow more successful than her idea of approaching Sims one by one. If you noticed her households funds, it now increased a bit compared to what she had earlier! Niiiice.
How to Install the Begging Mod
Head over to NC4T's Curseforge post to download the mod.
After downloading, unzip the files and paste them into your Mods folder.
Make sure to enable the use of mods and custom content (CC) in your Sims 4 game settings.
Enjoy the mod!
Final Thoughts: Ready to beg for Simoleons?
So that's it! With the Begging Mod, you can give your Sims a taste of life on the streets and see how they survive the challenge of begging for Simoleons. You will be amazed to see if they find charitable givers or face rejection. Sounds really intriguing, right? So go ahead and try this mod today, and let us know how it goes. We are on Facebook, Twitter, YouTube, Instagram, and TikTok, where you can follow and message us! Or, you can leave us a comment on this post! Happy simming, Simmers!