Do you have Sims who want to become master thieves in The Sims 4? Install this Burglar Mod and let them live out their wildest criminal fantasies!
What Are The Features of This Mod?
Before the launch of The Sims 4, the first Sims games had always featured random occurrences of burglary in our Sims' households. The attacks of these cunning criminals during the night taught us Simmers to become vigilant and to always install a handy burglar alarm as a security measure! How nostalgic, right? Well, if you've ever missed this concept, get to know this mod from creator Needcoffee4that, called the Be A Burglar Mod! Check out all its features below.
1. Become a Burglar Through a New Reward Trait.
In the Be A Burglar Mod, your Sims get to have the opportunity to become burglars and steal other people's possessions. To do this, simply access the Reward Traits and buy the Burglar Trait for 1,000 reward points.
More on SNOOTYSIMS: 44+ ultimate list of trait mods for the Sims 4!
2. Build Up Your Burglar Skills.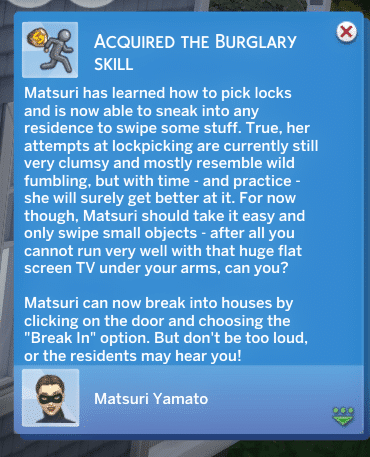 Through this burglar mod, a new minor skill is introduced–Burglary! Your Sims can level up this skill to become a more cunning thief, which will let them tackle tougher challenges as they progress. The skill has 5 levels to master.
3. Try New Interactions Such as Breaking In and Swiping Things.
Break-In: Your Sims can break into the houses or apartments of unsuspecting Sims. Keep in mind that private dwellings and the houses of celebrity Sims pose advanced security challenges. Your Sims would need higher Burglary skill levels to successfully infiltrate these lots.
Swipe: Well, your Sims no longer need the Klepto trait to be a master thief. With this Swipe interaction, they can easily steal items based on their Burglary skill level. The more skilled they become, the more valuable items they can pilfer!
4. Get Entertained With The New Buffs Available.
The fun thing about the burglar mod is that it allows our Sims to experience a rush of new buffs and burglary-related moodlets. For example, novice burglars will often get tense doing criminal acts as they have a high chance of getting caught.
5. Try Not to Get Your Sims Arrested!
Getting caught breaking into houses or stealing will force your Sim to flee the crime scene. You will see them run for their lives! Each time they get caught, there's a chance they might be arrested, resulting in the loss of stolen items. The higher your Sim's Burglary skill level, the lower the chances of getting caught. Sims who are arrested will be detained for multiple days and will be charged thousands of simoleons for the attempt.
Bonus: SnootySims Burglar Mod Test!
We'll introduce you to our burglar Sim, Matsuri. She is at level 1 of her Burglary skill. Yep, she's still quite a rookie in the game. Let's see what happens during her burglary attempts at various houses in the neighborhood.
Burglary Attempt#1
Matsuri tried to break into her first victim's house. The weather was slightly bad, so she was hoping that the sound of the rain would drown out the noise she made while breaking in.
She whipped out her tools and tried to open the door to be able to steal some items. Was she able to succeed on her first try? Probably not.
Matsuri failed the first attempt when this cute little toddler saw what she was doing and approached her. Uh-oh! Try better next time Matsuri.
Burglary Attempt #2
For her second attempt, Matsuri traveled to Sulani and went to this house with its large doors and see-through windows. Once again, she tried her luck at breaking in.
Unfortunately, it turns out that the owner of the house was just at the corner. So Matsuri was easily busted!
Matsuri tried to run away from being caught doing the burglary attempt. However, she already heard the owner contacting the police. Oh no! Not long after, Matsuri was arrested and detained for 40 hours!
Here, we can see that Matsuri has just returned from her arrest. She was quite tense and angry about the whole thing. Well, being in jail for 40 hours does not seem to be such a nice experience! Not only that, she was charged 13,502 simoleons for her crime.
Burglary Attempt #3
For the third time, Matsuri tried to break in at another house–this time, at Count Vlad's mansion. She attempted to break in during daylight.
However, it turns out that Vlad was not sleeping in his casket. Because of Matsuri's low skill levels in Burglary, Vlad caught her right in the act and started to pick a fight with her!
After the messy fight with the creature of the night (gulp!), Matsuri tried to flee from the crime scene. She hoped that she would not get arrested. Spoiler Alert: She still did. LOL. So if Matsuri could teach our would-be burglar Sims one valuable thing, it is this: Make sure to not get caught while breaking in! Only attempt to do ~thief thingz~ while Sims are sleeping!
How Do We Install The Burglar Mod?
Here is what you should do in order to incorporate the Be A Burglar Mod in your game!
Head to this page to access the mod, then click download.
Take note that for the burglar mod to work, you must have The Sims 4: Get Famous installed.
After unzipping all downloaded files, paste them into your Mods folder.
Lastly, make sure that the use of mods and CC are enabled in your Sims 4 game settings.
Wrapping It Up: Burglary Has Its Consequences!
The Be a Burglar Mod offers both a thrilling and a realistic tweak to The Sims 4. Not only does it reintroduce us to the concept of burglary in the game, but it also demonstrates the consequences of doing such a grave and mischievous act! If you have ever tried this mod, let us know how it goes! We are on Facebook, Twitter, YouTube, Instagram, and TikTok, where you can follow and message us! Happy simming, Simmers!
Related Content