Have you ever wondered if it's possible to manage your finances in The Sims 4 through an actual in-game banking system? Well, good news, because there is a nifty banking mod that exists for The Sims 4 which lets your Sims efficiently take control of their hard-earned Simoleons! Yep. Read our entire article to know more about this mod!
Meet the Sim National Bank, A Really Nifty Banking Mod!
The Sim National Bank, more commonly known as the SNBank, is a banking mod that introduces an organized financial system in The Sims 4. The goal of the mod is to assist Sims in managing their Simoleons, allowing them to take part in various banking activities. The said banking mod is part of the mod creations by SimRealist, a community of TS4 modders who produces excellent real-life mods for the game, with roBurky and Victor Andrade serving as its senior mod developers.
As we have earlier reported, plenty of mods have been broken due to the latest game update. But, great news for us simmers, because the banking mod is one of the mods that have recently been revamped—it works with the current patch update related to the launch of The Sims 4: Growing Together expansion pack.
What Can You Do with the Sims National Bank?
The banking mod of the SimRealist group has been around since 2020. Because the mod has already garnered a huge following (check out their full-on Discord support!), it is constantly being updated for simmers, with the developers adding more useful features in the mod with each update. We have thus decided to cover all the features of this mod through our list below, so you can know how to use the tools of the financial system. Make sure to check our verdict at the end to know if this banking mod is a hit or miss for us!
1. Sims can open their own bank account.
Your Sims can swiftly open their own bank account. To do this, access the phone menu, then click the "Sim National Bank" located under the Home category. Once you have accessed the app, your Sims can open a "Main Account" by depositing a minimum amount of 20 simoleons. The Main Account will display the current amount of money that Sims have, and the said account is readily accessible on the app. Clicking on it will allow Sims to make deposits and withdrawals to and from other financial accounts.
2. Sims can receive career pay and salaries in the bank account.
Sims who have different sources of income can directly receive their salaries, royalties, gig money, and other forms of payment in their bank account. In the app, simply click on the "Career Direct Deposit" button, to allow Sims to receive all career payments to their Main Account. You can also choose to let a custom percentage of the career payments of Sims go directly to their Household Funds. For example, you can set 50% directly to the Main Account, and the other 50% to the Household Funds.
3. Sims can receive an inheritance.
Now, what happens if you have a really old Sim in your household—one that is on the verge of dying? If this Sim does die, and in case they have an existing bank account from the Sim National Bank, all the money from the dead Sim's Main Account will be withdrawn, and find its way back to the Household Funds of their family. The banking mod will prompt a notification, informing Sims that they have received an inheritance due to the death of their family member.
4. Sims can pay all sorts of bills.
Speaking of the realistic features that this banking mod provides, you can also set up the bill payments of your Sims' household through an add-on mod for bills (Find details below on how to install)! Once a Sim family moves into a residence, they can set up the Home Services that they need. This includes Internet, Water, Electricity, Cabled TV, and Cellphone Contracts, and Trash Collection. Of course, these services and subscriptions would need regular payments. You can set up bill payments smoothly using the mailbox or the bills app on the phone.
5. Sims can pay taxes and rent.
Aside from paying utility bills on the app or the mailbox, Sims may also pay property taxes and property rent whenever these bills are due. Property taxes are paid for regular residential lots, while rent is paid for apartment lots. The said taxes are due after each Sim Year, which is equivalent to 4 Sim weeks, while rent, on the other hand, has to be paid every Sim week. You will see how much your Sim has to pay exactly, but don't take these bills light-heartedly! If unpaid, both taxes and rent can result in the death of Sims.
6. Sims can pay child support.
The banking mod is truly a realistic simulation of life, as one of the financial system's main features is the ability to pay Child Support. Parent Sims can send support for their children by setting up regular payments from their Main Account. The said payment requires a fixed price for each child. One cool detail here is that Parent Sims actually need to pay Child Support first before they can pay other utility bills in the house! This ensures that their children's needs are prioritized before their own.
7. Sims can pay alimony.
Aside from Child Support, Sims can also pay their Alimony for the Sims that they divorced. The Alimony must be paid out for 4 consecutive weeks, or until the ex-spouse remarries. Just like Child Support, Sims can conveniently pay the Alimony through an automatic setup of the payment in their bills app. In the chance that they suddenly lose their job or start getting lesser income, the Alimony-paying Sims can submit an Alimony Stop Request to the government.
8. Sims can easily receive government benefits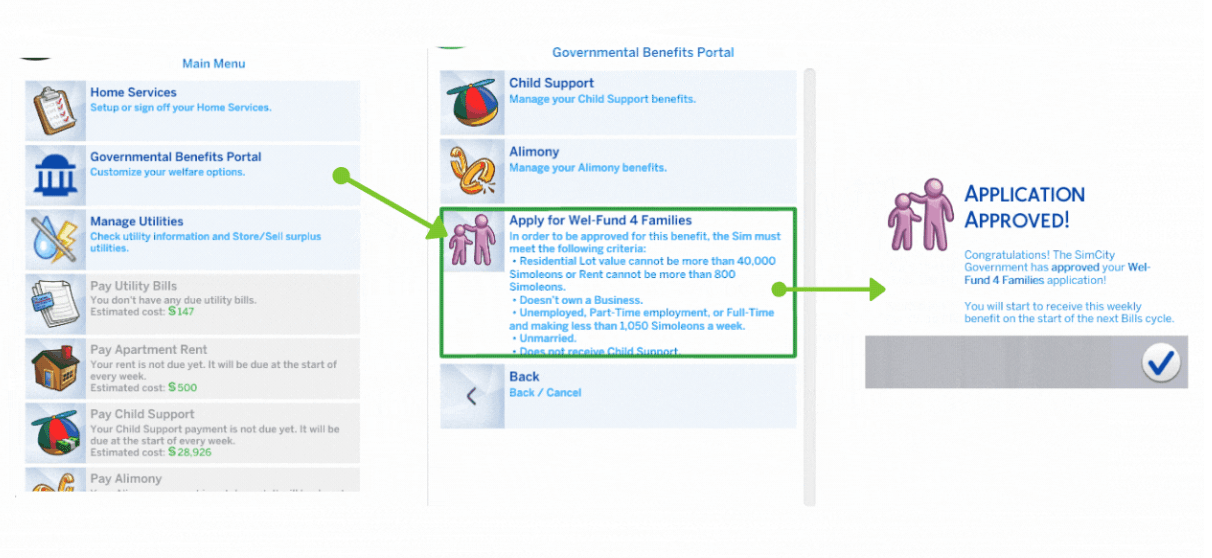 The banking mod also recently added another realistic aspect to the banking system—Sims can now ask for financial assistance from the government. There is a program called the "Wel-Fund 4 Families", which aims to provide support for single parents who need more simoleons to get by in their lives. The program is also available for a parent who has stopped receiving Child Support from their ex-spouse.
There are some requirements to be eligible for the Wel-Fund, including not owning a business, being unmarried, or receiving less than 1,050 simoleons per week, among others.
9. You'll get consequences for not paying bills.
Now that we've laid out the various types of bills your Sims can pay through this banking mod, it's also important to inform you that there are consequences if the said bills are not paid! Here are just some of the repercussions:
Unpaid Power Bill – Electricity in the household will be cut off, and the bill will incur interest.
Unpaid Internet Bill – Water in the household will be cut off, and the bill will incur interest.
Unpaid Trash Bill – Trash will keep piling up in the household, and the bill will incur interest.
Unpaid Taxes/Rent for Properties – the incident will be published in the papers and Sims will likely die from the embarrassment.
10. You can adjust your bill payment options.
The banking mod also allows you to tweak a few things in your financial transactions, such as your bills. To be able to manage bill payments more efficiently, you can customize some settings in the bills app. Aside from toggling automatic payments on or off here, you can also increase or decrease the costs of your payments for Child Support, Alimony, Property Tax/Rent, and utility bills like the Internet, Electricity, Water, and the like. You may choose if payments get deducted from your Main Account or your Household Funds.
11. You can visit the SNB Financial Center.
Of course, what banking system would be complete for The Sims 4 without the actual presence of a bank that Sims could visit? Well, fret not, because if you are looking for an actual establishment, there is an available add-on for the banking mod—which lets you have the SNBank Financial Center in the game! Yes, there are pre-made venues that allow your Sims to visit and transact financially with banking employees. These lots also allow them to secure loans and apply for mortgages, which we discuss in full below.
12. You can take out different loans.
Sims can visit the SNBank Financial Center, wherein they can inquire to a Loan Officer in case they want to apply for loans. The Loan Officer would give your Sims a handful of options, such as getting an Unsecured Loan or a Mortgage. Once Sims have decided which to get, they can now "Apply for a Loan" and enter the amount they want to borrow from the bank. After an agreement has been made, the loan will then eventually be disbursed to your Sim's Main Account.
13. You can invest your hard-earned simoleons.
The Sims National banking mod really offers pretty interesting aspects to the lives of our Sims. Through an added investment feature, Sims can also choose to purchase shares from the SNBank using their hard-earned simoleons! If a Sim has bought their shares, they will be able to access these in their inventory. They will then receive a dividend income every week, which will directly be deposited into their Main Account. Sims can buy multiple shares, and 1 share is equivalent to 2,500 simoleons dividend payout per week.
14. You can even use ATM cards!
If you think all the financial fun stops here, then you're in for a treat! Did you know that apart from all the banking possibilities we've listed earlier, there is another add-on mod that will make all these banking transactions more authentic? Yep! There is an ATM mod that works with the SN banking mod! Created by LittleMsSam (with the original mod from Zooroo), this mod allows your Sims to purchase credit cards, apply for credit, and use an actual ATM to withdraw money from. Cool, right?
How to Install and Use the Banking Mod
To install the Sim National banking mod, you have to access this page and click the "Download Now" button. A prompt will appear asking you if you want to donate some money for the mod. This is entirely optional because the mod is still free. If you choose not to donate, simply click the "No thanks, just take me to the downloads" button. Another page will open up, and here, you can finally download the file. The downloadable language files on the page are optional.
If you also want to install the add-ons that we have mentioned, just head to the following pages: bills app, SNBank financial center venue, ATM function, and follow the same process above. Next, place the downloaded mods in your Mods folder (Documents > Electronic Arts > The Sims 4 > Mods) and your downloaded lot files in the Tray folder (Documents > Electronic Arts > The Sims 4 > Tray). Then, make sure that the use of custom content and mods are enabled and script mods are allowed in your game options. Then you're done!
Verdict: Ready to Use Your Simoleons with This Banking Mod?
So, there you go. We've laid out all the incredible features of the Sims National banking mod, along with the bills mod add-on. The usage of the mod is a bit complex to grasp at first, because of the plethora of financial activities you can do. It takes a bit of time in getting used to doing banking transactions, such as withdrawing and depositing simoleons, setting up bills, and receiving government benefits.
However, once you get the hang of the banking system, you'll find that the features are really convenient to use. Not only does the mod replicate real-life bank-related scenarios, it also sort of teaches your Sims to be more responsible in managing their Simoleons. So our verdict is positive. Yep! The banking mod, along with the bills mod add-on, deserve to be on your game!
Related Content