Get to know the Haunted Mirror Mod, another ultimate mod that will add spine-chilling fun to your Halloween season! We've explored all the eerie features of this mod and even included our SnootySims playtest details below! Don't say we didn't warn you!
Frightening Features of The Haunted Mirror Mod
In The Sims 4, our Sims use mirrors to practice their Charisma skills, to give themselves a pep talk when they're sad, to check themselves out, or for plenty of other reasons. However, what if there's a new kind of mirror that lets them summon a cursed soul from the other world? Gulp, that sounds scary huh? Well, there is an exact mod for that, and it's called the Haunted Mirror mod. Read on to learn all its frightening features!
More on SNOOTYSIMS: Possessed Child Mod: Give Your Sims the Ultimate Scare!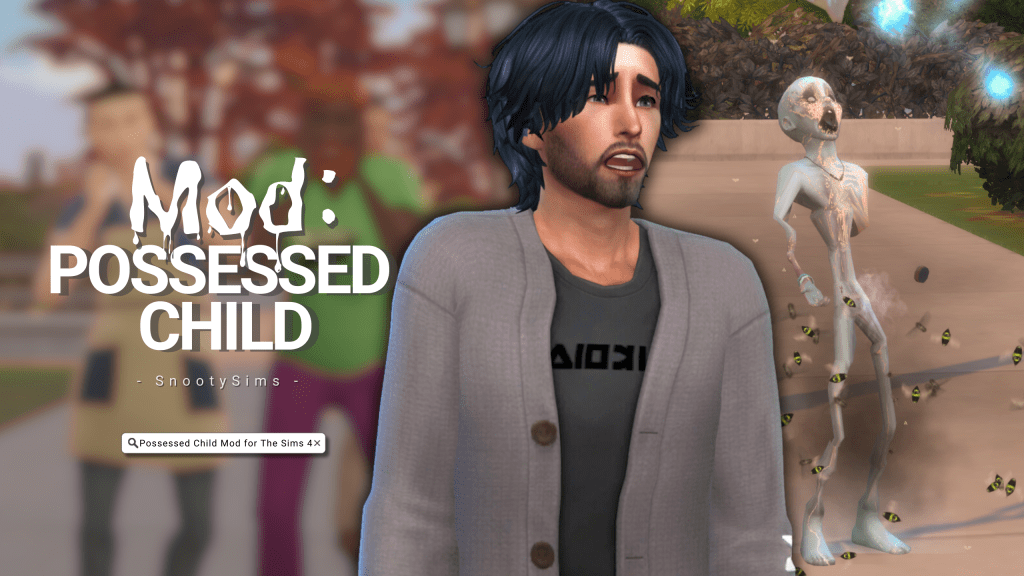 1. There Is a Notorious Haunted Mirror.
The Haunted Mirror is available in Buy Mode for 5,000 simoleons. On its own, it serves as a stylish room decoration for your Sims, boosting the room's environment score by +2. However, it could also have a more sinister purpose.
2. You Can Use This Haunted Mirror TO Chant Names.
Once your Sims have purchased the Haunted Mirror, they can interact with it in the following ways:
Admire New Possession – This allows them to appreciate the mirror as a new acquisition.
Chant Bride's Name – By chanting, Sims can summon the bride.
Chant Multiple Brides' Names – This summons multiple brides to the lot.
Protect Self from Bride Hannah – This interaction offers 24 hours of protection against the bride's intentions.
3. After Chanting, The Cursed Bride Will Appear.
Successfully chanting the bride's name will bring the haunted bride, Hannah Ashford, to your Sims' lot. She appears as a distressed corpse in a blood-soaked wedding dress, wielding a chainsaw. If multiple names have been chanted, multiple brides will also spawn on the lot.
4. Now Run Away Because All Hell Will Break Loose!
According to legend, Hannah Ashford, the Young Adult bride Sim, is seeking vengeance as she was once a betrayed bride. Once summoned, she will go on a killing spree using her chainsaw, making it essential for your Sims to run away. Fortunately, Sims protected by the haunted mirror is spared from her wrath.
Featuring: SnootySims Playtest!
Take a look at our (terrifying) gameplay experience when we tried the Haunted Mirror mod!
Exploring What The Mirror Does
Our Sim, Naya, approached the mirror and gazed deep into her reflection. Taking a deep breath, she then began chanting multiple brides' names. Oh, snap! She then levitated from the ground!
Seeing The Haunted Bride
Well, it looks like the chant was successful because when Naya turned around, she saw Hannah, the betrayed bride standing in the corner of her room. That is not good.
Oh Scratch That, We Mean…Brides.
Meanwhile, another Hannah was spotted on the left part of the house. Yes! There were now two brides haunting the lot. What did we let our Sim Naya do? We made her go straight into the bathroom and we locked her door.
Start of The Revenge SPree
Our brides were not kidding when they said they wanted revenge. They soon killed two of our Sims in the household while Naya was still locked in the bathroom. This made her very tense.
Double Trouble
We can now see the two Hannah brides waiting patiently to take their chance in killing our Sim Naya. You will notice that they have crows on their shoulders for that added creepy effect.
Protection, Please!
Naya quickly went back to the area of the haunted mirror and chose to protect herself from the brides. She was granted a 24-hour hall pass to not get killed. This made her courageous in interacting with the cursed brides. Wow, the audacity!
Find on SNOOTYSIMS: 40+ Halloween CC for the Sims 4! (DON'T MISS OUT)
Killing Even The Grim Reaper, And Other Sims Too?!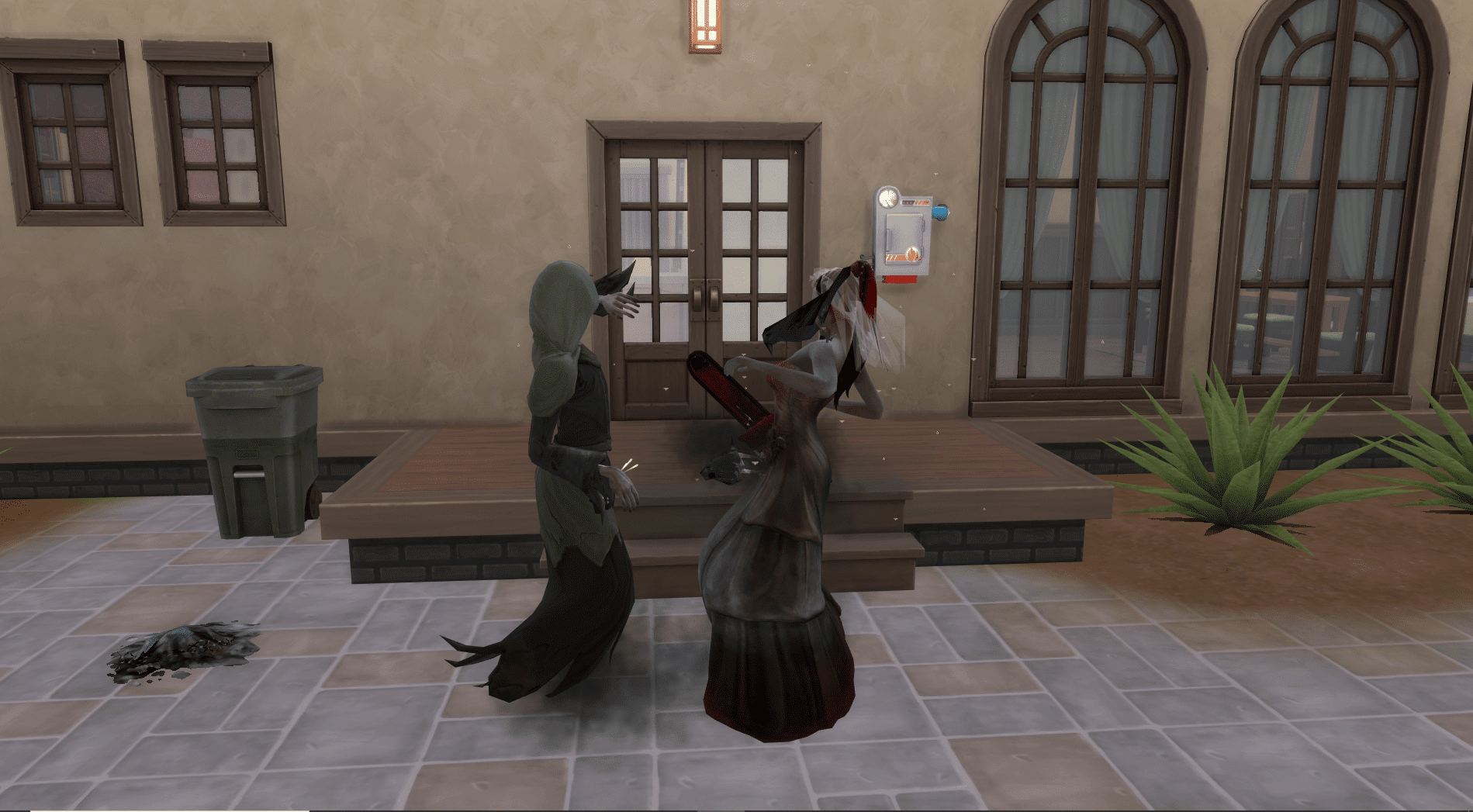 When Grim Reaper arrived to take the souls of Naya's housemates, the brides took their chance and killed him, too. Later on, the brides went to other parts of the neighborhood and started taking the lives of other Sims! Oops, it seems like our Sim really should not have messed with the haunted mirror.
How Do We Install This Mod?
The Haunted Mirror mod can be played using just the base game of The Sims 4. The said mod was launched years ago but it still works with the current version of the game. Here are the steps you should take in order to install the Haunted Mirror mod:
Go to this post and download the link provided.
Extract the zipped file and place its contents in your Sims 4 Mods folder.
Make sure to enable the use of mods and custom content in your game settings.
Take note that before using this mod, click save first! You would not want to have all your Sims killed in the game without having the option to undo these events.
Enjoy!
Conclusion: Beware of The Haunted Mirror!
The Haunted Mirror mod does offer a thrilling twist to the mundane lives of our Sims, but it is not for the faint of heart. It offers an unnerving tweak to the game that is not only terrifying but also quite violent, as it involves a lot of deaths. So download the Haunted Mirror mod at your own risk! But, in case you have already tested it in The Sims 4, we'd love for you to share your experience! We are on Facebook, Twitter, YouTube, Instagram, and TikTok, where you can follow and message us! Or, you can leave us a comment on this post! Happy simming, Simmers!