If you are looking for the perfect mod to celebrate Halloween in The Sims 4, then you will love this Possessed Child mod! We uncovered all the interesting features of this creepy mod and included our SnootySims playtest details below. Beware and read at your own risk!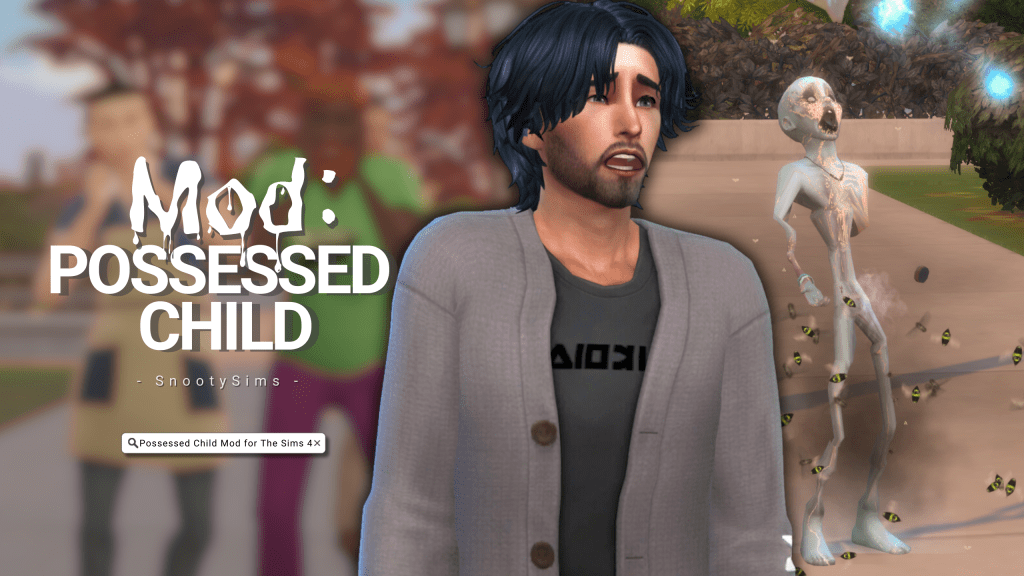 What Are The Features of The Possessed Child Mod?
In The Sims 4, children are precious little beings who need a lot of love, care, and attention from their parents in order for them to grow well. But what if there is a child who has not received the affection he needs, and now comes back to take revenge? Uh-oh! That is what this Possessed Child mod is all about! Read on below to learn about the features of this terrifying mod.
What do you know about the Autism Spectrum Disorder mod for the Sims 4? Follow us on Pinterest for the latest Sims 4 mods!
1. There Is A Possessed Child named Jonathan.
According to the gravestone, Jonathan Colby was a young boy who suffered torture and abuse, ultimately being killed at the hands of his own father. Legend has it that on the anniversary of his passing, Jonathan's restless spirit possessed his own body, vowing to take revenge on anyone he encounters in the world of Sims!
2. You Can Place His Grave On Your Sims' Lot.
With the Haunted Mirror mod, you can acquire Jonathan Colby's gravestone for 666 Simoleons and place it anywhere on your Sims' lot. Look for "The Haunted Mirror Gravestone" under Decorations.
Once you've placed the gravestone, you'll notice it will spawn some bats around it, and upon closer inspection, a multitude of spiders will also be seen crawling out from the grave.
Read on SNOOTYSIMS: The tragic life and retconned redemption of Cassandra Goth!
3. Summon The possessed Child By Chanting His Name.
When you click on the grave, you'll find four available interactions:
Chant Boy's Name – This allows you to summon Jonathan.
Protect Sim from Possessed Child – Offers protection from Jonathan's deadly intentions.
Acquire Possessed Child's Curse – Grants your Sim the same abilities as Jonathan.
Disable Reactions For This Sim – Enables your Sims to not feel tense by the chaos when Jonathan arrives.
4. Once Summoned, He Will Wreak Extreme Havoc!
When your Sims chant the boy's name, you will notice a flash of lightning on your Sim's lot. This means that the Possessed Child, Jonathan has been summoned!
He will appear as a scrawny, disfigured humanoid that emits smoke and flames. Then, he will begin eliminating anyone in his path.
5. There Will Be Strange Sightings In Your Sims' Lots.
As the haunting in the household begins, you'll notice peculiar lights dancing around your lot, resembling translucent animal figures. Their purpose remains a mystery, known only to the possessed child.
More on SNOOTYSIMS: Spooky Lolita Goth: The mysterious tale behind this ghost from the Sims 3!
6. Sims Will Be Very Afraid Of The Possessed Child.
Sims who witness the Possessed Child's arrival will become terrified, screaming and pointing, as Jonathan takes on a serious killing spree with four methods: Biting, Stabbing, Soul-Stealing, and Lightning-Striking.
Members of your household will become very tense in the presence of the Possessed Child because they will be able to prove that the creepy legend is indeed real!
7. However, Your Sims Can Stop The Possessed Child!
For those Sims fed up with the fear that Jonathan is causing, they have the option to calm themselves and rid their lot of this evil presence through two interactions:
Kick Him – Temporarily halts Jonathan's actions.
Banish the Spirit – Permanently removes him.
8. But Beware! Your Sims Can Also Be Possessed…
If you choose to "Acquire Possessed Child's Curse" from the grave's list of interactions, your Sim becomes a possessed soul just like Jonathan, wreaking havoc and becoming uncontrollable. You can then regain control over them by clicking the grave and selecting "Banish the Curse."
Featuring: SnootySims Playtest!
Check out what happened in our gameplay when we explored the Possessed Child mod!
Purchasing The Grave
We purchased the grave for 666 simoleons and placed it on our lot. Interestingly, the skies darkened, and a thunderous roar was heard right at the moment we set the grave in place. One of our Sims, driven by curiosity, approached the shiny new slab of stone to inspect it.
Neighbors Arriving
Our neighbors from Brindleton Bay, Brent Hecking and Brant Hecking, arrived at the lot to extend a warm welcome to our Sims. Little did they know they would soon become part of a nightmarish incident at this household.
The Beginning of Evil
Our Sim decided to chant Jonathan's name, and before long, a bolt of lightning struck the household, enveloping it in smoke. When the smoke dissipated, it revealed a horrific little humanoid: Jonathan.
Chaos Everywhere!
Jonathan wasted no time and began his killing spree, using methods such as biting, soul-stealing, lightning strikes, and stabbing. Onlookers were left in a state of tension and fear, feeling helpless as they faced the unfolding horror before them.
Banishing The Child
Unfortunately, most of the nosy neighbors who lingered near the household were killed. The Grim Reaper soon arrived to collect their souls. Fortunately, one of our Sims, Maya, narrowly escaped being stabbed by Jonathan. Fed up with the endless chaos, she chose to banish the child's spirit.
Becoming Possessed, Too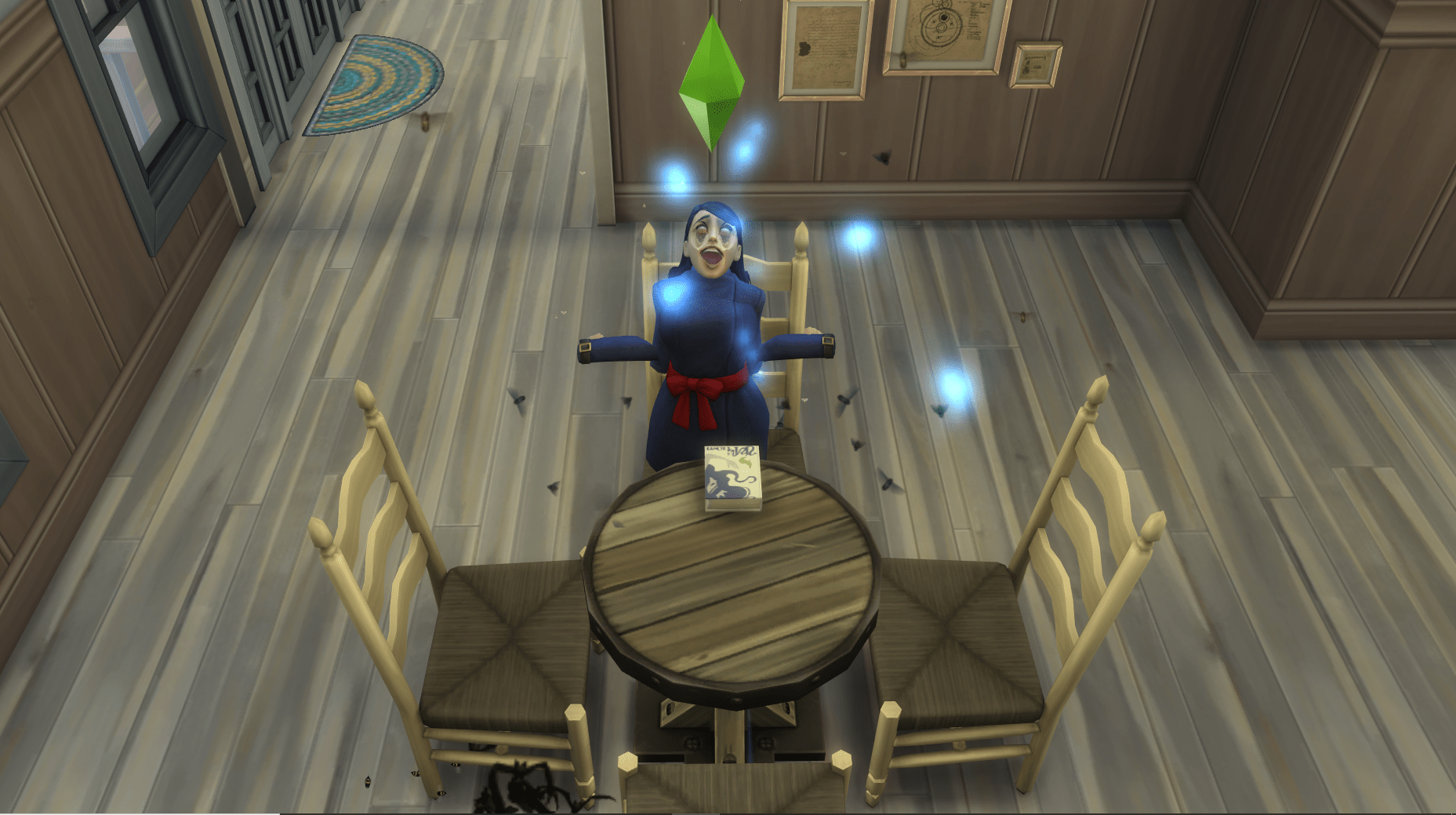 Peace briefly returned to our household, but Maya's curiosity got the best of her. She attempted to acquire the possessed child's curse, transforming into a terrifying presence within the household.
Killing Accidentally
As if matters couldn't worsen, Maya became controlled by unseen forces, her body contorting and writhing in unnatural ways, and her being driven to act in manic ways. In a tragic twist, she ended the life of Brent, who was just visiting our household. Our poor neighbor!
Finally, No More Possessions
Finally, Maya made the choice to banish the curse of the Possessed Child and, she returned to her normal self. Well, it's safe to say she wouldn't be going anywhere near that grave anytime soon.
How Do We Install This Mod?
The Possessed Child mod had been around for quite a while. Its creator, Sacrificial, has not really been active in updating the said mod. However, many Simmers have reported that the mod still works well with the current version of the game. Follow the steps below to install the said mod:
Visit this Patreon Post and download the attached file.
Extract the zipped file and place its contents in your Sims 4 Mods folder.
Make sure to enable the use of mods and custom content in your game settings.
Remember, before using this mod, click save first! You would not want to have all your Sims killed in the game without having the option to undo these events.
Have fun!
Final Thoughts: Be Careful Of Dealing With The Possessed CHild!
All in all, this mod offers unforgettable and scary gameplay, as well as breathtaking animations in the game. But take note that the Possessed Child is not easy to mess around with in The Sims 4. Summoning the soul of this little fellow will incur a lot of frightening and unimaginable incidents around your Sims, so beware! But if you are fearless, go ahead and try this mod today! Then, let us know how your game goes. We are on Facebook, Twitter, YouTube, Instagram, and TikTok, where you can follow and message us! Or, you can leave us a comment on this post! Happy simming, Simmers!