Would you like to earn money by hunting ghosts, just like in a sci-fi movie? If you are into spooky things and love testing your limits with obscure creatures, the Sims 4 has a career just for you. Thanks to the Paranormal Investigator option, our Sims can make a legit career out of hunting ghosts. If this seems appealing, keep reading to find out all you need to know about becoming a professional Sims 4 paranormal investigator.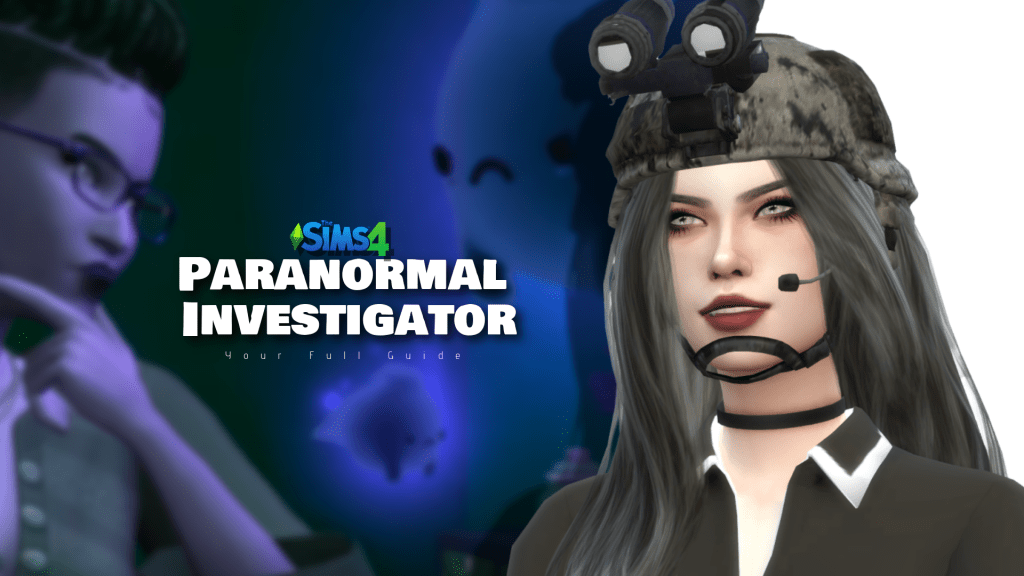 To learn more about spooky stuff and living with ghosts, read this Ultimate Sims 4 Haunted House guide.
What is a paranormal investigator career about?
The Paranormal Investigator career option in The Sims 4 allows you to work based on your own custom work hours. It is a freelancing career, meaning there is a lot of flexibility in your approach. Your job will be to connect and communicate with ghosts, both the friendly and the dangerous kinds. You'll have various tasks or gigs you are expected to complete in a limited timeframe, where some are easier, and others more challenging. If you opt for this career, your job tasks will be to:
Eliminate cursed objects
Clean up ectoplasm and clean up cursed symbols
Interact with specters
Do a ceremony at a Séance table
How To Become A sims 4 paranormal investigator
To get this job, use your Sims phone or a computer to look for careers. Select the Freelance option, and then choose Paranormal Investigator from the drop-down menu. You won't necessarily have daily paychecks, though. Your earnings will solely depend on completing paranormal gigs. Once you have selected the desired career, you'll need a special license to start with your gigs. There are two ways you can do that: by buying it and by asking a friendly ghost Guidry to help you. Once you receive your license, you can join the Federal Bureau of Paranormal Investigation.
Buying the license
You can get one by building up 3,000 Satisfaction points and purchasing it from the Rewards Store, but that might be too much effort in comparison to the other way you can get a license in the game.
If you want the Sims 4 paranormal investigator license the quick way, but don't have 3000 reward points yet, you can use a cheat. To do that, activate the cheat dialogue box with Shift + Ctrl + C, type testingcheats true in a dialogue box, and press Enter. Then, open up another dialogue box and type in sims. give_satisfaction_points X. The X stands for the number of satisfaction points you need, so in this case, type 3000 (sims. give_satisfaction_points 3000)
| Cheat Line | Description |
| --- | --- |
| testingcheats true | This will enable cheats in your game. |
| sims. give_satisfaction_points X | This is the baseline cheat for getting reward points. |
| sims. give_satisfaction_points 3000 | An example of giving your sim 3000 satisfaction points. |
To find other useful cheats for your favorite game, check out the Sims 4 cheats list.
Asking Guidry for a license
The alternative way of getting the license is speaking to an NPC Ghost named Guidry. The Sims 4 paranormal investigator Guidry was also once in this career field. Showing him some proficiency with your "Medium" skill will give him the chance to put in a good word for you with his connections.
However, Guidry doesn't show just anywhere. To meet him, you'll first have to live in a Haunted house – a lot that has a Haunted House lot trait. Expect him on the second day after you move into a haunted place. He usually appears around 9 pm. Alternatively, if you need him, you can still meet up with him by summoning him. To summon Guidry, you'll have to master a Mediumship skill to be able to use the Seance table for summoning him. This will be possible only if you two have met before. Once summoned, simply ask him to help you become a paranormal investigator, and he will give you the license.
How to get gigs as a sims 4 paranormal investigator
You can sign up for new gigs on the computer. You'll be able to see whatever is available in the "Check for Gigs" icon. Gigs have three levels that can be signed up for, including Beginner, Adept, and Expert. Since you're just starting, it's best to stick with beginner gigs. Once you show up for a gig, you'll have to complete specific tasks within a stretch of time for the night.
Expect to be busy from 9:30 pm to 6:30 am doing these gigs. There's a progress bar containing an indication of how close you are to finishing your otherworldly duties.
Do you like spooky stuff? If so, check out this goth Sims 4 interior cc pack.
How to complete gigs for a Paranormal Investigator
The task could be as simple as removing a cursed object, to performing a full-blown séance. Different ways exist and the ghosts you encounter also have their own unique kinks that you'll have to watch out for. There are different types of Specters that might need appeasement from you, including Friendly Specters, Mysterious Specters, and Mischievous Specters.
The type of specter you're dealing with is based on their color with blue representing the mysterious, red for mischievous, and green for friendly specters. As an investigator, you'll have a variety of dialogue options to handle the situation accordingly. You can get quite immersed in your problem-solving antics within this career path.
Helpful tips on how to become a better paranormal investigator
Maxing out the Medium skill is a great way to be on top of any situation you find yourself struggling with. This will ensure that you are better at doing your job and allow you to communicate with spirits more effectively. The better you are at it, the easier it will be to connect with spirits of all kinds. So, try to reach level 5 as soon as you can.
Get the Brave Reward trait from the Reward store with 8,000 Satisfaction points. With this trait, you'll have a better time navigating your way through encounters as a Sims 4 paranormal investigator.
Bring Bizarre Idols and Sacred Candles to protect your Sims from evil specters that may want to cause havoc.
Summon Bonehilda, a sidekick that can help you deal with specters and remove cursed objects. However, avoid summoning her while Guidry is around as these two are not on the best terms.
To level up your experience, check out the Best haunted House CC here.