Looking for ways to make your neighborhoods more interactive? Well, you are in luck, as there are some incredible neighborhood mods designed to help you with that! Read on, and you will learn about two awesome mods that will bring liveliness into your neighborhoods.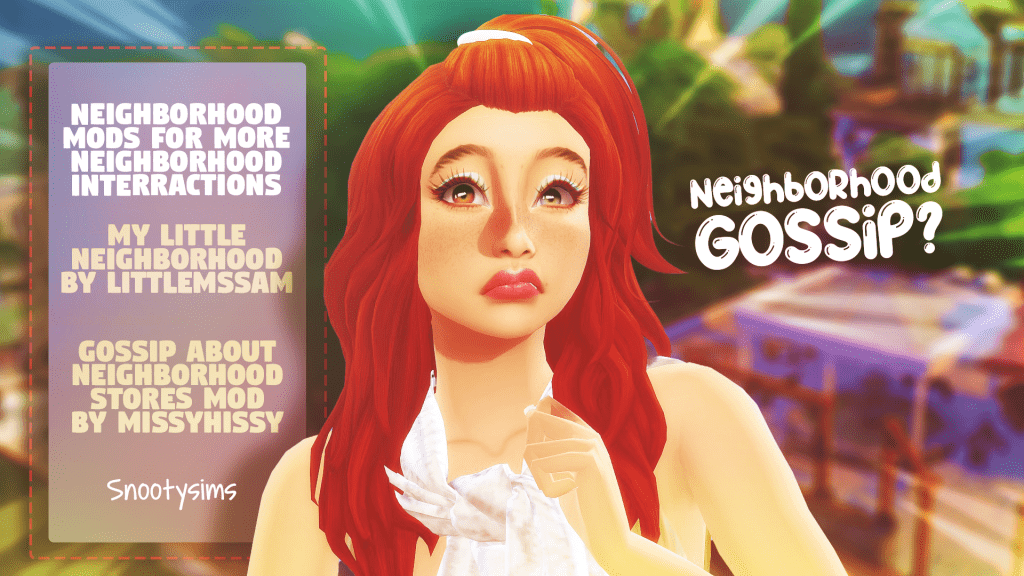 neighborhood mods for the sims 4
Neighborhood mods can help bring other Sims closer, create more space for quality socializing and help everyone in a neighborhood feel connected. Although we don't have open worlds and need to travel from one neighborhood to another, we can invite more people on our lots or keep up with the latest news through special mod interactions. Here come two incredible mods that will help your Sims feel more connected to their community.
Looking for custom worlds for the Sims 4? Check out this guide!
1. My Little Neighborhood by LittleMsSam
My little neighborhood turns your ordinary active lot into a more crowded place, perfect for gathering and grabbing coffee. To start enjoying all perks that come with My Little Neighborhood mod, you will need to activate the new custom lot trait you can find in the Build/Buy menu. Under the Doors section, you will find a new menu called ''My Little Neighborhood''. Here, you can choose from two options or next door types you can enable and disable any time you want: Cafe Next Door and Park Next Door
The mod allows you to play with general settings that you can change any time you like:
Shared Bills – When enabled, bills will be lower by 10% for your chosen Next door type. Disable if you don't want next door types to affect your bills
Janitor – If enabled, a janitor will visit your lot daily to make sure everything is clean and functional.
Allow Cats – if enabled, cats are welcome to spawn to your lot anytime.
Allow Dog Owner – if enabled, dogs are always welcome on your lot.
To get the My Little Neighborhood Mod, go here!
park next door
This neighborhood mod option turns your lot into a park other Sims can visit. Once enabled you will see Sims of all ages come to your place and enjoy outdoor activities available on your lot, be that playing basketball in your yard, swinging on your swing, or using your outdoor grill. All your outdoor objects will become available to spawning visitors. This feature allows you to place and use up to three vendor stalls on your lot, too, so if you chose to place them, expect some vendors on your lot as well.
More Park visitors – This will eliminate the spawn limit, so expect more townies and pets spawning to your lot
No Toddlers at Parks – If you don't want toddlers visiting your park simply enable this feature and you won't see them spawn ever again.
Because the atmosphere on your lot will be buzzing, make sure to secure your privacy and lock all entrances to prevent strangers from roaming in your house.
cafe next door
To activate this neighborhood mod feature, you'll have to place the Espesso Bar that you can purchase from the Build/Buy menu somewhere on your active lot. After you've purchased the bar and enabled the feature, you will get a professional barista to come to your place, and you will start seeing customers from early morning to 10 PM.
More CafeVsitors – Enable this feature, and you'll see more Sims spawning to your cafe daily
Second Barista – If one barista isn't enough and you want to go a little extra with your service, enable this feature and you'll get another helping hand!
2. Gossip About Neighborhood Stories Mod by MissyHissy
If you love Neighbourhood Stories, you will love this neighborhood mod. The mod adds story notifications and allows you to get instant updates in person or through social media, rather than having to click on the mailbox every time. This is a more fun, and interactive way of getting the latest gossip, and will make sharing neighborhood stories more real. So, with the mod installed, you can stay up to date with news through three different means – mailbox, social media, and socializing.
There are four new interactions that come with the mod, two of which are reserved for Sims living in the same area only. Your Sims can Gossip About Neighbors, Discuss Neighborhood changes (only for Sims from the same neighborhood), and Gossip and Check Social Media Timeline.
So, if your Sim is curious about what's going on in their neighborhood or town, you can socialize with fellow townies to get fresh info. All of the four will trigger a notification available with this neighborhood mod, will keep you updated on the latest news in your town!
If these fun additions look appealing, you can download the mod here. For it to work you'll need only the Base game and the Neighborhood Stories patch!
conclusion
No matter if Sims are spawning to your active lot, or you are receiving the latest gossip about changes in your area, neighborhood mods can help our Sims feel a little less isolated. Although they don't make huge changes to the neighborhood itself, or make the world open, they are definitely worth giving a shot.
related content