Mods are a seemingly limitless way to customize the Sims 4 into the perfect game for each player, with a huge variety of options on what you can do. Unfortunately though since most modders are independent creators it's not uncommon for multiple people to build mods that affect the game in such a way as to conflict with one another. Sometimes the conflict can be pretty obvious but not always, and sometimes you don't even realize there's a conflict until much later!
Up until 2018, the go-to solution for finding mods that didn't play well together was the Mod Conflict Detector program, a utility created by DmitryMalfatto that gave players a user-friendly way to find & eliminate conflicting mods, duplicate files, stray content, and more. While the program is still available to download and use today, it has not been updated 5 years and at this point, doesn't work as well as it used to. Though Dmitry expressed a hope that someone else might take over maintaining the program or that he himself might find the time to get back to it, so far it has been left to languish as newer, alternative programs have arisen instead.
Mod Conflict Detector is still worth using if you primarily need help finding stray files or duplicates, as those don't really change as the game updates. If you're looking for a more robust option, on the other hand, check out these alternatives.
Alternative programs to the Mod Conflict Detector
The following programs are current and supported as of the time of this writing, and all work differently. While none of them replicate the capabilities of the Mod Conflict Detector exactly, each are handy in their own way.
1. Sims 4 Tray Importer by luniversims
The Sims 4 Tray Importer is a program designed to work primarily with your in-game library. You can use this system to import things into the library (handy if you prefer to get your content from outside of the Gallery) but it's also a viewer and information source for the content already in your game.
When you select an item in the program menu you have a few tabs you can look at that all hold useful information. The General tab will give you info like which packs the content uses, lot size and price, family size and funds, room type, etc. Basically all the info you would find on a Gallery page. The Files tab lists all the Tray files that are part of the item. The CC tab lists all CC used on/in the item including overrides you may have installed. There are also additional options hidden in the ☰ menu which include things like replacing the item's images, opening relevant folders, or copying all the included CC files.
Tip: if you have a CC item in an old build that you can't find in your catalog, you can use the CC viewer to go through items in the build and figure out what the object is called.
This is a good alternative to the Mod Conflict Detector if: you primarily want access to mod lists for informational purposes, such as making a Required Content list for a modded sim, room, or lot you're sharing to others. Handy for adding better thumbnails and editing descriptions, too.
2. Mod Manager by GameTimeDev
The Mod Manager is a utility designed to help sort & organize your mods folder. It shows everything in the same folder view as your mods folder is organized, so you can easily move content between folders right from the program. You have the option to deactivate files like in Mod Conflict Detector so you can quarantine and test for problem mods. Right-clicking an entry gives you options to add notes, see the file path, and even open the file directly into Sims4Studio to edit it further. There's even a cool feature called Categories that lets you organize content across different folders to all be linked together under whatever label you want, such as holiday items, specific creators, etc.
This is a good alternative to the Mod Conflict Detector if: you want to be able to organize & move your CC content easily, or deactivate/reactivate files without having to move them to a seperate folder.
3. Sims Mod Assistant by EgorBlagov
Sims Mod Assistant gives us the closest match in terms of features to the Mod Conflict Detector, though it's got a bit more of a learning curve. Fortunately there is a tutorial on YouTube (4:27 long) on how to download and install the system. This is the only program on the list that has a specific function for finding conflicts, which was the main appeal of the original Mod Conflict Detector program.
If you're a little more savvy you will find the detailed view quite interesting, as it maps out where the file conflicts actually exist. This is certainly helpful for modders trying to make sure their files don't clash with anybody else's.
This is a good alternative to the Mod Conflict Detector if: you are specifically seeking out conflicts between CC files or duplicate files.
4. Better Exceptions by TwistedMexi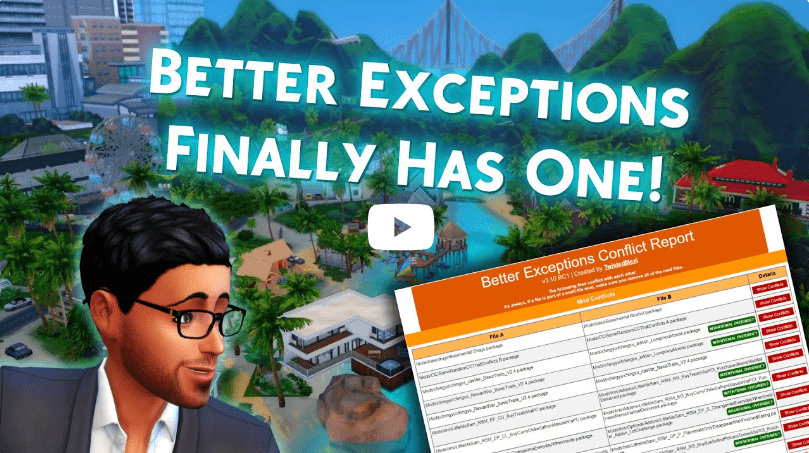 If you've spent any time on SnootySims you know that we love TwistedMexi. He has created a multitude of mods and other tools that make the Sims 4 run much more smoothly and Better Exceptions is…well, no exception. The best part about this program is that it runs within the game, so you can troubleshoot broken content in realtime. Better Exceptions' features include, but aren't limited to:
Determines if an error is due to animations, which typically can be ignored
View CC being worn by a sim while in-game so you can find broken CC files; functions for each individual outfit
Checks for conflicts, with allowances added for conflicts that arise due to mod add-ons
Common sense explanations to limit catastrophic actions
The program is designed to make it easier for players to find bad content, without automating the process. Players still need to locate and remove the content, preventing Better Exceptions from being responsible if something breaks. It won't hold your hand but it does make finding conflicts much, much easier. Thankfully there are several videos to help you learn how the system works!
This is a good alternative to the Mod Conflict Detector if: you want control over the entire process of moving/removing questionable files with the clarity and confidence of an automated system.
The Most Useful Tool: Critical Thinking
No matter what program you decide to try, it's important to remember that every one of these utilities is only designed to read the content in the file itself and that it's ultimately up to the user to decide what to do with the information. You might find that an item is listed as conflicted when it is in fact a recolor of the object it's "conflicting" with, or multiple items may "conflict" with one another because they're all made by the same creator and share the same tuning, for example.
Unless you're sure the file is worth deleting, it's always smart to quarantine it first and make sure the game still functions correctly without it. So long as you don't save your Sims 4 game before quitting, whatever issues you might cause by removing a vital file should revert when the file is restored and the game is rebooted.
Closing Thoughts
Using CC & mods gives us freedom to tweak the Sims 4 to look and play how we want it to, thanks to third party creations. However, because of the unregulated way CC is created for the game it's possible that conflicts may arise between files, or you might just be a bad organizer and find you've got repeats you need to remove. Perhaps you just want to make your creations look better in the Library by giving them fancier thumbnails. No matter, there's a program out there that can help you reach your CC-related goals. While the Mod Conflict Detector is no longer supported we have other options to try, and between the lot of them you should be able to manage your mods folder without much hassle.
And hey, if you're a programmer looking to take on a new project, perhaps you can take a chance on updating the Mod Conflict Detector! We would be very thankful!