You might have heard about The Sims 4 Tray Importer, but it might not be clear what it is exactly and how to install it. Let's take a look at all the questions that might be running through your mind.
What is The Sims 4 Tray Importer?
First things first, what is this, and what does it do? Well, it's actually quite useful once you get to benefit from its full potential.
This application can help you import and export various content such as your tray files and much more. You can easily see all the custom content that has been used on your game. Also, you can find all the gallery URLs that have been uploaded at any given time.
Watch Our Tutorial To Learn How to Use the Tray Importer
Explained in under 3 minutes, this tutorial will walk you through the installation process and the steps you need to take in order to get rid of any broken CC packs in your game!
If you need any extra help, don't hesitate to drop us a comment!
Don't forget to subscribe to get notified of any upcoming tutorials!
Sims 4 Tray Importer Download Link (2022)
If you're operating on Windows, visit Luniversims's page to download the tray importer software.
If you're operating on Mac, go to this page to download the Mac version.
Learn the Features
As stated before, this application has a lot of good features. Some of them include:
Importing all the content you need into the selected library
If needed, you can also export the needed files
It provides you an overview of the library
Have the personalized content that your Sims use
If you decide to do so, you can also edit images
The Sims 4 Tray Importer Compatibility
There are various ways to use the application. As long as you have either a Windows Vista, Windows 7, any version of Windows 8, Windows 10, you'll be good to go!
Also, you'll need to have the Microsoft .NET Framework.
As of right now, you can use the application in 7 different languages: English, French, Spanish, Russian, Chinese, German, and Portuguese.
Does the Sims 4 Tray Importer Work on Mac OS?
Yes, mac users can use the application to locate and delete broken CC files from their game by following the same process!
How do I use the Tray Importer in Sims 4?
How do I use the tray importer to delete broken CC? Well, if you're planning to view the CC list, this is what you'll have to do:
Open the Tray Importer application.
Check the left side, that's where you will see the creations.
After that, make sure to check that the 'Household', 'Lots' and 'Rooms' options are turned on.
If needed, look for a particular creation from the search box.
Click on one of these creations.
On the right side, you'll see 3 tabs on the top of the page, just beside the search box_ 'General', 'Files', and 'CC'.
Select the 'CC' tab.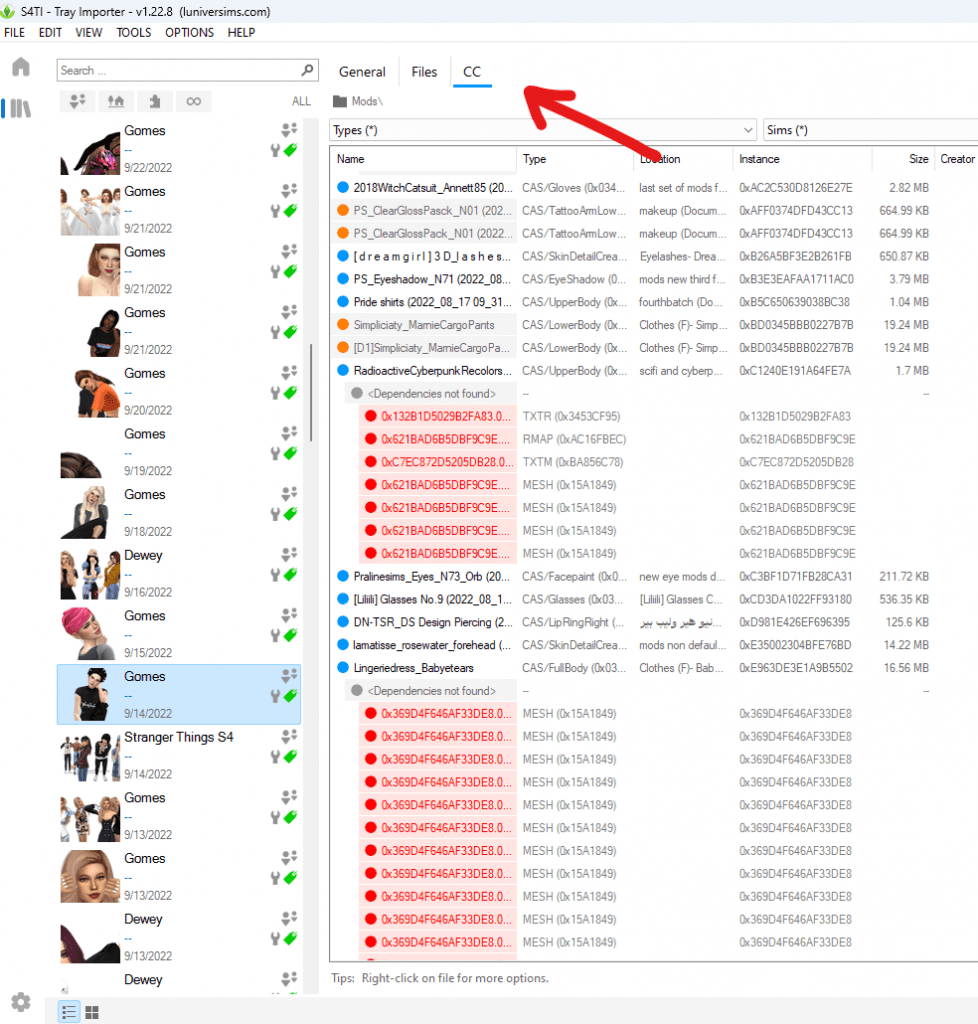 If you'd like to delete bad CC, this is what you'll have to do:
Open the tray importer
Select and click on the 'CC' tab.
Right-click the CC that you don't want anymore on your computer or in your game.
Click on 'Show containing folder'.
Open up the exact folder where this CC is saved on your computer.
Right-click that CC in this folder.
Choose the 'Delete' option.
Pro tip: if you double click any file on that list, it would automatically locate it in your mods folder and hence you could easily delete it.
It's as easy as that! Of course, without additional help from a guide like this, it might seem complicated. Yet, if you follow all the instructions, everything will go as planned.
Final words
Here you go! Now you're more than prepared to deal with all the custom content you might want to delete from your computer. The tray importer is a very useful tool, so keep it in mind while adding additional applications to your computer!
P.S if you're looking for more ways to improve the game, try adding some great mods!