With so many things to do in Sims 4, you may be wondering what is the best Sims lot to check out. Read on to learn about the community lots that may be under your radar: you may just discover a surprise!
Sims 4 lots: community versus residential
Community lots are areas where Sims from all over convene and partake in business, leisure activities, shopping, dining, and more.
Whether you create your own business or build some more parks, you're using a community lot instead of a residential lot. Residential lots are just for homes!
There are many kinds of Sims 4 community lots: players can go to plenty of parks, nightclubs, cafes, gyms, and beaches throughout the Residential Worlds where their Sims will be able to kill some time.
I'll go over any Sims lot that facilitates plenty of interactions and activities so that your Sim can get the most out of their outdoor exploration. You don't want your Sim just sitting on the couch all day, right?
Don't worry if your Sim hates the actual outdoors though because I'm going to feature some indoor establishments.
I also want to feature some areas that players can potentially miss! Regardless of how long I've had Sims 4, there are plenty of areas that I've only discovered recently and probably still have yet to discover.
To make this as succinct as possible, I'll go by Residential Worlds (in no particular order). My goal is just to highlight engaging community lots.
Don't let that deter you from doing your own exploration of the many different community lots. I'm just going to list a few here to start you off!
Here is a quick look at some interesting Sims 4 community lots!
Willow Creek
I'll start off with a base game world. A Sims lot I find worth traveling to in Willow Creek is The Blue Velvet nightclub!
It's a tiny club that stylistically has a small-town feel to it. It's not popping like a more modern-day nightclub, but it gets crowded here very quickly!
If your Sim needs a lot of social interaction for the day, this is the perfect place to be. You're going to get it here in no time. So order a drink at the bar and start a conversation.
Another community lot in Willow Creek worth going to is Magnolia Blossom Park.
Observe the beautiful surroundings, it has an amazing neighborhood view. Take your pets on a walk here, then choose to play some chess with a stranger or the friend you brought along with you.
If your Sims have children there's a community garden for them too!
A bonus about this lot and another reason I included this park: ice skating and roller skating rinks randomly pop up at certain lots, including this one!
So look around and your Sim may get lucky! Here's a screenshot of my Sim who happened to catch the roller skating rink!
Magnolia Promenade
This Residential World is available with The Sims 4: Get To Work Expansion Pack, released in April 2015.
Magnolia Promenade is basically a shopping district. So your main source of activity is going to be shopping!
That being said, The Roadstead shopping center has a more diverse selection of goods with a combination of clothes to try on and purchase as well as furniture. Might as well get all your shopping done here!
Windenburg
Windenburg is one of my favorite Residential Worlds because there's more than one Sims lot I frequent here!
Added to the base game in The Sims 4: Get Together Expansion Pack and released back in November 2015, Windenburg is designed specifically for Sims to go to more venues and participate in more activities.
First, let's talk about Windenburg's nightclub! 
Discotheque Pan Europa is the best nightclub in any of the Residential Worlds neighborhoods. It looks like an A-lister lounge and is equipped with musical instrument, two bars and two grand dance floors.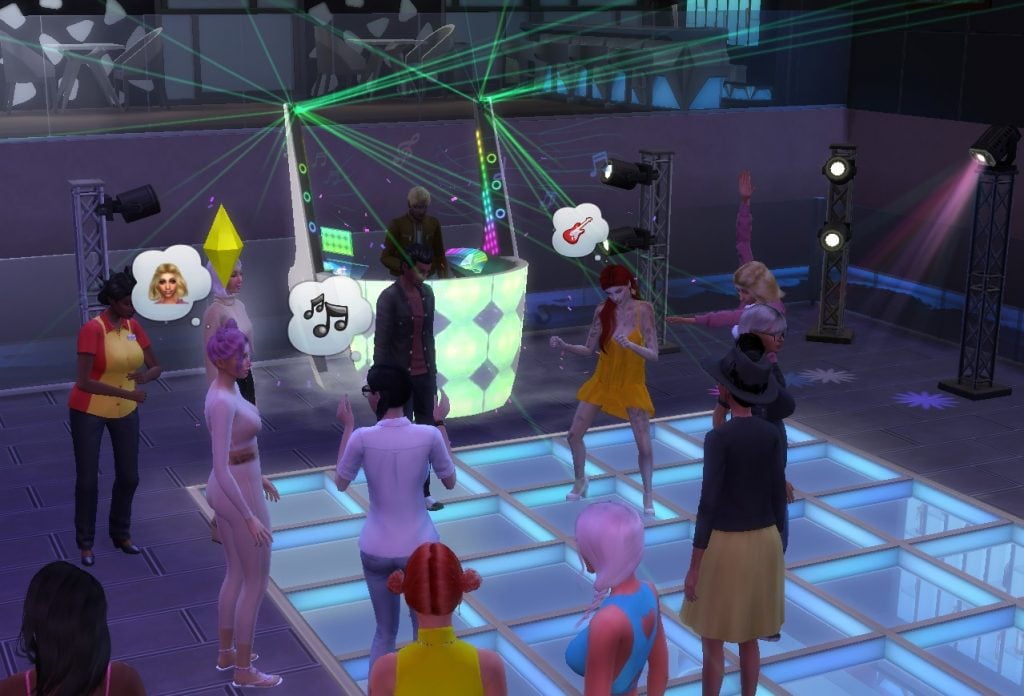 Show your best moves! Your Sim can even challenge other Sims to a dance-off and everyone can watch them get served! Or, your Sim can get served if they can't dance…
Windenburg also has two cafes, but I love South Square Coffee. It's bigger, more visually appealing, and has a cozy separate seating room with a computer!
So if your Sims want a croissant and a latte before they update their social media status on the computer, they can hit up this cafe.
Finally, the local pool Bathe de Rill community lot build is majestic in design. No, it's not a private club even though it looks like it is. So swim some laps around the pool as the sun sets like this Sim is doing:
San Myshuno
San Myshuno comes with The Sims 4: City Living Expansion Pack and has two karaoke bars, but I frequent Planet Honey Pop!
The Fashion District hosts many events, so you'll want to frequently check here for random kiosk pop-ups and for events like the Romance Festival.
Waterside Warble has more than one karaoke machine, so it gets exciting here too. But what I want to highlight is the basketball court that's across the street from Waterside Warble.
Your Sim can practice dribbling and shooting some hoops and it increases their athleticism! Other Sims can join in too.
So if you're looking for exercise that doesn't involve going to the several gym places scattered throughout the Residential Worlds, play some basketball.
Sulani
You'll be hard-pressed to find a Sims community space lot here that you don't like, even if you're only there for the scenery.
Sulani comes with The Sims 4: Island Living Expansion Pack. Sulani has plenty of beaches, hidden caves, and interactive waterfalls for your Sims to entertain themselves with.
Head over to Ohan'Ali Beach to sunbathe on the sand or on a float. Make sure your Sim puts on sunscreen!
You can actually put on sunscreen or else your Sim will get sunburned (which is a funny sight). Actually, even when they get a good tan it's a funny sight.
You can also drive any nearby boat, use the boat to fish, swim or float in the majestic waters of Sulani, swim with dolphins when they appear, skinny dip, and much more!
Behind the entrance to Ohan'Ali Beach, cross the road and climb the steps to find a fire pit where you can make some local traditional dishes.
Sometimes there will be other Sims already celebrating and dancing around a fire! Change the color of the flames or dance along with them!
Henford-on-Bagley
Finally, this village is added to the Residential Worlds with The Sims 4: Cottage Living Expansion Pack.
The last community lot I want to highlight is The Gnome's Arms pub. However, not for the bar but for what is around the bar!
Across from The Gnome's Arms is the town marketplace where you can window shop, get groceries, and get gardening supplies. Try to save money by haggling with the store owners!
More importantly, this is another lot where an ice skating or roller skating rink can randomly pop up, so be on the lookout.
Face the entrance of The Gnome's Arms, then wander off to the left. You'll eventually see a big empty space if the skating rinks aren't there yet. Now you know for next time!
Which Sims 4 community lots do you enjoy visiting and why? Let us know in the comments!
Related Content