Are your non-human sims on the hunt for more interesting fare than what they can find at Chez Llama? Get their mouths watering for these occult foods by icemunmun!
While many occult Sims in The Sims 4 have consumables specific to their species, such as plasma for vampires and mermadic kelp for mermaids, those consumables often fill a specific purpose outside of just raising a sim's hunger/thirst level and they can offer unwanted effects to human sims who consume them.
Whether you have an occult sim who just wants to enjoy a simple snack, a human sim obsessed with the occult but not ready to commit themselves, or a combination of occult and human sims who want to enjoy a spot of tea together, these occult foods should satisfy their cravings! A word of caution though, some of these foods will make non-occult humans sick so proceed at your own risk.
More on SNOOTYSIMS: Check out our guide on Sims 4 Life States! 
Bring Your Appetites for these Occult Foods!
Before you can sink your teeth (or fangs) into these treats, be sure to add icemunmun's Custom Food Interactions and Custom Drink Interactions to your mods folder. Without those mods, none of these occult foods will work!
---
Red Count's Risotto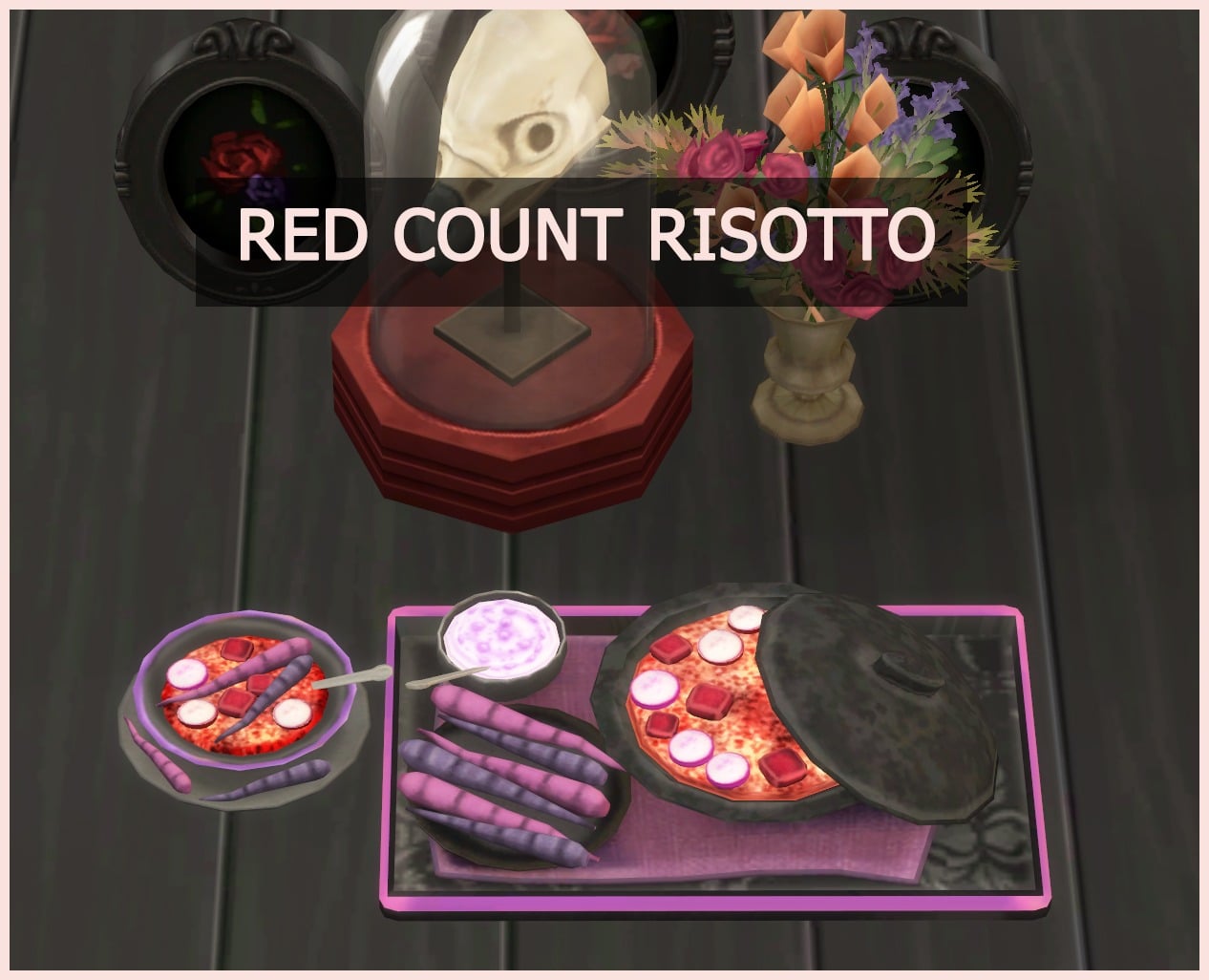 Rice is nice but Risotto is better. Vampires who agree will enjoy the Red Count's Risotto, though regular sims may get sick from eating it. But with such an appetizing plate can you blame them for trying?
Optional ingredients include Plasma Fruit, Heart, & Rice. This dish only requires the standard Cooking skill to prepare.
Click here to download!
---
The Final Course
Now that your nonhuman sims have dined on delicacies especially for them and shared a nice cup of tea with friends, it's time to decide which occult food was your favorite. My choice would have to be the Charred Pumpkin Custard, yum! We hope that your occult sims with an interest in finer dining will enjoy these new dishes, and definitely check out more of icemunmun's custom foods (including non-occult equivalents to these special dishes) to add even more options to the menu. Bon appétit!
Related Content
Fresh Forward Delivery – A World Of Cuisine Right At Your Doorstep!
Food Texture Mods: Hyperrealistic Meals You Need To try!
25+ Food Stall Mods and CC: Enjoy New Tasty Treats In The Sims 4!
Complete Sims 4 Food List – All Snacks and Recipes in One Place!
12 Mouthwatering Food Mods To Make Your Sims Hungry!