Do you still lament the lack of drivable cars in the Sims 4? Are you someone who lives in a car-centric area and just can't relate to your sims? You're going to love these car mods!
In 2005 The Sims 2: Nightlife first launched and with it, the first cars made usable by active sims. They returned in The Sims 3 base game, though with more limited capabilities and fewer animations (their functionality later increased with DLC). The Sims 4 has been out for over 8 years now and I think it's safe to say that cars are likely never going to be part of the vanilla game.
CC creators and players alike haven't taken this easily, so it should be no surprise that there are a number of car mods available for simmers who miss this aspect of gameplay. Whether you just want cars for the look, or usable vehicles your sims can actually drive around, there's a car mod for that!
Deco Cars: Make the Neighbors Jealous
If you're fine with the walkability of the worlds in The Sims 4, deco cars are a nice way to bring back the vehicle aesthetic without the worry of mods that will need updating later or functionality that doesn't work correctly.
1. Assorted Deco Cars by ModernCrafterCC (originally by Fresh Prince Creations)
Fresh Prince Creations was a huge resource of cars for the Sims series', with around 600 available between the Sims 2 and the Sims 3. Though they've not created any vehicles for the Sims 4—likely because they're not driveable in game—many of their older vehicles have been converted into deco objects by ModernCrafterCC. Between individual posts and monthly packs, there are hundreds of cars to be found on ModernCrafterCC's Pateron page.
2. Assorted Deco Cars by LorySims
LorySims is another CC car creator with a catalogue of vehicles from 60 different car brands, with everything from standard sedans to luxury automobiles. Soccer moms and movie stars alike will find the perfect car for them in this collection!
3. Assorted Deco Cars by AroundTheSims
This small collection of Sims 3 conversions includes "The Jamboree" motorcycle, so we had to include it to show the bikers out there some love. In addition to the vehicles Sandy has also made a parking meter and parking spot, making this set perfect for residential and community lots alike.
4. The Testpa Deco Scooter by Surely-Sims
Surely-Sims is one of my absolute favorite CC creators and I've featured her work in pieces before. Though she didn't build the mesh for this scooter, her conversion and new colorways will add a bit of cheer to any build you place it in. It's not a car per se, but variety is the spice of life!
5. Imaginarium Car by Jomsims
This car is pretty special because it's a completely new creation, not a conversion or rendition of a real-life vehicle. While the Imaginarium car looks a bit ridiculous, the details fit in perfectly in the world of the Sims 4. I mean, just look at that plumbob hood ornament!
6. Police Car from TS3 by Ozyman4
This deco conversion of the police car from the Sims 3 is a fitting decoration for community lot builds. If you have Sims 4 Get to Work, it's the perfect decor for the Police station from the Detective Career. As a simlish purist, I appreciate that this car is inherently Maxis-match.
Want to learn how to edit the Police Station and other career lots? Here's how.
7. Chevrolet Corvette 1960 by Xenos Artifact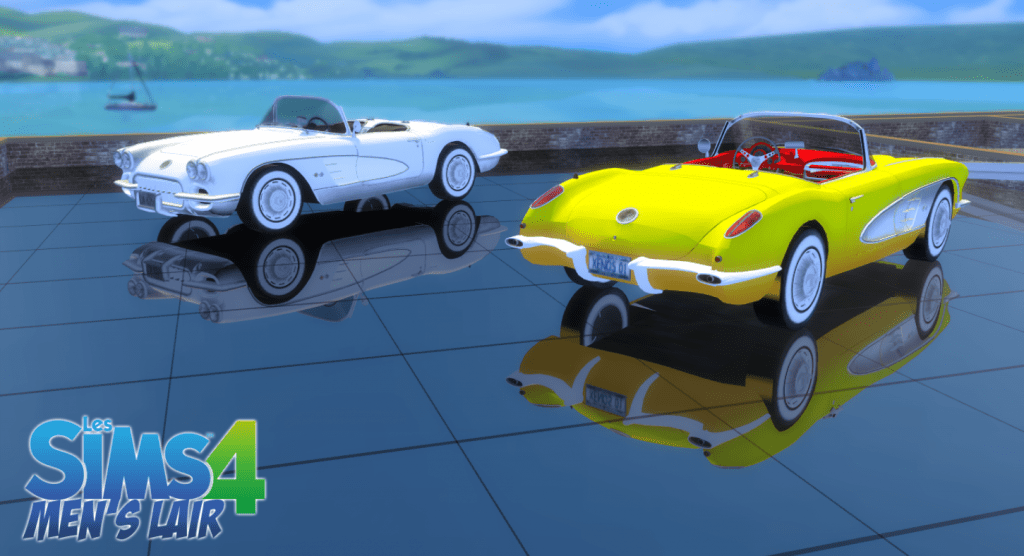 Classic cars are my weakness, so I had to feature at least one on this list. This beautiful Chevy 'vette comes in 4 sleek & sporty colors for all your summer cruising needs. Get your sim the little red Corvette they've always wanted!
8. Assorted Deco Cars by Tyler Winston
Tyler Winston's car mods are a step above many others because their more recent creations have functioning headlights! While they are still deco items, the working headlights add a bit of realism which is especially useful for screenshots. And while not all of their older CC has been updated to light up just yet, they're still amazing looking pieces.
9. 2020 Bentley Continental GT Convertible & Pose Pack by Breeze Motors
Most of the car mods made by this creator are imprisoned behind a paywall, but they were gracious enough to share this vehicle for free. The Bentley comes in several colors with a seperate soft top that can be added. There is a regular version plus versions with open door(s) and trunk/boot. Additionally, there is a pose pack with 3 poses for your sims to look like they're interacting with the vehicle.
Drivable Car Mods: Hit the Road!
I'm sure a lot of you are here for more than just deco cars; you want something your sims can actually use. No worries, because we've got working car mods to share with you too!
10. Ownable Cars by DarkGaia
This first usable car mod is pretty basic, but it was created back in 2015. Dark Gaia made 5 of the in-game cars (that you see driving around the world) purchasable, and useful as a travel point for sims. There are unfortunately no animations, but your sim will get a +3 emotional buff as a result of "driving" so there's still an advantage to having the mod, and it's a good resource if you're looking for a car mod that isn't too complex.
11. Ride Cars Mod by Cepzid
This fun little mod bases its mechanics off the bicycles from Discover University, though it's Base Game Compatible. Sims can choose from 3 different cars that they can drive around with, and they'll actually get into the vehicle and cruise around! It looks a little silly because the cars behave like bicycles, but it's still fun to watch and the cars even make an appropriate sound when you're driving them. The mod can be found here, and be sure to check out the accompanying YouTube video to see it in action!
12. SimNation Travel
Last but certainly not least, SimNation Travel is more than just a driving mod but being a mod about travel, functioning cars are a major part of it. There's a whole process around buying and using a car with this mod, including fuel economy (eco footprints), applying for a driver's license, registering the car, vehicle maintenance, and even a hidden driving skill! The SimNation Travel mod is incredibly complex and well worth looking into even if cars aren't your priority.
Learn more about the SimNation Travel mod with our guide!
Bringing it Back Around
Since it's pretty clear that EA has no plans to bring vehicles to the Sims 4, car mods fill a need that many players have. The nice thing about mods is that there is a wide range of options, so simmers can choose how simple or in-depth their chosen car content is. Hopefully your sims enjoy their new rides!