Are you hoping to find a way to spot game issues in a matter of minutes? Better Exceptions is the mod for you. Read on to learn all about how this incredible scanning machine can save you from the effects of broken mods!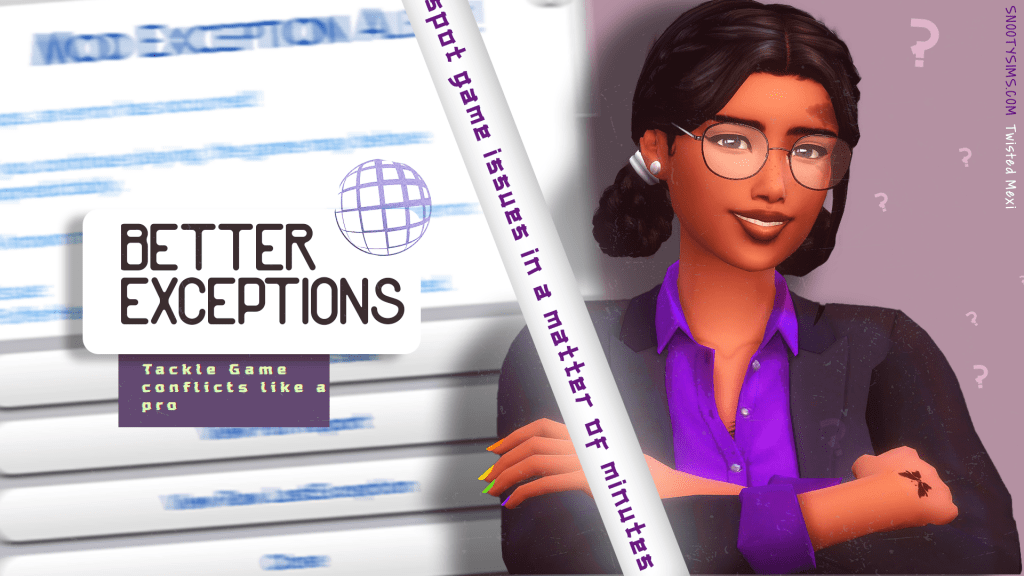 What is The better exceptions mod by twistedMexi?
We, the simmers, can all agree on one thing – It's a real bummer when your favorite mod stops working due to new game patches. What's even more frustrating than having a mod you love break, is not being able to identify a broken mod. Well, the Better Exceptions mod (BE) is here to spot those issues before they start messing with our gameplay!
Instead of spending ages trying to figure out which mod is causing you trouble, Better Exceptions will do it for you. It is geared to alert you and then find malfunctioning mods for you so that you can then update or remove them. On top of that, it helps you find all malfunctioning exceptions, even the minor ones that are not so obvious, so that you can play Sims 4 free of issues and bugs. Let's see how it works.
how does the mod work?
Every time the Sims 4 encounters an issue it can't process, it will create a lastException.txt in the Sims 4 folder on your PC. However, while the text highlights the issues that need to be solved, it isn't easy to understand.
The Better Exceptions mod makes those game errors easily understandable for every player and sorts them out so that they are easy to find in the Mods file. It compares the latest installed patch or update of the Sims 4 with mods and CC and then highlights all issues and incompatibilities that cause you trouble.
how to activate the mod?
Better Exceptions is active right after you launch the game. As soon as you enter your active household of choice, the mod will start scanning for potential issues. This can take a few minutes, so hold on a bit to see the results.
Once the scanning process is done, you'll get the Exemption Alert notification. The notification will point you directly toward the issue so that you know exactly what to look for in your mods folder. You will get an explanation as to why the error has occurred.
You'll have full access to lists of all tuning mods, script mods, invalid CC files, junk files, or duplicate mods, which is especially handy if you have a bunch of mods and CC installed. It can even spot animation errors!
What happens if you can't load the game properly?
Sometimes, exceptions can be so bad, that you can't even load a household at all. If that happens, worry not. You don't have to be in an active household for the BE to activate. This gem of a mod has your back even in those situations.
Better Exceptions will run you through a similar process, automatically taking you to the browser and the Better Exceptions report. Here, you'll be able to see all the nitty-gritty details about exceptions that are causing the issues, including a full list of broken mods and files, and a date when the exception occurred.
In the upper section, you will see a recommended action and a possible cause of malfunction. If the Better Exemption shows that the listed cause is 90%-100% showing the issues, you likely got everything sorted. Eliminate the cause of the malfunction, and enjoy your gameplay!
How to delete broken mods?
While the Better Exception does a fabulous job at detecting questionable mods, it won't eliminate them for you. They will be conveniently listed on a report list, but you'll still have to delete or replace them manually. These are some of the key tips when using the mod to delete or replace files:
The BE mod will usually accurately detect issues, but if the percentage is lower, just check and delete/replace all broken files from the list.
Make sure to delete a mod in its entirety, even if only one of its elements is malfunctioning, and then install its updated version if available.
If you have duplicate files, try deleting both and then re-installing one.
If CC is causing you trouble, delete it or replace it.
what to do if you still keep having issues
In rare instances, even after you've deleted or replaced the main cause of issues, you can still have problems in your game. This can happen if a bug originates from the game, in which case the Beter Exceptions mod can't detect it, since the issue doesn't stem from mods.
To be sure you are doing your best to find the cause of trouble, deactivate mods and launch the game to see if errors still occur. If they do, you are dealing with a bug in the game. Either way, your best bet is to always make sure you replace or delete not just the main cause of an issue, but also all mods, CC, duplicate or junk files listed.
How to install the mod?
To get the mod, you can download the mod from TwistedMexi's Patreon here. Here is what you need to do:
Open the .zip file, and drag the tmex-BetterExceptions.ts4script file to Electronic Arts> The Sims 4> Mods.
Don't open the .ts4script file and leave it unzipped.
Make sure you have script mods enabled in the game settings, as this is essential for this and other mods to work.
Launch your game and your Better Exceptions will be ready to scan game conflicts for you!