Do you want an easy way to add value to your sim's home, save some simoleons, and even increase your income? You can do it all and more with the Handiness skill, an underappreciated but essential skill that every sim should know about!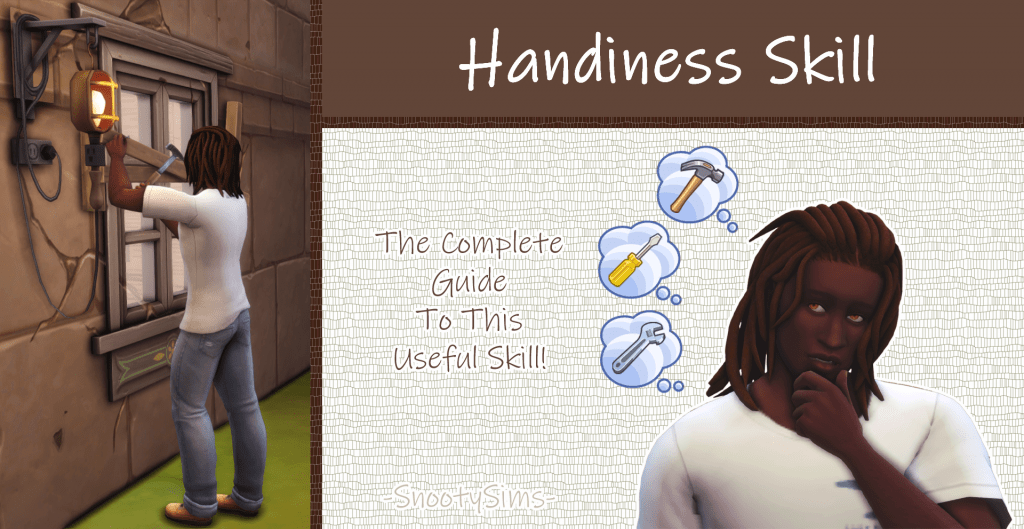 The handiness skill in The Sims 4 is very important! It is the art of repairing and upgrading objects around the house, and crafting new usable items from base materials. Needless to say this is one of the most useful skills to play with in the game, and it deserves an in-depth guide. Let's go over everything there is to know about this essential skill!
It Pays To Know the Handiness Skill—Literally!
The handiness skill is something your sim can make use of in multiple ways. It can be increased through doing regular everyday tasks as listed below, by consulting the various Handiness Skill books available for purchase from any bookshelf, and if you have Discover University you can even sit in on a skill class about the subject. There are just so many ways to improve this vital skill!
Repairing Objects
Most obviously, the Handiness skill is helpful for repairing broken objects around the house so you don't have to shell out money on repairs or replacements. A higher skill increases the likelihood of a successful repair, and decreases the chances of negative effects such as bad buffs, electrocution, and even death! To repair a broken object, click on it and select "Repair."
When a sim repairs an object they may even find Upgrade Parts, which are useful for increasing the quality of the various items in your home through upgrading. As your sim gains levels in the skill, they'll gain access to more specialized Upgrade Parts to improve even tricker objects!
To get the best chances of a proper repair, have your sim in a Focused mood with their needs filled before they get started.
Or, skip all that hard work and max the skill immediately with the Handiness Skill Cheat!
UPGRADING OBJECTS
As a central part of the handiness skill in The Sims 4, upgrading objects makes your ordinary stuff around the house far more useful. Here are just some examples of ways you can upgrade things in your sims' homes:
Plumbing equipment can be upgraded to be self-cleaning, less likely to break, and can even positively effect a sim's hygiene decay rate.
Electronics can be made more durable which causes them to break less frequently, upgrades can improve hacking success and Fun gain, and sims can even unlock secret TV channels and radio stations!
Kitchen appliances can be made to break less frequently with more upgrades resulting in better quality meals, and objects can also be made to be self-cleaning.
Random objects like the Observatory can be upgraded to work better and help your sims find more cool collectables!
Dangerous objects like killer clothes dryers (requires Laundry Day) can be made Lint-Less so they don't burst into flames every few uses, and those murderous Murphy Beds (requires Tiny Living) can be made unbreakable so they stop crushing sims to death.
A Focused mood and full needs will help your sim complete upgrades more efficiently. If your sim is particularly skilled, they can use their talents to take mediocre objects in their homes and upgrade them to the point that they even perform better than the high-end versions!
WOODWORKING OBJECTS
Woodworking is another important part of the handiness skill in The Sims 4 and you'll be wise to practice it as well. It lets you create beautiful items that you can either use directly, gift to other sims, or you can sell them for extra simoleons. You can purchase a Woodworking Table from the Buy catalog for 750 simoleons which lets you craft the following:
Handiness Skill Level
Unlocked Craftable Items + Est. § Value at Excellent Quality
Level 1

Knife Block

(§20)


Horse Sculpture

(§40)
Level 2

Barstool

(§25)


Angry, Flirty, Sad, or Playful Sculpture

(§30) – Must be in the related mood to access mood sculptures


Garden Pot

* (§60)


Garden Planter

* (§70)
Level 3

Bunny Sculpture

(§40)


Dragon Sculpture

(§40)


Elephant Sculpture

(§40)


Mirror

* (§350)
Level 4

Wall Shelf

* (§175)


End Table

(§210)
Level 5

Large Bear Sculpture

(§60)


Large Lumberjack Sculpture

(§60)
Level 6

Dining Chair

(§180)


Dining Table

($630)
Level 7

Camping Mascot Sculpture

* (§1500) – Click on the Sculpture in Granite Falls and select "Learn Woodworking Schematic"
Level 8

Child's Violin

(§45) – Need Level 8 in Violin skill to access


Violin

(§850) – Need Level 8 in Violin skill to access


Guitar

(§1200) – Need Level 8 in Guitar skill to access
Level 9

Bathtub

(§1510)
Level 10

Toilet

(§220)
*Requires Outdoor Retreat
Having your sim in a Focused mood will increase the chances of crafting an Excellent quality item. If not using in your sim's own home you can sell your creations through the inventory or Build/Buy system, stock them in your Retail business (requires Get To Work), bring them to the Flea Market (requires City Living), list them on Plopsy (requires Nifty Knitting), or give them away as gifts. As you can see, a talented sim creating Excellent quality Woodworking objects can make a good living crafting & selling their wares!
Final Thoughts
An oft-underestimated skill, having a handy sim can make a huge impact on the quality, length, and enjoyment of their lives and the lives of their household members. Fix up busted objects at home instead of paying repair fees, upgrade items to perform better (and stop slaughtering innocent sims), or build new stuff from scratch to furnish a build or sell for simoleons. There are so many possibilities with the Handiness skill, it's definitely worth exploring if you haven't yet. So get Focused, grab a wrench, and give it a go! Happy simming!