Looking for ways to level up your handiness skill fast? Thanks to handiness skill cheats, your character can now become the craftiest Sim alive! Keep reading to learn how to use these cheats to see fast improvement in handiness skills.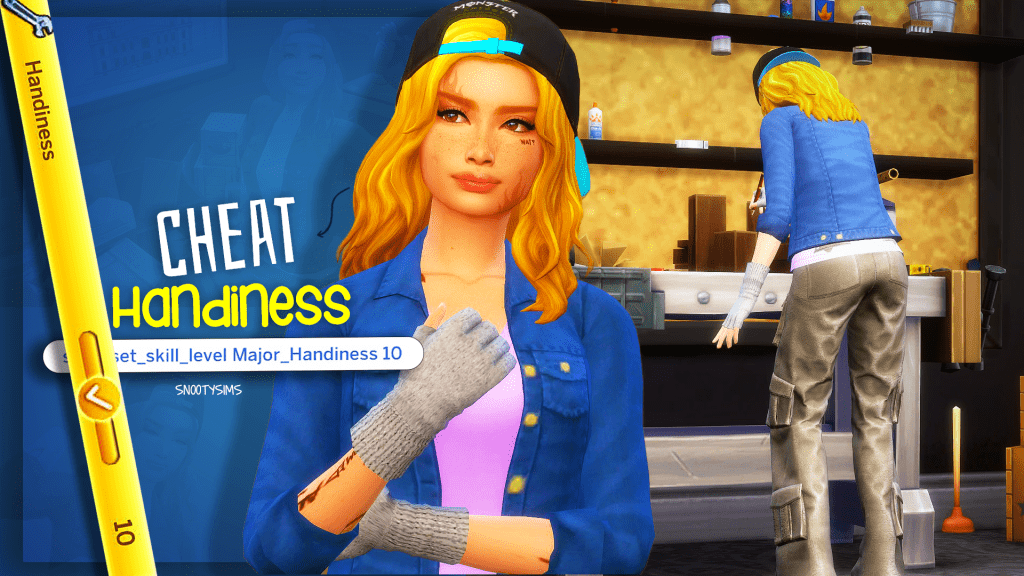 Handiness Skill in Sims 4
Learning handiness skills in Sims 4 is, well,…handy! This is one of the base game skills for the Sims 4 and has 10 levels for your to reach. Although you need to do quite a bit of repairing, upgrading, and woodworking, the skill has a lot to offer in terms of improving the quality of life for your household, so it's all worth it.
Not only can you repair broken items and save some simoleons, but you can elevate the existing objects and gadgets around your house to make them more functional. The higher the level you reach in handiness skill, the more fun upgrades you unlock. For instance, you can make objects around the house become self-cleaning, make fridges, TVs, PC, and other tech stuff unbreakable, etc. On top of that, leveling up can also help you make stunning woodwork and get simoleons selling what you make! With that in mind, let's see how you can benefit from handiness skill cheats.
Do you enjoy renovating, fixing and upgrading things around the house? Try out Fixer Upper Challenge!
Why Use Handiness Skill Cheats?
To max it out without using a handiness skill cheat, you will have to put in a lot of hours fixing stuff, repairing, upgrading, and woodworking. Although these activities are fun, sometimes you just need to level up fast.
This is especially true if you want to rank up the chosen career ladder, be it for the Civil Designer career, Boss Career Branch in Criminal Career, or Engineer Career. All of these require some dexterity and handiness which take patience to achieve.
Even if you are not into any of these fields, you can still use some fast progress for carving and selling real wood masterpieces, pumpkin carving, or just improving your home. So, if this is something you are aiming for, a good handiness skill cheat will do the trick!
How to Activate Cheats?
For any handiness skill cheat to work, it is essential to activate cheats, first. To do that, first press CTRL + SHIFT + C to open a dialogue box where you can type in cheats. Then, type a universal cheat code, testingcheats true in the box, and hit ENTER. You will be notified that cheats are activated, which means you are ready to cheat leveling up that handiness skill!
If you are playing on Xbox, press and hold RT + LT + LB + RB, and if you are gaming on Playstation, press R1 + R2 + L1 + L2. For Mac, you'll use CMD + SHIFT + C to open the dialogue box. Use this method of opening the dialogue box every time you want to use a handiness skill cheat.
How to Max Out Handiness Skill with Cheats?
If you are in a hurry and want to get to the desired skill level quickly, you can use max handiness skill cheat to achieve speedy results.
All you need to do is open a dialogue box and type stats.set_skill_level Major_Handiness X, and press Enter. Instead of ''X'', you can type in any number you want from 1-10. So, if you want to max it out, just type stats.set_skill_level Major_Handiness 10, and you'll see instant results! Your Sim now has reached level 10 of Handiness skill. This is a highly versatile cheat and a reversible one since you can go back to a previous level, and level down the skill anytime you want. So, if you regret upgrading their knowledge, you can always downgrade it.
If you love technology, robotics and AI, check out this Robot Traits Mod!
Upgrade and Fix Object Instantly With Cheats
Now, let's say your objective is to learn how to upgrade objects around your house, but you don't want to use cheats to level up Handiness beyond your current level. The good news is, there is a handiness skill cheat for that as well. For that, you will be using a cheat for Nerd Brain Aspiration Handy Reward Trait, which allows you to upgrade or fix objects instantly.
Open a dialogue box, type in Trait_TheKnack, and press Enter. You are now able to upgrade and repair any object you find around the house as if you had mastered the Nerd Brain Aspiration! And you didn't even have to use max handiness skill cheat.
conclusion
There is no doubt that Handiness skill is one of the most useful skills a Sim can have, especially if they are tech nerds who love fixing stuff. Cheats are a great way to help them learn the skill faster and save you time if you have other gameplay objectives you want to focus on. You get to decide how you want to use them! Happy Simming!
More on SnootySims: All Sims 4 Skills Cheats Listed: Unlock Skills to Pay the Bills!