Come on Barbie, let's go party! Say this out loud while taking part in the newest legacy challenge for The Sims 4, known as the Barbie Legacy Challenge! Read all about the challenge's rules in this article.
What is The Barbie Legacy Challenge?
We have all grown up in the era of Barbie, but the popular fashion doll icon has once again taken the world by storm when its live-action film premiered last July 2023. With that launch, not only did Barbie invade the hearts of some cinema fans, but it also made an impact on the Sims community! Apart from the plethora of Sims 4 custom content released by the creators to celebrate Barbie, there have also been new Barbie-themed gimmicks created for The Sims 4! One of these is the Barbie Legacy Challenge, a brainchild of fellow Simmer Aless. It works much like other Sims 4 legacy challenges, but it has its own special rules. Read on to know more!
How to Participate in the Barbie Legacy Challenge?
General Rules
Before beginning the Barbie Legacy Challenge, there are some general rules that you must keep in mind. First, each generation must have a female heir, named Barbie. Thus, you will be playing with 10 Barbie-named female Sims in total. Second, in beginning the challenge, you can use the cheat freerealeastate. After that, it is recommended that you do not use any money cheats. Third, you can use lot traits and reward traits to help your Barbies gain their skills, as long as these are all in-game.
Required Packs for the Challenge:
Get To Work
City Living
Cats & Dogs
Get Famous
Island Living
1. Housewife Barbie
You will begin the challenge by creating your first-generation Barbie in CAS, which is the first-ever babe that will start this entire Barbie Legacy Challenge! This Barbie Gen One is a homemaker with great family values while growing up. Her goal in life is to have a family, be a good housewife, and raise children who will become successful in their lives. This Barbie must:
Complete the Successful Lineage aspiration
Max the Parenting and Cooking skills
Have at least 3 kids and 1 pet, with each child completing at least one child aspiration and all children becoming A+ students
Have the Family-Oriented trait
2. Business Barbie
Gen Two's mother was content with being a homemaker, but that's not the vision of this babe. Your second Barbie in the Barbie Legacy Challenge is determined to carve her own path in life and do whatever it takes to become a Businesswoman. Her aspiration is to achieve great success and financial stability, ensuring her family's prosperity for generations to come. With this goal, she must:
Complete the Fabulously Wealthy aspiration
Max the Charisma and Logic skills
Max the Business career (Investor branch)
Have the Ambitious trait
3. Pet Vet Barbie
Coming from a family of substantial wealth, your next Barbie has decided to use all her resources to follow her lifelong dream of becoming a vet. Surrounded by adorable furry pets every day, this Gen Three Barbie strives to become the best vet in town! However, it is difficult to manage her vet clinic, so she needs to strive hard. To make the third generation of your Barbie Legacy Challenge successful, your Barbie must:
Complete the Friend of the Animals aspiration
Max the Veterinarian skill
Run a 5-star vet clinic
Have at least 3 pets and be good friends with all of them
Have either the Cat Lover or Dog Lover trait
4. Sea Pearl Barbie
Under the care of her vet mom, your Fourth-Gen Barbie grew up with a fascination for animals. But in her life, she wants to take her passion to new depths–quite literally! This Barbie wants to pursue an underwater adventure to explore the mysteries of Sulani and befriend the creatures of the sea. She looks forward to the magical secrets and unique marine life that will she encounter in this goal. Thus, she must:
Reside in Sulani
Complete the Beach Life aspiration
Max the Conservationist career (Marine Biologist branch)
Become a mermaid
Max Logic and Fitness skills
Must have the Child of the Ocean trait
5. Gymnastics Barbie
Your Barbie Legacy Challenge's Gen Five Barbie has been inspired by her mother's remarkable sea fitness. So, she set her sights on becoming a land-based fitness sensation! This babe is determined to push her physical boundaries and become a world-class champion in fitness and athleticism. She must:
Join the Cheer or Football team as a teenager and reach the highest level
Complete the Bodybuilder aspiration
Max the Fitness and Charisma skills
Max Athlete career (Athlete branch)
Have the Active trait
6. Best-Seller Barbie
With a family history full of accomplishments, your Gen Six Barbie is on a lifelong mission to document it all. She wants to write an epic Tell-All novel that chronicles her family's journey, achievements, and even secrets! This Barbie's legacy will be preserved in the pages of a great book for the next generations to come. To do these, she must:
Complete the Bestselling Author aspiration
Max the Writing skill
Write the Book Of Life and bind it to your parent (and use it to successfully bring them back from a premature death).
Have the Creative trait
7. Movie Star Barbie
Having a renowned author for a mom, your Barbie Legacy Challenge's Gen 7 Barbie is used to the spotlight. As she grew up, she wanted to have her own taste of fame. Yep! Barbie no. 7 is determined to make a name for herself on the silver screen. But will she become a beloved movie star, or will she succumb to the challenges that come with fame? To reach her dream, she must:
Complete the Master Actress aspiration
Max the Acting skill
Reach at least Proper Celebrity status
Have a secret affair with a fellow Actor!
Have High Maintenance trait
8. Rockstar Barbie
As the child of a successful actress, your Gen-Eight Barbie is well aware of people's doubts about the children of famous people in the entertainment industry. But this Barbie does not care! She's ready to prove everyone wrong by pursuing a career in music and becoming a true rock star. It's time she shows the world her passion for music. She must
Complete the World Famous Celebrity aspiration
Max the Singing skill
Max skills in at least 2 instruments
Max Entertainer career (Musician branch)
Have the Music Lover trait
9. Barbie For President
After conquering various careers and achieving worldwide fame, your ninth-generation Barbie is ready for the ultimate challenge: to lead the world. With her charisma, intelligence, and unwavering determination, this Barbie will aspire to become the greatest leader her fellow Sims have ever seen! Yes! Thus, this Barbie must:
Complete the Mansion Baron aspiration
Max the Politician career (Politician branch)
Max the Charisma skill
Have the Self-Assured trait
10. Barbie: in Space!
For generation ten, the world is at your Barbie's feet. Thus, it's time to set her sights even higher – the vast expanse of space! This Barbie must embark on an intergalactic journey to explore the cosmos and leave her mark across the galaxy. Her legacy will extend beyond Earth's borders, into the far reaches of the universe. Tenth-gen Barbie must:
Complete the Nerd Brain aspiration
Max the Logic and Rocket Science skills
Go to SIXAM at least once and bring back a souvenir
Must have the Genius trait
Bonus: Check out These Barbie CC From SnootySims!
If you're going to participate in the Barbie Legacy Challenge for The Sims 4, it is essential for you to have Barbie-themed custom content that will fit the stories and lives of your Barbie Sims. Check out these official SnootySims Barbie CC packs that we worked hard on, for our dear Simmers!
1. Barbie X Horses Bedroom CC
The Barbie X Horses CC Pack is the latest creation from SnootySims. This set seamlessly mixes the elements of The Sims 4: Horse Ranch expansion pack with the fun details from Barbie. With over 10 awesome items available, such as a bed, TVs, boots, a nightstand, suitcases, and many others, you'll definitely want this set for your game. See the download link here.

2. Barbie After Party CC
Next, we will introduce you to the Barbie After Party CC. Although it's a tiny set, it unpacks a lot of delight for your game! This cute little set features 5 objects, including a chair, a mini-chair, a chair cover, a coffee table, and a yummy-looking table decor! Get this pack here.

3. Come on Barbie Bedroom CC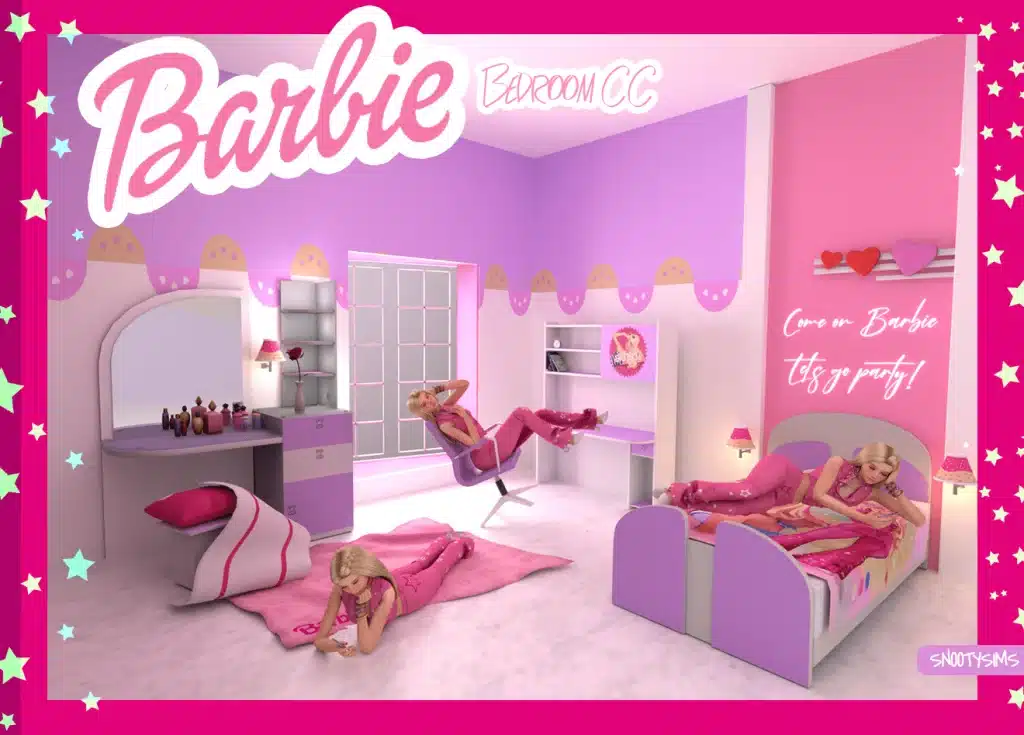 Let Sims sing "Come on Barbie, let's go party!" at the top of their lungs while they lounge around their room filled with this pretty Barbie-themed bedroom CC! Trust us, they'll have a lot of fun with all these charming pieces. Visit this link here to download.

4. Barbie Sunshine Vanity CC
Meet the Barbie Sunshine Vanity! This pack offers three lovely objects, including the Sunshine Vanity Mirror, the Sunshine Vanity Chair, and the Sunshine Rug—three pieces that will surely add poshness and pinkness to any room! Go and get this pack here.
Wrapping It Up: Play The Barbie Legacy Challenge!
Are you ready to play the Barbie Legacy Challenge for The Sims 4? It's a totally fun gimmick that you should try to spice up your Sims 4 gameplay. If you ever decide to participate in it, post your updates using hashtags #simsbarbielegacy and #snootysims, to let us know how your game goes! We are on Facebook, Twitter, YouTube, Instagram, and TikTok, where you can follow and message us! Or, you can simply leave us a comment on this post! Happy simming, Simmers!
Related Content