If your sim lives the life of an artiste, mastery of the Music Career is a lucrative way to put their skills to good use!
In addition to things like Freelancing, owning Retail or Restaurant lots, selling Collectibles, etc., The Sims 4 has a myriad of full-time careers your sim can take part in to earn simoleons. There are your typical 9-5 jobs like Business, Law, and Engineering but there are also branches for more creative sims, such as the Music Career. A talented musician sim can find themselves earning over §9,500 per week on top of any licensing or busking income they might make on the side!
Make Music to Make Money
Start strengthening your musical chops with the various instruments available to your sim, and get them on the track to a lucrative music career! This is a great career track for a sim who prefers to live their lives at night, as job levels 2-10 all begin their shifts at noon or later.
A note on the Pipe Organ: The Sims 4 Vampires introduced a new musical instrument, the Pipe Organ, to the game in 2017 but unfortunately, the Music Career was not retrofitted to recognize it. Sims can still use the Pipe Organ to Play for Tips or License Songs so although it's not useful for the career track, players can still make money as a Pipe Organ musician by growing the skill.
More on SNOOTYSIMS: 32+ Magical Music CC & Mods For the Sims 4 (New Instruments)
Get Started as an Entertainer
To begin their journey into the Music Career, your sim will first need to join the Entertainer Career. They will have to climb the ranks to level 4 of the career track, an Opening Act:
| | | | |
| --- | --- | --- | --- |
| Level | Job Title | Job Description | Needed for Promotion to Next Level |
| 1 | Amateur Entertainer | If a joke is told in a comedy club, and nobody's there to hear it, does it make a sound? As an amateur entertainer, [Your Sim] is about to find out. At least there are no hisses or projectiles! | None; complete daily tasks to boost general performance |
| 2 | Open Mic Seeker | [Your Sim] was born to perform. It's written in the stars! Of course, with the stars as his/her only reference, open mics are [Your Sim]'s only viable path to discovery and fame. The hardest part is suffering all these amateurs who can only book open mics! | Reach Level 2 of Violin or Guitar Skill |
| 3 | C-Lister | C-List is better than no list at all! Why, [Your Sim] is even starting to book a few gigs. At this point, their ability to shamelessly promote himself/herself may be a greater asset than any true talent! | Reach Level 2 of Comedy Skill |
| 4 | Opening Act | Doors are starting to open for [Your Sim]. And they are starting to open for some pretty cool acts. Audiences actually laugh when they're supposed to. Applause is not unheard of (or unheard). It may not be time to try the old "Don't you know who I am?" trick yet, but it's coming…. | Reach Level 3 of Comedy & Violin or Guitar Skill |
Ever wondered what the highest paying jobs are in the Sims 4? Click the image below for answers!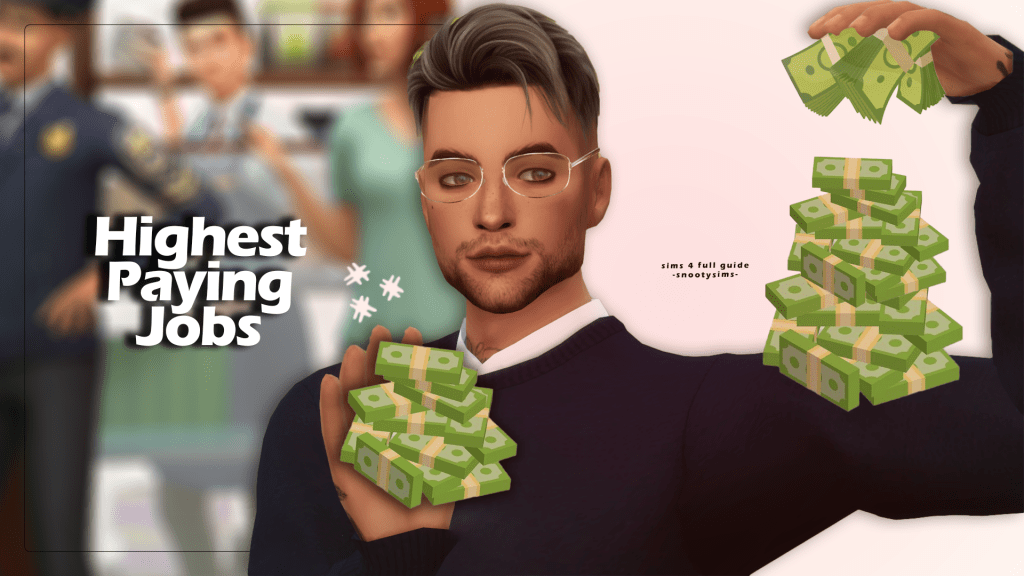 Advancing into the Music Career
Once your sim is employed as an Opening Act and they complete the needed tasks to earn their next promotion, you will be prompted to choose which branch of the Entertainment Career you want them to follow. It is here that you will get your sim on track in the Music Career by selecting the Musician branch. From here, there are 6 levels to completing the Music Career:
| | | | |
| --- | --- | --- | --- |
| Level | Job Title | Job Description | Needed for Promotion to Next Level |
| 5 | Jingle Jammer | Who needs name recognition when everyone recognizes your song? [Your Sim] will be busy creating jingles that lodge themselves into people's brains so tightly, it would take highly invasive surgery to get them back out. So what if they're about cat food, or toilet cleaner? No one can flush them away, not ever! | Reach Level 2 of Piano Skill and Level 4 of Violin Skill |
| 6 | Serious Musician | [Your Sim] has always known that they are more than just a hunk of love/pretty face. They've got TALENT. And the instant their fingers touch the keys of a piano or the strings of a guitar, everyone in the room knows it. These days, they've even got gigs to prove it. | Reach Level 4 of Piano Skill and Level 5 of Violin or Guitar Skill |
| 7 | Professional Pianist | From posh private parties to shopping mall foyers to weddings for the web-date weary, [Your Sim] is in high demand. Whether their client wants guests to dance, buy hopelessly expensive trinkets, or pipe down until they say their vows, [Your Sim]'s got the tunes to get results. | Reach Level 6 of Piano Skill and Level 6 of Violin or Guitar Skill |
| 8 | Symphonic String Player | All the world's a stage, and [Your Sim] has earned their place upon it. They are still putting bread in their jar playing weddings and private parties, but the guest list and grub is getting better every time, and they occasionally lifts their spirits with satisfying stints in lesser-known symphony orchestras. | Reach Level 8 of Piano Skill and Level 7 of Violin or Guitar Skill |
| 9 | Instrumental Wonder | Strings, winds, woods, brass. [Your Sim] has mastered them all, and their remarkable gifts are remarked upon quite often. Fame is their, and they're working on fortune. Just not enough fortune for them to say no to that web startup launch party. | Max out Piano Skill and Level 8 of Violin or Guitar Skill |
| 10 | Concert Virtuoso | Bravo, [Your Sim]! They will bring the crowd to its feet at nearly every sold-out performance. Applause? Roses? Room keys? These things are offered up to [Your Sim] on a regular basis now. Encore! | None; congrats on reaching the top of the Music Career! |
Well done! Your sim has reached Level 10 and now has a lucrative Music Career. They can enjoy working 4 days a week and spend their mornings at home relaxing or making money in other ways, some of which can be done as a supplement to their current job…
Or you can skip all of this and reach Level 10 with the relevant Career Cheat!
Other Ways to Earn Simoleans as a Musician
On days off or during the morning, your sim is free to pursue other interests or activities. Some of these activities can make use of their already honed musical talents, meaning you don't have to waste time skilling up in other areas to bring in additional income.
Playing for Tips
If your sim has at least Level 3 Skill in a musical instrument, they can play for tips pretty much anywhere. All you need to do is make sure the instrument is in their inventory, click it, and select "Play." You can also have them play an unmanned instrument already on the lot like a Piano (though Pianos need Level 4 skill to play for tips). They just need to pick a spot and start playing, and if they perform well they can earn quite a bit of money!
Unsurprisingly the best place to do this is somewhere busy, like a Festival or popular Community Lot. There's no minimum amount of time your sim needs to spend performing, so it's a nice way to pass the time while making some simoleons whenever they're in the mood.
Licensing Music
Once their skill is at a high enough level, sims can license 1 song per instrument per week and earn royalties on any song they license. Choose "Write Song" on the instrument of your choice and once the song is complete, it can be found in your sim's inventory. Go to the mailbox and click "License Song" and then sit back and let the funds flow in!
Reminder: The Pipe Organ can be used for busking and writing songs just like the base game musical instruments!
You can also license song lyrics with the Singing Skill—learn more here.
Closing Coda
As you can see, a musically gifted sim can use their instrumental skills to carve out a nice living for themselves. Climbing the Music Career and leveling up in different instruments go hand-in-hand, and sims can continue working on their skills while playing in public and/or through their songwriting abilities, while also earning additional income at the same time. It's the dream job for a creative sim who channels their muses through music, and having such a talent benefits them in multiple ways. If you haven't yet, definitely give the music career track a try. Have fun, and happy simming!