Are you thinking about installing some new Sims 4 packs? Well, if going on quests in the tropical forest sounds fun, then Jungle Adventure is a pack you should take into serious consideration! Read on if you are curious to discover more about its key features and find out what makes it so special.
Sims 4 Jungle Adventure Game Pack: Are you ready to explore the tropical forest?
If you ever wanted to live like Indiana Jones for a few days or make traveling a big part of your Sim's identity in Sims 4, you are up for a pleasant surprise. Sims 4: Jungle Adventure will surely meet your needs for excitement and novelty.
This game pack was released in 2018 and brought with it fabulous new ways to chase the adrenaline rush. The pack name itself is very revealing, and it's all about adventures in the jungle. Sims can explore ancient Omniscan ruins, collect ancient relics, go treasure hunting, and learn about the new exotic culture. But, this is just the tip of the iceberg.
Let's get acquainted with all the key aspects of this game! This is your detailed Sims 4: Jungle Adventure game pack overview. Let's hop right into it!
Find the latest CC on SNOOTYSIMS: Jungle rustic arbor tent!
What to expect from the pack?
Everything in the pack is inspired by ancient tribes of Latin America. Jungle Adventure has a lot to offer, so it's almost impossible to cover all its fabulous features in one go. But, we'll do our best to introduce you to key highlights of the game, so that you can get properly acquainted with what it offers. These are some things you'll be able to do:
Explore the new world of Selvadorada to learn about new culture or start an adventure in the jungle
Learn two new skills
Choose two new aspirations fit for real adventurers
Explore old Omniscan temples
Discover powerful ancient relics and unlock their superpowers
Two new types of collectibles
Face dangers of the jungle
Meet skeletons
Try new looks in CAS
Decorate home with new build/buy items
Now, let's o into more detail!
Explore The New World Of Sevadorada
New worlds are always a big plus, and Jungle Adventure doesn't disappoint. It features a brand new destination world – the magnificent Selvadorada. This is a city in the jungle and it's filled with remains of old Omniscan civilization and collectibles. While Sims can't live here, they can certainly enjoy long vacations. To get to Selvadorada, just use the phone!
This exotic world has two neighborhoods for you to explore. Puerto Llamante Marketplace is where the culture is. This is a small neighborhood where you can get all travel essentials and rent vacation homes. Besides two rental houses, you'll find a museum and a cantina, next to which is a marketplace with vendors and food stalls. This is a great place to meet locals, try traditional cuisine, and get supplies for exploring the jungle, such as a machete, or admire a peculiar statue that dispels curses.
The second neighborhood, the Belomisia Jungle is where the wild advantage begins. What makes it interesting is the Jungle District, as it is here where Sims get to push their boundaries and follow the call of the jungle. Sims will start their journeys at Belomisia Trailhead and cut through the greenery to reach hidden Omniscan treasures and ruins. You'll get to discover a plane crash site, Omniscan Royal Baths, Omniscan Gardens, a stunning lagoon, and an island in the middle of nowhere!
Master two New Skills: The Sevadoradean Clutlure and Archaeology Skill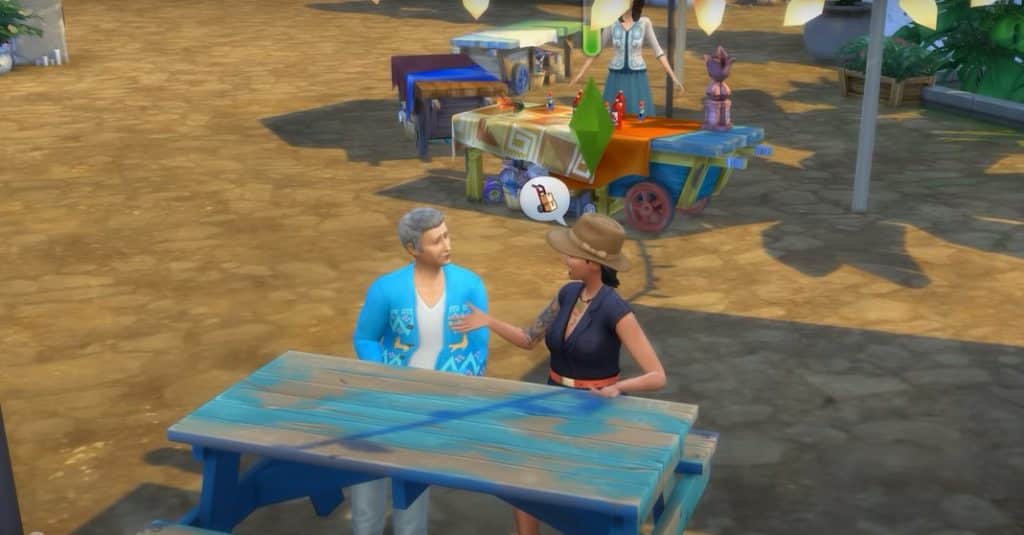 With Jungle Adventure installed, Sims will get a unique chance to master two new skills: The Selvadoradean Culture and the Archaeology Skill.
Although a minor skill with 5 levels, learning Selvadoradean Culture is fun, and it will come naturally to Sims who travel to Selvadorada, as long as they are willing to try delicious Selvadoradean food or mingle with locals. Leaving up will allow them to learn cultural tricks, such as the Rumbasim Dance, play Selvadoradean music on their guitar, get to try secret dishes and unlock special protection that will keep them safe in the jungle.
The second skill from Jungle Adventure, the Archaeology skill, is a major one and has 10 levels for Sims to master. Excavating dirt piles, and later studying art and artifacts for historical insights. As they progress, they'll get better at not only excavating but also analyzing their findings. Higher levels allow them to establish excavation sites where they can work in teams, refine crystals, use their expertise to write books and authenticate artifacts with precision for a renowned Simsonian Institute!
If you want to take your archaeology skills to the next level, check out the Archaeology Kit mod here!
Two New Aspirations and reward traits: Archaeology Scholar and Jungle Explorer
Although Jungle Adventure doesn't feature any archaeology-related careers, thanks to the two new aspirations Sims will stay motivated to explore the tropical wilderness and learn archaeology skills.
Archaeology Scholar Aspiration – This aspiration focuses heavily on archaeology skills. To complete the final milestone, Sims will need to max out their Archaeology skill, give a successful archaeology lecture, and write a good book about archaeology. And the end result? They will be rewarded with the Museum Patron trait, which will boost their mood in museums and unlock the ability to donate artifacts.
Jungle Explorer Aspiration – This one is all about becoming one with the jungle and finding treasures. Sims with this aspiration will need to battle natural dangers, max out the Selvadoradean Culture skill, collect Omniscan treasures, and activate mystical relics to complete the aspiration, to name some of the tasks. In return, they will receive the Treasure Hunter trait, which will help them find super-rare relics in the future.
Exploring the Omniscian temple site
Temples and ancient ruins are some of the biggest highlights of Jungle Adventure! Sims can come across valuable treasures while exploring the wilderness, but the most valuable objects are usually found on temple sites.
These ancient ruins are a mysterious occurrence. There can be only one temple in the Jungle at a time. Once your Sim is done exploring it, the inside of the temple will completely change and the game will spawn a new temple for you to explore. This process will go on indefinitely as long as there are keen adventurers out there. There are five temple variations they can explore, and all look different on the inside and give different moodlets. Temples in Jungle Adventure are hidden behind secret passages covered in greenery, but they hide great treasures, so make sure you thoroughly explore every room!
Exploring them takes time, and your Sim may need to revisit the temple site multiple times until it's fully explored. Sims will need to be cautious, as there are traps on the temple site you'll need to deactivate to be able to continue exploring it. Temple rooms are sealed with three types of gates, and Sims will need to pass through them by choosing the right interactions.
Discover valuable ancient relics!
Relic pieces are valuable findings you can come across while adventuring in the forests of Selvadorada. They can be found in treasure chests and while excavating, so the better your Sim's archaeology skill is, the easier the process of finding them will be.
These treasures from Jungle Adventure come in pieces, and you'll need to assemble bases and tops to actually get a relic, and they will need to be activated. There are three bases (Chaos, Death, and Watcher) and three tops (Balampalsoh, Totecallam, and Zazatotl). They can all be combined, as each gives a unique totem relic. Once assembled, all your Sim needs is a refined crystal to activate the superpower of their freshly-assembled relic! Handle them with care though, as they can get broken.
Refining crystals is also one of the new activities your Sim can do, and it's performed on the archaeology table that comes with the pack. Just collect a crystal of any rarity and use the archaeology skill to refine it.
2 New collections: Ancient Omniscan Artefacts and Omniscan Treasures
Relic pieces are not the only type of a treasure Sims can find in Selvadorada forest. There are two other types of objects they'll encounter as they explore the jungle: the Ancient Omniscan Artefacts and Omniscan Treasures.
Ancient Omniscan Artefacts – There are 16 of these, and they can be found in treasure chests and while excavating. This is mostly pottery and small sculptures. To see what you've excavated, you'll need to clean it at the archaeology table. They come in different quality, and what you'll excavate will depend on the archaeology skill. Not all are originals, though. So, if you think you've found an artifact, but it doesn't show in the Omniscant artifact collection, you'll know it's a fake.
Omniscan Treasures – There are 13 in the collection, and they look like gold plates and frogs. These are more valuable than artifacts and can be found only in temples, in treasure chests on the final temple exploration level.
Besides these two entirely new collections, Jungle Adventure also adds newness to a few other collections in the game. There are 5 new fossils they can excavate, 9 new plants for the gardening collection, 2 new crystals, and 3 new fish species.
Beware! Your Sims can be Poisoned and die!
Forests of Jungle Adventure are beautiful but also dangerous. In fact, if unlucky, your Sim can die on their quests! There are three ways they can get poisoned, by being bitten by a spider, hit by a poisonous dart, or from being exposed to a poisonous gas. If they are fortunate, symptoms will go away, but if not, be ready to put in some effort if you want to save them.
You can either take bone dust that's found by exploring or buy an antidote (or a few if symptoms don't go away) for 1,000 simoleons on PC. If you go for the free route and want to use the bone dust, make sure you ask locals about the antidote. This interaction is essential, or you won't be able to use the remedy.
Symptoms go from dizziness to green dots on the skin, and you'll have three days to save them.
New Life Temporary life form: Skeletons!
Jungle Adventure features a new life form, skeletons! You can randomly encounter them in temples, and summon them to help them out with home chores by using the Totecallam Death Relic.
This is a temporary state Sims can be in if they activate the Balampalsoh Death Relic. They can stay in this state for half a day or two days, depending on the crystal quality you use to activate the relic. The good news is, although they may look creepy, you won't have to worry about their energy, bladder, hygiene, or hunger needs for the time being.
If you'd like to turn your Sim into a skeleton for more than 48 hours, you can do so with cheats! To find out how to do it, check out the tutorial below:
What to expect from the cas
Jungle Adventure doesn't only bring excitement and possibilities for exploration, but also new CAS moments. You can expect to find new masculine and feminine hairstyles that fit an adventurer, such as unisex expedition hats or hairstyles with headbands. There are a few adventure-themed tops such as safari vests and shirts with tribal patterns, new bottoms, and outfits, new shoes for both frames, and a pair of accessory pieces for females.
There are a few new looks for kids and toddlers, but enough to turn them into little explorers. If you love tattoos, you'll find one unisex arm piece you'll fall in love with. In total, there are 58 new CAS items, so you definitely have something t look forward to.
New stuff for your Home in build/buy!
If you are thrilled about experimenting with new looks in CAS, just wait until you see how many incredible new items you'll find in the build/buy. To be precise, there are 174 new items and 5 styled rooms! Jungle Adventure includes 15 new walls and 6 floors to help you bring a dash of new exotic culture into your Sims 4 homes.
There are new pieces of furniture for almost every corner of your home, from beds, armchairs, baths, sofas, and kitchen counters, to indoor and outdoor decor, such as vases, flowers, and awnings. Get ready for a bunch of rustic and ancient Selvadoradean details!
On top of all that, there are two new lot traits that you can add to any lot in a destination or residential world:
"Creepy Crawlers" lot trait – It will make your home prone to bat, spider, or bee attacks, and your Sim will need to defend themselves against them once they randomly appear. Otherwise, they will get super tense! It's a perfect lot trait for creating an eerie atmosphere in any home.
''Peace and Quiet" – This is perfect for ensuring your Sims live a serene life. They will learn skills faster, and find it easier to relax and let go of a tense moodlet.