Bella Goth is likely the most iconic Sim in the history of the entire Sims franchise. Due to her iconic red dress and long black hair, she looks almost like royalty as she struts around the world. No, really… To us, Bella Goth is the queen of the Sims franchise. But how much do you actually know about her? If the answer is close to nothing, do not worry… This post will tell you everything you need to know! So, let's get to it. Oh, and there's a special makeover for Bella at the end of this post, so keep reading!
1. Bella Goth's History In The Sims Franchise
Bella Goth, and the Goth family in general, have a long history in the Sims franchise. This family first appeared in the Sims. Where Bella, her husband Mortimer, and their young daughter Cassandra resided at 5 Sim Lane. Somewhere between the Sims, and The Sims 2, the married couple welcomed a second child – Alexander. And, later moved to 165 Sim Lane in Pleasantview. Shortly before the Sims 2 was released, Bella went missing – having been abducted by aliens.
Throughout the different Sims franchises, Bella exists at different life stages, in some alternate timelines. To be completely honest, it is all rather confusing. So we won't get into these timelines too much. In Sims 3, Bella appears as a child, residing with her mother Jocasta Bachelor, father Simis Bachelor, and brother Michael Bachelor in Sunset Valley. There, she is best friends with her neighbor, and future husband, a child Mortimer Goth.
Jump forward in time to an alternate timeline… And Bella is married to Mortimer Goth, residing in The Sims 4 Ophelia Villa in Willow Creek, with her children Cassandra and Alexander. Whom are teen and child Sims at this point. This is the Bella Goth version we will discuss in this post.
2. Bella Goth's Personality, Traits, Likes & Dislikes
Bella Goth is known to be a typical well-behaved, and social Sim, which fits very well in with her aspiration of "party animal", and her traits of "good", "family-oriented", and "romantic". When you first load the Sims 4, Bella will have completed the "have 3 friends" task of her aspiration – earning her 75 points.
She does not have many likes or dislikes, but the ones she does have are:
Dislikes: Romance Music, & The Colour Green.
Likes: Video gaming.
3. Bella Goth's Iconic Style
Besides her iconic everyday outfit as seen above, Bella Goth has a wide range of bold looks! Every single one of her outfits, despite her workout clothes and her hot weather wear, includes her statement color – red!
The two colors black and red pretty much make up her entire wardrobe – and we are here for it. Despite her iconic everyday look, our favorite outfit of hers is the party look. This is fitting since she is a total party animal! Which one of her outfits is your favorite? Let us know in the comments down below!
Read on SNOOTYSIMS: Maxis match custom content and mods!
4. Bella Goth's Career & Skills
When you start a save file, Bella Goth will be working as an intelligence researcher. This job requires her to work from 7:00 AM till 3:00 PM during the weekdays. Earning her §19 an hour. She will also have 3 days available for vacation, and her performance is average. Furthermore, Bella will be at level 2 in charisma, fitness, and programming when you start a new game. Overall, she seems like a pretty smart Sim, though her skills do not reflect it yet.
5. Bella Goth's Family members
It is our pleasure to introduce you to the Goth family. Say hello to Bella's husband, Mortimer, their teenage daughter Cassandra, and their child son Alexander. They all reside in Ophelia Villa in Willow Creek. And, all things considered, they seem to be pretty fond of each other – as they are all friends! Though, judging by their villa – it seems Cassandra might be the golden child – as she has the biggest room. And well, Alexander lives in the attic all by himself. But hey, who are we to judge… that attic might be pretty homey. Just see the photos below!
6. The Goth House – Ophelia Villa
Welcome to Ophelia Villa, where the Goth Family resides. It is located in Willow Creek and consists of 3 bedrooms, 3 bathrooms, a kitchen, a living room, a dining room, and some very extra hallways. The villa has 3 floors in total, and Alexander's bedroom is located on the 3rd, as seen below.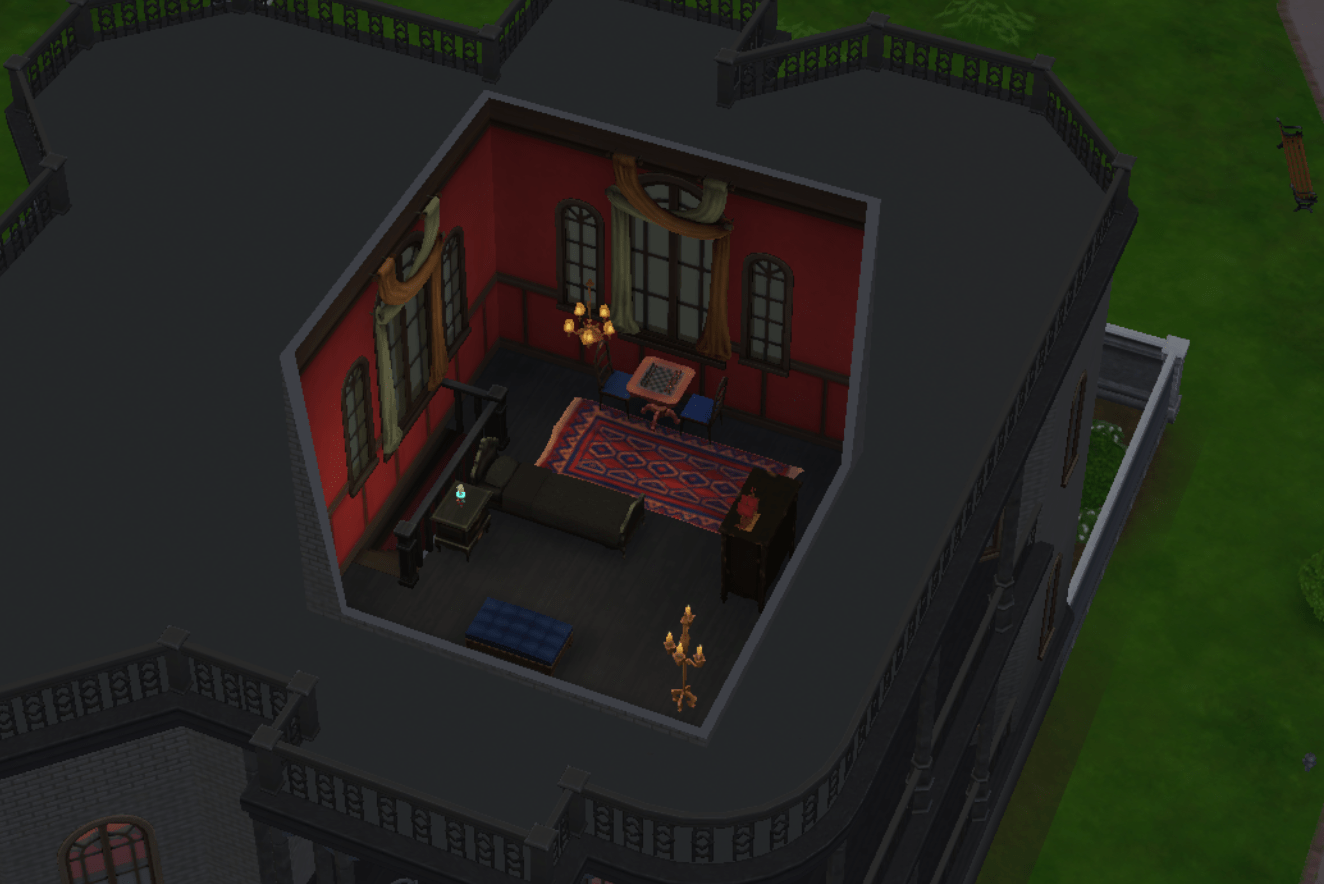 On the second floor, you can spot a purple room – which belongs to the golden child, Cassandra. The main bedroom, belonging to Bella and Mortimer is also on this floor. Which does come with an on-suite. Furthermore, there is another big bathroom and a huge piano room on this floor.
The 1st floor showcases the kitchen, the living room, and the fancy dining room. An additional bathroom and fancy hallway can also be found on this floor! What do you think of their house? Let us know in the comments down below.
7. Bella Goth Makeover
If you like this version of Bella, feel free to download the custom content items used in the making of this new look:
Conclusion
To sum it up, Bella Goth is perhaps the most iconic townie the Sims franchise has ever created, and will ever create in our humble opinion. With her fabulous red outfits, her sparkling personality, and her mysterious past – Bella Goth keeps casting her spell on us. And, we are not mad about it. In our eyes, she is the queen of the Sims 4…
So tell us, is Bella Goth the queen of the Sims franchise in your eyes? If not, who is? We would love to know. Also, let us know if this post taught you something new about Bella!
Anyway, thank you for stopping by! Have a fabulous day. But most importantly… Happy Simming!
Related Content