Travis Scott is one of the pre-made townies you see walking around the Sims 4 worlds. But how much do you actually know about him? If the answer is little to nothing, you better keep reading! In this post, we will reveal everything about the townie who has a love triangle with his best friends, and the name of a real-life rapper. Now, let's get into it!
The Story of Travis Scott – No, Not The Rapper…
Travis Scott, as seen in the photo below, is a pre-made townie who resides in Willow Creek. Not much is known about his story. But, he is a young adult, 23 days from being an adult Sim. As for his personality, he is a geeky and fun-loving character. And, he is the name twin of Travis Scott, the real-life rapper, who has two kids with Kylie Jenner. Anyway, the Sims 4 Travis is not a rapper and does not have any children. Not to mention, that the two look drastically different. It is kind of funny, to be honest.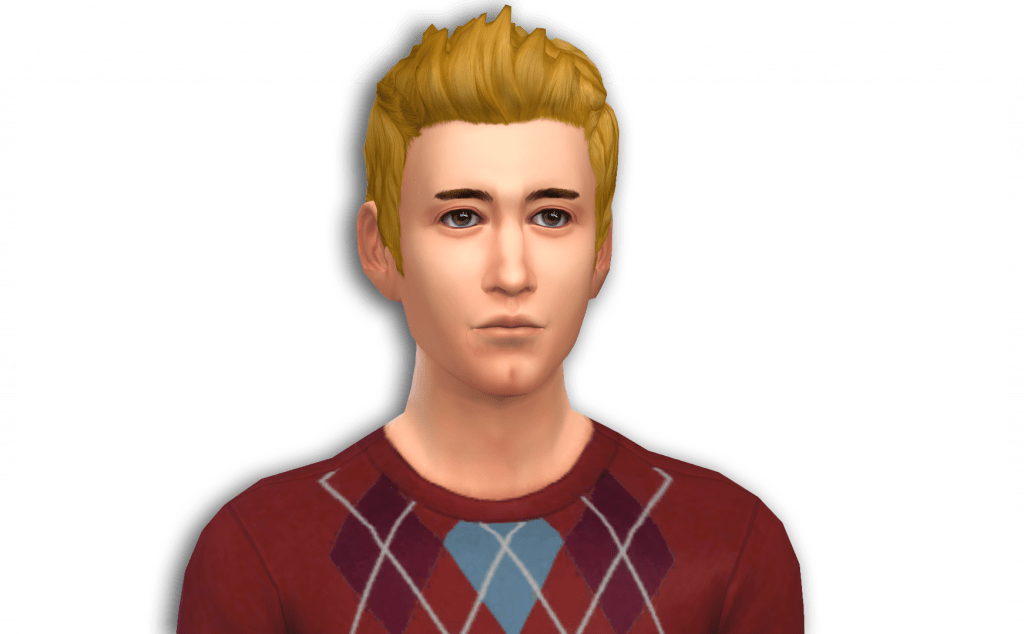 The Skills, Traits & Career of Travis Scott
So, let's talk about skills, traits, and the career of Travis Scott in the Sims 4. At the start of the game, he has the aspiration computer whiz, with zero satisfaction points. Beyond that, Travis has the traits of outgoing, self-assured, geek, and quick learner, which all fit very well with his computer whiz aspiration, we might add… Now, Travis here, works in quality assurance, in the tech career. Which we have got to say, is an excellent career choice for a geek like himself.
And, at the start of the game, he has already reached the first promotion task, thanks to his level two skills in programming and video gaming.
The Many Outfits of Travis Scott Sims 4
Just like all the other Sims 4 townies, Travis has got 8 outfits. These include everyday wear, formal wear, nightwear, workout wear, party wear, swimwear, hot weather wear, and cold weather wear. Out of all these outfits, he is most known for his everyday wear. You will most likely recognize him by his maroon sweater, his brown trousers, and tan shoes.
His spiky blonde hair and cleft chin also make him stand out from the crowd. Our favorite outfit of his, is defiantly the formal wear, just because it is subtle for a change. What is your favorite outfit of his?
Check out these Sims 4 outfits CC!
Travis Scott BFF House & In Willow Creek
The Sims 4 Travis Scott resides in the BFF house in Willow Creek, with his two friends Summer and Liberty, as seen in the next part. The three young adult Sims are best friends and live together as roomies. As you can see from the photos, the house is quite a decent size for three Sims, so they have more than enough space.
With a huge garden, combined living room and kitchen, one bathroom, and three bedrooms, they have everything they might need. For reference, Summer's room is the red one, Liberty's room is the blue one, and Travis' room is the little one. But hey, he has everything he needs in there, right?
BFF Household: Who's BFF Is he?
Now that we have gotten to know Travis a little bit better, we have to get an answer to the question… "Who's BFF is he really, Liberty or Summer?". We all know by now, that Travis resides in the BFF houses in Willow Creek, with his two friends Liberty and Summer. But, there is a bit of a love triangle between the three… So, when it comes to who's BFF he really is? Well, we guess that depends on which of the two he is dating at the moment…
Conclusion
Though the Sims 4 Travis Scott is not a rapper, he is pretty cool. We certainly have found a place for him in our Simmer hearts, and we are sure you will too if you have not already. Now, we really hope we got to answer all your questions about this fun-loving Sim. If not, comment whatever is on your mind below. Before you go through, please let us know which of the BFFs is your favorite? We think ours might actually be Travis…
Anyway, thanks for stopping by. Have a lovely day, but most importantly… Happy Simming!