Are you a fan of details? If you are, then a collection of tongue CC is something you need to check out and try out. After all, realistic looks are about real skin, shapes, and textures! Continue reading to discover the most realistic tongues for your Sims 4 folks!
Top Tongue CC & Animations for Sims 4
How many times have you wished your Sims had a more realistic mouth? I know I wished, a few times. While we have so much to choose from when it comes to lips and even teeth, there are not so many details for the inside of the mouth of our characters. Luckily, there is CC to save the day! With a quality CC tongue piece, we can strike poses, express attitude, and even look dangerous!
We have prepared a set of tongues for Sims of all ages and genders, with and without piercings. We have also prepared some cool poses with tongues out for solo Sims and couples. Let's get started!
To check out the best natural lips go here, and for more teeth and lip CC, follow this link!
1. bluff tongue piercings by Pralinesims
A little change goes a long way. It's fascinating how a little shade and some details can change Sim's appearance. This CC pack includes 15 tongue shades for a super realistic look. There are 4 variations of mouth in total, 2 versions with a single piercing, and 2 with a double piercing. Get it here!
2. licking lollipop animation pack by exzentra
To help them pose like real models, get your Sims these poses! They can taste the candy lollipop or light a cigar to ease their nerves. The pose with the candy comes with two variations of a tongue, one with and one without a piercing. All 4 poses available come in 3 versions! Find more info here!
3. au tongue n001 by redheadsims
Are you a fan of edgy looks and split tongues? Look no further! A hyperrealistic detail like this will blow you away and add a shock effect to any look in a second. This is a unisex CC for all Sims, from tens to elders. Even if you don't want the split version, you can always pick a normal one! Get it here!
4. Silly faces with tongue out by katverse
Let's get goofy! This set of adorable poses includes a 3D tongue and cute facial expression ready for some like-worthy selfies! Sims can now wink with a tongue out, make silly poses, and fully express their inner child! There are 5 poses, and we guarantee you'll adore them all. More info here!
5. 3D realistic tongue with piercings by redheadsims
Here comes another realistic tongue by Redheadsims you need to try out! This is not just a 3D detail. It's highly textured to the point where you can almost see pores and taste buds! It includes 3 piercing styles – venom, the classic, and a horizontal one. On top of that, you can pick colors for each! Check it out here!
6. supernatural long tongue by natalia-Auditore
Speaking of venom, let's talk about this CC that will make your ladies and gents look just like Venom from the movie. This is a super long, super functional, and extra creepy tongue. You can make your own breed of occult beings using it and it comes in 7 different shades of blood. Spooky! Check it out here!
7. Tongue up ACC by backtrack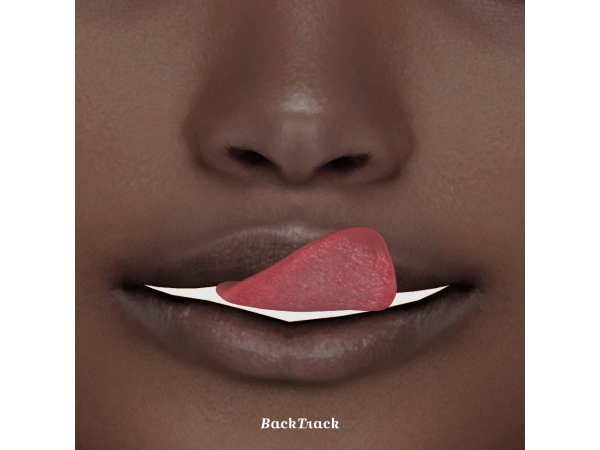 Licking lips? Now that's possible in the Sims 4, thanks to this cool CC! This tongue is a nice detail for photoshoots, and Sims can find it in CAS under the rings category. It will surely help them express some attitude. It comes with 5 unique swatches and is HQ compatible. Get it here!
8. unisex tongue accessory by ebonix
Simple yet effective, this CC piece has all your Sims need to strike a pose. Be it with or without the piercing, the tongue out will make them look like baddies! This unisex piece is available for more age groups: children, teens, young adults, adults, and elders! Find more info here!
9. Megan & Kourtney besties mini pose pack by byhayleylu
Have you seen the famous Meghan Fox and Kourtney Kardashian photoshoot? Well, this pose pack will take your Sims 4 besties straight backstage and allow them to make identical poses as the two celebs! There are 3 poses, so get ready for some sexiness overload! Download here!
10. "acting bad" pose pack by bBYGRL
It's time to set firm boundaries and show the world that you couldn't care less about anyone's opinion! This set of 4 poses will help your girlies emulate the bad girl vibe like never before. Middle finger in the air, personality on the max, and let's go conquer the world! Check it out here!
11. "Couple Mirror Selfies" Vol. 1 Posepack by pixanelle
It's selfie time, so call your partner and get silly in front of the mirror! This set of poses brings positivity and affection to the forefront. Sims can play, be flirty, and do the tongue-tip kiss or French kiss. Either way, they will look great and have fun messing around. Find more info here!