Have you ever tried to mentor others in Sims 4 to help them achieve fitness goals? Mentor fitness is a great option for anyone who'd like to improve their athletic performance. So, if you are curious about how to mentor someone, stick with us and read on to discover how to do it!
What is the Mentor Fitness Option?
Mentor fitness is a unique social interaction that allows a skilled Sim to help others improve their physique and gain fitness skills faster. Besides helping others, mentoring is a way to help oneself climb a career ladder in the Athlete Career.
Sims who have gained enough expertise in the fitness department can aid others who are aspiring to grow some muscle. However this isn't for everyone, and it requires not only enough fitness skills but also a lot of time and some social connections. Now, let's see how you can unlock this interaction, how it works, and how your Sim can become a mentor for others, shall we?
Would you like to work as a gym associate? Check out this mod!
And have a look at our compilation gym CC!
How to Unlock the Mentor Interraction?
Mentoring isn't available to just any Sim. There are two ways you can unlock the option to mentor someone on their fitness journey. The first one is to max out the Fitness skill, which will then unlock a unique social, the 'Mentor' option. To do this, your Sims need to be disciplined at the gym and max out the skill organically by exercising daily.
The second and faster way to unlock the Mentor Fitness option is to join the Athlete Career. Sims who choose to go for the Bodybuilder Branch in the Athlete Career will unlock a special ability at Level 5 (Personal Trainer), and that is to mentor fitness. This activity will also become their daily task and a promotion requirement if they want to become the best of the best in their Bodybuilding field.
Read on SNOOTYSIMS: Everything to Know About The Sims 4 Athlete Career!
Will My Sim get paid for Mentoring others?
Unfortunately, the answer is no. Mentoring others is great when we want to help them get speedy results at the gym. However, it doesn't offer more benefits, especially to the Sim who is doing the mentoring. While the mentor fitness option is essential for advancing in the athlete career, it doesn't bring Sims extra simoleons. It can help Sims rank up and get a bigger salary, but it isn't a side hustle – it's just a side task and a handy social interaction.
Can I mentor Any Sim I want?
Unfortunately, you can't just walk up to a stranger at the gym and offer to mentor them. Mentoring requires some level of trust, meaning you can perform this action only on Sims who are your friends or acquaintances.
You can mentor fitness any Sim who can work out using gym equipment. The great news is, you can perform this interaction on another Sim from your active household if they are old enough to use the equipment. If your Sim lives alone and needs some extra help, invite some friends over if you have a home gym or invite them to go to the public gym with you.
Being friends with the target Sim is your best bet, but you can also simply walk up to a Sim you'd like to mentor, introduce yourself, strike up a little conversation, and see if the Mentor option appears once they start using the gym equipment.
More on SNOOTYSIMS: Muscle Mod, The Best Fitness Controls You'll Ever Have in The Sims 4!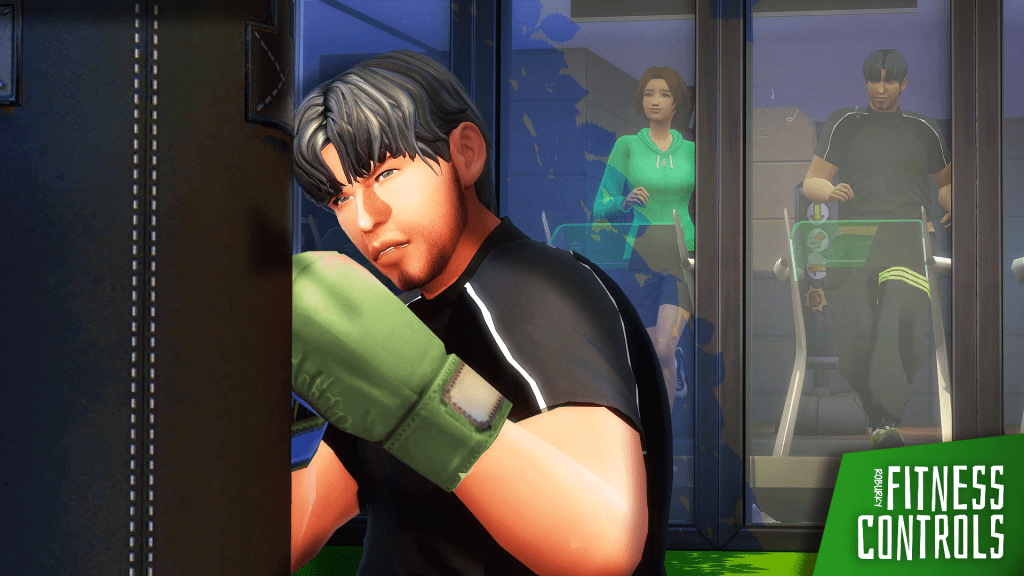 How to Mentor Sims?
Besides having to be friends with a Sim, to mentor fitness, you will need to go to the gym or have a home gym where you can work with a friend of yours. Once your friend starts exercising, use your active Sim to click on the friend, and select 'Mentor' from the pie menu. Your Sims will now start aiding the training of their friends. If you want to leave before the mentoring is over, just walk away and start doing something else.
If you've done everything right, and are trying to mentor a friend of yours, but can't, it can be that the Sim you want to help out already has a high level of fitness skill. You can't mentor fitness someone more skilled than you, right?
Additionally, to be super effective, you can also purchase the Mentoring reward from the Reward store. This will speed up learning for the target Sim by x4, making it easier for them to reach their skill objectives.
How difficult is it to train sims?
Mentoring Sims can be challenging for a few reasons. One, it takes time to either max out the fitness skill or level up in the Athlete career to unlock it. Two, there is no guarantee that once you unlock it you will be able to mentor the first Sim you bump into, as you can't mentor strangers. Three, Sims you know have to already be using the equipment, which is out of your control. And four, some Sims at the gym are already skilled, so they won't need your mentoring.
Besides, it is not uncommon to see the same Sims come to the local gym. So, even if you manage to befriend and mentor fitness them, you can help them level up fitness skills, and this can leave you with no Sims to train. That's a lot of things to be mindful of, right?
Cool cheats to help you train others faster
Luckily, you can get around these issues with a little help from cheats. These are the handiest ones that will make the mentoring way easier for you:
To level up fitness skill and unlock Mentor Fitness option – To max out the Fitness skill using cheats, just enable cheats with SHIFT+CTRL+C, type testingcheats true, and hit Enter. Then, type stats. set_skill_level Skill_Fitness 10 and you're all set! You should now be able to perform Mentor interaction! This is very helpful, especially if you want your Sims to advance in your Bodybuilding carer faster. The higher their fitness skill, the more Sims they'll be able to mentor.
To control other Sims and control their fitness progress – you can temporarily add a Sim you want to mentor fitness to your household. Once the cheats are activated with testingcheats true, just click on the Sim you want to mentor, select 'Add to Family' and now they are under your control. Now you can use the same skill cheat to lower their fitness skill so that they become trainable. Once you are done just remove them from the family using the same tactic.
To advance in the Bodybuilder branch – If you want to mentor fitness just for the sake of promotion and need mentoring unlocked now, just a cheat to help them reach level 10 using careers.promote Athletic.
More on SNOOTYSIMS: Sims 4 Cheats Listed (2023): All Codes for PC, Mac, PS4 & XBox!