Looking for a way to make fitness progress more optimal for your Sims? If that's so, then muscle mod can help you control gains better than ever. Keep reading to discover how!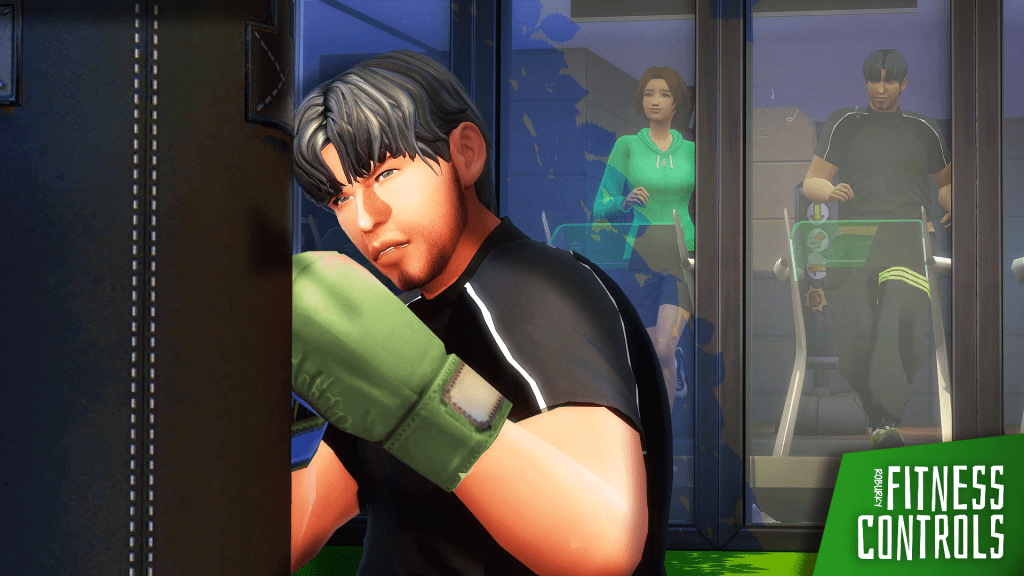 Muscle and Weight Gain in Sims 4
Exercising in the Sms 4 is more-less a linear and fully predictable process for every character. Our Sims don't need to wait too long to see the results of overeating and working out. Just a few delicious meals and a few hours at the gym, and boom, they are transformed.
For the sake of keeping a youthful look, teenagers are always lean, even when they binge eat and have super unhealthy diets. For adult Sims, gaining muscle and fat always has a specific limit you can't breach, no matter how hard you push at the gym. This is why a good muscle mod can come in more than handy. Let's dive into it!
Muscle mod: Fitness Controls by roBurky
The Fitness Controls mod is one of the most powerful muscle mods for the Sims 4, created by roBurky. With Fitness controls, you can gain more power over how your Sims' fitness progress looks, and get a more realistic fitness experience. The mod allows you to control how your Sims gain muscle and fat, how bulky they get, and how fast their bodies change. It works for both male and female characters, and all teens and adult Sims. Here are the main new settings it can add to your game:
Expanded Fitness Limits
Fitness Changes Multiplier
NPC Fitness Change
Underweight Teen Fix
No High Metabolism
1. Expanded Fitness Limits
The Expanded Fitness Limits feature adds extra fitness limit settings, which allow you to set upper and lower limits for gaining fat and muscle. You can have more control over your Sims' build, giving more variation for body shapes, adding more diversity to how their bodies look. With this muscle mod, your ladies and gents of Sims can now look heavier or bulkier than they normally would in-game, depending on your preferences.
The best part of this feature is that you can use it both in the CAS mode when making characters, and while playing an active household through the diet and exercise regimen you choose for them. The only difference is that the CAS version will look slightly less dramatic than in live mode so that you can start playing with more ''neutral'' bodies. If the body doesn't change in CAS after you apply your desired limits, just change your character's clothes, and you should be able to see the change.
The main muscle mod comes with a few Expanded Fitness Limits Packages and you should choose and install only one, as they can't merge. Here are your options:
Increased (1.75x) – Your characters will look bulkier and bigger than in-game, but you'll still get a relatively realistic look. Your limits will be: Heavy (1.75x), Lean (1.30x), Fit (1.75x), Bony (1.30x)
Exaggerated (3.00x) – Your Sims will get insane muscles and fat gain that can be a bit too much, but won't mess with mesh. Your limits will be: Heavy (3.00x), Lean (1.70x), Fit (3.00x), Bony (1.70x)
Extreme (5.00x) – Your characters will look very cartoonish with this muscle mod setting, extremely bulky or thick, and the mesh is likely to look weird. Heavy (5.00x), Lean (3.00x), Fit (5.00x), Bony (3.00x)
More on SnootySims: RoBurky: Getting to Know this Magnificent Mod Master!
2. Fitness Changes Multiplier
Sims typically transform bodies based on their diets and their exercise regimens (or a lack of exercise), and it doesn't take long to see them get fat or bulky. Thanks to the Fitness Changes Multiplier option of this muscle mod, you to make fitness progress more realistic over some time. Compared to getting instant results (which happens in-game), this feature will slow down their progress to replicate real life, so they'll have to exercise patience while trying to reach their fitness goals.
Default Fitness Changes Multiplier setting: The default value for the setting is 1.0 which means the feature is disabled and Sims will gain fat and muscle as usual.
Faster gains: Setting the value above 1.0 will help your Sims gain muscle and fat will be faster than in-game.
Slower gains: To slow down their progress, set the value under 1.0, and body changes will take a longer time to show.
Disable fat and muscle gain altogether: Setting the value to 0.0 will prevent any body shape and weight changes, both for muscle and fat.
3. NPC Fitness Change
Sometimes, the body shapes of your townies can spiral out of control, and this applies to both non-played and played characters. The NPC Fitness Change is here to help prevent extreme body changes, fat, and muscle gains for folks who are not a part of your currently played active household.
Once you install the Fitness Controls muscle mod, the default setting will be ''Enabled''. When enabled, your fitness progress won't be lost after you switch active households. This means that the only Sims whose bodies will change are those in the active household that are directly impacted by your actions, and your townies will remain at the same fat or muscle mass. Simply choose a muscle mod 0x modifier for fat and muscle, and your NPC will say unchanged.
If you want your Sims to be proud of their leg day, every day, check out Enchanced Leg Slider Mod!
4. Underweight Teen Fix
Teens in-game usually appear very lean and skinny-ish, regardless of how much you play with their weight or fitness. They are fat-proof, so their weight isn't the best reflection of their habits, and doesn't replicate real life very much. Luckily, this fitness mod allows you to change that with the Underweight Teen Fix option. With this one, all your teens will start gaining or losing weight like adult Sims, and you will start to see their bodies change based on their habits. They will have a normal metabolism that reflects their healthy or unhealthy lifestyle.
This option is enabled for teh muscle mod by default. For it to work, just remove the 0,5x modifier, and your teens will gain weight and muscle as fast as adult Sims.
5. No High Metabolism
If you are hoping for a more realistic muscle gain and would like to make your Sims folks transform at a more realistic pace, the No High Metabolism feature will make that possible. In contrast to the High Metabolism trait, with fitness controls muscle mod, your Sims will have to put some extra work in and you'll gain more control over their muscle decay and fat burning.The default setting for No High Metabolism is disabled.
However, if you want your folks who have a High Metabolism trait to have normal fat and muscle decay, go ahead and enable this feature. You'll get the desired result by eliminating the 0.5x modifier for muscle and fat decay.
To have your Sims ladies get impressively muscular body, check out this slider for feminine frame!
How to Download and use Fitness Controls muscle Mod by Roburky?
The fitness Controls mod is available for free, and you can find the download files on this page. Download the main mod separately and then choose one of the 3 limit packs.
Once you have installed the mod, to activate any of the new features, simply click on a Sim you want to apply changes on, and go to roBurky>Fitness Controls. This will open a list of all muscle mod options. Select the one you'd like to tweak, and restart the game. This is essential for the mod option to function properly.
Advanced Settings for Expanded Fitness Limits
Roburky has also created some extra settings for muscle mod fitness limits for anyone who wants to customize them even further. You can do so by using Sims4Studio and editing files provided by roBurky, or by making these limits in-game.
To do it in-game, you'll have to use the optional package file. When Match Create-A-Sim Limits are enabled, CAS limits and live mode limits match. Disabling it will unlock the option to add your limits. To start, go to Fitness Limit Settings>Match Create-A-Sim Limits>Disabled to cancel out mod presets. You can then replace them with your own presets while in live mode. However, do know that the changes in limits you make only apply to live mode and not CAS mode. These are the limits for muscle mod:
Heavy (High Fat) – The default setting is 1.0. To make Sims heavier, go higher than 1.0, and to make them less heavy, go lower than 1.0
Lean (Low Fat) – The default is 1.0. To make Sims leaner, go higher than 1.0, and to make them less lean, go lower than 1.0
Fit (High Muscle) – The default is 1.0. To make Sims more fit (muscular), go higher than 1.0, and to make them less fit, go lower than 1.0
Bony (Low Muscle) – The default of the muscle definition mod is 1.0. To make Sims bonier, go higher than 1.0, and to make them less bony, go lower than 1.0
To get more info about Advanced Settings for Expanded Fitness Limits and download, go here.
conclusion
With the help of the right mod, any Sim can look super buff or super heavy. Fitness Controls mod gives you more to experiment with, more choice and control over how your folks progress in the gym, and how fast they gain weight muscles. Feel free to experiment, and happy Simming!
Realted content