Would you like to interrogate suspects and solve cases in Sims 4? Well, you can certainly do so if you join the Detective Career. Keep on reading to learn all you need to know about this cool career track!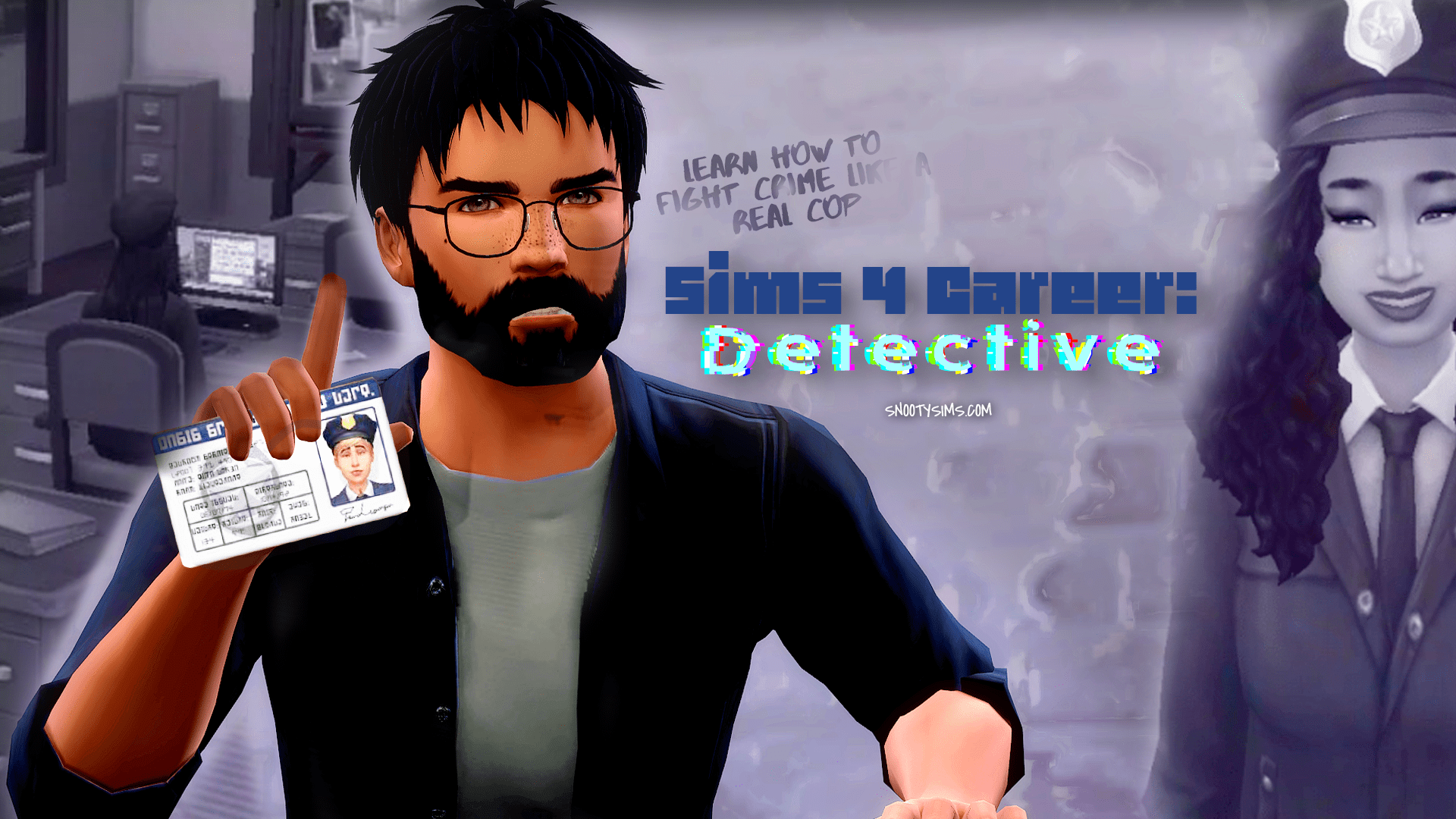 Detective Career in Sims 4: From a Cop on a Patrol to Solving Crime Cases
Get ready for some brainstorming and roll up your sleeves. It's time to collect evidence, interview witnesses, and solve detective cases! The Detective Career has 10 levels, is one of the three active careers featured in the Sims 4: Get to Work, and quite an interactive one. This career is not to be confused with the Secret Agent career, which is an entirely different career track. This is a completely different experience!
Unlike the majority of careers in Sims 4, Detective Career in Sims 4: Learn How to Fight Crime Like a Real Cop doesn't have branches and doesn't require learning special skills. Instead, Sims have to show up to work, go to crime scenes, interrogate suspects, and put in the effort in solving cases to get ahead.
If your Sim chooses to join law enforcement, you can expect many cool rewards, a lot of thinking, integration, analysis, and long working hours. As a player, you will follow them every step of their way as they complete promotion tasks. Now, let's find out what detective career is about!
More on SNOOTYSIMS: Sims 4 Murder Mod: Cops, Gangs & Lots of Murder!
Getting ready for work
Once your Sim gets the job, their detective career success will be influenced by their mood, and their prompt actions when on the field. Being focused is everything, so make sure you get them as focused as possible before work. Telescope and microscope prints, as well as mathematical diagrams, will definitely help you when you're trying to raise your Sim's focus. Make them once, save them, hang them in their office, and view them every time before work to get the ultimate mood boost.
Alternatively, you can make them practice yoga, research gardening, drink pitch black tea, and play chess, to make them more alert and increase their chances of successfully completing daily career tasks.
If you want your Sim to become a world class detective, check out this detective aspiration mod!
completing promotion tasks
Your Sim will start going to crime scenes early in their detective career, but they will need a helping hand from more experienced cops and won't be able to solve cases alone until level 4. They will also need to go on patrol, and their task will be to intervene with civilians. To go on your first patrol, just use the PC at your workplace and click Go on Patrol. This will send them to a neighborhood where they will have to talk to random townies and issue citations. They'll mostly have to deal with troublesome Sims and fights, so get ready to deal with some volatile Sims.
However, the majority of their career tasks will revolve around solving cases. They'll be required to go to their first crime scene right away, and by level 3 your Sim must be ready to successfully interrogate a suspect. From level 4 to 9, you will already be heavily focused on solving cases.
To advance in the detective career, you will have a few small career objectives every workday. These boost job performance, but not all of them will have an impact on the case, unless they are connected to it. For instance, getting fingerprints or analyzing evidence will be helpful both for solving the case your Sim is working on and for boosting their performance. Some other tasks, such as exercising at the gym, won't help you make progress on your case. They will all boost career performance and bring you one step closer to promotion, it's just more efficient to focus on objectives that do both. Now, let's see how to solve crimes, step by step.
1. Arriving at a crime scene
Getting a case assignment is the first step in fighting crime in the detective career, so make sure you get your assignment on your computer. You will see the "Travel to Crime Scene" option when you click on the detective board, and this will take your Sim to a random crime scene lot. Once you get there, pay attention to your environment and examine the crime scene thoroughly to get evidence. Detective career is all about connecting the dots, so your task will be to collect four types of evidence: fingerprints, witness reports, evidence samples and evidence pictures.
2. collecting evidence at the crime scene
Let's start collecting evidence! To dust for fingerprints click on objects on the crime scene, to take witness reports, question a witness Sim on the crime scene, and to collect evidence samples, and take evidence pictures look for random objects found on the ground at the crime scene. Look for odd, old-looking pieces of clothing and dusty objects.
When taking reports, make sure you question everyone near the crime scene if you have the option to take reports shown when you click on them. You will have a list of objectives you need to meet when at the crime scene, but if you spot something strange make sure you investigate it. You never know when extra information can come in handy in the future! All collected evidence will be useful when solving detective career cases.
3. Analyzing evidence to get cues
Once all evidence is collected, you'll need to analyze it to collect cues. Fingerprints and evidence samples need to be processed using the chemical analyzer. Crime scene photos and witness reports, on the other hand, have to go through a scanning and be processed on the PC. You will need to input the data collected during the investigation, and you can do so by choosing the Cross Reference Police Database on the PC.
The detective cork board is everything for a real detective. Once all evidence is analyzed, it's important to pin cues to the detective board. This will help your Sim gain insight and learn valuable information about the suspect, such as their personality traits, gender, what they wear, or how they look. If you find new cues, always return to the board to pin them. If you use Deduce Clues interaction on the detective career board, you may get more valuable information about the suspect.
4. arresting the suspect
If your Sim has worked hard, collected a bunch of evidence and now has enough cues to work with you will see an "Issue APB'' option, which will take you to your suspect. As they are working to advance in the detective career, your Sim will have to "match the dots" and connect cues with the suspect. You can always access notes about the current case you're working on and the suspect on the phone under Detective Career.
For instance, if your suspect has black hair, wears a long sleeve, and has an Ambitious trait, you'll have to make sure they are the right person by observing them and discovering their traits. If you don't have enough evidence, your Sim can arrest the wrong person, so make sure to be detailed with your work.
5. the interrogation
The suspect is arrested, and now they will be taken to the police station where you'll need to interrogate them in the interrogation room. This works like in movies: your Sim will be sitting face to face with the suspect, asking them questions and trying to get information from them. You will have a few detective career interactions available.
You can take on the role of the good cop or the bad cop who's unafraid to send shivers down the suspect's spine. For instance, you can ask them for stressful riddles, intimidate them, ask for bribes, or dangle handcuffs in front of them. Good cops will be more polite and sly when asking about the victim, can offer a candy bar, and make false promises in their attempt to get the suspect to start talking. Either way, you'll get the information needed.
You will see a conversation bar in the upper middle of your screen where you can track interrogation progress. Once it's full, you'll get the option to get the confession from the suspect and close the case.
Detective Career Levels
CAREER LEVEL
SALARY
(HOUR/DAY)
SCHEDULE
PROMOTION
TASKS
REWARDS
1. Cadet
$20/hour
$180/day
Mon-Fri
8AM to 5PM
Participate in the work day of the Detective (2x)
/
2. Officer
$28/hour
$252/day
Wed-Sun
8AM to 5PM
Go to a Crime Scene
Go on Patrol
– $160
– New Clothes
3. Corporal
$38/hour
$342/day
Wed-Sun
9AM to 6PM
Interrogate
a Suspect
– $224
– Cold Steel
– Get with the Gloss Metal Shelf
– Hard Time Mirror
– Holey Door of Holding
– Jaded Cell Depository
– Most Modern Cell Towel Rack
– Single Serving Justice Dispenser
– Stinkman's Wall Bench
– The Impenetrable
– The Impossible
– The Lonely Man's Shelf
– The Solitary Sleeper
– The "Don't even try"
4. Detective
$52/hour
$468/day
Tue-Sat
9AM to 6PM
Solve Case (1x)
– $204
– Be Prepared Security Gate
– Brushed Metal Double Door
– Jailbird's Lament
– No Holds Barred Window
– Privacy Glass
5. Senior Detective
$78/hour
$702/day
Tue-Sat
9AM to 6PM
Solve Cases (2x)
– $416
– New Clothes
– One-Way Mirror Window
– The Attainder
6. Sergeant
$92/hour
$828/day
Tue-Sat
9AM to 6PM
Solve Cases (3x)
– $624
– "Don't Go There" Caution Barrier
– Have You Seen These Lawbreakers?
– Nice Try Security Camera
– Pole of Magnificence
– To Serve And Protect Sign
– The Sim Seal of Solidarity and Strength
7. Lieutenant
$123/hour
$1107/day
Mon-Fri
9AM to 6PM
Solve Cases (4x)
– $736
– Arctic Kiss Fan
– Box O' Files
– "Look at Me, I'm Important" Folders
– Proceed with Caution Table Light
– Regulation Police Drawer
– Still Getting Settled Moving Box
8. Captain
$150/hour
$1200/day
Mon-Fri
9AM to 5PM
Solve Cases (5x)
– $984
– BluScreen 88D Alert Light
– Brightest Night Flood Light
– Carol and Hubert
– Interrogation Illumination
– Mighty Plaque of Honor
– Retro. P.I. Lamp
– Sims In Uniform Calendar
– Slots-a-Lot File-o-Facts
– Star on the Wall Plaque
– Up Against the Wall
9. Colonel
$205/hour
$1640/day
Mon-Tue,
Thu-Fri
9AM to 5PM
Solve Cases (6x)
– $1,200
– File Cabinet Extraordinnaire
– Five-O Hallway Table
– Rectangle with Shelves Bookshelf
– Seat of Justice
– SentrySec Metal File Cabinet
– The Sgt. Thompson
– Surface Noir
– The Troublemaker Couch
– The Unyielding Bench
10. Chief
$265/hour
$2120/day
Mon-Fri
9AM to 5PM
Go to Work!
– $1,640
– The Regulation Station
– Crystalline Bottom Holster
– The Chief's Crystal Desk
– New Clothes
– Styled Room "Real Detective Suite" $8,438 (value)
These were all Detective Career ranks!
Ideal Mood, Traits, and Rewards for the Detective Career
The Detective Career requires concentration. The ideal mood for ensuring faster advancement in this career field is Focused. Genius Sims often gets Focused randomly, which can help boost career performance.
Detectives are expected to read personalities well, so the most helpful satisfaction reward you can purchase is Observant, which can be purchased for 500 satisfaction points. This will help them read the personality traits of suspects right off the bat, without having to get to know them much.