What are ways to create excellent and exciting narratives for your Sims? In this article, we'll teach you how to weave some cool Sims 4 stories!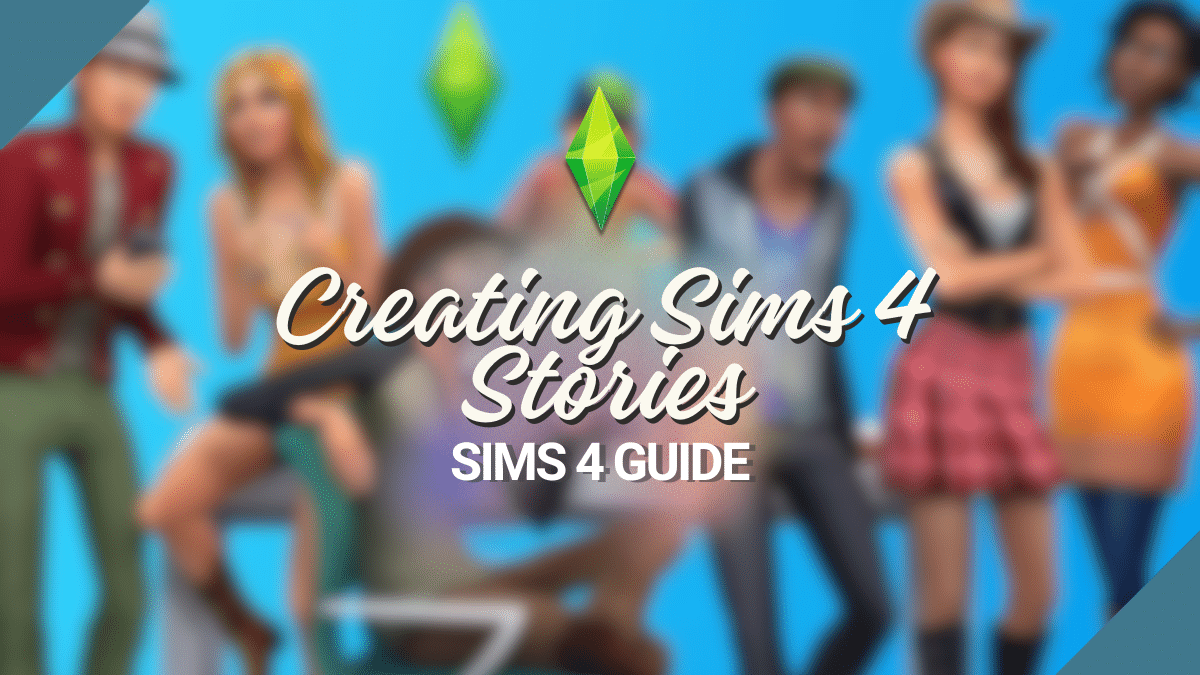 Developing Sims 4 Stories
The Sims 4 offers us, Simmers, a rich canvass for storytelling and roleplaying. Just like what Will Wright had imagined, the game had indeed become "a virtual dollhouse" that offers its players immense possibilities to craft storylines and scenarios for each and every Sim. Each time we open the game, we get to control how the lives of our Sims will operate, and that is super fun! So, in this guide, we'll teach you awesome ways to make the best stories in The Sims 4!
Sims 4 Stories Via The Traditional Route
You can create your Sims 4 stories using the traditional route, where you go to Create-A-Sim (CAS) and build your Sims from scratch, depending on the traits, aspirations, and other details you prefer. Then, you can move forward from there, and follow the steps below:
1. Develop Engaging Characters
Let's kick things off in your Sims 4 stories by delving into the art of character creation. Instead of settling for cookie-cutter Sims, you can choose to spice things up by infusing your Sims with unique personalities, backstories, and aspirations. Pro-tip: You can draw inspiration from your own experiences to create compelling characteristics for your Sims, and then mix that up with another aspect, like choosing your Sim to become an occult creature.
2. Set the Stage!
Of course, your Sims' lives will grow against a backdrop of homes and places in the neighborhood. Get creative with your design skills to craft spaces that resonate with the Sims 4 stories you're telling. Don't shy away from decorating different builds in your household and the surrounding community spaces to keep things fresh and exciting for your Sim protagonists.
More on SNOOTYSIMS: Read this article to discover unique and fun story ideas for Sims 4 that will motivate you to play for hours and generations to come!
3. Build Compelling Relationships
What's a great story without some juicy relationships? After moving your Sims into their households, you can now dive deep into their relationships! Choose to form unique connections with neighbors and townies in the game. Your Sim can become BFFs with some Sims and star-crossed lovers, with others. Do not be afraid to experiment with the vast expanse of relationships in the game. This will allow you to add complex layers to your Sims 4 stories.
4. Embrace In Game-Events and Introduce Conflicts
To keep things fresh, join in-game events, such as holidays and festivals! This will allow your Sims to experience more things in their lives and meet other Sims. You can also introduce challenges and obstacles that test your Sims, which will allow them to further develop and feel emotions. Maybe they can break up with their significant others, spend all their money until they have nothing left, or choose a new career to venture into. The possibilities are endless!
5. Explore Mods and Custom Content
Once your Sims 4 stories start flying off, you can take everything to the next level by exploring the world of mods and custom content (CC). Browse our extensive collection here at SnootySims and download a few to try into your game! Mods and CC will certainly boost your storytelling experience and unlock new experiences for your Sims.
6. Document Your Sims 4 Stories
Well, what's an excellent story without details and images to back it up, right? Make sure to always use the camera function in the game to take screenshots of your Sim's everyday lives, focusing on both small and big moments. You can also keep a detailed journal or notebook where you can document the highs, lows, and unexpected twists in your Sims' lives.
7. Engage with Other Simmers!
Telling your Sims 4 stories is more fun when it's a shared experience. Connect with your fellow Simmers by posting your stories on social media or dedicated Sims forums. You can also join challenges and collaborations! Tag us on our social media channels below, or use the hashtag #SnootySims to share your Sims 4 stories with us.
Sims 4 Stories Via The Story Mode of CAs
Now, let's venture to another way of crafting your Sims 4 stories. If you ever wanted to have a ready-made Sim with skills and traits tailored to your chosen preferences, then the Sims 4 Story Mode in Create-a-Sim (CAS) can help you with this!
What Is The Sims 4 Story Mode?
Launched in Patch 1.53.115, Story Mode is an alternative option in CAS that allows you to craft a unique Sim based on a set of questions. You have to answer these questions, each with three choices, to be able to customize your Sim's story. It's a fun thing to do as it provides a mix-and-match experience!
How to Answer Questions?
The Story Mode will first ask you what you want your Sim's age to be. You can choose from Young Adult, Adult, or Elder Sim. That's right, you cannot create younger Sims in the Story Mode, as this option targets to create Sims who are already more established in life. After this, plenty of other questions will follow. Feel free to skip questions you don't want to answer, by simply clicking "New Question."
What Questions Will Appear?
Once Story Mode starts, random questions will appear, which will tackle various matters related to career, personality, wealth, and so on. You need to make choices for your Sims in terms of what you think you want them to be. Having different game packs and expansion packs will influence the questions that will appear on the quiz. For example, if you have The Sims 4: Horse Ranch installed, you can get questions related to horses, or if you have Eco Living installed, you can get some related to the environment.
Finishing Story Mode
After you finish answering all questions, Story Mode is done! your Sim will now have a specified aspiration, traits, career, skills, and a set amount of wealth at their disposal. These details are cemented, they cannot be changed once you have answered all questions in the Story Mode. You can still, however, change your Sim's gender, appearance, name, and pronouns.
Starting Your Sim's Story
When you leave CAS, you can then proceed to play the game with your ready-made Sim. Depending on the choices you've selected in the quiz, your Sim will have a set of simoleons that they can purchase to buy a house. The standard is still 20,000 simoleons. Once you've placed them in a household, you can see which career level your Sim is on, or what skill levels they have. They can get up to level three in both career and skills.
Final Thoughts: Create The Best Sims 4 Stories!
Well, that's it, our fellow storytellers-slash-Simmers! Remember that The Sims 4 is a pure canvas for your imagination, where you can release your storytelling power, and share your tales with others. The only limit is your creativity. After playing, let us know how your Sims 4 stories go! We are on Google, Facebook, Twitter, YouTube, Instagram, TikTok, and Tumblr where you can follow and message us! Or, you can leave us a comment on this post! Happy simming, Simmers!