The Converse brand of shoes is iconic with a simple yet classic design. You can wear a pair of converse with nearly any outfit. With as highly durable and great design, it's no wonder they're so popular. If you have a pair in real life, of course, you want your sims to enjoy having a versatile and trendy pair of Chucks, just like you! Here is our list of the coolest Converse CC that you can find anywhere!
Our Favorite Picks of Converse Custom Content Packs for Your Male and Female Sims
I have to come clean: I'm not a sneakers person. I don't usually like them on my female sims either. And before you dismiss me as someone who only appreciates high heels, allow me to tell you that I do flats and boots. I simply always prioritize practicality. I do love it when my characters are looking laid-back with a unique twist, but I've always loved a more polished look, that generally translates to a smart footwear style.
Yet, I have to say, I'm all about change lately. I've seen so many amazing custom content packs out there that totally shifted my opinion. Converse is the middle ground between looking super chill and too fancy. You could almost pair them with any outfit for your male and female sims. Plus, you can't always dress up your female in high heels, you can't be putting that much pressure on them.
So, for nothing short of diving into the nicest converse CC packs on the internet, scroll down and have fun!
1. Run Star Prism High Top Converse
These unique converses are sporty and cool. These high tops have a thick rubber sole with grips on the bottom. There are 20 different colors available to pick from, perfect for your sporty male. Click on this button to download it free from Bed & Musae's Patreon.
2. Pixicat Converse Platform
These converse cc high tops for women have a huge platform sole! This is a Pixicat conversion done by Lumy Sims. With 35 swatches that can be used for all genders, you'll want your sims to have these in their closet! You can also download them separately for males or females. Download here for free from Lumy Sims's Patreon.
3. Serenity's sims 4 converse Sneakers
If you want your sim to have some unique colored converse cc, this is a great custom content pack to download. There are 30 different swatches for male and female sims. One cute color available is the zebra print shown in the picture, and another cute one is the color block with lavender and orange. Of course, there are many other colors and prints to pick from! Download here for free from Serenity on their Patreon.
You'll probably want to check out these Sims outfits CCs with different color combinations and styles!
4. High Top Boot
This Sims 4 converse cc comes in 11 swatches and is for male sims. They are more of a classy, suede, or leather-looking converse in a boot style with a belt buckle around the ankle. If your sim wants to dress up a little bit more than casual, these will complement the look great! Download here from Drt77.
5. High Top Galaxy
Another Sims 4 converse created by Darte77, these are a recreation of the classic Converse look, complete with the iconic Converse logo. The twist is that they have a galaxy print! Perfect for your Geek sims or a sim that wants to build a rocket and travel to space. These converses will inspire them! Available for both genders in 14 swatches, these converse will spice up a casual outfit. Download here from Darte77.
These maxis match shoes are a must-have for your male and females. Have a look at them!
6. Daisy Chains Recolor
I had to include this recolor of the above Darte77 sneakers. The cute graphics on the sides are adorable, I love anything with cute ghosts, bees, and rainbows! The recolor comes in solids, dirtied, scribbles in black and white, duotones, and as pictured, patches on the duotones. Make sure that you have the above Darte77 sneakers downloaded as you will need to have the mesh installed for this recolor to work. Download here from Literalite on Tumblr.
7. Golden Goose Deluxe Brand Super Star Sneakers
Converse came out in later years with this newer version of sneakers that has a large star on the side, different than their usual low-top shoes. This Sims 4 Converse cc is a great recreation! These leather sneakers with a distressed finish come in 7 different designs and can be worn by both male and female sims. Download here from SLYD on Tumblr.
8. Golden Goose Sneakers Recolor – sims 4 converse
If you really enjoyed the previous Sims 4 Converse cc above, you might want to grab this one as well! This is a recolor done by Miss Ruby Bird. You will need to download the original mesh above to be able to use these recolors. These bright recolors come in 10 additional swatches for your bright-spirited sims! Download here from Miss Ruby Bird on Tumblr.
9. Gotta Go Mismatched Shoes
Oh no! Your busy sim was on the go and accidentally put on mismatched shoes! Oh well, they're rolling with it – they have more important things to worry about! Give your quirky sims a mismatched pair of shoes, one Converse high top, and one slip-on checkered Van… if we're allowed to call them a "pair," anyway! Download here from love4sims4 on Tumblr.
10. Scene Scribble Sneaks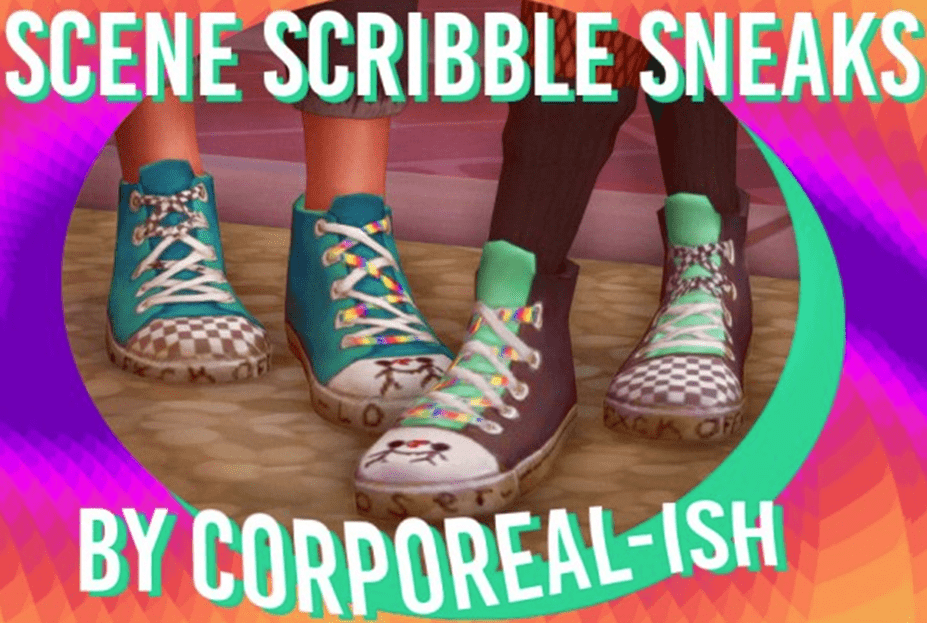 Hello?! Where are my scene kids at? Let's go back in time and remember the good old days when we used to draw on each other's Converse with Sharpies… It seems like these Sims 4 Converse were made just for you and for your scene Sims so that you both can cherish the days of neon cuteness! RAWR XD! Download here from Corporeal-ish on Simsdom.
11. You're An All-Star High-Top Shoes
Were the Scene Scribble Sneakers not enough? Who else remembers desperately wanting a pair of these knee-high Converse? They were absolutely the coolest! Sadly, I never ended up getting a pair and I'm not sure I'd be able to pull them off now… but your sim sure can! This Sims 4 Converse cc can be worn by both males and females. Download here from Sondescent on Tumblr.
Here's a list of the best thigh high boots CC for The Sims 4.
12. Caio Casual sims 4 converse
This Sims 4 Converse cc set is probably the best because it comes in so many different cool patterns! There are a few different pairs that have rainbows, perfect for pride! What's also super cute attention to detail on these shoes is that the logo that usually has a star and says "Converse All-Star" has been changed to Simlish with a plumbom!
With a total of 88 different swatches, your sim can have a pair of Converse that perfectly matches any outfit. Download here from Blewis50 on Tumblr.
13. Positive Sneakers with Flowers
These are cute pairs of Sims 4 Converse that have many different patterns to choose from. Classy and cute, for both male and female sims to wear. The best part about it is that you can add a little bundle of flowers tucked into the shoelaces. To add the flower, you will find them in your accessories under Glove. Download here from MMSims on Tumblr.
Read on SnootySims: Sims 4 Boots Custom Content You Need to Check Out.
14. Hand Embroidered Converse cC Chunk 70
This pack of Sims 4 Converse has the cutest embroideries! The set includes 8 different embroidery swatches to choose from, including a few solar systems and flowers, which can fit your sim's personality! There is also another set you can download with this with 30 different swatches, including peace signs, cow print, polka dots, color blocks, pastels, and many other colors.
My favorite in this pack is the all-black design, where both the canvas and all the rubber details and shoelaces are black, just like the real-life Converse design. Best of all, they can be worn by toddlers as well as male and female sims! Download here from Becky Sims on Tumblr.
There you have it! That was our list of the best Sims 4 converse custom content and mods!
We're always in awe of the amazing work these CC creators put in! Now, you can dress up your sims in new styles, prints, and colors. If you'd like to find more custom shoes for your sims, check out the links below! Happy simming!