In this special weekly feature, we are pouring out our love and attention to our dear Simmers who play The Sims 4! Through this little corner, we are highlighting interesting content, such as awesome builds, funny gameplay experiences, and everything under the sun from you, our Simmers, all around the world. If you want us to feature your game here on SnootySims, simply see our submission guidelines below!
Check Out This Week's Top Finds
It's time to sit back and relax as you view our featured Sims 4 posts of the week! Check out the top 12 that we've collected from Twitter, Tumblr, and Reddit. Yep, these are all from Simmers like you! On the list, there are autumnal and Halloween creations, dream apartments, a Silent Hill storyline, AI Concepts, and so much more!
Spotlight #1: Sims 4 Streams Between Classes
Talk about a total paradise! In this tweet of fellow Simmer @whitechocoaries, we can see how they are enjoying a relaxing view while watching Sims 4 streams and munching on some delicious gummies, all while waiting in between their classes! We would honestly do the same to calm our school nerves.
View the full post here.
Spotlight #2: Spooky Halloween Village
Whoa! Check out this intricate build from u/kellyhartx, posted on Reddit. Without using any custom content, they were able to create a magnificent Halloween-themed house that looks exactly out of a spooky cartoon series! We totally love all the ghost lamps and bats situated around the house.
View the full post here.
Spotlight #3: Dream Apartment Build
Don't we all just love channeling our inner interior designer selves and creating our dream builds in The Sims 4? Oh yes! As for fellow Simmer @paszerine who is already an interior designer, she was able to execute her excellent skills on the game by assembling her dream apartment. With those large windows and cozy furnishings, the entire place looks totally posh!
View the full post here.
Spotlight #4: Beautiful Sim Family
On Tumblr, farfallasims shared her creation of a beautiful Sim family called the Turners. The post included four portraits showing the five members of the said family, as well as their dog! They are all donned in elegant outfits that we adore.
View the full post here.
Spotlight #5: Cozy Autumnal Home
To welcome the arrival of the fall season, @jubiesims created a spectacular heritage home in the game. She designed it with ornate exteriors and filled it to the brim with all things autumn such as pumpkins, piles of fallen leaves, and orange trees. Everything looks so exquisite! In the full post, you can also see the insides of the home.
View the full post here.
Spotlight #6: Rio De Janeiro AI Concept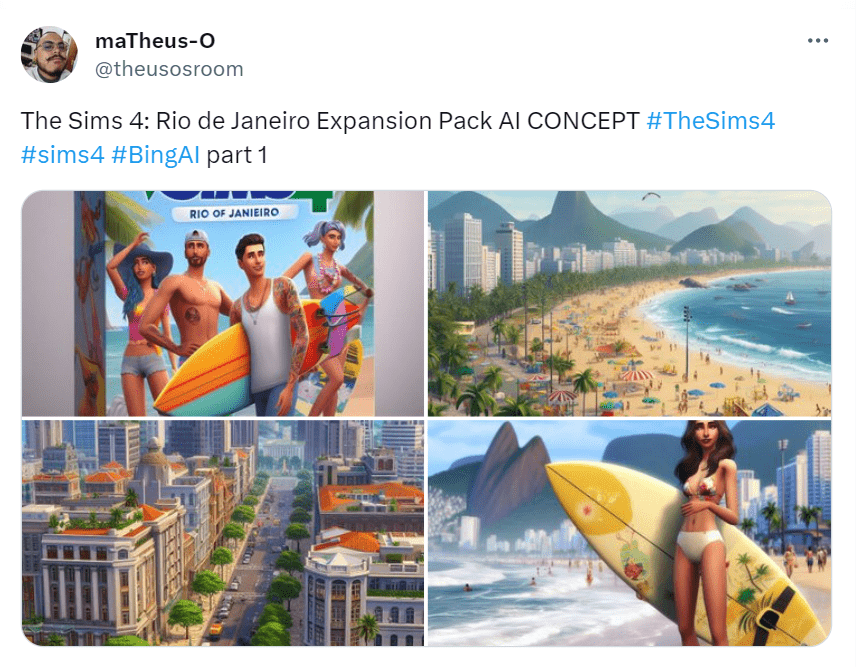 What if The Sims 4 could have a new EP called the Rio de Janeiro Expansion Pack? The said pack could provide a bustling new world in the game filled with the charm of Brazil and its beautiful beaches. Well, Simmer @theusosroom tried to come up with this cool concept using AI images. We wonder what's included in his prompt to be able to produce incredible Sims-like images like the ones above!
View the full post here.
Spotlight #7: Cow and Cowplant?
In this adorable post by anestezia-posle on Tumblr, she captured a super sweet moment between two species in The Sims 4—that of a cowplant and a cow! Perhaps, a romantic relationship is blossoming between these two spots-filled species? Well, who knows? With mods and stuff, anything is possible in the game!
View the full post here.
Spotlight #8: Korean Girl Group
Imagine bringing your Korean girl group into the Sims 4! This is what u/Lobrees exactly did. They created a girl group with four Korean members using The Sims 4 and posted the screenshots of the group on Reddit. You'll notice that members of the girl group look super cool, especially with their cute poses!
View the full post here.
Spotlight #9: Misa Yagami Sim
If you've ever watched or read Death Note, you'll know that Misa Amane is one of the most intriguing characters in the show. Because of her love for Light, she has willed herself to do many things, including cruel ones! But *spoiler alert*, she and Light did not end up together. On Reddit though, u/SimmerFloridian1993 posted that they created an alternate universe of Death Note in TS4, showing a Misa "Yagami" Sim. Nice! Perhaps in the game, the two can finally end up together.
View the full post here.
Spotlight#10: City Lights and Fireworks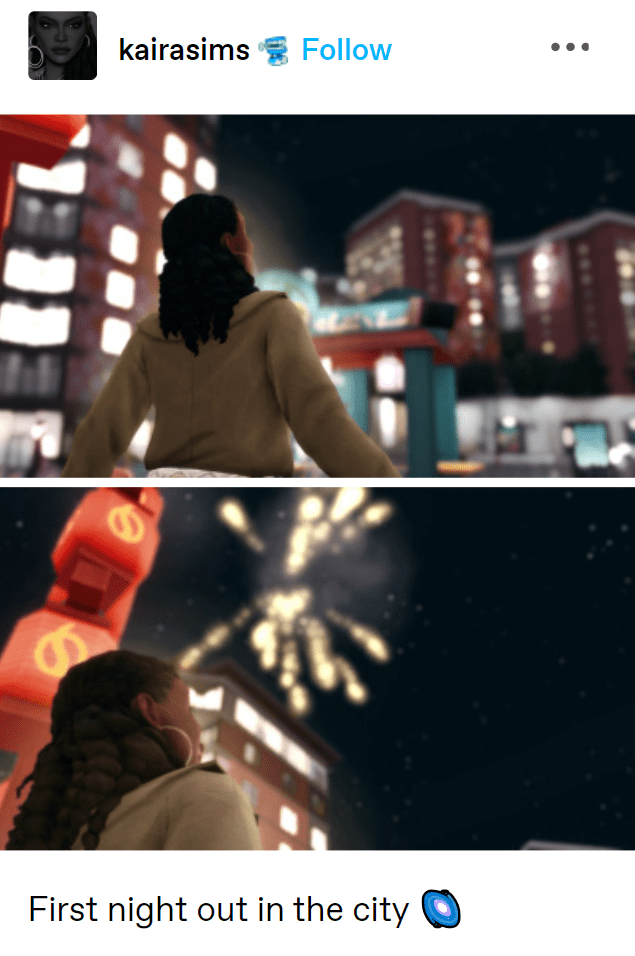 Fellow Simmer Kairasims posted two screenshots of her Sims gameplay on Tumblr, featuring her Sim who is experiencing a "First night out in the city," while surrounded by buildings and fireworks in the sky. We wonder what's the story behind these scenes. Perhaps her Sim has just moved into a new city and is now experiencing the glory of it. Sounds awesome!
View the full post here.

Spotlight#11: Hours In The Game
Playing The Sims 4 feels so good, and most of the time, we do not really notice how long we have already been playing. Well, let's all congratulate @MariiKoi, who was able to track her hours and spend 987 hours in the game! If we convert those hours, they would be 41 days of non-stop gameplay. Surely, that is just the beginning of a lifetime of Simming!
View the full post here.

Spotlight#12: Silent Hill Scenes
Silent Hill is both a video game franchise and a movie series. Because of its horror plot and really fascinating world-building, Silent Hill has gained a lot of fans around the world. Now, what if we bring it to The Sims 4? In this Reddit post from u/whatifu, they recreated scenes from Silent Hill 2 using the game and produced about 20+ amazing screenshots. What a talent!
View the full post here.

Submission Guidelines: Post About The Sims 4
Want to be featured here on SnootySims? Here are the following guidelines that you should follow!
Post publicly about your Sims 4 experience on Reddit, Facebook, Twitter, or Tumblr.

Posts could be anything you find interesting in your gameplay, like funny glitches, surprising moments, mod experiences, or unexpected reactions from Sims.
Alternatively, you could also post about your creations in the game, such as your builds, your Sim's looks and fashion style, etc.
Or, you can just post your thoughts about The Sims 4 in general!

Remember that we will not consider posts that use curse words or are NSFW (Not Safe For Work)!
In posting your content, make sure that we can track them! Don't forget to use the hashtag: #snootysims
Keep visiting SnootySims to find out if your posts have been featured!
Wrapping It Up: Be The Next Featured Simmer On SnootySims!
Here at SnootySims, Spotlight on Simmers is a weekly piece where we get to feature your experiences about The Sims 4, in order for others to see and appreciate. Through this way, we can build an exciting and supportive community for The Sims 4 and connect with each other more. So, keep coming back here at SnootySims to see new features each week! Plus, consider submitting to us through the easy guidelines we stated above.
We are on Facebook, Twitter, YouTube, Instagram, and TikTok, where you can follow and message us! Or, you can leave us a comment on this post! Happy simming, Simmers!