In the Sims 4, a 64×64 lot is the biggest piece of land you can build or place houses on. However, these lots can only be found in certain worlds. Unfortunately, there are no lots as big in any of the worlds in the base game. The biggest lot in the base game is 50×50. I have realized that searching online for a list of lots is a challenge, so I have gone through the effort to make a comprehensive list of every Sims 4 64×64 lot that you will find across all expansion packs. Also keep reading to find our list of the best 64×64 lots that you can download and add to your game!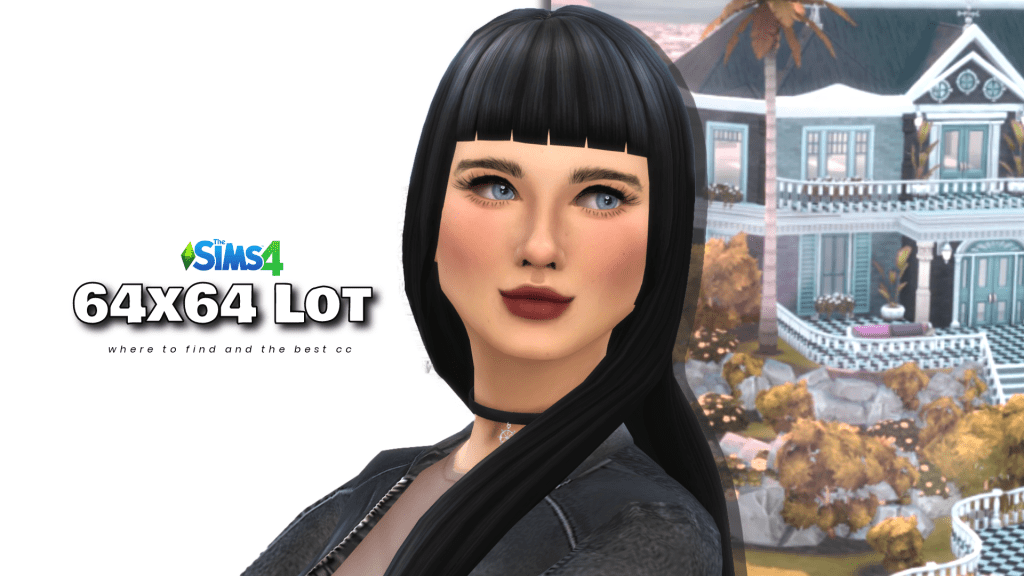 How to find 64×64 lots in the sims 4
If you have the correct expansion pack, most of the lots that are 64×64 have houses or community lots already there. You will need to bulldoze the existing lots to be able to build there or place a new lot. Below is the list of lots that are 64×64 in size for each expansion pack. You will see the world and what expansion pack you get the world with, then you will see the lot name and what type of lot it is.
Windenburg
(Get Together)
Villareal: Residential 64×64
Fyres: Residential 64×64
San Myshuno
(City Living)
Myshuno Meadows: Park 64×64
Brindleton Bay
(Cats & Dogs)
Hound's Head: Residential 64×64
Henford-on Bagley
(Cottage Living)
Watson Family: Residential 64×64
Del Sol Valley
(Get Famous)
Chateau Peak: Residential 64×64
Selvadorada
(Jungle Adventure)
Alam Museum of Archaeology: Museum 64×64
Quick Tips on Installing a New Sims 4 64×64 Lot
Lots are installed a little differently than other custom content. After you download the house you want, instead of putting the files from the zip folder in the Mods folder, you will put them in the folder labeled Tray. Make sure that you put the files directly into the Tray folder and not in any sub-folder or your game will not be able to read the files. Some CC lots will have an additional folder that you will add to the Mods folder as you do with typical CC.
After you add the lot you want correctly to the right folder, you will need to place it in-game. To do this, you will go to Manage Worlds and in the top right corner, click on My Library. This is also where you will find Maxis lots, households, and rooms. On the filters list on the side, you will need to check the box Include Custom Content. Here you should be able to see the lot you downloaded! Click on the house, and in the bottom right corner, there is a Place Lot button. For many of the CC houses you download, you will need to enable the bb.moveobjects cheat before you place the lot or the items will not be placed properly.
Last but not least, make sure that you read the descriptions of the lots you download! This will tell you important information like if CC was used or not, and what expansion packs were used to create it. If you don't have the expansion packs the creator used, some items will not show up in or on the house you add to your game. You can still add them, but you will have to replace the missing parts.
Keep in mind:
Since houses can be large download files, make sure that you don't download too many at a time unless you have a computer than can handle it! If you download too many lots, it could slow down your computer and your game.
Sims 4 64×64 lots to download in your game!
1. Winter Chalet CC – MrsBarbiex3
This Sims 4 64×64 lot is a Winter Wonderland! Why wait for the holidays when your sims can live here at the Winter Chalet all year? If you hate taking down your Christmas lights, now you don't have to! From the cute showman to the decorative light-up reindeer, this custom build will get you ready for Christmas any time of the year.
Your sims can enjoy these fun decorations that bring the joyful feelings of home with family. You can download this peaceful and happy mod that will bring great memories for you and your sims. Download here for free from MrsBarbiex3 on their website.
2. Autumn Farmhouse – MYCHQQQ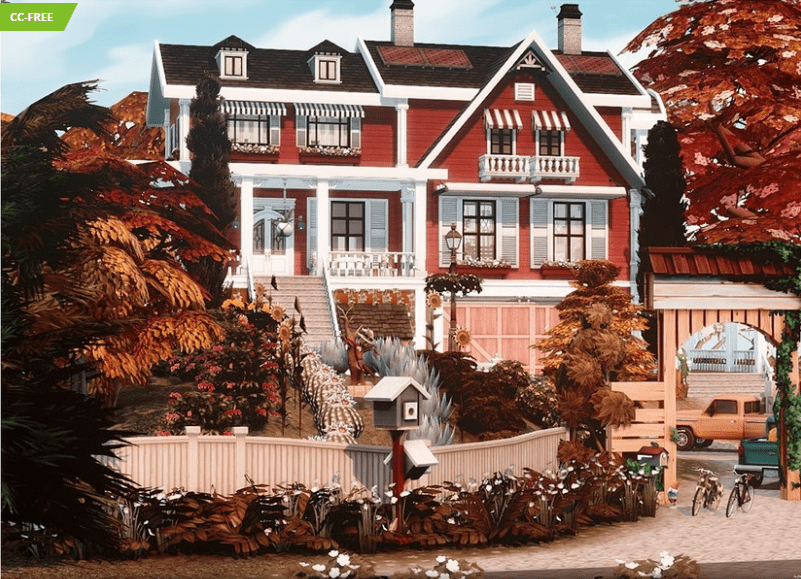 So we have covered a Christmas getaway for your sims, but how about this Autumn farmhouse? For your favorite sims, you can add a vacation house for each one of their favorite holidays! Whether you are looking to celebrate Halloween or Thanksgiving or even just Back to School this is the perfect mod for those cozy fall days.
The farm life during the harvest is within your grasp as the property has a built-in barn, silo, and windmill. This Sims 4 64×64 lot is perfect for a sim who wants a peaceful farming lifestyle. Download here for free.
3. Modern Mountain House – Mini Simmer
This is a unique build that you can download for your Sims 4 game. The house sits between two overhanging cliffs above a waterfall. In the very center of the house over the waterfall, there is an outdoor dining area where your sims can enjoy the view of the waterfall! Hopefully, they aren't afraid of heights!
The inspiring views and the beautiful scenery make this a must-have destination summer home for your sims. Download here for free from Mini Simmer on The Sims Catalog.
4. Barbie Girl House – MrsBarbiex3
This Sims 4 64×64 lot is for the Barbie girls! You can relive your childhood memories of playing Barbies through the Sims 4. This is also a great addition to your game if you are looking for CC-free lots. The Dream House aesthetic and pink tones are so cute and the timeless fun of a dollhouse shines through here. Find your Barbie sim's Ken and get this mod! Download here for free from MrsBarbiex3 on their website.
5. Eco Lifestyle Neighborhood – bradybrad7
One of the best ideas for building on a giant lot is that you can make an entire neighborhood with many different houses or shops. If you enjoy the Eco Lifestyle expansion pack, you will love this Sims 4 64×64 lot! All 5 houses have been designed with care and respect for the environment, including solar panels to reduce energy usage. Spacious and clean designs with an eye towards the surrounding nature that inspired it.
This is a unique and relaxing place to call home, and an ideal place to bring your sim's family and experience natural beauty together with beautiful views and good neighbors. Download here for free from bradybrad7 on Sims 4 Modding.
6. Amazing Huge Millionaire Mansion – bradybrad7
This amazing, huge millionaire mansion is for your sims who have it all and need a house to show it! Your sim will be the envy of your neighbors and live like a King in this strikingly beautiful mansion. When your sims have worked hard for their money, they deserve nothing less than the very best the world has to offer.
This mansion is ultimate in luxury and style. Have your sims spend their days poolside and their nights entertaining guests with plenty of room for their high-class friends. They say it's lonely at the top but with this house, it seems like it's worth the risk. Download here for free from bradybrad7 on Mod the Sims.
Well, there you go! Now you know where to locate those Sims 4 64×64 lots. Go ahead and get going with building your own mansion or house. Visit the main post for a variety of amazing custom furniture that you could use to decorate your build. Don't forget to use the "motherlode" cheat to get yourself some Simoleons along the way. Because on those bigger lots, you'll definitely need it. Oh, and there are tons of custom houses you could download into your game, too. Happy simming!