Are you hoping to find a way to upgrade animal homes fast? Using the livestock upgrade parts cheat is the way to go! Keep on reading to discover how to activate and use it to get all the parts you need.
uPGRADING lIvESTOCK pARTS IN sIMS 4: hOW DO YOU DO IT?
Taking care of the animals from the Sims 4: Cottage Living is a real farming experience. A good farmer tends to their property and all the animals living there. One of the ways to do that is to upgrade their homes so that the animals live a long and happy life. But, to upgrade chicken coops and animal sheds, your Sim will need to obtain livestock upgrade parts.
Upgrading makes sheds and coops low-maintenance and will save you time and energy. For instance, Sims can install an automatic feeder, to ensure animals never get hungry. However, getting these parts will require some selflessness on your Sim's part. They will need to "Offer Help With Errands" to townies to help them out in completing their daily tasks. In return, Sims will get various rewards, and livestock upgrade parts are one of the options.
Luckily, there is a faster way to upgrade all animal homes – using the livestock upgrade parts cheat! So, if that sounds good, let's discover how to use them!
If you'd like to have easy-to-maintain cows on your lot, check out the Dairy Cow Mod here!
Why use a livestock upgrade parts cheat?
There are a few reasons why livestock upgrade parts cheat can be helpful. One, it will save you a bunch of time needed for collecting upgrade parts. Instead of running errands in the neighborhood, your Sim can take a sip of juice in their garden and relax while you get the parts for them with just a few clicks.
Two, if you play without chats, you have to go for only one upgrade at a time. With cheats, you can have as many upgrades as you want, and apply them all within a few minutes of gameplay. And three, when you are using cheats, you can not only have all upgrades, but also improve sheds and coops to the max.
In other words, the livestock upgrade parts cheat can help you improve all animal sheds and chicken coops you own and do so without much hustle. Now, onto the cheat activation steps!
More on SNOOTYSIMS: 70+ Sims 4 Horse Ranch CC: Best CAS & Build/Buy Objects!
Step 1: Enable cheats in Sims 4
To start using the livestock upgrade parts cheat, you'll need to enable cheats first. If you are new to using cheats in Sims 4, worry not. Activating them is super easy. The first thing you need to do is launch and start playing your Sims 4 game. Once you're in the game, open a cheat bar for typing cheats. To do that, press following buttons simultaneously, depending on what device you play on:
For PC – CTRL+SHIFT+C
For Mac – COMMAND+SHIFT+C
For PlayStation – R1 + R2 + L1 + L2
For Xbox One – RB + RT + LB + LT
Type testingcheats true or testingcheats on (pick one, both work the same) and hit Enter. You'll get a message that cheats are enabled. This means that you can now start using livestock upgrade parts cheats. Awesome! Now, onto these cheats.
Step 2: Start upgrading your sheds and coops with the help of LIFESTOCK PARTS CHEAT!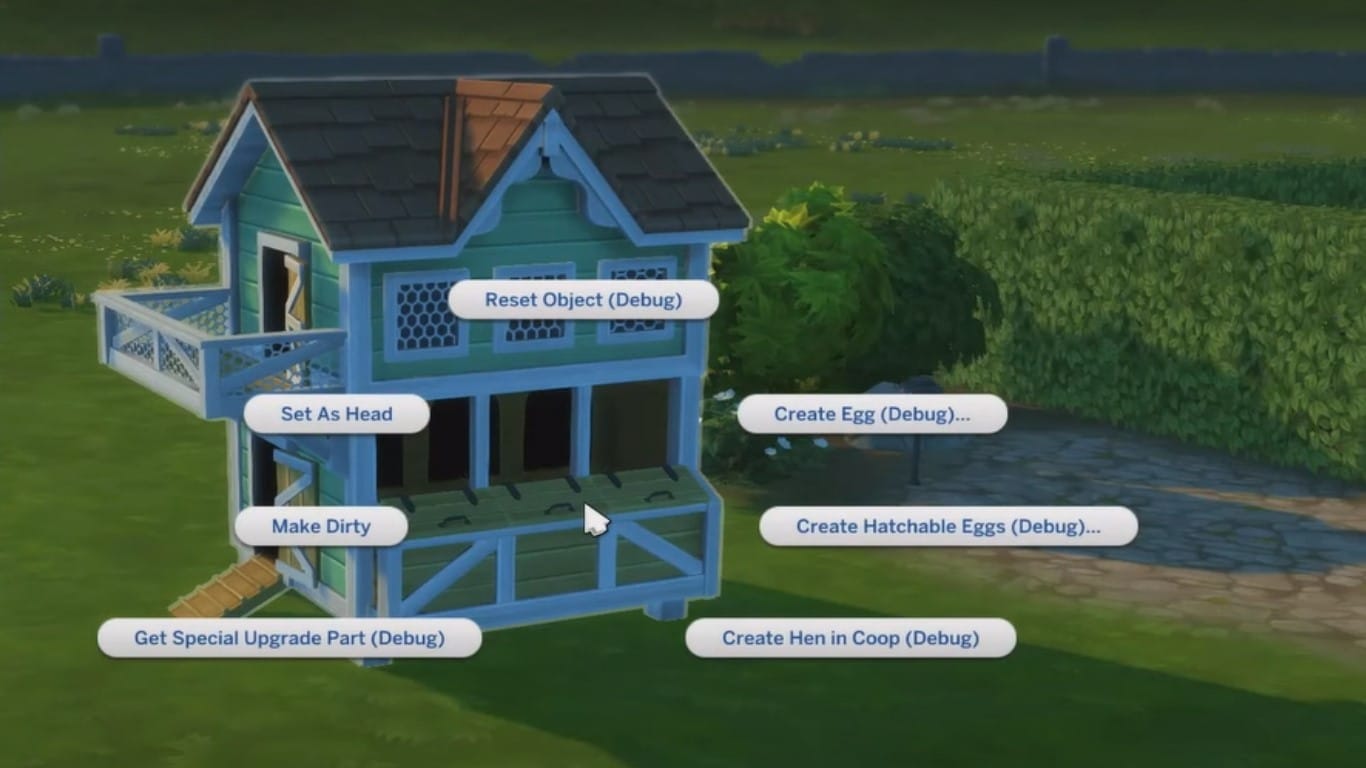 If you'd like to get the parts for livestock fast without having to push your Sim to help others, here is what you need to do:
Go to the animal shed or a chicken coop you'd like to upgrade. Pres SHIFT+click on it, and then find and click on Get Special Upgrade Part and you'll get one part for the next upgrade session! You can use this method as many times as you need to get the upgrade parts for your animal homes.
Remember, for this cheat method to work, you need to have testingcheats true (or testingcheats on) activated, as described previously.
To get the cutest cottage houses for your Sims, go here!