We adore the massive selection of mods on the internet. In our opinion, CC creators just outdo themselves with each CC pack! The game has become so much more realistic and fun with the addition of mods, and for that, we are very grateful. In this post, we will highlight five unique Sims 4 daycare mods we know for certain you will love.
The Sims 4 Daycare Mods:
Even though the Sims 4 base game comes with the option to hire a nanny, or as of recently, send your toddlers to daycare… These daycare options really just lack realism, and well, gameplay. Something we really wish to make a change to…
We have been dreaming of a Sims 4 daycare pack for quite some time actually. But, considering we do not see that happening anything soon, a daycare mod will do the job.
This is why we are so happy to say that we have found 5 quality daycare mods you can download for free! Whether you want to play through a daycare career, or just wish to upgrade the current daycare solution in the Sims 4 – these mods got you covered. Now, let us introduce you to these daycare mods!
1. Tumbling Tots CO. Active Career Mod – ITSKATATO
It is our pleasure to introduce you to the "Tumbling Tots Co" mod, by ITSKATATO. Or in other words, the Sims 4 "Active Daycare Career"! Back in the Sims 3, there was an option to have your sims work at a daycare. We do not know what on earth made the Sims 4 decide not to include that… But it really does not matter now, because we luckily have a mod for it here! So, if you have been wanting the option to have your sims work at a daycare this is the mod for you.
Now, the "Daycare Teacher Career" works like any other Get-to-Work career. Meaning, you get an option to follow your sim to work, but this time to a daycare venue type. Indeed, this mod comes with its very own daycare venue and venue type. So, your sims can go to work there, and other sims may also come to visit! Note that to follow your sims to work you need to place down a daycare venue. This career also comes with 10 different levels, so your sims get to work their way up in rank!
Furthermore, you will need the expansion pack "Get to work", and the stuff pack "Toddler stuff" for this mod to work. Following this, you will have to install the "Venu changes" mod by ZERBU, which is needed for the venue type to show up. Lastly, you will need the "Toodles Can: Listen To Group Stories Mod". To download this superstar of a mod, click here!
2. Home-based Sims 4 Daycare Mod – WICKED PIXXEL
Daycare Providers: Care of the Child
Welcome to the "Home-based Daycare" mod. Which adds a daycare event, a trait, and new social interactions! With this mod, your sims can make money with a home-based daycare. However, before that happens, your sim will have to network with these toddlers and invite them to the event! Meaning, this mod works on any residential lot. To start, you will add the daycare owner trait to your sim. This will give you 16 new social interactions. Some of which, provide various buffs.
Now, we bet you are wondering how this mod works. So, let us explain it a bit more… To spawn toddlers and children to your home-based daycare, you need to "plan a social event". Here, you need to select "home-based daycare", pick your sim as the owner, and add up to 4 toddlers, and 4 children altogether. Once your event has started, your children will appear. Here, your work will begin with cooking, cleaning, feeding, reading, and such.
We really love the idea of having our own home-based daycare, and we know you will too. So, let us all just get into this new career, shall we? Come on and download this incredible mod now!
3. Live In Daycare – LITTLEMSSAM´S
If you liked the idea of having a quality daycare option in your game, but not the part about planning it all, and following your sim to work. Well then, we might have just the right solution for you. Namely, the "Live In Daycare" mod, by LITTLEMSSAM´S. This playful mod allows your sim to open up a daycare which automatically spawns 5-8 toddlers right away. Though these toddlers must already exist in the world, besides that you will not have to do a thing. They will just appear like magic – almost like a normal kindergarten.
As soon as your daycare has opened, your kids will stay there for 12 hours, unless you close before that. A huge plus is that you can open your daycare 24/7, so whenever you feel like being surrounded by adorable little toddlers, open the doors and they will be there. Furthermore, there is an optional add-on, which will spawn your daycare with 3-5 more toddlers. That is if you are looking to really fill it up. Additionally, you will get a daily rate of 300 simoleons for each toddler you care for. Sound great right? Now, let's get to downloading it.
Side note: since we could not find a photo of the "Live In Daycare" by LITTLEMSSAM'S, we added a photo of the "Little Dreamers Daycare" build by BEANSBUILDS. Which is a brilliant CC pack you can use to build a daycare. So, if you want it, get it here!
4. Sims 4 Daycare Mods – KIARASIMS4MODS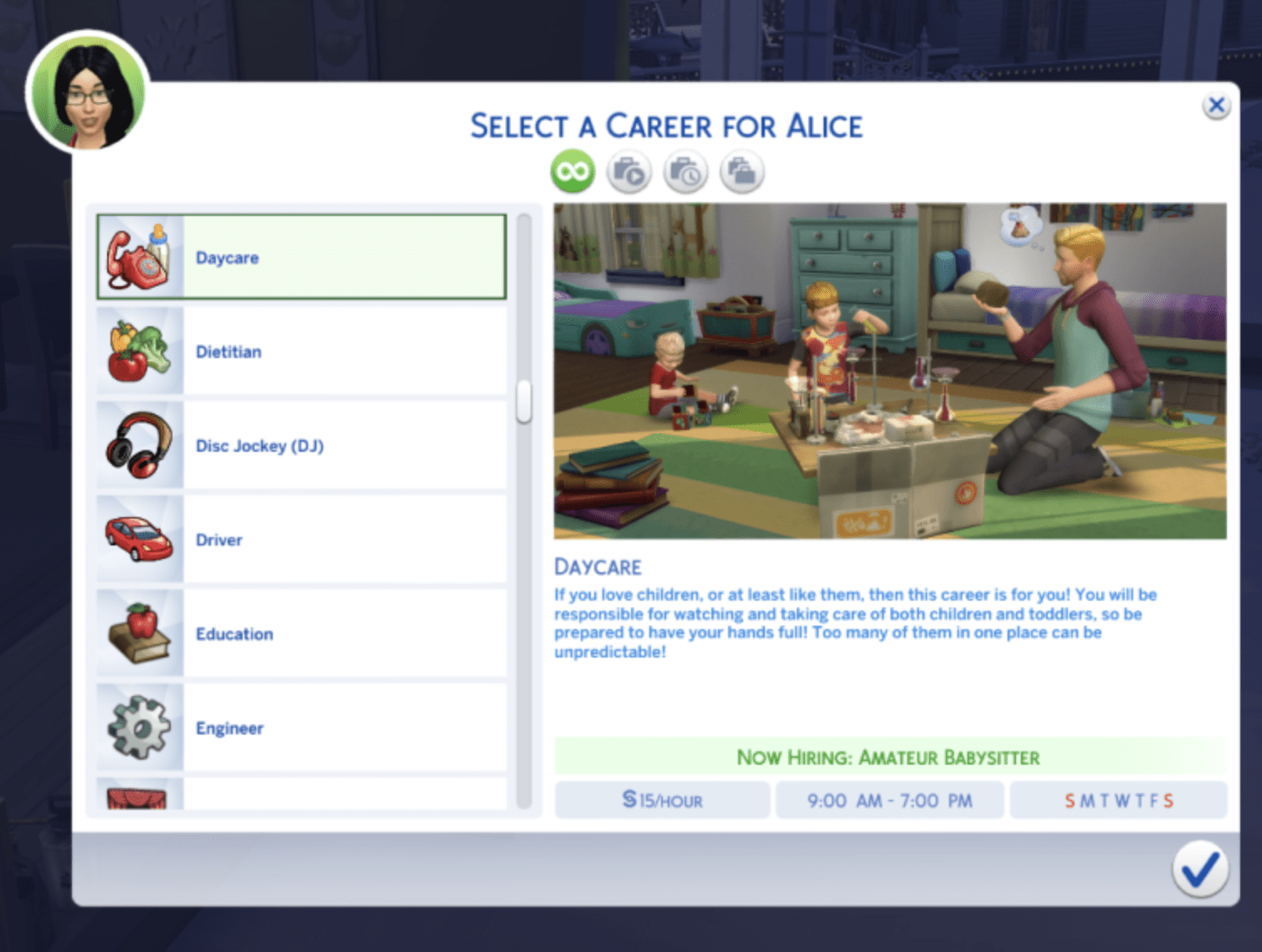 To get your hands on this excellent "Daycare Career" by KIARASIMS4MODS, you will need the Sims 4 "Parenthood" game pack. As well as the mod, "Babysitting Event" by KIARASIMS4MODS, which you can find here. Now, this mod is only available for young adults, adults, and elders. And, the career levels go as follows: 1. Amateur babysitter, 2. Cool Caregiver, 3. Daycare Dynamo, 4. Good Guardian, 5. Daycare Specialist. So, get ready to work hard to earn that specialist level! We absolutely adore the idea of this pack. Especially thinking about how our sims parenting skills will fly through the roof with it!
With this mod, your sim will get the option to work from home. Giving them the following tasks: 1. Babysit Children and Toddlers, 2. Throw Babysitting Job Event, 3. Send Parents text, 4. Read to a Toddler, 5. Help a Child or Teen with Homework, 6. Bathe a Toddler. Another fun thing about this is that sims with a psychology degree will jump into the Good Guardian Level. Now, we for one cannot wait to try this mod out. And, if you feel the same way, we suggest you give it a download by clicking on this button.
5. Useful Daycare – PHAERIIA
Are you tired of sending your sim toddlers to daycare, only to have them return in a lousy mood – which you then have to deal with… Yeah? Us too. Well, this is the exact reason PHAERIIA developed the "Useful Daycare" mod. To avoid the utterly useless daycare provided by the Sims 4 as it is today, we introduce the updated version! Now, this tiny little mod will fill all of your toddlers' needs besides sleep, while they are at daycare. Meaning, you still send them to the regular Sims 4 daycare, but this time they return home less cranky, and more bearable.
Though this mod really is a simple fix to a little annoyance in the game, it really does the job. We know for a fact, that a lot of simmers have been complaining about having their toddlers return home cranky after daycare. But with this mod that will no longer be an issue. So, even though this is nothing fancy, and really is the bare minimum we need in the game… We are very grateful to PHAERIIA for making it!
So, if you are simply looking for an easy fix to the existing Sims 4 daycare, then just download this into your mods folder to get your much-needed upgrade! Yes, you are very welcome.
Conclusion
To sum it up, there are a few solid Sims 4 daycare mods out there. The 5 we mentioned here, are just the ones we discovered! So, if you know of any other daycare mods, let us all know in the comments down below! And, if you download any of these mods, let us know how you like them!
Anyway, thanks for stopping by! We wish you a great day, and most importantly… Happy simming!
Related Content