Would you like to bring some lush colors and the freshness of nature into your Sims 4 experience? The Blooming Rooms kit, bring's the outdoors inside, with vibrant greenery. It creates new life into any space. Fill your Sim's home with cheerful, peaceful plants. With dangling vines and decorative propagation stations, and much more….
Blooming Rooms Kit
This Sims 4's new kit, Blooming Rooms, is a Build/Buy kit. This kit is themed around houseplants. There is a great selection of 24 plants and plant-like objects in the kit and one styled room. The action of adding plants to your home in The Sims 4, can bring your home alive, and make it feel lived in and loved. Sadly there are just not enough plant options in the base game. Thankfully, The Sims 4: Blooming Rooms Kit was released in early November 2021. It fully addresses this need.
Blooming Rooms details
A good idea, to find out what is going on in this pack is to read the EA-created game descriptions or Key Features. For Blooming Rooms, the game description is as follows:
Liven It Up —Shelving, tables, and even light fixtures become living decor with the addition of enchanting foliage. Delight in a lush, soothing atmosphere of growth all around with unexpected leafy details and natural beauty.
Go Green — Potted and hanging plants transform any room into a small slice of paradise. Vibrant vegetation even takes the place of curtains and wall art. With so many verdant colors, it will feel like living in a literal greenhouse.
Here EA gives a great synopsis of what to expect, however now I will go into a little more detail about the plants that can be obtained as well as the room.

Top 10 Blooming Rooms Plants and accessories
1. Therapeutic Ficus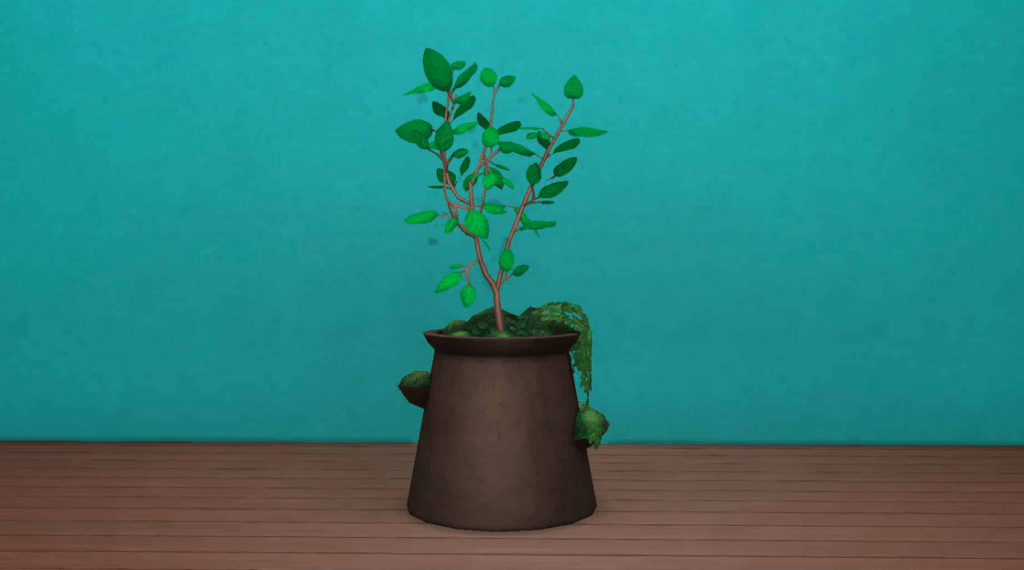 Therapeutic Ficus is a must-have if your Sim is a zen-type person. For clarity, this is a Sim that likes yoga, meditation, and relaxation. Imagine bringing this plant into your Sim's life, where they can use this plant as a meditative focus. They may even choose to lie next to it and sense its relaxed vibes. Therefore, this perfect plant will bring a touch of calmness and it will be a centerpiece of any room.
2. desert Rose
This plant is really evocative of the mysterious magical desert environment. However, this cute little Bonsai must not be under-rated due to its size! It will complete your life and bring that touch of harmony with its pink blossoms and interesting roots. Therefore, this cute little succulent is sure to be, a head-turner for all visitors. Who will be fascinated by its size and beauty?
Check out these door CCs with different color combinations to create amazing houses in the Sims 4.
3. Fortune favours the jade plant
It is said that Jade plants attract good fortune. In your Blooming Rooms Sims 4 pack, you will need this touch of magic. Bring a touch of the orient into your rooms. Its green coin-like leaves are attracting money into your life. However, it cannot physically bring Simoleons into your life. It will help your Sim feel more prosperous and magically attract good fortune.
4. Sunny Days Citrus Tree
Who doesn't need a citrus tree in their home? This amazing little plant will bring a zesty edge to the room and also fruit on tap too! This perfect little tree will go really well on a porch or a space with lots of light. It is a sun lover, so don't deprive it of what it needs!
5. Fine Vine Curtains
Wow, how beautiful. Just imagine this draping itself over your conservatory entrance, or hanging in your Kitchen. Above all, this plant will bring nature inside and will help your Sims home feel like a beautiful den of nature. What is behind the curtain? Are there more delights to behold? Furthermore, this plant will bring so much life and freshness to your sims environment.
6. biophilic Room Divider
This really cool Divider is a great addition to your rooms. It brings that feeling of being in a Botanic garden, with all the plants arranged together, with the space in between. Truly it's a treasure of a room divider, that once you use it, you will not want to be without.
7. Green light plant lamp
Now we move into some technology. The merging of tech with nature! This is one of the best Sims 4 lamps available and the only standing lamp in the Blooming Rooms kit. Merging cool design with plant life, this lamp is the only bit of tech you will feel you need in your Sims natural rooms.
8. Propagation station
So it's all very well having ready-grown plants in your home, but how about being able to grow your own? This cute little Propagation Station will let you see your seedlings grow from root to tendril. It's cuter than cute, with the small vials, from which you can watch your babies grow.
9. Of glass and greenery
This must-have table design is quirky and clever. Utilizing space in a new way. Bringing nature into your Sim's everyday life. Relaxing them when busy and providing a breath of fresh air in the home, where it's least expected.
10. Superb Nasturtiums
What's a home without Nasturtiums! These cute cheerful pots for kids are so much fun. With Perky lily-pad-like leaves, it's the superstar of any plant family. Contained within an animal-themed pot, these adorable plant pots will put a smile on any Sims face, on the rainiest of days!
Blooming Rooms Sims 4: Styled Room
The styled room is the "All in One" Nature-inspired Room in the Blooming Rooms kit. It's got the feel of science and nature intermixed. Undoubtedly the place for reading and learning, dreaming and writing. It's a perfect addition to your Sims4 experience. The place for your Sims to reflect on what they next want to do in their life.
If you have a plant obsession and want to create the perfect tranquility in your home, these custom content packs with fabulous swatches will be a wonderful addition to your Sims' world.
Where to Download Blooming Rooms Sims 4
This is my synopsis of what can be found in the Blooming Rooms Kit. The kit is obtainable for £4.99, so it isn't a lot and I feel it's well worth the money. In the base game, there is a bit of a lack of plant life. The Sims need more nature in their lives and this kit is already prepared to bring it to them. Download here.
Related content