It's never easy to plan for a party because there are so many things to consider, from who to invite to the party itself to the decorations. But don't worry, friends, because we have some exciting news for you today: we are here to assist you with party planning ideas that will help you whenever you want to hold one. So, here's an exclusive Sims 4 buffet table that you won't find anywhere else. Keep in mind that you can download all of these mods for free!
Sims 4 Buffet Tables that no one has seen before!
When it comes to preparing a good quality party, the sims characters are more concerned about tables and food. They do this because they want everything to have the same theme that everyone will enjoy. It's also difficult for Sims parents to host a party for their kids. Since they become bored of making buffet tables or don't have enough money to buy them.
In this post, you will find the best Sims 4 buffet tables that are perfect for a variety of occasions such as gender reveal parties, wedding activities, social events, birthday parties, Halloween seasons, and so on. Not only are they all free, but you can also share them with your friends.
Pet Stories Buffet Table With Ice Swan
It's a tiny table buffet ideal for small gatherings. There are three large plates on the table, each placed on a high box for serving the main dishes. The center plate features a snowy swan. Two little decorative vases hold stunning yellow roses, and small plates you can use to serve side dishes and sauces. The table totally covered with a gorgeous brown tablecloth, making it ideal for teen parties and small dinner parties. Click here to download the Buffet Table With Ice Swan.
Three Buffet Tables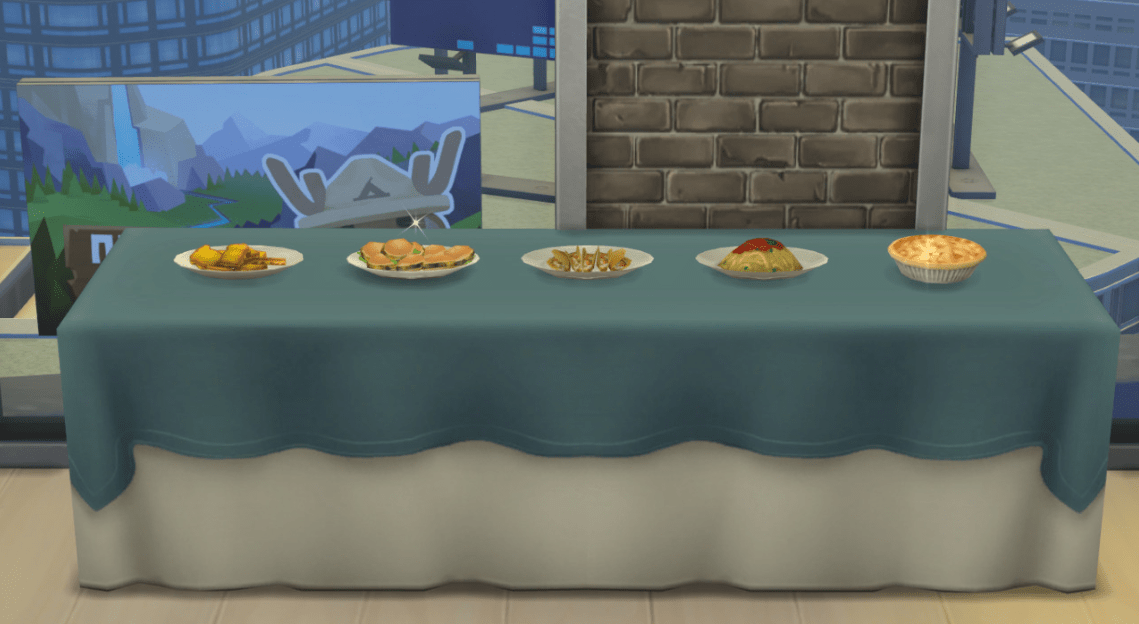 It's a very simple buffet, consisting of one table with a multicolored tablecloth, a white base cover, and a multicolored top cloth that comes in many different of colors including white, yellow, blue, and green.
It's best for small, self-serving gatherings. It can be used to serve a variety of types of food, such as biscuits, cakes, and snacks for birthday celebrations, or steak and spaghetti at dinner parties. Click here to download.
Castaway Stories Buffet Table Beta
This buffet is quite unique in terms of American Indian style. It is suitable for parties and gatherings outside the house in nature and in the lovely autumn ambiance, where you can appreciate the shape and colors of the fallen leaves of the trees that fill the area in a lovely golden glow.
It has a brown spread with two carved images on each side. A flame can be used to cook marshmallows, heat drinks or dishes, or simply barbecue at the table. There are also serving plates for side dishes, soups, sauces, and serving plates, as well as three big serving plates for major courses, each high on a wooden box. Green spaces surround the buffet, making it ideal for walking and enjoying time. Click the link to download.
Expand your Sims' wardrobes by downloading this list of custom content packs.
Winterfest buffet tables
Another buffet in the ancient (medieval) style. A small wooden table suitable for serving a variety of things and dishes at winter celebrations and family social occasion.
This buffet is ideal for birthday parties and setting the table with a tablecloth, cake, and other consumable foods for the guests to eat.
It's appropriate for medieval costume parties, and it's appropriate for teenagers, adults, and children. There's a wooden barrel that replaces the drinking fountain, and next to it is a table for placing cups and other types of drinks. You can Download it from here.
TSM Peasant Dresser Buffet Table – sims 4 buffet table
This is a vintage-styled wooden buffet with raised plates for serving the cake to decorate the celebration table, as some Sims enjoy classic parties.
Other types of meals can be served at this table inside the house, as it's ideal for birthday parties and holiday celebrations. It is Suitable for gatherings of friends and family. It is also more appropriate for the winter season because it gives warmth. This mod is available for free here.
Fallout 4 Port A Diner (Buffet Table)
This colorful buffet includes a table with a glass case covering the area for placing different dishes that your Sims love, as well as a rocket-like style inspired by space design.
It's also suitable for children's parties and parties outside the house, where the cabin provides protection for deco food items from dust and dust in the outer atmosphere caused by the breeze.
It also has a strange vibe to it. This unusual buffet can be utilized for teen fancy Masquerade parties with a space theme to generate an atmosphere of fun and laughter. To Download it, Click here.
Learn more about the Sims 4 cooking skill.
Buffet 672- sims 4 buffet table
A buffet consisting of a table suitable for Halloween parties with a tablecloth painted with bat drawings and scary house drawings. A white ghost figure and a horribly carved pumpkin placed on the table to create a gloomy atmosphere perfect for Halloween and for enjoying masquerade parties.
On serving boxes, there are three huge high plates. The plates of food, particularly the main dishes, is suited for gatherings, and there are candles and roses placed around. To create an autumnal feel, several leaves are scattered around the table. suitable for teenagers, adults, and children's parties. Download this pack from here.
Check these new hairstyles CC packs for the Sims 4.
We've completed our list of buffet table ideas for you. We think it is now much easier for you to host a party for your Sims. We hope they won't feel tired of looking for suitable tables, because we given them the best sims 4 buffet table designs for different parties.
Please let us know what your favorite buffet table is from the list above, and when your next celebration is. Enjoy our new buffet tables with your sims characters!
Related Content