Who says that life after school has to be boring for your young sims? The fun of discovering and learning shouldn't stop once the school gates close, as there are plenty of after-school activities waiting to be explored! Read our article to find out how you your kid and teen sims can join in on these activities!
Yes, Your Young Sims Can Go and Enjoy After School Activities!
The release of The Sims 4: High School Years introduced after school activities in the game. With this pack, it is now possible for sims to join teams and clubs that specialize in Chess, Cheerleading, Drama, Football, and Computer activities. However, doing after school activities is still achievable even though you do not yet have TS4: High School Years in your game!
In the past, Kawaiistacie introduced the first after school activities mod for our student sims. However, as of this writing, the said mod has long been defunct. But fret not! With these updated mods from Adeepindigo and KiaraSims4 that we gathered for you, you can still let young sims explore the best of their lives with a multitude of fun things they can do after school.
After School Activities from Adeepindigo
The first mod that we have is the Dynamic Teen Life Mod from Adeepindigo, which you can access through Adeepindigo's Patreon post here. The Dynamic Teen Life Mod has lots of interesting features, but for this article, we'll only focus on the after school activities that this mod offers. Take note that these after school activities are only available for teenage sims!
How to Join Adeepindigo's After-School Activities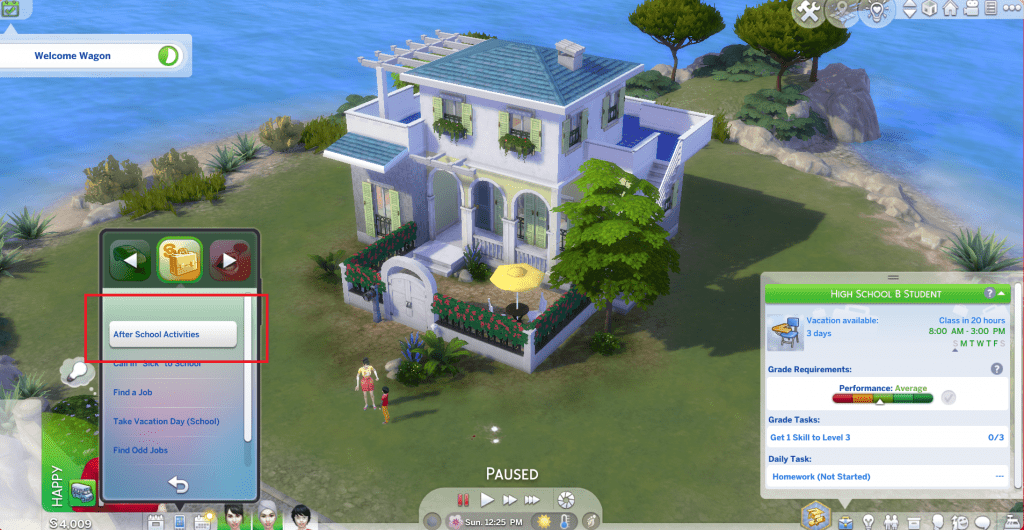 To be able to join the activities of Adeepindigo, click on your sim's phone and choose the "After School Activities" on the options. Meanwhile, for the Teen Activities, go and click on a computer to access these.
1. Team and Club Tryouts
Your teen sims can choose to participate in clubs or team tryouts for their after-school activities. Plenty of choices are available, such as the STEM Club, the Performing Arts Club, the Football Club, the Drama Club, and others.
2. Activities for Team and Club Tryouts
For these Teams and Clubs, your sim would either have to accomplish a specific activity to be able to become part of the said group. They would either have to perform a specific tryout or audition. For example, to join the STEM club, they'd have to either create a website using the computer, or design their own robot.
In the case of after-school sports such as Football or Swimming, student sims could join a day of tryouts to test their abilities and prove that they could be fit for these teams. However, if they are not physically fit, they could fail these tryouts. Young sims will go home with a disappointed mood in the chance that they do.
3. Student Council and Others
Apart from proving their capabilities to join clubs and teams, young sims can also join the Student Council! They could declare their intention to run for a seat in the said council and secure votes from their fellow students. The results of the Elections can then be seen under the Business option in their phones.
4. Teen Activities
More after-school activities can be enjoyed by teen sims through Adepeendigo's Dynamic Teen Life Mod. Apart from the ones available through the phone, your sim can also use the computer to access the "Teen Activities" option. Here, they'd marvel through the list of interesting activities they could accomplish with their teen peers.
Some of the teen activities include attending college fairs, hanging out at the mall, going on a group date, experimenting with friends, hooking up, being a part of the school newspaper, and many others. You can choose up to 6 teen sims to participate in these after-school activities. You wouldn't be able to see them as they do these fun things, but they'd go home with a certain moodlet that describes their experiences.
After-School Activities from KiaraSims4
We also loved the after-schol activities offered through the School Activities Mod by KiaraSims4. You can access the said mod here. With so many activities to choose from in this Mod, your little sim would surely find one that they'd enjoy!
How to Join KiaraSims4′ After-School Activities
To be able to join the activities of KiaraSims4, click on your sim's phone and choose the "Join After School Activity" on the options available. KiaraSims4's after-school activities function much like an adult sim's regular career. Your kid and teen sims get to attend an activity for a specific schedule after their classes at school ends. They can then get to climb the ladder and be promoted to new positions as long as they do their daily tasks well. There is also a possibility for them to have more than one after-school activity.
1. Ballet
Go and let your young ones become graceful and flexible by letting them attend ballet classes, wherein they could learn artistic forms and practice precise postures. With the "Ballet Dancer" as starting position, the ballet class is available during Tuesdays and Thursdays from 4:00 to 6:00 PM.

2. Basketball
If your young sim is feeling quite athletic, they could join basketball classes to shoot some hoops and be part of a team! With the "Basketball Player" as starting position, the basketball class is available during Tuesdays and Thursdays from 5:00 to 7:00 PM.
3. Cheerleader
Let your little ones imbibe the power of their school spirit by letting them be a part of their school's official cheerleading team! With the "Cheerleader Spotter" as starting position, the cheerleader activity is available during Tuesdays and Thursdays from 4:00 to 6:00 PM.
4. Dance
Let your kid and teen sims bust out those moves and get their heart pumping as they join the Dance Club! The "Dance Beginner" is the starting position, and the Dance Club is open during Wednesdays and Fridays from 3:30 to 5:30 PM.
5. Drama
Do you think your young sim could be the next best thespian in town? Then. let them grace the stage as they join hands with other theater actors and actresses! In the Drama Club, your sim gets to start as a "Stage Beginner", and their drama activities are available every Monday to Friday from 3:30 to 5:30 PM.
6. Karate
If your kid sims would like to learn the values of discipline and self-strength, let them be a part of the Karate after-school activity! In the Karate Club, your sim gets to start as a "Karate Kid", and their trainings would commence every Tuesday and Thursday from 4:00 to 6:00 PM.
7. Little League Baseball
Hey, who doesn't like Baseball, right?! Every kid would definitely enjoy this sport and learn the value of teamwork with their peers. If they join the Little League Baseball, your sim would have the "Sandlot Slugger" as their starting position, and their practices would occur during Tuesdays and Thursdays from 4:00 to 6:00 PM.
8. Martial Arts
Much like the Karate, the Martial Arts after-school activity also teaches kids and teens self-defense techniques and other physical skills. However, this one is more rigorous and would require more time for training. For the Martial Arts Club, your sim gets to start as a "White Belt", and their Martial Arts activities are available from Monday to Friday from 4:30 to 7:30 PM.
9. Scout
Let your young ones learn real-life abilities and help them survive in the wilderness as they experience the joy of outdoor campings! As a Scout, sims start as the "Llama Scout", and their Scout activities happen during Mondays to Fridays from 2:00 to 4:00 PM.
10. Soccer
If your sims are interested in running across the field and playing ball with a group of students, let them join the Soccer after-school activity! In the Soccer Team, your sim starts out as a "Soccer Player", and kicks the balls every Tuesdays and Thursdays from 4:00 to 6:00 PM.
11. Volleyball
Serve and spike those balls to strengthen your kid and teen sims' arms! Let them join one of the most popular sports at school, Volleyball. The "Volleyball Player" is the starting position for the Volleyball team, and the team plays during Tuesdays and Thursdays from 5:00 to 7:00 PM.
How to Install The After-School Activities Mods
Head over to this page to download the after-school activities from KiaraSims4. You can select just the ones you like. Meanwhile, go and visit this Patreon post of Adeepindigo to access the after-school activities that come with the Dynamic Teen Life mod. It is possible to have both these mods running in your game at the same time but to prevent errors and compatibility issues, we recommend that you install only one of these two at a time.
If you get zipped files in your download, simply unzip these to obtain .package files. Then, collect all .package files and drop these into your Mods folder. You can access the said folder through this path: Documents > Electronic Arts > The Sims 4 > Mods. Take note not to place .package files too deep inside folders so that the game can easily locate and read the files. Then, make sure that the use of mods and custom content is enabled in your game settings.
Wrapping It Up
With so many choices to choose from, your young sims will surely enjoy this array of awesome after-school activities from KiaraSims4 and Adeepindigo that we have rounded up for you! Without further ado, go and download these after-school mods to make the lives of your kids and teen sims all the more exciting in the game. Trust us, they'll definitely be delighted! Have fun playing, simmers!