Did you know that the Sims 4 has an in-game memory system? Most people don't, because it's objectively terrible. If you want your sims to have meaningful memories without having to do all the grunt work yourself, you'll love the new Memory Panel Mod!
The memory system in the Sims 4 leaves a lot to be desired. It requires the player to manually add individual memories to sims based on screenshots you take, and the screenshots aren't exclusive to your household (so if you take a lot of screenshots like I do, you're going to have to sift through a lot of photos to find the one you want).
Many long-time players agree that the Sims 2 had the best memory system which was completely hands-off while being in-depth at the same time. The new Memory Panel Mod by Lumpinou is somewhat reminiscent of that, being much more robust than what we have by default.
Memories in the Sims 4 vanilla
As I said, the default memory system in the Sims 4 is incredibly tedious. To add memories in vanilla:
1. Open the Camera Options and select Screenshot Capture Manager.
2. Scroll through to find the image you want to make into a memory. The game saves them chronologically so you'll have to scroll all the way to the bottom if you're looking for a recent picture.
3. When you click a screenshot and select "View Memory" a new menu will open that lets you add a caption, and then will add it as an [emotion] memory, with the emotion attached being whatever emotion your sim was experiencing at the time the screenshot was taken regardless of the content of the image.
As an example, if you take a screenshot of some sims doing a fun activity (like having a water balloon fight) but the active sim at the time the photo was taken was feeling Sad, a Sad Memory will be attached to the photo.
4. To revisit the memory you have to repeat steps 1 and 2, and when you find a screenshot with a memory attached it will have a green symbol in the corner.
5. Click on the image and then select "View Memory." From here you can view what sims are tagged in the image and remove any you don't want to associate with it (such as background sims who accidentally photobombed you). There's also an option to "Have Sim reminisce on the Memory" at which point your sim will get a buff that correlates to the memory's emotion. And that's it.
Making better memories with the Memory Panel Mod
The Memory Panel Mod works very similarly to the Sims 2's memory system in that significant events are automatically added to your sim's memories, including several from before the mod was even installed! When a new memory event occurs the sim will have a gold sparkle effect around them to let you know, and the sim will receive a special buff related to the new memory. You can view memories by clicking on your sim & opening the Memory Panel menu where they will be listed chronologically.
If your memory involves other sims and you want to view those sims, simply click on the memory and it will show you which sims the memory pertains to.
Certain significant memories will also add new details that you can see by viewing a sim's profile in the relationship panel. These memories will stick with your sim throughout their entire lives, unlike the buffs that pop up when the memory is first formed.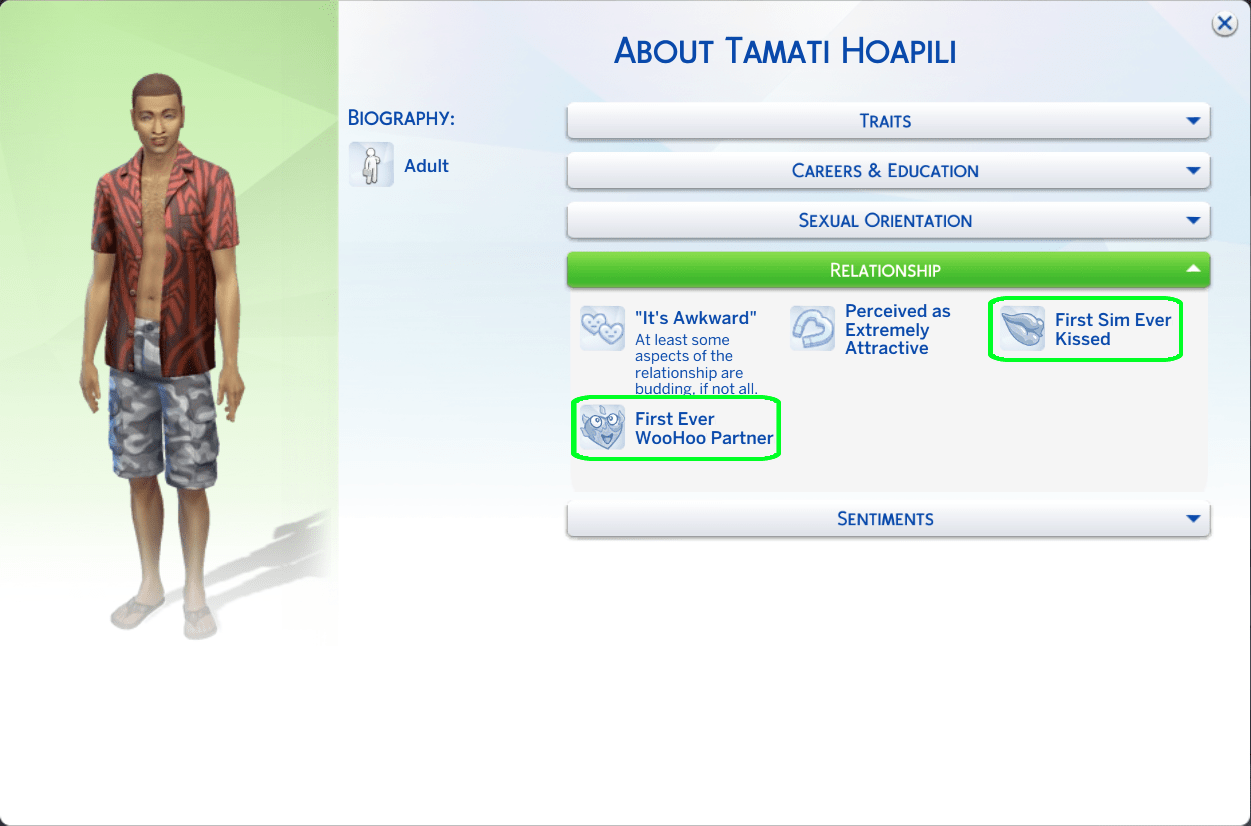 Moodlets will change & adjust depending on the event. For example, your sim will get a memory the first time they have a baby that's different than the memory they get the second time they have a baby. There are currently around 80 different types of memories your sim can receive, with more being added each update!
Social Bunny Posts
If you have High School Years there are multiple new posts you can make on Social Bunny in relation to the new memory system. It's included with the base mod, however the feature will not be active for players without the EP as Social Bunny is tied to that pack.
Compatibility
The mod is still new and currently only integrated with the following other mods, also created by Lumpinou:
According the mod page, Lumpinou is planning to add even more memories and make memories have more impact on your sims, bring in more social interactions, and they're hoping to work with other modders to make the Memory Panel Mod integrate with those creations as well. Be sure to check regularly for updates!
Closing Thoughts
Though still in its infancy the Memory Panel Mod already significantly overhauls how the memory system in the Sims 4 functions, making it much simpler and more user-friendly. If you're looking to have events in your sim's life actually mean something more than a short-lived buff, this mod will dramatically change your game. Hopefully you'll create some fond memories of your own from playing with it. Enjoy, and lest you forget, happy simming!