Suly Suly Simmers! Let me welcome you to an exciting recap of last night's thrilling livestream event featuring the upcoming Horse Ranch Expansion pack. So giddy up and let's trot and canter to the recap!
In this livestream, the Team took us on an immersive journey into the captivating world of equestrian adventures within The Sims 4. From taming wild horses to running a successful ranch, this expansion promises to bring a whole new level of excitement to your Sims' lives. So, let's saddle up and dive right into the highlights of this spectacular livestream, where the magic of horses came to life in The Sims 4!
Here's a replay for you to watch!
What to see in Horse Ranch Expansion Pack?
CAS for Horses
As we all know, horses will be included into the family like Cats & Dogs. We can interact with them, feed them, ride them, and of course, they also have their own unique traits like Sims.
As you can see here, there's a lot of horse breeds to choose from, more than 30 Horse breeds to be exact. We've got American Paint Horse, Andalusian, Anglo Arabian, Appaloosa, Australian Stock Horse, and much more!
You can choose 3 different traits to your horses from this list.
Aggresive
Brave
Defiant
Energetic
Fearful
Free Spirit
Friendly
Independent
Intelligent
Mellow
Needy
These traits will also determine on how they will interact with the Sims in the game, so if you choose the trait of Aggresive, your Horses will likely to be hard to train and mean to your Sims. Or maybe the Needy trait, your Horses needs a social interaction often and will try to get your Sims' attention.
You can also create and start your Horses' life as a Foals. Aren't they cute!?
There will be a a lot customization options from Breeds, Body Shapes, Hairs, Outfits, Coat Color & Pattern and even Paint Mode!
Body Shape – You can choose up to 7 different body shapes for your Horses.
Hairs – In the Hair section, you can customize and choose from Hair, Forelock, Tails, Feathers and even the Coat Thickness! Whether you color them from black to pink, you decide what you love!
Coat Color & Pattern – This option will make your Horse more unique and will make your Horse standout to others! There's a 5 color channels that you can change and lots of patterns as well.
Paint Mode – If you have Cats & Dogs, you know what it is. There's even a stencil that will guide you where to paint like zebra print and even stars!
Outfits – Riding Outfit and Everyday Outfit selections like Leg warmers, bow tail, head flowers, blankets, tacks, bridles and more!
CAS for Sims
Expansion pack always comes with new items and for this pack, we'll also have new items for our Sims, not just in Horses. A lot of new item wears are coming, from infants to toddlers to kids to adults! Yay! Hairstyles, facial hair, Tops, pants, full body, shoes, and even hats and accessories, you name it!
If the new pack includes traits for Horses, Sims have new traits and a new aspirations also.
Aspirations
Athelic – Championship Rider : This aspiration is all about excelling in competitions.
Food – Expert Nectar Maker : This aspiration is for those who want to master Nectar Making.
Traits
Lifestyle – Horse Lover : This trait is for Sims who'll excel at ranch and will take care of the Livestock
Social – Rancher : This traits id for Sims who'll love socializing with horses.
New World : Chestnut Ridge
Oh, Chestnut Ridge is coming! And yes, the inspiration for this world draws from the picturesque landscapes found in Western ranches we've seen from the internet and movies. There's gonna be a 3 new neighborhood that you must see: Galloping Gulch, New Appaloosa and Rider's Glen. As you can see, there will be 13 lots in Chestnut Ridge.
Galloping Gulch have a 3 lots and is known far and wide as a haven for Horse Riding because of picturesque paths that lead to breathtaking vistas with magical trails.
New Appaloosa have 5 lots and a place that brings together Horse Riders, Ranchers, and Nectar Makers in the most delightful way. This is where you take your horses for competitions and where you can socialize with other riders at the bar.
Rider's Glen have 5 lots and you can see the wonderful Trusty Steed Rock, lovingly referred to as "Ol' Biscuit" by the locals.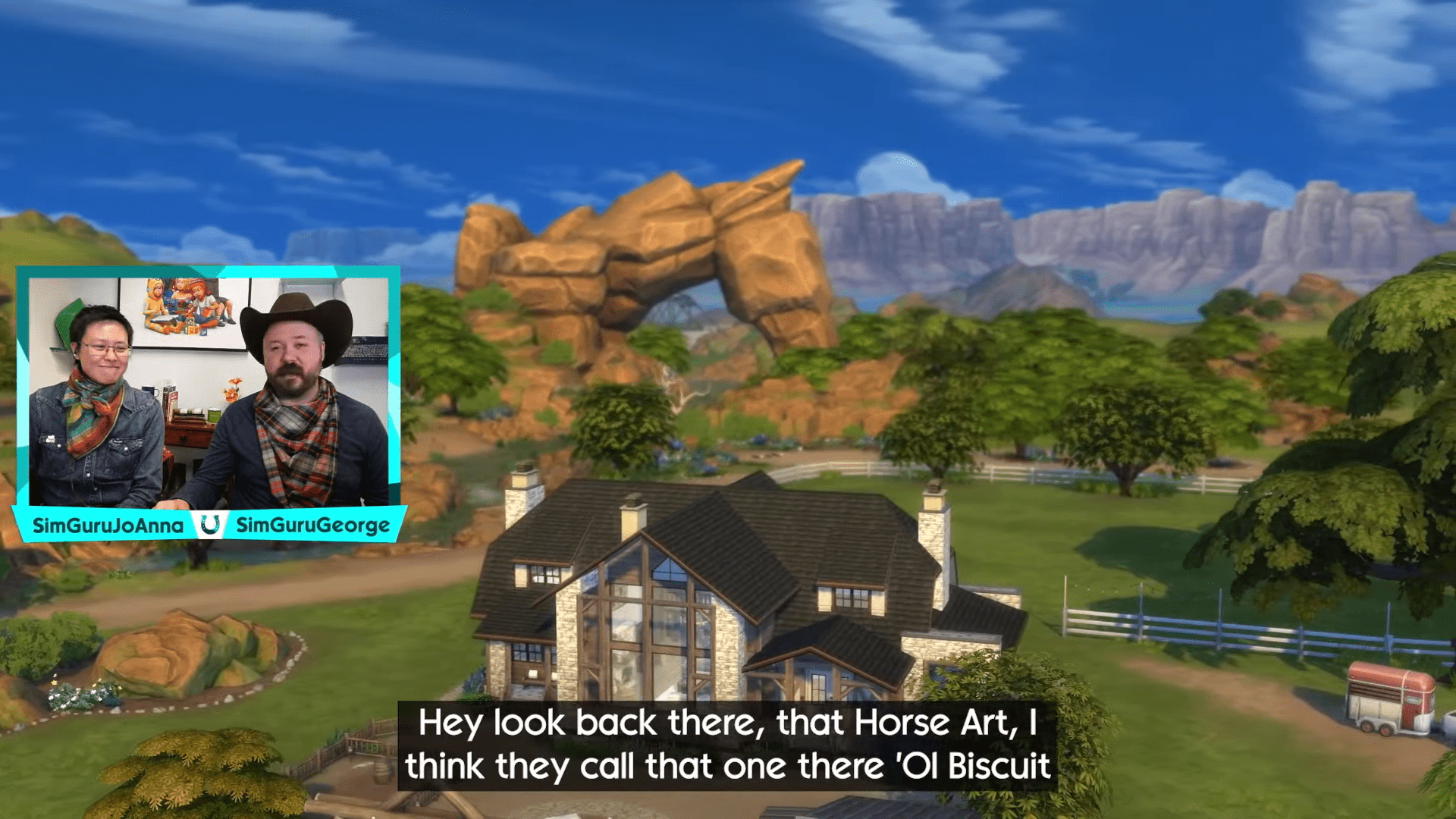 New Social Interactions
The first thing you must do is to befriend your horses! We got to see that there will be social interactions. Try to Mount them, Hand Feed them, Hug, Scratch Neck, Encourage Training, Talk to them and much more! Horses will interact with their own distinctive characteristics or traits.
New Ability Unlock : Touch the Grass
In the Horse Ranch EP, Sims can now touch the grass and mentioned that the grass will grow and grow over your Sims lot! (Is this gonna be the new lot challenge? ) You can harvest it to collect hay, feed it to the horses, stack them into the feeder, or even search on it!
Build/Buy Menu : What's Coming?
I know that we're all excited especially the Builders in the community about the Build/Buy items and we've got the chance to see new Build/Buy items such as the cool grill that you can cook some new foods that are inspired by Native American Recipes! How cool is that!?
They also mentioned that instead of the famous *ahem* Fruitcake *ahem*, Sims who lived in Chestnut Ridge will bring Pan de Campo over as their Welcome Wagon housewarming gift. So long, our dear Fruitcake!
New Social Events for you and for your Horses!
With Horse Ranch, we are getting 2 new exciting social events. Sims can throw a Ranch Gathering where you can party with your friends and family and yes, Simoleons are waving as guests can donate to the Ranch as a reward! Or maybe throw a Ranch Animal Day where we showcase our mighty animals!
Mini Goat and Sheep
One thing that you'll get excited to do is to buy your own mini goats and sheep! You can purchase them at the General Store or just a one call away from your phone. You can also have the power to choose their colors.
You can even Name your Mini Goat or Sheep whatever you want, talk to them, milk them, and more!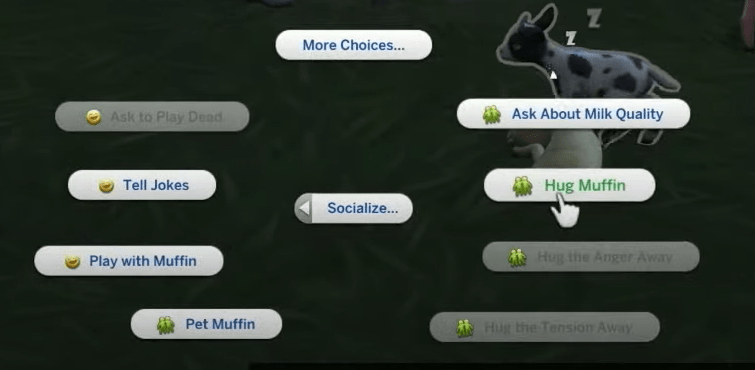 A lot of social interactions with mini goats and sheep.
Other interactions for your Sims and mini goats or sheep you can choose from.
You will also have the chance to take care of them!
And if we're talking about Simoleons, we can shear the sheep to convert it into Simoleons!
New Feature We Already Love!
Are we getting some new features? Here's the answer: YES, WE ARE! And we already love it! Coming alongside the Horse Ranch Expansion is the Free Cam while you're on Build/Buy mode!
And the last one, I know you've been all talking about it since the first trailer so say hello to the Paintable Ceilings!
Final Words for the Horse Ranch Livestream Recap
We still have 5 days until we've got to play this wonderful expansion pack and on the other hand, we can't wait to discover exciting details that weren't fully showcased in the livestream. Furthermore, the devs mentioned that they are still gonna add some final touches to the game. So let's not forget that The Horse Ranch is releasing on July 20th!