Simmers, we are travelling back in time to one of the most ancient civilizations with unique Egyptian custom content. There's absolutely so much to unravel, so we complied a list of ten Egyptian must-have mods for both your male and female sims. Amongst the following mods, there are eyeliner packs, clothing and accessories.
So, let's dive into it!
Egyptian Style Mods for Your Male and Female Sims
Egyptian Eyeliner
Fun fact: Egyptians wore eyeliner not only as a means of cosmetics and aesthetics but also to protect the skin from the desert sun. And we bet your sims would appreciate it —it looks absolutely gorgeous! Head over to this page to install it.
Treasures of Hatshepsut
This is a whole Egyptian custom content makeup kit, containing multi-color eyeliner, lipstick, blush and face stickers. You should have the whole package to maintain the original Egyptian style.
Head over to this page to install it.
ADE Hair & Dress
Of all the cc packs we have on this list, this hairstyle is must-have! You get both a braided version, like the one showcased and one without braids. It's available in 21 colors but we bet you'll go with black because it truly stands out. Click here to install it.
If you like the dress too, you can find it via this link.
Egyptian Eyeliner
Stunning Egyptian eyeliner for both female and male sims. You get 10 different versions from teen to elder. Enjoy! Check out short hairstyle too, here.
Download from this page.
Robe Cléa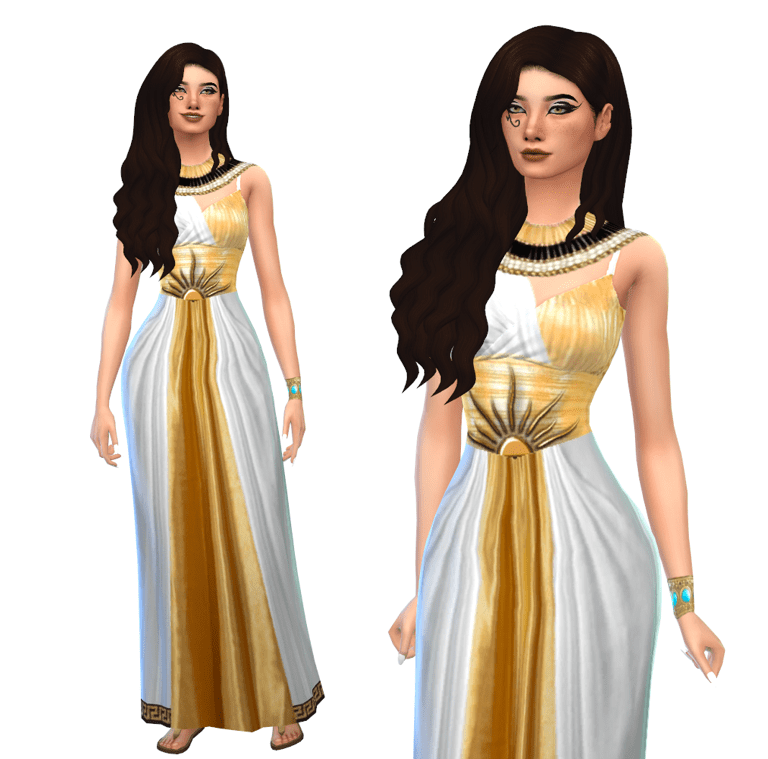 In love with this sim! She's a queen but also mother-like. White and gold is the perfect combination. Here's your download-link.
Goddess Dress
Puresims definitely creates pure gold. It's available in the two showcased colors. Here is your download-link.
Anubis
If you don't know who this is, good. A deity that accompanies dead kings in the afterworld. The skin is not included but you could use any dark grey skin just like we did. To grab this one, click here.
Men Ancient Egypt
We had to dig deep for this one. It's one of those old mods that you might miss out on but luckily we brought it back to light because it's worth it. Download from here.
Dream of at Night outfit
Another wonderful set by Satterlly. You get two costumes in fifteen unique colors, plus a necklace and bracelets for arms and legs. Only your adult sims can wear it. Install.
Kalediscope
We love those color combinations! It wouldn't look as appealing with plain colors, we bet. You get this one in 5 swatches. Click here to install.
Check Out More Special Clothing Here
We hope you enjoyed our list! There's plenty more mods and cc to be grateful for. Check out Armor Clothing and Retro fashion for your game at SnootySims.