Behind The Sims Episode 03 treated us with an exclusive sneak peek of an exciting surprise that will unfold between the month of September and December 2023 and yesterday, we were thrilled to catch a firsthand glimpse of one of the fantastic surprises, *ahem* Home Chef Hustle Stuff Pack *ahem*, they've been keeping under wraps just for us!
Who says Stuff Packs were dead?! Well, not The Sims Team! In fact, they've proved them wrong by bringing it back and introduced us to a fresh and exciting addition that will spice up everybody's gameplay after 3 years. Say hello, or should I say, Sul Sul to "Home Chef Hustle Stuff Pack"!
Discover the Culinary Treasures Inside the Home Chef Hustle Stuff Pack!
Upon revealing the new Home Chef Trailer Stuff Pack trailer, the EA and The Sims Team shared to us a delicious glimpse of it. Take a look of these official screenshots that they shared!
There's a lot of stuff to be unpacked within this exciting stuff pack they've prepared for us. From new functional items to engaging gameplay features, there's a whole world of possibilities just waiting to be explored. Get ready to transform your Sim's ordinary kitchen into a culinary masterpiece, inspired by European kitchens. And here's the exciting part – you can turn your cooking passion into a thriving business!
Let's Head to the Kitchen!
A Whole New Kitchen Upgrade
Say hello to the new functional kitchen appliances to elevate our Sims' cooking experiences! We're officially getting these stand mixer, waffle maker and countertop pizza oven very soon. But that's not all—brace yourselves for a delightful twist! Alongside the classics, it will be serving up a fresh batch of pizza recipes inspired by the rich flavors of Italy. Just the thought of it has us ready to trade in our aprons for pizzaiolo hats!
What about the waffle maker? Are we getting some recipes? We've already seen two waffle recipes from the latest Behind The Sims episode, but at this trailer, they gave us another waffle recipe we're hoping for!
---
There's still no news or update about it but as we can see in the picture below, we can clearly see that there's 6 different waffle flavors we need to watch out for!
And wait, let us remind you again… "#freethecupcakes" !
From a Simple Home Cook to an Aspiring Entrepreneur
How much more exciting could it be if your Sims' dream of becoming a business owner became a reality?! Your Sims now have the opportunity to share their culinary masterpieces within their neighborhood by setting up a shop and choose what will they sell.
Hint, hint: The Waffle Maker and the Countertop Pizza Oven's street food style recipes and portable features make them the perfect companions for the food stand.

– EA, The Sims
A Taste of Culinary Fashion
But wait, the excitement doesn't stop there. The Sims 4 cooking adventure wouldn't be complete without culinary attires, right?! CAS items are also included in the Stuff Pack! New hairstyles, different styles of aprons, matching food themed accessories and of course, new clothes for all of the home chefs!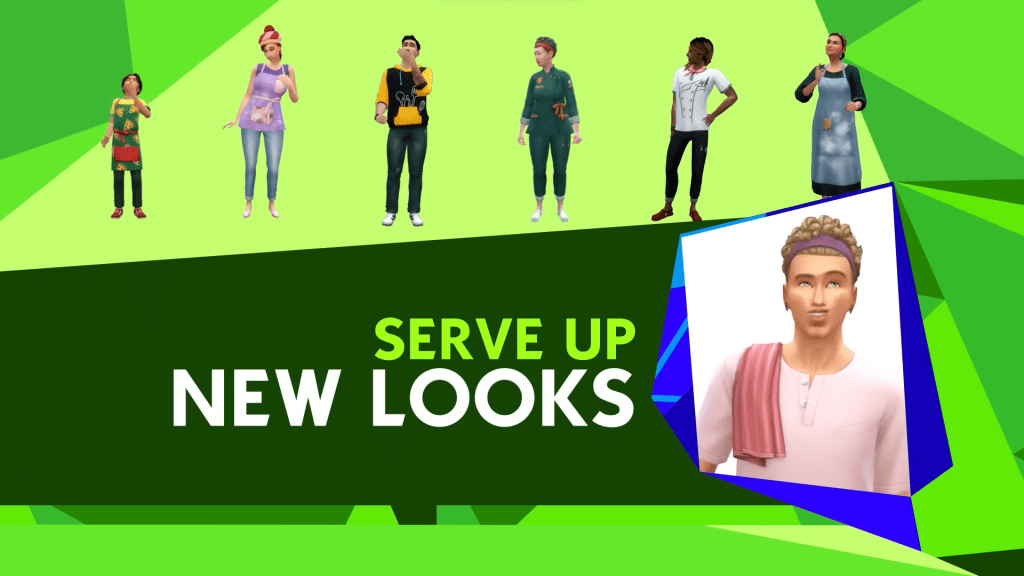 Here are some snippets with the CAS items we love to see our Sims wearing!
Simmers' Scoops: Let's See Some Simmers' Reactions!
@plumbocat's keen attention to detail has given us a hint that there will be different hooks for the stand mixer!
Besides the 6 waffle recipes, @thilseycrossing noticed that there will also be dips!
@TheHenfordHen's wild guess would be a fun addition to have!
While everybody's talking about the cute family matching style clothes, @_SimsGrimReaper spotted a new tattoo!
And what's the best reaction that caught our attention? It's @maiamakesims' idea for builders out there! Such a brilliant idea!
When Can We Expect the Release of the Home Chef Hustle Stuff Pack?
Mark September 28, 2023 on your calendars for the big release of the Home Chef Hustle Stuff Pack! Available for pc and consoles! Yaaay!
LEARN MORE BY WATCHING THE OFFICIAL REVEAL TRAILER!
Stay informed and up-to-date with all the latest happenings in the world of Sims by consistently visiting SnootySims! Happy Simming!