This is it, Simmers! The Sims 4 For Rent gameplay trailer just hit the scene, and we've got the inside scoop on all the game-changing details. We've covered all the juiciest news about it just for you!
The Sims 4 For Rent Gameplay Trailer is Finally Here!
After two weeks of intense speculation, contemplation, and creative brainstorming, the moment we've all been waiting for has arrived – presenting the long-awaited gameplay trailer. The said trailer stretched over a thrilling three-minute span and we want to see more of it and we know you can't wait for December 07 to come.
To the Gameplay
There's going to be a new way on how to generate income and that's not new at all because we've learned it at the very beginning of the expansion pack teaser. So how can our Sims will make an additional income?
Offering an AdDITIONAL income
You can see below the Unit Configuration where you can divide your once single-family house transformed into a bustling hub of rental rooms. With just a few clicks, you can partition your abode into cozy studios, spacious apartments, or any configuration that sparks your creativity. Experiment with different layouts, styles, or even sizes!
Elevate your Sims living experience by creating a shared common area also. The common area becomes a center of shared experiences, whether it's a beautiful lounge for parties or a bustling courtyard where neighbors meet. It may be a small rooftop garden with stunning views. Sims can host events, participate in group activities, or just relax here after a long day.
Tenant AgreeMENT
If there's a rental space, there's going to be a Tenant Agreement. This game-changing addition allows you to fine-tune the rental experience, providing a realistic touch to the management of your Sims' properties. Simmers can now have the ability to establish particular terms and conditions for every leasing area with the Tenant Agreement tool. You have the option to explore more flexible weekly alternatives or stick with a typical monthly rent.
Unit Rules
Adding another layer of realism and control to the experience, the For Rent Expansion Pack introduces the innovative concept of Unit Rules. Now, as a property owner, you have the authority to establish specific guidelines and regulations for each rental unit such as No Social Events, No Loud Noises, Maximum Occupancy, No Trash Overload and No Ghosts. There's also going to have a fine if one of these rules are not followed.
Unit Rating
For your Unit Rating, your rating will increase in proportion to how well you repair the building when things go wrong and how nicer you make the flats. You may build a visually beautiful environment and improve the entire living experience by improving the interiors, adding appealing decor, and adding facilities that meet your Sims' wants and preferences. Each thoughtful improvement becomes a building block in the foundation of a high Unit Rating.
Fill VAcancy
When trying to fill vacancies, buildings with high ratings attract more attractive renters, which leads to a higher volume of tenant applications. This tool allows you to view your unit ratings, unit rules, rent per day, and even the age, desired number of beds, and rent budget of the prospective tenant.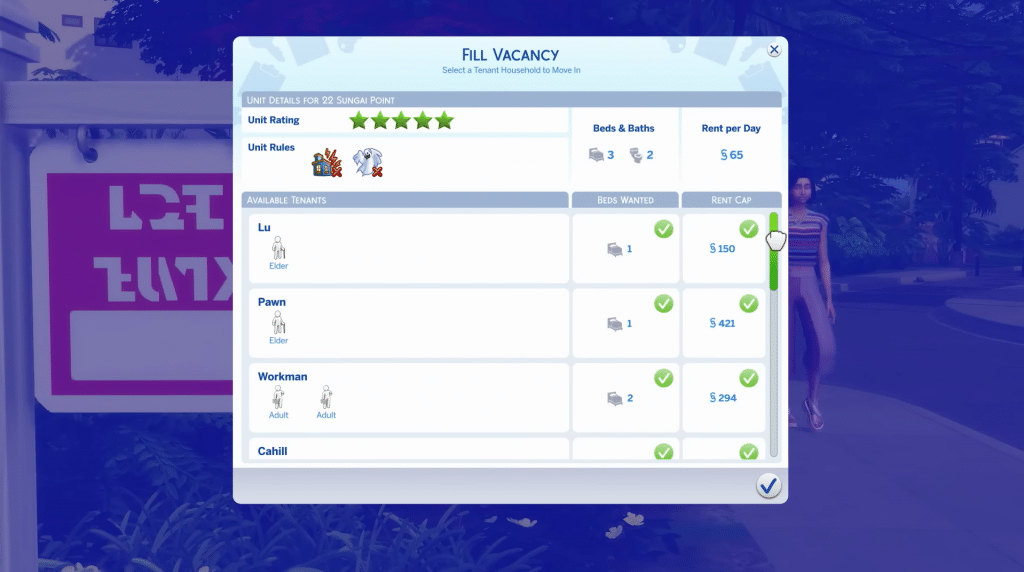 Setting a Rental Rate
What about property owners who lives in the unit? Or a family member who stays in the other unit? Are they also going to pay a rent? Worry no more, because you set their unit without any cost! As you can see below, you have the flexibility to determine the rental prices within a range spanning from 0 Simoleons to a maximum of 2,400 Simoleons.
Maintaining the Building
In The Sims 4 For Rent, owning a rental building means facing various challenges. From bugs to electrical issues, mold, and appliance breakdowns, you need to stay on top of maintenance. Your role as a responsible landlord involves hands-on management to keep tenants happy and maintain a positive rating. Be vigilant in addressing problems like pests, electrical malfunctions, or mold promptly. The condition of your rental units directly affects tenant satisfaction and your overall rating. Well-maintained properties attract contented residents, solidifying your reputation. Neglecting maintenance can lead to unhappy tenants and a decline in your property's appeal.
REPO Man is Back!
The iconic Repo-Man is making a big come back to The Sims 4, bringing with him a wave of nostalgia and a dash of unpredictability to your Sims' lives. For those familiar with Sims history, the Repo Man was a character known for repossessing items when Sims failed to keep up with their financial responsibilities. And here in For Rent EP, property owners can be a Repo-Man when your tenants can't keep up to pay their rents!
Evict or Stay?
What happens when tenants really fall behind the rents? You must make the crucial choice as a landlord of whether to use your power and start the eviction procedure. When several attempts to collect rent have been fruitless, evicting renters becomes a serious issue. Or maybe you can give them a second chance to make their world more meaningful!
Can we Do Hotels?
Speaking of Lease Length, does it mean we can make it as a Hotels? Well, SimGuruNova explain to us some details about the Lease Length.
IN CASE YOU MISSED the Gameplay Trailer
Final Thoughts
There are going to be numerous possibilities we can explore with the new For Rent Expansion Pack! New builds, new stories, and new CAS and Buy/Build items await discovery. We hope to have a livestream similar to the previous Horse Ranch EP, so we can get a closer look at what to expect with the For Rent EP. What are your thoughts about the gameplay? Let us know!
Here at SnootySims, we do our best to keep you posted on all the news, updates, and features of The Sims 4. Follow us on Google News, Facebook, Twitter, YouTube, Instagram, and TikTok, where you can follow and message us! Or, you can leave us a comment on this post! Happy simming, Simmers!