What we love about the Sims 4 community is the continuous sharing of ideas between simmers. By doing a quick search on YouTube we can find countless talented sims 4 players, who share their passion for the game by creating incredibly entertaining videos. Whether we're searching for new build ideas, CAS ideas, story ideas, or challenges, we don't have to look far to find a Sims 4 YouTuber that provides us with what we desire. In this post, we will be highlighting some of our favorite Sims 4 YouTubers of all time.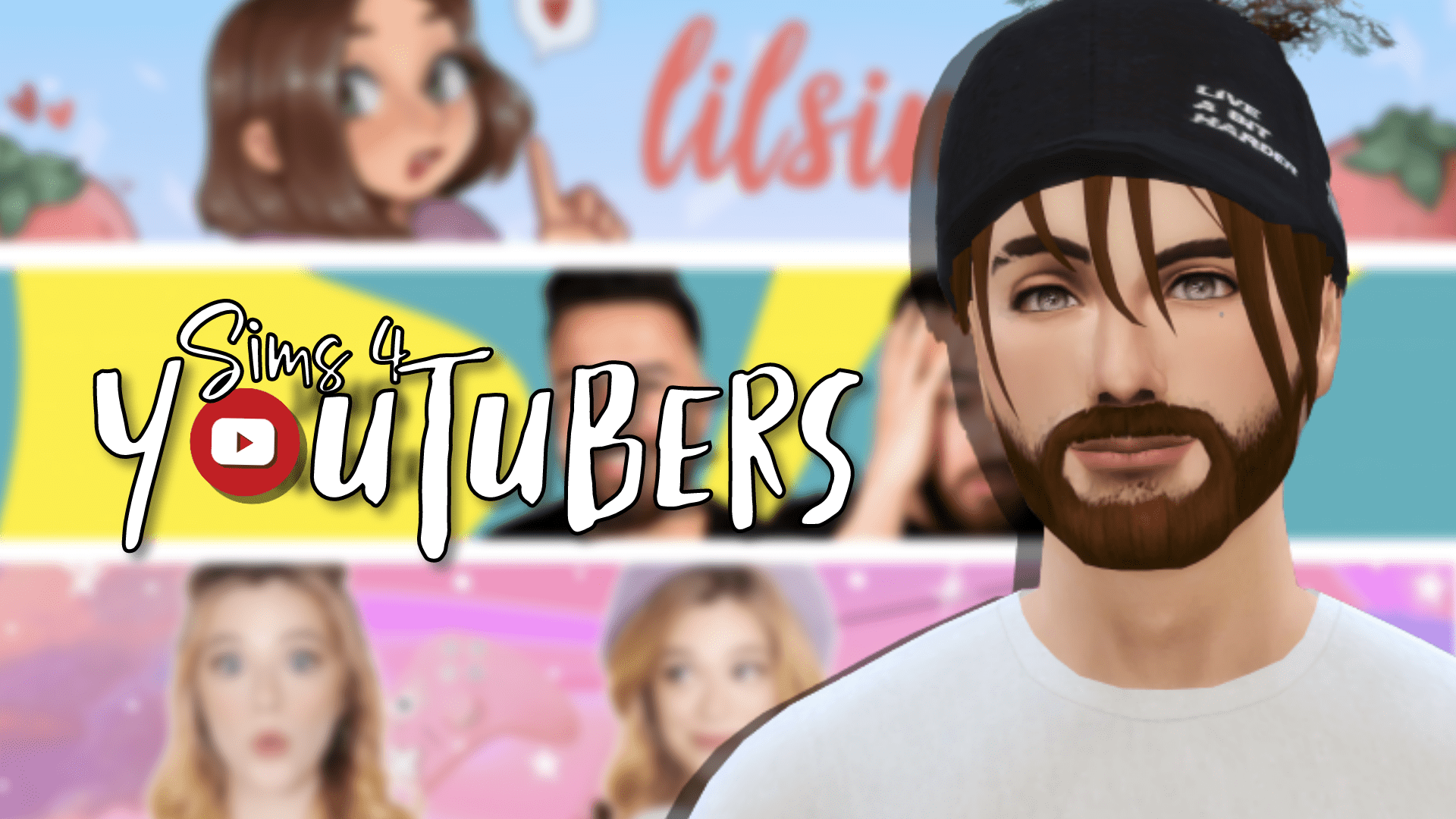 Top Sims 4 Youtubers (Males and Females)
Even though all Sims 4 YouTubers make videos about the same game, their content covers different aspects of playing the Sims 4. Whereas some of the following YouTubers cover building and decorating, others cover challenges and lets plays. All the YouTubers we will be mentioning, each offer unique sims 4 content. So, be prepared to subscribe to all of these simmers, as none of their videos are the same!
Kelsey Impicciche
One of our favorite Sims 4 YouTubers for challenges and lets plays is Kelsey Impicciche. Whether you want to watch the 100 Baby Challenge, the 100 Bae Challenge, the Gold Digger Challenge, or the Not So Berry Challenge, Kelsey got you covered! With colorful backgrounds, a ton of laughs, awesome commentary, and often wild plot twists Kelsey's uploads will keep you entertained from start to finish. If you have been wishing to see some not-so berry gameplay, go subscribe to Kelsey!
This sims content creator started the not-so berry challenge last year and is currently playing through the plum generation. In addition to her let's plays, Kelsey's recent video titled "Smash or Pass All 150+ Sim 4 Townies" is also a fun watch. So, if you desire some happy, funny, lighthearted sims 4 entertainment go subscribe to Kelsey, and let her know we sent you!
Deligracy – Sims 4 Youtubers
Unless you've been living under a rock during the last couple of years, you are familiar with the queen herself, Deligracy, or Deli, as she goes by for short. Deli is an Australian sims 4 YouTuber, who have been around for quite some time by now. Whichever type of Sims 4 content you are looking for, Deli got you covered with her entertaining and uplifting videos! With her lets, plays, builds, challenges, pack reviews, cc recommendations, and sometimes game predictions you have lots of content to choose from!
Deli also recently created a challenge called Buildcrest, where she challenged simmers to create builds on some interesting lots she patched together in Newcrest. So, if you´re looking for a great build challenge, go subscribe to Deligracy!
James Turner
Now, let's move on to the King, and Deligracy's better half, James Turner. Yes, they´re a couple, how cute and wholesome is that? We stan them. Anyway, like Deli, James has been creating Sims 4 videos for quite some time. Mostly focused on builds, challenges, and let's play James, (formerly known as The Simsupply), keeps all simmers entertained! Whether you´re searching for in-depth gameplay or creative builds, James got you covered!
As a bonus, you can watch his old building collabs with Deligracy. So, head on over to James' channel and subscribe! But, whatever you do, don´t mention my first pet stuff. If you go through his videos, you´ll soon find out why.
Devon Bumpkin – Sims 4 YouTubers
If you're looking for some quality content, do yourself a favor and check out Devon Bumpkin on YouTube! Devon Bumpkin's content is packed with breathtaking speed builds, diverse sims, and humor. Not to mention his amazing "let's build the worlds" series. Whether you desire some real inspiration for builds, sims, stories or lets plays this channel has got your back! If you´ve been wanting to upgrade your game by installing a save file, this is the YouTube channel for you! In his series, let's Build The Worlds, Devon Bumpkin creates a save file for every world in the sims 4!
Having already covered, Newcrest, Willow Creek, Glimmerbrook, and Strangerville, Devon has enough content to last you a long time! So head on over, to Devon Bumpkin´s channel, and support his amazingness by subscribing!
Emma Nicole
When we're searching for Sims 4 tips and tricks our go-to YouTuber is Emma Nicole! With her iconic "Underrated items in the Sims 4" shorts, Emma keeps on teaching us things about the game we never knew. Despite playing the game for years, we discover new things every day when checking out her channel. If you've been searching for a very creative simmer that´s always looking for new solutions and ideas, Emma is your girl!
Her channel covers everything from tips and tricks to Disney princess challenges, CAS and speed build. Whatever Sims 4 advice, tricks, and ideas you're looking for Emma's channel is your golden ticket. So, go show her some love by subscribing to her channel! Help her reach 100k, and tell her we sent you!
Lilsimsie – Sims 4 Youtubers
We need to mention Lilsimsie! Creator of the "Not So Berry" challenge, and the famous Lilsimsie save files. Like, Deli and James, Lilsimsie has been creating videos for quite some time, which means you got a lot of catching up to do! Her channel covers anything from build challenges, cas challenges, lets plays, and Sims 4 rants. So, whatever Sims 4 content you're looking for, Lilsimsie is the way to go!
With her witty humor, and fun personality she creates videos that fill your simmer heart with joy. We just recommend checking out Lilsimsie's channel, and hitting that subscribe button. You won't regret it!
Clare Siobhan
Clare Siobhan is one of the most popular gaming-oriented YouTubers in the UK. She is known to have a playful and unconventional style of doing things. She has a huge following on her YouTube channel, streams 4 times a week on Twitch, and she currently has a following of almost 2M. Her lively personality and engaging content have earned her a massive fan following that loves to follow her updates.
This self-proclaimed gamer is focused on creating fun and engaging videos for Sims 4 players around the world. We loved her recent "Tried Making Identical TWINS as Different as Possible" video. Her Sims 4 challenges are so fun to watch, let alone her awesomeness and creativity in throwing wedding parties and graduation ceremonies in the Sims 4. We also recommend that you check out her "Dream Garden" build, it's one to see for inspiration. That's a direct link to her channel. Show her some love!
Steph0sims
It is not a new concept for us to know that people have held this idea before. There are many people who believe that we are actually living in a simulation and not in the real world. This youtuber Steph0sims is one of those people. Fun fact, she is obsessed with killing sims and her videos about that are a ton of fun!
She's a creative content creator with numerous original ideas so it's no surprise that she has such a large following. One of many videos she posted is a YouTube Rewind but in the Sims 4. Her becoming Tiktok famous with a Sim character has garnered a ton of views, too. For someone who has joined YouTube in 2010, she's been keeping up with the latest game updates and creating new content herself. Oh, and by the way, she is a fan of custom content and mods. Maybe you'll come to like her taste as much as we do. Subscribe to her!
Lifesimmer
Let's all agree that gamers make the best content creators because they know how to capture an audience and keep them hooked. Lifesimmer has a huge fanbase that loves her videos. Her actual name is Cristina but goes by Stina, which is adorable! She joined YouTube in 2011, and people loved her work instantly.
Lifesimmer is a popular Sims 4 Youtuber with over almost a million subscribers. She started small, but later on, it became clear that she had the talent for big things. That's when she decided to make content about more than just games and switched to posting episodes following a sim's life from day to night. Here's a direct link to her YouTube page.
Vixella
Vixella was introduced to the world of YouTube on December 24th, 2013. Being a creative Sims 4 YouTuber, she has got herself a huge audience on her channel. People love Vixella's unique in-game reactions and her ghost-shaped house that she built in the Sims 4 game. Vixella isn't just an online celebrity – she has become a part of the Simmers community with over 400 million views on her channel.Not only does she play the Sims, she reacts to other playing the game. Her reactions to the videos are what make them so amusing for viewers.
She's also an amazing builder. Her videos about building structures in the Sims 4 are out of this world. You'll find plenty of interesting designs such as a candy-shaped house, they all look super cool! It had candy canes for all the windows and doors because who doesn't love candy canes? If you don't know who Vixella is, you'd better check her out. Go ahead and subscribe to her channel here.
Carmen King
Carmen King is an iconic character who has been on YouTube for about 6 years now and she creates content on the Sims 4 from her own personal perspective. Her videos almost always have a twist. We loved her "Euphoria Purge in the Sims 4" and "Being a Thot in the Sims Medieval". You should watch her react to the Sims 5! Visit her channel and enjoy the awesome videos!
Paluten
Paluten is a German YouTuber who joined in 2012. He plays the sims 4 and Minecraft and creates absolutely funny videos with interesting ideas and gameplays. He has been playing sims 4 for quite some time now and enjoys making videos about it as well.
His video topics are very broad ranging from funny videos to full episodes following up on sims' lives. He has gained close to 5 million subscribers due to his bright personality, helpful guides, and enjoyable gameplay. So, if your mother tongue is German, feel free to dive into the Sims 4 with Paluten. Check his channel out!
Tyraphine
Tyraphine is another sims 4 player on YouTube who plays the game from Germany. She joined the site on august 30th, 2011. She also plays animal crossing, horror themed games and more. Her favorite game series is The Sims, so he spends most of his time playing that series along with some other story-based games such as Life is Strange.
As of now, Tyrophine has over 245k subscribers on YouTube and is reached by over 723k people monthly through her videos. She doesn't currently upload as much about the Sims 4 but her old videos are a must-watch! Check out her channel here.
Auron – Sims 4 Youtubers
Auron is a huge fan of the games he plays. He have been in YouTube since 2013 and his sims 4 videos are a joy to watch. He is probably one of the most prolific and flat-out enjoyable content creators on youtube, with over 12 million views so far. He's Spanish though, so he's not for everyone but you could still give his channel a look!
He creates videos about creative endeavors and challenges. And for the record, he is a huge fan of video games, especially Minecraft and Mario kart. His sims 4 videos are entertaining to watch as he goes through different situations that everyone can relate with. Head over to his channel and check out his videos.
This was our list of the best Sims YouTubers! There is still a ton of good YouTube sims channels and content creators who upload the latest trends and deliver a variety of content, some of whom even show off their best custom content and mods! These YouTube creators upload daily videos on a spectrum of genres. See you soon!
Related Content