We have collected the best Sims 4 Mods created by Pralinesims
It's time for a creator showcase! We have compiled a list of our favorite Sims 4 Pralinesims CCs. Once you scroll through this post, we're sure you'll just yell out "I want this, too," on more than one occasion. Go ahead and start giving both to your girl and boy sims some edge with these amazing accessories and mods.
Custom Mods by Pralinesims, here is the list!
DIY Nose Piercing Set
And here's our first item of the list: A DIY nose piercing set! You can choose from five colors, two placements (nostril and septum), and seven styles. It's guaranteed that you'll find the one which suits your Sim best. Start experimenting with piercings today by visiting this link.
Jana Eyebrows N134
Pralinesims is going all out and taking a modern approach on everything with their Sims 4 mods – just look at these eyebrows! They are the iconic eyebrows of the 21st century. You can see them on models & celebrities, everyday people… And now on your Sims, too! Just click here and get them today! Follow this link to find awesome custom eyebrows creations for The Sims 4!
Mouth Corners N03
Who knew you could make such a big difference with such a small thing as a mouth corner? But once you look at the image, there will be no going back to the original. This mod by Pralinesims makes lips look lusher and fuller. Get these mouth corners and start creating sensual-lipped Sims today by downloading them from here.
PS Hydra Skin Overlay
This list also features some of our favorite skin overlays… Starting at this PS Hydra Skin overlay by Pralinesims, which makes the skin softer and more hydrated. Of course, you shouldn't forget about drinking enough water, but this quick fix is guaranteed to make your Sims look a bit younger! Go to this link to download it.
Zeta Nails N20
These nails are a dream: no surprise that they are already at 631000 downloads at The Sims Resource! Available in 30 colors, these fabulous nails are suitable for any style and any occasion. A costume party, a fancy dinner, or just everyday life? These nails got you covered! Get your hands on them (actually, get them on your hands) at this link!
DIY Lip Piercing Set
Yet another piercing set on our list! This time, you can get your hands on the hit of the 2000s: the lip piercing. So many combinations are available: three different placements, six styles and five colors – you can't go wrong here! Try one of them by going to this link and downloading the set.
Supreme Eyebrows N11
Do you have the feeling you've seen these eyebrows before? You're not wrong. They are one of the most conspicuous trends of the 21st century. You can see these eyebrows literally everywhere. So why not give your Sim a pair? Just go to this website to download them now!
MM Eyebrows N18 – Dolce
Pralinesims is really going at it with the eyebrows. Every single pair is only slightly different from the next, yet they can make a face look entirely like someone else. These eyebrows, with the nickname 'Dolce' have a marked outline with soft edges to achieve an enchanting and mysterious look. If you want them, you can easily download them from here.
Perfect Eyebrows N16
We could go on and on about delicate and soft eyebrows, but you shouldn't forget how imperfect looks are having a big momentum right now! These eyebrows by Pralinesims are somewhat bushier, but still perfectly sculpted, with a softer, more moderate finish in the middle. Achieve a truly modelesque look by getting these eyebrows from this link first.
XOEV Glasses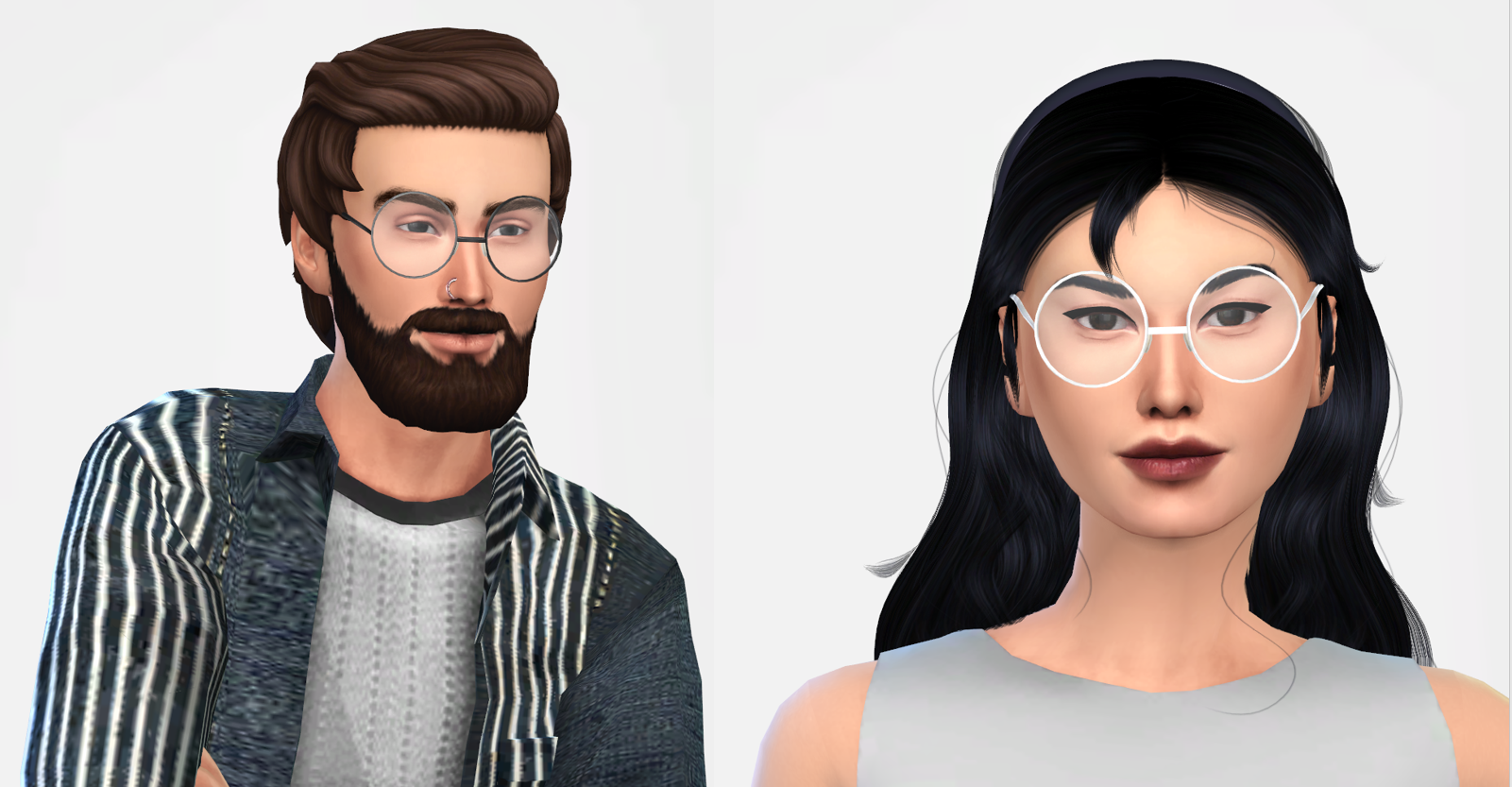 Fashion trends from the 70s seem to have made a big comeback into the 21st century. What would be a better proof than round glasses frames, which are suitable for any face shape and any gender? And what's more, it seems that this style is here to stay! So grab a pair of these glasses in any color from this link – for fashion purposes, or to make your Sim's life easier.
Shine Forever Glasses
Shine bright like a diamond with these Shine Forever glasses by Pralinesims. This frame takes round glasses to the next level by adding a nice metallic shine to the frame's material. You don't even need jewellery: These glasses are the perfect accessory for a fancy outfit. Go to this page to find your favorite pair.
PS Powder Skin
This beautiful powder skin already has 463000 downloads at The Sims Resource. Download it from this link, and watch your Sim achieve this perfect, smooth and matte skin to fall in love with.
Sugar Elf Eyebrows N17
Just like from a fairytale dream. Pralinesims's next eyebrow creation makes your Sim look like a cheeky elf coming straight from Santa's workshop. Okay, maybe only if you combine it with the elf ears mod. In itself, it just creates a mesmerizing and mysterious look for your Sim. Go ahead and get it now from this link.
Venus Eyebrows N10
And it is still not the end when it comes to eyebrows! Check out this natural looking and still refined pair, shaped beautifully to match any face shape and hair color. Tried and tested by almost half a million downloaders already. Get them for yourself, too: Just click here!
Reseda Eyebrows N129
Another pair of gorgeously designed eyebrows. These are more rounded than the rest, so they are perfect for those who have a more oval or rectangular face shape. These eyebrows will provide softness for your look, and follow the natural curve of your face. If you think these would be the perfect choice for your Sim, go to this link and download them now!
MM Eyebrows N19 – Anastasia
Fuller, lusher, and bold… These Anastasia eyebrows are just like from a fashion catalogue. They've been shaped in a more angled way, so they look best on oval and rounded faces, and they look like they've been filled in with the best quality eyebrow pencils. Don't hesitate; go to Pralinesims … this link to download them for a bold look!
Vivia Eyeliner N67
Do you know that feeling when you go to the drugstore, and must spend hours and hours there to find the perfect eyeliner? And then when you get it, you go home and practice practice practice. With Sims 4, and especially Pralinesims' Vivia Eyeliner, you can create the perfect eye make-up for any occasion with just a few clicks. The first fw clicks are: go to this link, download it, then use it!
PS Alpha Skin
Delicate, smooth, nice-to-touch skin with a soft glow – the skin type we all dream of. This was naturally also created by Pralinesims for the needs of any Sim who wants to look like they've just been back from vacation with relaxed, beautiful skin. Get the Alpha Skin from this website.
DIY Eyebrow Piercing Set
Do you think you've already seen everything when it comes to piercings? Well, prepare for your mind to be blown, because this is the biggest piercing set on this list. It already has 418000 downloads at The Sims Resource – and soon we think it's going to be even more, because anyone can find the piercing they are looking for among the five colors and (brace yourself) 29 variations! Go, grab the set via this link!
MM Eyebrows N17 – Velvet
These eyebrows are for those who are striving for a more natural and younger look. With both female and male versions, Pralinesims' Velvet eyebrows have that natural playfulness to them while giving the face an innocent-looking yet dramatic character. If you fell in love with them, go to this link, and download the set right away!
Pure Eyebrows N18
The name, the image, and the 413000 downloads at The Sims Resource speak for themselves. Another pair of eyebrows with a little difference to them, yet giving any face a very unique, one-of-a-kind character. The perfect balance between natural and carefully sculpted. Fit for any girl. Grab them at this link.
PS Powder Skin Overlay
Silky, smooth and soft – the kind of skin everyone dreams of. This powder skin overlay provides your Sim with all of the above and more. Just look at the image, and see for yourself. This overlay is available for any genders and in four shades – so it's guaranteed that it will suit your Sim's skin type. Get your hands on it at this link.
Honey Eyebrows N19
As Sweet as honey: these soft yet characteristic eyebrows are another beautiful creation by Pralinesims. It looks like they know what a woman wants. These eyebrows are guaranteed to make your Sim turn some heads on her way. Start by downloading the eyebrows from here.
PS Healthy Skin OVERLAY
Have you ever thought about how your Sims' just doesn't look… real enough? That might be because it doesn't have that healthy glow that we humans get after spending a nice day on the beach, and get home with hydrated, slightly tanned and healthy glowing skin. If you want to achieve that skin right now, go to this website and download the healthy skin overlay today.
Angel Eyebrows N13
Can you ever get bored of perfectly shaped eyebrows? We don't think so. These Angel eyebrows are at 401000 downloads at The Sims Resource – Pralinesims really did a great job at them. The smooth edges and the heavenly shape creates a look that cannot be resisted. Get the eyebrows here!
Lavender Rain Eyes N135
These Lavender rain eyes by Pralinesims are THE definition of 'dreamy eyes.' They are available in ten magical and mystical eye colors. In real life, you need contact lenses or Photoshop to achieve such colors; in Sims, all you need to do is go to this link and download Lavender rain eyes!
Livia Skin Female
An exclusive skin type just for ladies! Pralinesims created Livia Skin to give female bodies what every woman wants: a tight, firm appearance, and a slightly contrasted, smooth finish which allows for the curves and edges characteristic to a female body to be in focus. Bring your lady Sims alive with this skin CC at this link.