Want to create a fun Plantsim army in The Sims 4? Of course, you can! In this article, we'll share with you our thrilling Plantsim army playtest, plus two fun Plantsim mods that you can download!
Create A PlantSim Army In The Sims 4!
Plantsims are such an odd yet interesting part of The Sims 4. These green friends are not exactly real plants, as they are merely Sims who have entered a temporary life state and who require sunlight and water to survive. And, because we cannot get enough of Plantsims, we decided to create a Plantsim army to play with! Err, not exactly an army, but more like an adorable family of Plantsims! Read on!
For this playtest, we installed two PlantSim Mods:
Plantsim Lifestate Edits and Objects
Plantsim Interactions Mod
We'll tell you all about the features of these mods in the next sections. Also, we included the download links of these Plantsim mods below.
More on SNOOTYSIMS: Are you interested in learning how to grow plants of perfect quality? Learning how to evolve plants in The Sims 4 can help you!
Turning Sims Into PlantSims
Like what we have mentioned in our useful guide here, there are three ways to turn your Sims into Plantsims. In a nutshell, you can let them eat the Plant Matter dessert using the ice cream machine from The Sims 4: Cool Kitchen Stuff Pack, you can allow them to collect magic beans and place these in the Magic Plantsim Stump, or you could simply use cheats. We chose the third option by simply using the testingcheats true cheat and pressing shift+right-click on our Sim.
The Beginning of The PlantSim Army
After turning our first Sim into a Plantsim, we turned his roommates into the said life state as well. You will notice that you have successfully turned your Sims into a Plantsim once this notification pops up on your wall. In the description, it says that you have to let your Sims photosynthesize to replenish their hunger. It also states that your Sims are now spared from the bladder need. Yup! No more trips to the bathroom.
Start of Some PlantSim Fun
In playing with our Plantsims, the Plantsim Lifestate Mod provided such a refreshing change to our gameplay. The mod allowed us to not stick with the good, ol' regular Plantsim hair that honestly appeared like a green paintbrush on the head of our Sims (LOL). It also allowed us to make the Plantsim life state a permanent one instead of just temporary. So yup! Our Sims could play the Plantsim life as long as we don't turn them back to normal Sims.
Tending to PlantSims' Needs
As Plantsims, your Sims will still function much like their regular selves, apart from their changed need requirements. You will notice that they will keep spending a lot of time outside to bask in the sun. As for the Sim in this image, she chose to play under the rain, and that's a good thing because Plantsims need a lot of water to survive!
The Plantsim Appearance
The Plantsim Lifestate Mod has an option that allows your Sims to have zero changes in their physical appearances once they become Plantsims. However, we did not select the said option because we liked the nostalgic appeal of our Sims with their green aesthetics! So as you can see, our Plantsim army still looks very much green! They make us remember the previous PlantSims from The Sims 2 and The Sims 3.
Plantsim Infant and Toddler
The Sims 4 doesn't really let you have Plantsim infants, toddlers, or children. Luckily, with the Plantsim Lifestate mod that we installed, we were able to turn our newly-added family members, who are an infant and a toddler Sim, into Plantsims! Now our Plantsim family keeps growing.
Taking Care of The Plantsim Army
In this image, we can see our Plantsim Mima holding her toddler Sim while staying out in the sun! There's a gloomy weather forecast for the day but these two still spent their day out photosynthesizing while bonding with each other. Pretty sweet! Also, don't forget that Plantsims can talk to real in-game plants which will help boost their social need.
Lots of Fun Plantsim Interactions
To make our Plantsim army gameplay more exciting, we utilized new thrilling interactions through the Plantsim Interactions mod that we installed. While together, our Plantsims can have friendly interactions such as:
Discuss Plants – Plantsims can talk about plants. And of course, they will.
Discuss Eco-Friendly Alternatives – Plantsims can talk about alternative processes that are better for the environment.
Compliment Leaves – Sims can make Plantsims blush by complimenting their leaves
Apart from these friendly interactions, they can also do these things:
Blow a Poison Kiss – Teen to Elder Plantsims can blow a poison kiss to Sims, which will make them fall asleep.
Absorb Water – Do not mop those random puddles around the house just yet! Plantsims can conveniently absorb the water from them.

Instant sunlight For The Plantsim Army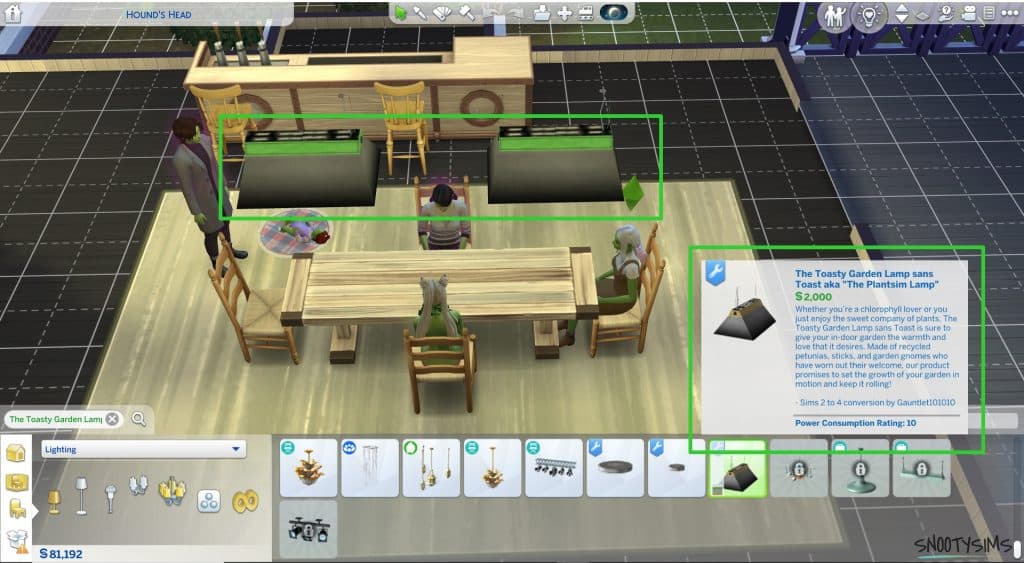 The Plantsim Lifestate mod was especially useful for our Plantsim army whenever they were indoors. The mod includes the Toasty Garden Lamp, a converted object from The Sims 2 to The Sims 4, which, when placed inside any area in the house, will let Sims get artificial sunlight that will fill up their hunger needs. Awesome!
The Toasty Garden Lamp sans Toast aka "The Plantsim Lamp" – 2,000 simoleons
Portable Sunlight Anywhere!
If our Plantsims are traveling to a place without much sunlight, there would not be a problem because the Plantsim Lifestate Mods has an object that Plantsims could carry to help provide their photosynthesis needs. Called the Sunflower Plantsim Lamp, these objects can be conveniently dragged into the inventory of Sims and placed on any surface, even on the ground.
Sunflower Plantsim Lamp – 425 simoleons
Cure For The plantsim Army
Once we get tired of playing with our Plantsim army in the future, we always have the option to turn them back to regular Sims. The Plantsim Lifestate mod has three concoctions, which are also conversions from The Sims 2 and The Sims 3, that will fix up our Sims and return them to normal. These are the following:
Plantophic-C aka "The Plantsim Cure" – 20 simoleons
Bottle of Super Spice aka "The Plantsim Cure" – 20 simoleons
How To Download Plantsim Mods
Tune in here at Snootysims to keep yourselves updated about our Plantsim army and to have a peek at our other play tests! Meanwhile, here are the following things to do to utilize the Plantsim mods that we used in our gameplay:
To use the two mods that we used for this Plantsim army playtest, head over to the following links:
These mods have been tested to work properly with the 1.101.290.1030 PC version of The Sims 4.
After downloading the two mods, paste the unzipped files into your Mods folder in The Sims 4. Make sure to choose only one file for the Plantsim Lifestate Edits and Objects mod (the option to either have a physical change to Plantsims or not).
Make sure that you have enabled the use of mods and custom content in your game settings.
Enjoy!
Conclusion: Create Your Plantsim Army, Too!
Creating our Plantsim army was so fun! We will keep playing with it, because, let's admit it—Plantsims are one of the strangest yet most lovable things in The Sims 4. These little green friends only humbly need their share of sunlight and water and are good to go, making their neighborhoods a greener place. So what's not to love about them, right?!
We recommend that you create your own Plantsim army too, to fill your game with more green Sims! then, let us know how your game goes. We are on Facebook, Twitter, YouTube, Instagram, TikTok, and Tumblr where you can follow and message us! Or, you can leave us a comment on this post! Happy simming, Simmers!