You've probably played The Sims 4 for a long time, but we are sure that several of the hidden secrets and easter eggs in this list will still come as a surprise for you! Check out the entire list below!
Bet You Didn't Know About These Secrets from the Sims 4!
The Sims 4 has been around since 2014, but it still keeps us thrilled with the new things we discover in the game here and there. Apart from sharing with you some of the most interesting hidden objects in the game, we decided to also inform you about our favorite hidden secrets in the game, as well as some easter eggs that have references to movies, books, TV shows, and you name it! Read on to learn about all of these.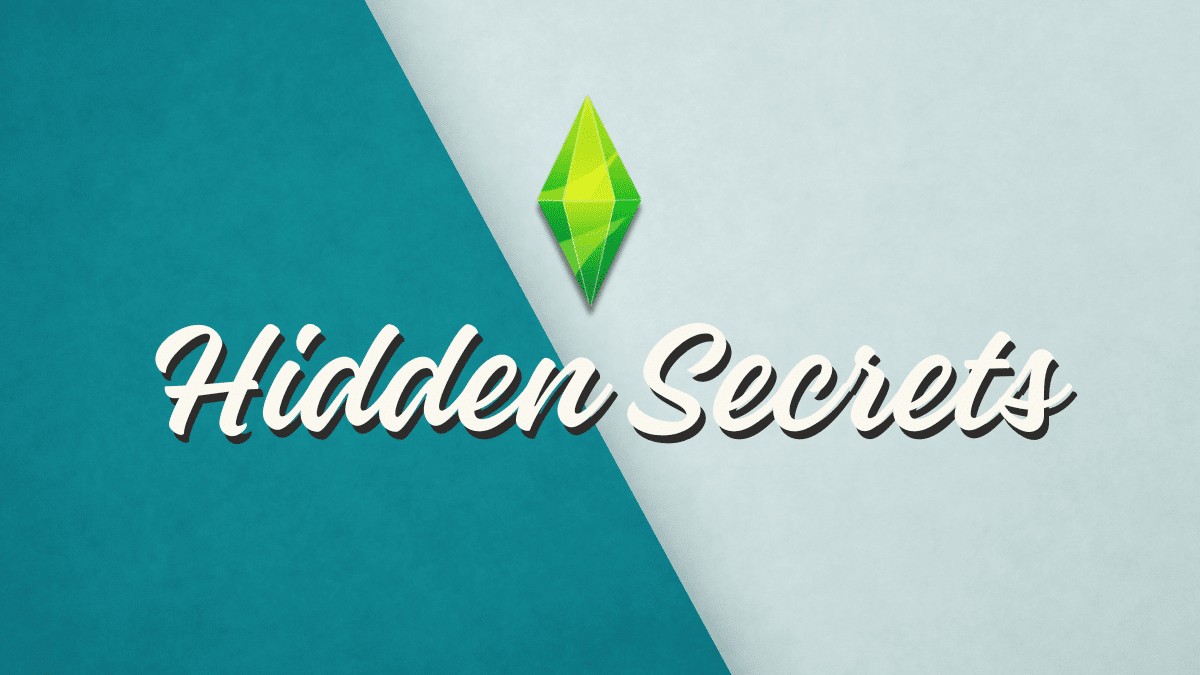 In The Sims 4, the beloved Tragic Clown, originally introduced in The Sims 1, makes its comeback! To summon this iconic character, Simmers can acquire the Tragic Clown painting and view it repeatedly, which would trigger his appearance and allow for some interesting in-game interactions.
With The Sims 4: Eco Lifestyle expansion pack, your Sims can indulge in the strange practice of drinking beetle juice. Consuming three of these unconventional drinks consecutively would let Sims transform temporarily into a ghostly state! After a few hours, they would then return to their original form.
For Sims who have frequent experiences with household fires, the firemen uniform found in the Create-a-Sim (CAS) menu is a lifesaver. Yup! Sims who wear it would become fireproof and gain the confident moodlet each time there is a fire. Now, they would no longer shout those frantic "Haspaaa!" phrases.
More on SNOOTYSIMS: Check out the roasted firefighters in this Spotlight on Simmers article!
Sims who have the "clumsy" trait should steer clear of dish duty! These bumbling characters have a habit of breaking plates whenever they attempt to clean any plates! Yep. They would almost usually break plates whenever they wash them on the sink.
Cowplants are not just life-draining creatures but they also have a hidden talent for dancing! Place a stereo near a cowplant, turn up the music, and enjoy the fun as the cowplant breaks into a spontaneous and entertaining dance performance. For added fun, let your Sims dance with it!
There's a "mad" twist to cooking with Sims who have a high cooking skill and an angry moodlet. Let them prepare spaghetti, and see as they produce something called the "Angry Flaming Spaghetti" dish. Calling others to this meal will make these other Sims angry too, which will lead to a hilarious culinary incident.
Pregnant Sims enjoy a special perk. They have temporary immortality! When their hunger reaches zero, nope they won't die! They would automatically pull out an emergency protein bar to ensure they don't perish from their neglect, which is a totally cool thing. That would also explain why they seem to be confident around the Grim Reaper, LOL!
More on SNOOTYSIMS: Check out our list of the top pregnancy mods!
If you have The Sims 4: Seasons expansion pack, you can invest in the Stormchaser reward trait. This trait grants your Sims immunity to thunderstorms and lightning strikes. Instead of being scared or dying when they indeed get struck by lightning, Sims will receive an energized moodlet and have strikingly glowing eyes.
Between the Gooseman household and an empty 50×50 lot in Chestnut Ridge, there's a shed with a horse's grave and well, you guessed it right….a ghost horse. Keep an eye out for this spectral encounter, which is typically visible from midnight to 2 AM. And nope, you cannot ride this one, unlike the Phantom Rider in the film, Ghost Rider. 🙂
If you have The Sims 4: Get Together expansion pack installed, you can go on a quest to spot Emily, the local water monster in Windenburg. This mysterious creature is reminiscent of the Loch Ness monster and we promise you, if you do see Emily, it will be an intriguing in-game encounter!
Check Out These Easter Eggs!
Easter Egg #1: A Game of Thrones
In the Sims 4, you can discover two fictional books inspired by the Game of Thrones series: "A Game of Groans" and "A Game of Musical Chairs: A Song of Hot and Cold," offering a playful nod to the epic fantasy world created by George R.R. Martin.
Easter Egg #2: The Hunger Games
The Hunger Games has left its mark in The Sims 4 through three cleverly named books: "The Bladder Games," "The Glutton Spiel," and "The Plunder Games." These witty references pay homage to the iconic dystopian series written by Suzanne Collins!
Easter Egg #3: Close Encounters of the Third Kind
In The Sims 4: Home Chef Hustle Stuff pack, Sims can craft a Curious Pizza and sell it to alien Sims. This would then let them earn a moodlet that humorously references the movie Close Encounters of The Third Kind, as a "dough encounter of the third kind".
Easter Egg #4: The Little Mermaid
The Sims 4 introduces a charming wall decor item known as the "Scroll of the Mermaid Tail," which pays homage to the iconic Disney song "Part of Your World" from The Little Mermaid. This delightful reference infuses Disney into The Sims 4.
More on SNOOTYSIMS: Looking for marvelous mermaid CC? We gotcha! Head over here!
Easter Egg #5: Stranger Things
The StrangerVille story in The Sims 4 draws clear inspiration from Netflix's hit series, Stranger Things. Elements like spores and vines evoke the eerie ambiance of Hawkins Laboratory, while the Mother Plant nods to the menacing Demogorgon! Talk about a TV series-inspired thrill!
Easter Egg #6: Avengers: Infinity War
Aspiring actors in The Sims 4 may encounter a striking reference that echoes Doctor Strange's famous line: "We ran 14 million simulations to see the outcome of your next acting gig. In all the ones you practiced your scenes before filming, you had resounding success." Well, we did not expect that at all!
Easter Egg #7: Spider-Man
The Sims 4: Jungle Adventure expansion introduces an insect repellent in the survival gear. Called "Dr. Parker's Spider Repellent," this playfully invokes Peter Parker from the Spider-Man franchise. yes, you're right. This is a nod to the web-slinging hero that we all love!
Easter Egg #8: Studio Ghibli
Fans of Studio Ghibli's enchanting films might find a delightful reference in The Sims 4. The Dust Spirit insects in The Sims 4: Outdoor Retreat seem to pay homage to the beloved Soot Sprites from My Neighbor Totoro and Spirited Away. So yep, that's why they look somewhat familiar!
Easter Egg #9: Apple Inc.
The game introduces the "Schmapple" line of kitchen appliances, which includes fridges, coffeemakers, ovens, and the like. This line subtly nods to Apple, Inc. If it wasn't obvious yet, the descriptions and pricing of the products in the game are playfully influenced by Apple's marketing!
More on SNOOTYSIMS: Here are the best phone replacements for your Sims!
Easter Egg #10: TV Shows
The TV Season Premiere holiday in The Sims 4 brings forth shows inspired by real-life series. "Game of Llamas" playfully riffs on Game of Thrones, while "Peach is the New Orange" channels the spirit of Orange is The New Black. We're sure you have noticed those familiar titles too!
Final Thoughts: Keep Discovering New Things in The Sims 4
We hope that this spectacular list of hidden secrets and easter eggs in The Sims 4 has made you excited! With your new knowledge of these gems, the game will surely keep you playing for a couple more hours!
If you discovered a hidden secret or an easter egg while playing the game, we'd love to know about it! We are on Facebook, Twitter, YouTube, Instagram, TikTok, and Tumblr where you can follow and message us! Or, you can leave us a comment on this post! Happy simming, Simmers!