Have you always been fascinated with the good ol' gnomes of the Sims? These little fellows may seem just like innocent decorations for your lawn, but they are definitely more than that. In this article, we're giving you a quick lowdown on the glorious Holiday Gnomes of the Sims 4 to help you better understand these interesting guys! Read more below to find out more.
Introducing the Holiday Gnomes of The Sims 4
Ah, these mysterious gnomes. They have been around ever since the launch of the first The Sims game, effortlessly embellishing our gardens and lots with their peculiar presence. But if you've been playing the Sims franchise long enough, you know that these guys genuinely exhibit something magical about them. Yep! Not all gnomes simply pose on your lawns doing nothing, some of them are secretly skilled in gardening and summoning animals as well.
With the release of The Sims 4: Seasons expansion pack, these tiny fellows got even more interesting. Every time the Harvestfest Holiday rolls around, you can expect to be visited by Holiday Gnomes on your residential lot. It is usually a part of a Sim's tradition to give respect to them, in order to receive holiday rewards. So in this article, we'll help you know all the Holiday Gnomes that appear during Harvestfest, and teach you how you can deal with them.
Let's begin.
How do you get gnomes in Sims 4?
Build Menu: The first way is to find them in the build menu. This is the easiest method of getting a gnome since you only need to buy them and put them somewhere in your house.
Gnomes Lot Trait: The second way of getting gnomes in Sims 4 is to have the Gnomes lot trait. This trait comes from the City Living expansion pack and you can only get it from there. Households with the Gnomes trait occasionally get their objects repaired, so it's a beneficial trait to have.
Harvestfest: And the third way of having gnomes in your game is during the Harvestfest. This is a holiday that comes from The Sims 4: Seasons expansion pack and it features the activity called "Holiday Gnomes". During this activity, gnomes appear around your lot and you'll have to appease them.
Now let me give you a guide on how to appease the gnome in Sims 4.
How To Appease A Gnome In Sims 4
In a regular Sim's calendar, the Harvestfest happens once each year. The event begins at 6:00 am and ends at 2:00 am the next day. A major part of celebrating the Harvestfest traditions is by appeasing the Holiday Gnomes that will appear around your lot. Yet, how exactly do you appease them? You achieve this by giving them the items that they want to receive. These items include the following:
Coffee
Pie
Salad
Toy
Future Cube
Fruitcake
There is no need to purchase these six items on Build Mode as these are already in your Sim's arsenal the moment they try to appease the Holiday Gnomes.
You can give any gnome any item on this list and you'll have the chance of appeasing them. But the way it actually works is that some gnomes can be appeased with all the items on this list while some only with one. You can never be 100% sure of which item will appease your gnome, so I usually start with giving them coffee first.
If coffee doesn't work, try some of the other items on this list.
Check out this guide on how to find bad CC in Sims 4?
Helpful Table for Appeasing Each Gnome in Sims 4
Here's a table guide for appeasing the gnomes in Sims 4:
| | |
| --- | --- |
| Type of Gnomes | What Usually Appeases Them |
| Upside Down Gnome Decor | Salad |
| Happy Gnomiversary! | Coffee |
| Guardian of the Gnomelaxy | Future Cube |
| Bearly Gnome | Pie |
| There's No Place Like Gnome | Coffee |
| Happy Gnome Garden Pal | Coffee |
| Gnome Matter What, I'm Still Your Baby | Coffee |
| Don't Fear the Reagnomper | Pie |
| Mr. Floppy the Gnome | Salad |
| High-Rider Gnome | Coffee |
| The Ghastly Ghostly Gnome | Fruitcake |
| Poolside Gnome | Pie |
| Strictly Business Gnome | Coffee |
| Bare Essentials Gnome | Toy |
Keep in mind that these suggestions might not work 100% of the time. But I have enough experience in this game to say that they will work most of the time. So, always try these things first when dealing with your gnome!
Displeasing the Holiday Gnomes
If you are able to offer the gnomes the right item, they will be quite delighted! As visual proof, a glowing halo will appear on top of their heads signifying that they have been appeased. They would then shower your house with plenty of seed packets which you could collect and unpack and use for gardening, or sell for some money.
But if you offer the wrong item to a Holiday Gnome, it will be displeased! A bright red fire will emerge atop its head, symbolizing its frustration with you (which is quite a scary sight, to be honest). You could then try to plead for forgiveness to make them feel better. But be warned, they might or might not electrocute you!
The 12 Holiday Gnomes of Harvestfest
As you appease and displease the Holiday Gnomes throughout the run of the Harvestfest, you will find that they will keep on changing places in your lot–disappearing and reappearing wherever they want. Also, take note that these gnomes spur randomly–meaning you wouldn't know how many of them or which of them will visit you on a given Holiday. All in all, though, there are 12 kinds of Holiday Gnomes that can appear on your lot. Knowing all 12 will prepare you for interacting with and knowing how to appease each one.
1. Bearly Gnome
This Holiday Gnome is wearing a bear costume and sports a scary face, looking all mighty in his bear stance. Like his outfit, Bearly Gnome wants to spend a lot of time in the forest and in any place outdoors. For Harvestfest, Bearly Gnome wants some Pie.
2. Gnome Matter What, I'm Still Your Baby
3. The Ghastly Ghostly Gnome
This Holiday Gnome is probably the creepiest you will encounter in the bunch. Drabbed with a colorless vibe, it has hollow eyes and invisible legs that seem to float off the ground. It is probably best not to look at it at night, in the garden, when you are alone *shivers*. The Ghastly gnome wants some Fruitcake for Harvestfest.
4. Happy Gnomiversary!
We don't know what exactly, but this Holiday Gnome is celebrating the 15th year anniversary of some….event. It is in a festive mood, clad in a cute tuxedo, wearing a party hat, and carrying its piece of cake. For Harvestfest, Happy Gnomiversary would appreciate a Coffee.
5. Bare Essentials Gnome
This naughty-looking naked gnome is seen confidently roaming your lawn in peace. It has no shame, no regret, and no reservations in life. Amazing, right? As it wears its birthday suit, it happily winks at its spectators around the neighborhood. Mr. Bare Essentials prefers a Toy for the Harvestvest.
6. Guardian of the Gnomelaxy
Don't fret. This green gnome may look physically terrifying, what with its bizarre space suit and tentacle-looking beard, but it's actually a nice little guy. This gnome's character is inspired by none other than that cool movie The Guardians of the Galaxy. You can appease the Guardian Gnome with a Future Cube.
7. There's No Place Like Gnome
This gnome seems to be a cousin of Gnome Matter What, I'm Still Your Baby. For some unknown reason, this tiny guy seems sad. Perhaps it worries about the garden plants not getting too much water or sunlight. You can appease this gnome on Harvestfest by giving it some Coffee.
8. Strictly Business Gnome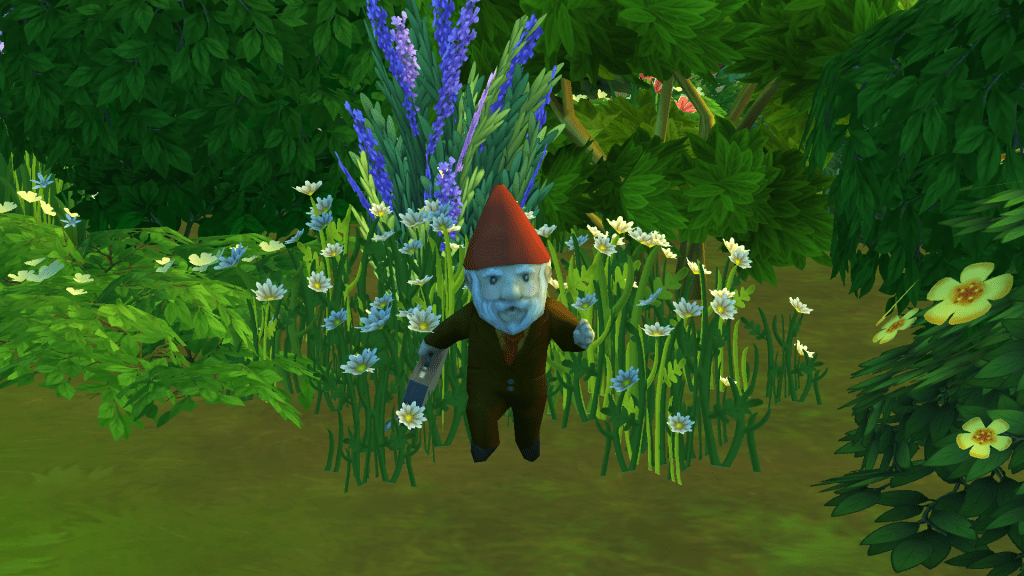 This Holiday Gnome looks absolutely busy! It is clad in a salaryman's outfit and seems to be in a hurry to go somewhere. Perhaps it is late for an important meeting with other business gnomes? Maybe. Now, quickly! Appease this occupied gnome right away with a cup of Coffee!
9. Poolside Gnome
10. Happy Gnome Garden Pal
This cute, small gnome looks quintessentially content with life. It looks like it has spent an entire day happily talking to its plants in the garden. Perhaps, There's No Place Like Gnome could learn a thing or two from this guy about staying positive! Happy Gnome Garden Pal would love to have a cup of Coffee during Harvestfest.
11. Mr. Floppy The Gnome
Mr. Floppy The Gnome looks pretty comfortable wearing its bunny outfit and sporting its little egg basket. Perhaps it just attended an Easter event nearby. In terms of cuteness level, this one totally competes for the top spot with Gnome Matter What I'm Still Your Baby. Please give a bowl of Salad to Mr. Floppy the Gnome!
12. Don't Fear the Reagnomper
Is it just us, or does this little guy exude the same, exact energy as the Grim Reaper? Those eyes are enough to bore a hole in our souls, and we don't even want to talk about that scythe he carries *shivers*. A slice of some Pie would definitely please Don't Fear The Reagnomper.
Tip: How to Make Money from the Holiday Gnomes
Guess what? You can earn a bit of simoleon during the Harvestfest with this cool Holiday Gnome tip. As we have mentioned earlier, Holiday Gnomes automatically spawn items on your lot after you have appeased them—specifically, they spawn assorted packets of seeds. With the following steps, you can obtain a higher number of these seed packets which you can then individually unpack and sell.
STEP 1: Appease the Holiday Gnomes on your lot, by using the right items for each gnome. Wait until they spawn seed packets around your lot.
STEP 2: Put the Holiday Gnomes on your inventory.
STEP 3: Put them out on your lot again. Observe as they spawn more seed packets.
STEP 4: As the gnomes spawn more seed packets, keep repeating steps 2 and 3 as much as possible. The Harvestfest doesn't end until 2:00 am, so you can keep repeating the procedure.
STEP 5: You will soon have a lot of seed packets lying on the floor. Unpack the seed packets one by one on your inventory, then sell the contents for moolah! Alternatively, plant all the seeds in your garden and wait for a bountiful harvest which you can sell!
In Conclusion
We hope that you enjoyed learning about the glorious Holiday Gnomes of the Sims 4! The next time Harvestfest rolls around, you're now equipped with the knowledge that you need in order to appease these little fellows. Just make sure you give them the correct item that they desire to make them satisfied. Trust us, you will be rewarded for your research and efforts.
That said, I hope this Sims 4 gnome guide helped you out. Good luck!
Related Content